The Cloud Terry is On's fastest-selling running shoe, and a new addition to the On Cloud collection, with a special differentiation: Cloud Terry shoes are made from vegan leather, making them a great option if you're looking for vegan running shoes.
Designed to be lightweight and ready for everyday wear as well as road running, the On Cloud Terry is a stylish vegan running shoe available in understated color schemes and well-suited to wearing for everyday and commuting, as well as short runs and training sessions.
This On Cloud Terry review takes a look at the key features of these running shoes, and how well they perform as an all-day lifestyle shoe and also as a running shoe.
If you're pressed for time CLICK HERE to jump down to my review summary, including Pros and Cons.
The Cloud Terry upper construction
The On Cloud Terry is unique not only because of the vegan-friendly materials used, but its appearance – the most obvious being the Terry-fabric tongue, which feels like cotton but is part-constructed from technical materials.
There are two types of vegan leather used in the construction of the Cloud Terry, smooth on the sides, and perforated on the heel.
To wear, the materials feel the same as the classic On Cloud – meaning the shoe is comfortable right out of the box. Being breathable, the Cloud Terry is my go-to shoe for commuting and everyday wear, if it's not cold or raining (in which case, I wear the On Cloud Waterproof shoes as they keep my feet warmer and dry – full review of them here). As such, the Cloud Terry is a great shoe for dry days, especially between Spring and Fall – and year-round if you tend to get hot feet even in Winter.
As with the rest of the Cloud collection, the On Cloud Terry has an inner sock that connects the tongue to the sidewalls of the upper. This keeps the tongue in place and stops chafe from happening within the shoe.
Elasticated laces and finger loop makes them easy to slip on
The Cloud Terry has a finger loop at the rear which, when combined with the classic Cloud elasticated laces, makes slipping them on and off very quick and easy.
When I first put the Cloud Terry on, they felt tighter around the lacing area than my other On Cloud running shoes.
I solved this by loosening the elasticated laces so that they cross the top of the shoe one 'span' less than the factory-issued lacing setup – this was important for me as I wear these shoes for air travel, when my feet swell up and I can need some extra space to keep them comfortable.
Incidentally – all the slip-on On Cloud shoes are ideal for air travel – you know, for when you have to take your shoes and half your clothes off to get through security? No lacing up on the other side of the x-ray!
If you're wondering how to adjust or tighten On Cloud speed laces, Alastair put together this helpful 2-minute video demonstrating how we tighten the laces for when we wear the On Cloud for gym workouts or HIIT training where we need the Cloud to be securely on our feet when moving fast.
Cloud Terry style – the most attractive vegan running shoes?
If I had a dollar for every time someone asked me where I got my On Running shoes… I'd be pretty well-off! The Cloud Terry receives compliments wherever I go – they are a unique-looking shoe that manages to fit in well when worn with everything from running gear to jeans to smarter work-wear during my commute.
Like other On Cloud styles, the On Cloud Terry looks great when worn with low-profile socks, as shown in the picture of me wearing them near the top of this post.
Cloud Terry sizing advice
The On Cloud Terry fit is consistent with other On running shoes, which is also consistent with other popular brands including Nike, Salomon, Inov-8, and Merrell.
As mentioned above, if you have wider feet, you may want to loosen the elasticated laces to allow more room around the top of the shoe, as they came with seemingly tighter lacing than the regular On Clouds – which, on the flip-side, can seem loose for some people.
The Cloud Terry support type
The Cloud Terry has neutral arch support, one of the many things both Alastair and I love about On running shoes. This neutral support is consistent with all other neutral On shoes I have worn previously, and like other new On Cloud versions, the lack of seams inside too as there's nothing inside to rub on your feet or cause discomfort.
How much cushioning is there in the Cloud Terry?
There's not that much cushioning in the midsole, but it's enough for all-day movement or standing up, whether at work, the gym, brief runs, or all of the above. I like this for the way I choose to wear the shoe, and it helps keep it lightweight and non-bulky.
What's the Cloud Terry outsole like?
If you haven't tried "Running On Clouds" (or walking on clouds) before, then you must! They'll make you want to run faster, I don't know why, they just do. I always notice this, especially when putting on a new pair. This also makes them a pleasure to walk in, all day – especially given they are also so lightweight.
See above for a closer look at the outsole tread. It's simple yet effective, especially for everyday active lifestyle usage and road running.
How big is the Cloud Terry drop?
There's a drop of 6mm from heel to toe which is standard across the Cloud collection of sneakers. 6mm, in my opinion, is a great amount for road running and everyday wear.
How much does the Cloud Terry weigh?
The Cloud Terry weighs 223g (7.87oz) which makes it a little bit lighter than the Cloud (230g (8.11oz)) – weight are based on the men's sizing, smaller womens' versions weigh even less 🙂
How Wide is the Cloud Terry toe box?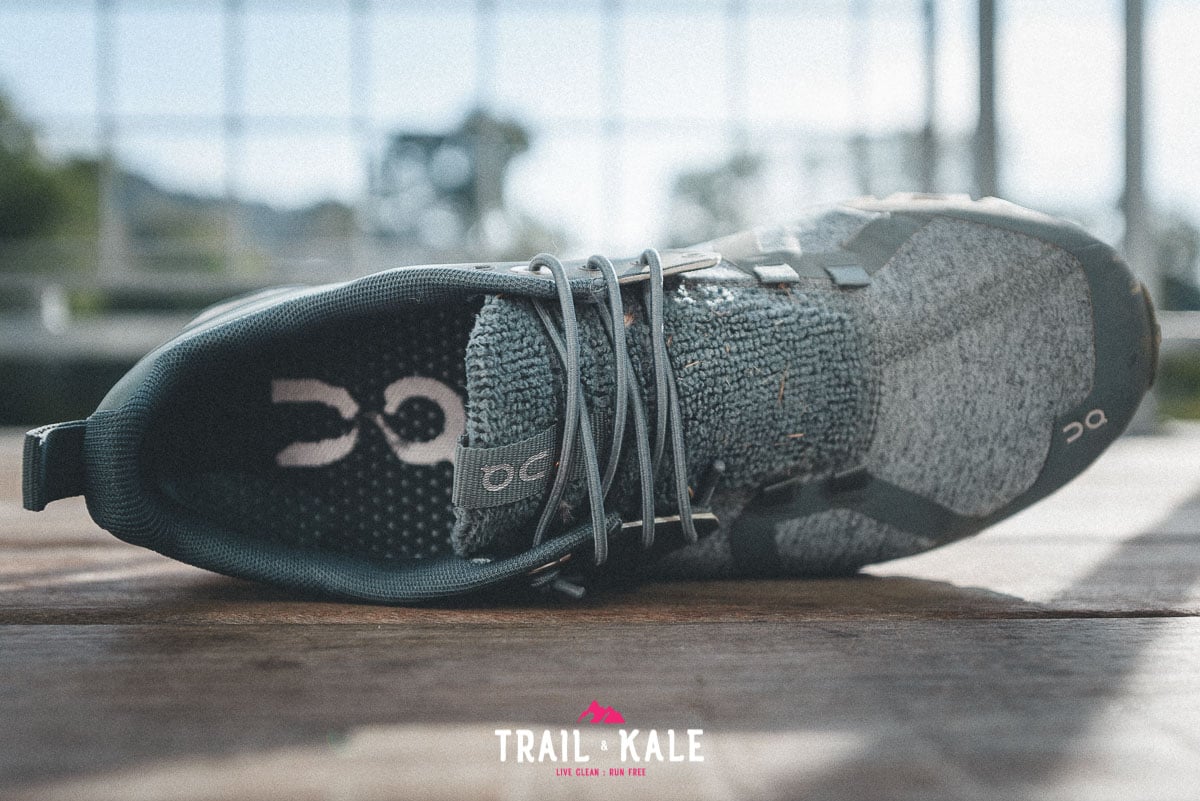 The toe box is a medium width.
On Cloud Terry Review Summary
On Cloud Terry Review
PROS
Comfortable
Lightweight
Attractive design and color options
Versatile lifestyle/running/training shoes
Elasticated slip-on design is great for everyday and traveling
Vegan-friendly
CONS
May not be as durable as other On editions
Laces may need adjusting to fit your feet
For an active lifestyle shoe, the On Cloud Terry is everything I could ask for – stylish, super-comfortable, lightweight and easy to get on and take off.
The Cloud Terry is more of a lifestyle shoe and not designed for performance running, but you can effortlessly break into a run when required to in the city. It is suited to drier weather days as some of the fabric used in construction is not particularly waterproof. The shoe is comfortable to run in although there are other On Running shoes better-suited for extended runs of say more than 30 minutes or so. See our On Shoes for Road Running list to find a dedicated road running shoe.
The On Cloud Terry is a very versatile active lifestyle shoe, so whatever you decide to do in them during your day, you should be covered.
I hope you enjoyed reading my On Cloud Terry review, please let me know if you have a question in the comments down below.
---
Still not sure which On Running Shoes to buy?
Visit our Best On-Running Shoes Guide for an ordered list of the top ON shoes for road and trail running, each with links to our respective On Shoe reviews. Designed to make your buying decisions simpler.