If you're looking for a birthday, Christmas or gift for simply being a good boy or girl, our dog gifts guide has something for adventure-loving pets and dog lovers.
If your pet fancies him/herself as a bit of an adventure dog (perhaps they love hiking, trail running, paddling, or simply spending time out exploring), then there's something fun and great for them on this list.
In fact, they don't have to be your own dog – perhaps you're looking for gifts for a dog lover, or your friend's dog – either way, we have you covered!
This list is also a great place to look if you're searching for the best gifts for pet parents, aka dog dads and dog moms!
From coats, sweaters, boots, and goggles to GPS collars and more calming pet gifts such as treats and chew toys, we've sniffed out some of the best dog gift ideas and put them all together in this handy list.
---
1. A warm, water and stain-resistant dog travel blanket ($89)
For 15% off any purchase at Voited, visit their site and enter our exclusive code TK15 at checkout.
With a variety of striking designs, these water-resistant pet pillow blankets from Voited are perfect for road trips, camping or simply lining a dog bed or crate to keep your dog warm during some rest and relaxation.
It's also handy to have at home if your fur baby likes napping on the sofa as if it's their own personal dog bed, and you want to protect it from their fur and dirt.
This blanket is lined with micro-fiber fleece and is durable, stain-resistant, and machine washable… plus it's made from recycled plastic bottles! It's a really nice gift for dogs of any age, but especially older dogs and short-haired dogs that feel the cold 🙂
Speaking of dog beds, if you have a new pet or your dog needs a new one, you're bound to find a great one in our dog bed buyer's guide.
---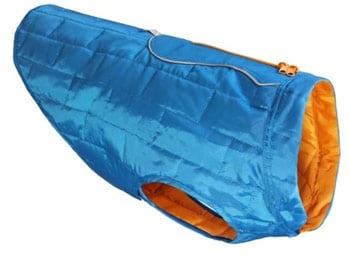 2. An Insulated Jacket To Stay Warm ($30)
The Kurgo Loft Jacket is lightweight and form-fitting, with adjustable velcro straps around the belly to ensure a snug fit that keeps warmth in.
The water-resistant quilted outer material makes this dog jacket a great winter layer for cool weather, especially when paired with the Kurgo K9 Fleece Sweater, and also provides some warmth and wind protection.
The Kurgo Loft Jacket, reviewed in more detail in our Kurgo Loft Jacket review, also features a zippered leash portal so it can be worn over a harness, and is available in a range of fun colors.
The Loft jacket is also reversible which means you get two colors for the price of one, which for only $30 is excellent value for money.
---
3. A goody box of toys and tasty treats for the 'goodest' adventure dog ($30)
If your dog deserves some new toys and treats, how about surprising them with one of these fun goody boxes from Chewy.com?
They come in a range of limited edition themes – our resident four legged friend Kepler was recently delighted with their Adventure Dog Goody Box, which came packed with nature-inspired squeaky plush dog toys, a chew toy, and a variety of treats.
Buying gifts for your pet in a box like this also represents great value compared to buying toys and treats separately – the whole box costs less than $30.
---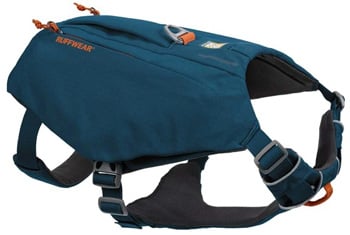 4. A slimline dog backpack for running, hiking, and walks ($70)
The Switchbak dog harness-backpack hybrid from Ruffwear does double-duty – it's ideal for all-day adventures where your dog will be wearing a harness and you're going to need accessories and food to make your pup's time out there even more enjoyable.
This is the perfect gift for an active dog because you know it will get a lot of use, even when your dog isn't hiking or trail running, because it's great simply for everyday walks.
It's minimal enough to feel like a harness, but you can also put water, treats or poop bags (including the full ones) in there for your dog to carry.
For more dog backpack ideas, read our dog hiking backpacks buyer's guide.
---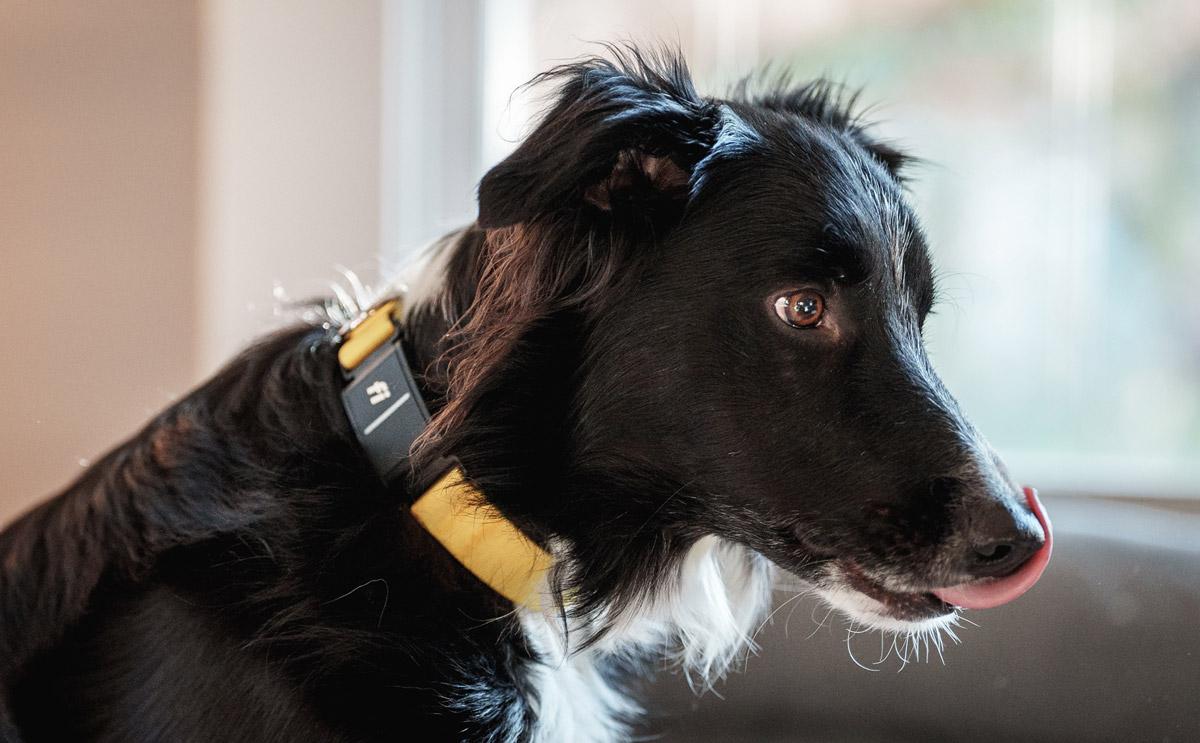 5. A GPS Collar that tracks your dog's location, steps and sleep
The Fi Collar Series 3 is the smartest smart collar for dogs. Chew-proof, water-proof (even the ocean), and generally dog-proof. It's Bluetooth enabled to track doggo's walkies and activity and to keep your dog in good shape.
Fi does sometimes offer discounts for their subscription-based dog GPS tracking collar (check the latest offers click here). If you're considering getting one for your dog, you can use our exclusive coupon code TK25 via the link below to get $25 OFF your Fi Collar order:
Our dog Kepler wears his Fi Series 3collar every day and has thoroughly field-tested it in everyday life and off-leash trail adventures together.
This smart dog collar has a ton of clever features including:
Create safe zones and be notified if your dog escapes
Activity and sleep tracking for your dog
It's waterproof
Long battery life (an average of 3 months between charges under typical usage)
To learn more about the key features, read our Fi GPS collar review.
---
6. A water bowl that keeps water cold… and doesn't tip over ($50)
There are many reasons these YETI dog bowls make such popular gifts for dogs – they just love to drink from them!
Plus, they keep water cold for a long time, look great, are dishwasher safe and are very difficult to tip over.
If you're already a fan of YETI coolers and drinkware such as the YETI Rambler flasks, then you already understand why these dog bowls are awesome.
For more about them, read our full YETI dog bowl review.
---
7. A personalized, silent ID tag ($20)
These personalized Qalo dog tags are jingle-free and custom-made for active pups and their owners!
Available in a range of fun (as well as single-color) designs, these fun, easy-to-clean silicone dog tags are a great gift for dog owners who love to take their canine companion (or companions) on adventures.
---
8. A dog DNA test and genetic age profile ($66+)
If you're a pet parent who's always wondered what breed, or mix of breeds your dog is, then you can find out with this simple dog DNA test from DNA My Dog, which is available from Chewy.
Your dog's DNA test will show their mix of breeds, provide you with information on them, and – if you buy the version with the added genetic age profile – it will also tell you your dog's approximate age!
It's super easy to do with a quick cheek swab, and results are emailed to you within a couple of weeks of sending it off.
We tried out this test ourselves with our Border Collie, Kepler, which came back as a 100% Border Collie match (no surprises for us there) – and the test had his age accurate, too!
---
9. A warm dog sweater to stave off the cold during winter walks and trail hikes ($36)
Dogs, especially short hair dogs (who feel the cold more than long-haired breeds) can benefit from wearing warm layers in winter, for everything from their everyday neighborhood walks, to mountainous trail adventures.
Plus, who doesn't like it when their dog wears a sweater – especially for $35.99?!
One of our favorite dog clothes items is the K9 Core Sweater from Kurgo, which is made from knitted fleece, comes in a range of great colors with reflective details, and features an athletic cut for full freedom of motion when on.
This warm winter layer looks great on its own, and also pairs really well with Kurgo's popular Loft Insulated Jacket, which is also available in a wide range of color options.
Read more about this dog sweater in our Kurgo K9 Core Sweater review.
For more dog coats and sweaters, read our dog jackets buyer's guide.
---
10. A vibrant new collar and leash… and matching accessories for their dog mom or dad ($20+)
Honestly, we struggled to choose our favorite design from Wolfgang Man & Beast's gorgeous range of matching collars, harnesses, leashes and human accessories including bandanas, tees and key fobs.
With a range of unique and vibrant styles, you'll have fun choosing what combo suits your lucky pet the best!
---
11. Dog goggles to protect your dirt or snow-loving adventure dog's eyes ($85)
Apart from these Rex Specs dog goggles looking adorable, they also help protect your dog's eyes from debris, environmental hazards, and sun damage (especially so, in snowy environments where the light bounces into their eyes).
They are stable and fit securely on your dog's face while still allowing for full jaw motion and field of view.
Reasons you may want to get goggles for your dog are if they are spending time in environments such as dusty, dirty trails (especially on windy days), when they may run in and around lots of undergrowth at eye level, or really bright conditions on trails, snow or the water.
All lenses are rated UV400 – blocking 99.9% of UVA and UVB rays and the strap system is fully adjustable to accommodate a range of shapes and sizes.
Make sure you buy the right size for your dog, Rex Specs' website will help with that.
By the way, if you're looking for a gift for someone who's into adventuring with their dog, such as running, watersports, hiking and camping, also check out our list of recommended gifts for outdoorsy people!
---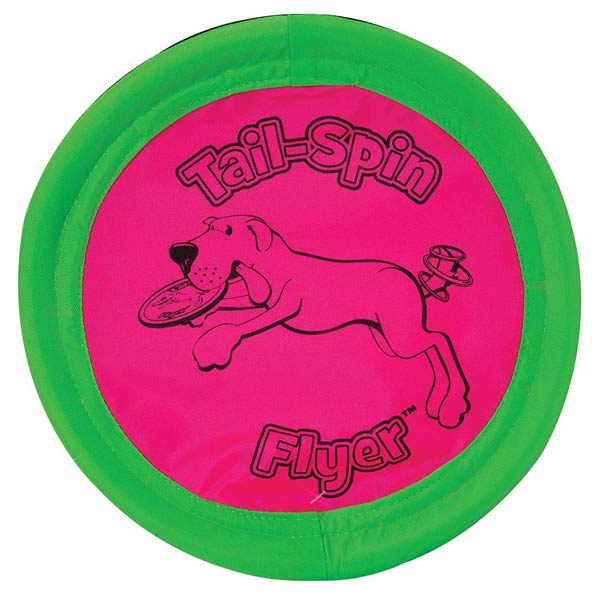 12. A frisbee makes for a great dog gift ($5+)
Even your backyard can be full of fun adventures for your dog. Especially if they enjoy a fun game like chasing a frisbee or ball!
Our resident adventure dog Kepler is a big frisbee fan – frisbees are his favorite toy. He recommends this particular style of disc, the Tailspin Flyer, as the best one ever, especially if your four legged pal craves exercise and mental stimulation.
Giving your dog the opportunity to catch this dog toy as a reward is also a great incentive for all of you dog moms and dads to teach them some freestyle tricks 🙂
For more choice in frisbee sizes and styles, you can also head over to our list of the best dog frisbees.
---
13. Some Real, Good Food
Nom Nom dog food is 50% OFF right now when you start a trial.
Nom Nom's nutrient-packed recipes are meticulously crafted by their Board Certified Veterinary Nutritionists with quality, flavor, and texture in mind.
It's what Nom Nom likes to call delicious science. This tasty wet food seems to be what all the furry pups are going bonkers over right now.
This is a great dog gift because what's better than the gift of good health?
I mean yes, a dog needs a calm, stress-free environment, exercise, and good-quality sleep too but food is what will help fuel all of that.
---
14. Immune-supporting dog treats ($12)
You can't really go wrong with pet treats when they're actually beneficial for your furry friend's well-being!
Noochies organic dog cookies from Because Animals are designed to provide a good source of fiber as well as containing nutrients for immune support – and they're tasty, too!
---
15. Dog bootie shoes to protect paws from hot, cold, icy and rough terrain ($38)
A set of water-resistant dog boots will provide your dog's paws with protection from outdoor elements, including hot pavement and gravel in summer, cold snow and ice in winter, and harsh, rough or spine-strewn trails at any time of year.
Dog booties can also be a great choice if your dog has difficulty walking on slippery surfaces at home, such as tile and hardwood flooring, which can be the case with injured or older dogs.
The Grip Trex from Ruffwear are best in class when it comes to dog boots for hiking and spending time on other trail adventures as well as providing protection from very hot or snow-covered surfaces.
For more dog boot options, including tips on how to choose and get the right fit for your dog's paws and needs, visit our dog boots buyer's guide.
---
16. A bungee dog leash for casual hikes and trail runs ($40)
The Ruffwear Roamer Leash is an adjustable stretch-webbing running leash that can be hand-held or worn around the waist for a dynamic hands-free leash experience.
This is a great gift for dog moms and dads that like to run or hike with their furry friend on-leash. Having the leash attached at your waist frees your arms up for other things.
The stretch webbing in the leash keeps the dog lover and their little beast connected while allowing for an extended range for roaming and exploring.
Ruffwear's unique Talon Clip offers a strong and secure leash-to-collar attachment which can also be used to attach the leash to a harness if you'd prefer.
If you're interested in exploring more dog leashes (and harnesses) that are suitable for running with your dog (which would all make great dog gifts, too), visit our dog leash and harnesses buyer's guide.