Welcome to our popular 4-week 10k training plan for intermediate runners – yes, a handy one month 10k schedule to follow!
If you can already run 5k and want to get ready for 10k in just a few weeks, this is the training plan for you – and it's completely free to download.
I'm Alastair, one of the founders of Trail & Kale, and I'm excited to share this beginner runner's 10k training plan with you.
What's in this 4-week 10k training plan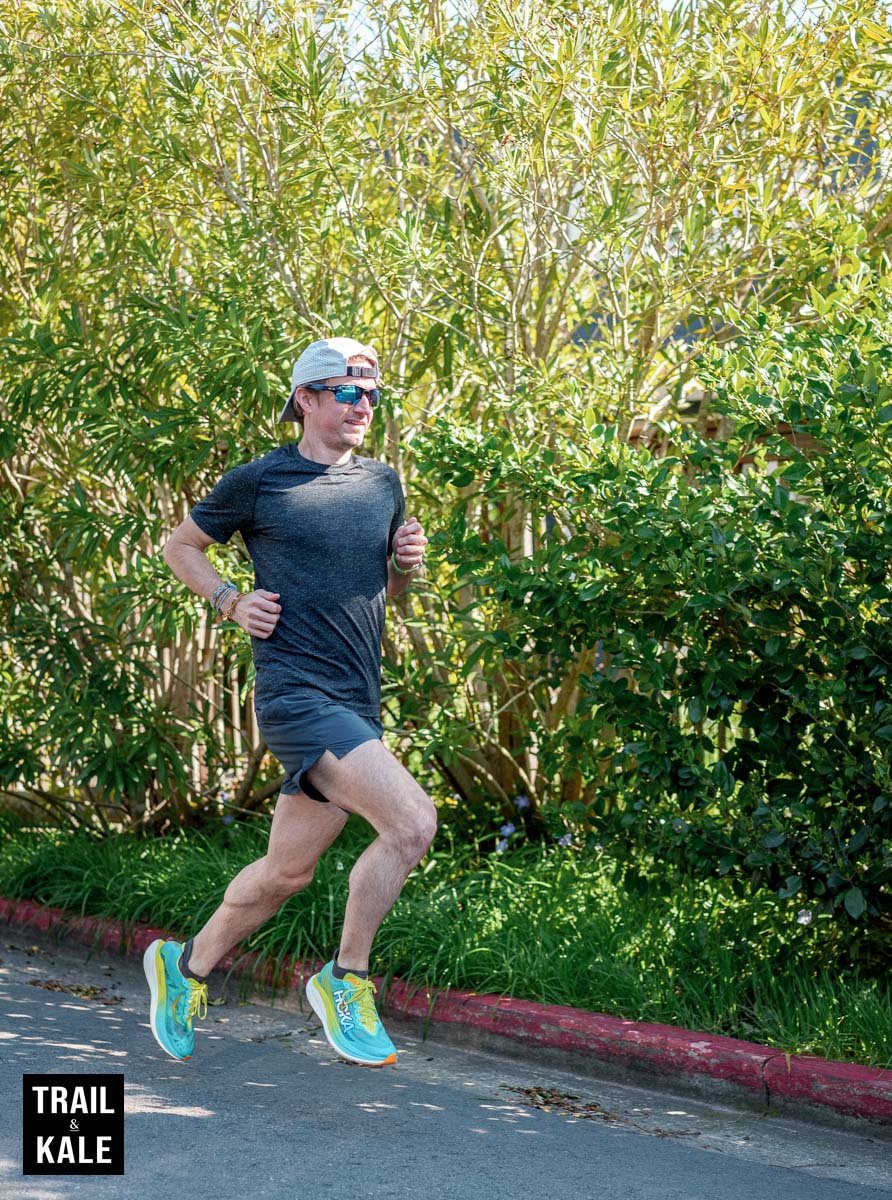 Who this 4-week 10k training plan is for
Runners who run regularly a few times a week and can comfortably and regularly run at least 5k (3-4 miles) at a time.
If you already run regularly but haven't trained for the 10k distance recently, or simply want a simple plan to follow to build up to it while working on improving speed over 4 weeks, this is the training plan for you!
If you're not quite comfortable with regularly running 5k non-stop several times a week…
Then our 6-week beginners 10k training plan is going to be a more suitable plan for you at this stage of your running journey.
If you are not currently a runner and have not run before…
If this sounds like you, you have a little more preparation to do, which starts with using our 8-week Couch to 5k training plan to build up to running up to around 30 minutes at a time (around a 5k in distance, or 3.3 miles) before moving on to our 6-week 10k training plan for beginners.
If you'd prefer to learn how to run longer and train for a half marathon or full marathon then head over to our training plans homepage to check out those longer distance training plans.
Overview of this 10k training program
This is a 4-week 10k training plan for intermediate runners that's designed to help you train for a race in less than one month's time!
Do you have a time goal in mind? This chart should help you predict roughly what your potential 10k time could be based on your average pace: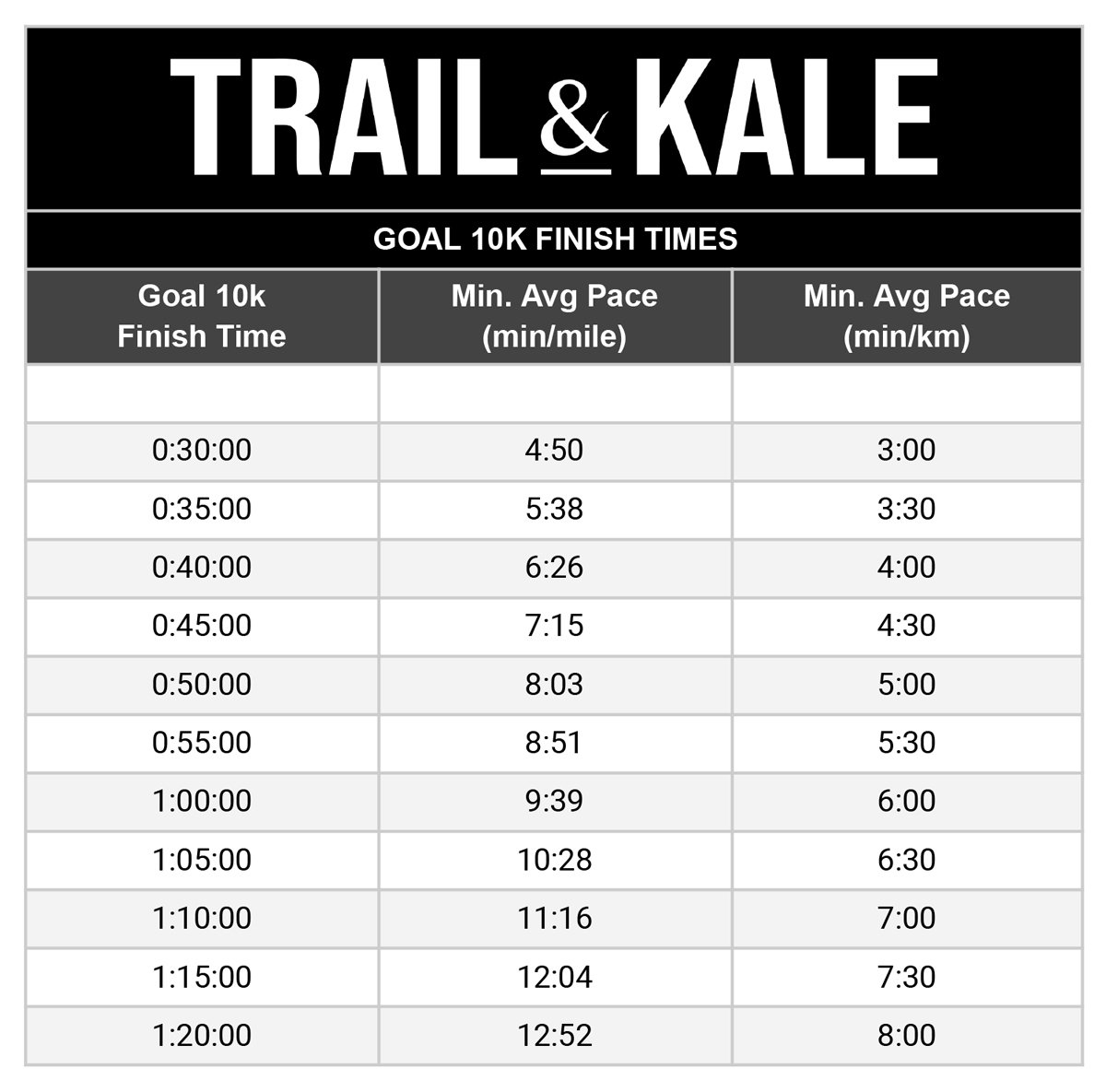 As with our other endurance running training plans, the plan is structured so that you do several runs a week, of different durations and intensities.
This 10k training plan also includes rest days.
These non-running days are also important components for your overall recovery.
It also includes some cross-training days, where you can do activities such as swimming, static cycling (any bike works but I personally love my Peloton) or a trail hike.
How to prepare for your next 10k race
Check your fitness level
Before embarking on any running training program, it's important to be honest with yourself about your current fitness level. If you have concerns, consulting with your doctor beforehand is a wise decision.
If you're inexperienced with cardiovascular exercise, such as running, spending an additional 8 weeks gradually increasing your endurance to run for 30 minutes continuously may be beneficial.
Our Couch to 5k program is a great resource for achieving this goal before beginning a 10k training regimen.
Heart rate zone training
All of our training plans take advantage of the benefits of using heart rate zone training as a highly effective way to plan, monitor and track running effort levels and performance over time based on your own personal level of fitness.
Heart rate training is personalized to you based on your individual heart rate, and provides ranges for you to train within, called 'zones'.
Read our easy to follow guide to heart rate zone training to learn how to work out your heart rate zones, and how to track your heart rate while you're running to ensure you're in the target heart zones as outlined in our downloadable training plan below.
Gather the gear you need to run comfortably
What shoes and gear you wear for your 10k training (as well as race day) will make a big difference to your comfort and enjoyment levels, especially on those tougher long weekend runs.
As expert running gear reviewers we have a comprehensive set of running gear buyer's guides based on our extensive experience of testing and reviewing running shoes, apparel and accessories!
Below is a list of necessary items for 10k training and race day, along with a few non-essential items that may be necessary depending on the time and location of your run:
A quality pair of running shoes
Running tights or shorts
For women, a running-appropriate sports bra
A running tee or vest
Optional items to consider for running in the cold are warm gloves, a warm hat and a warm baselayer such as a merino wool tee.
For running in the dark then a good running headlamp is essential and a reflective running vest is a good idea, too.
Advice to optimize performance, improve post-run recovery and prevent injuries
This advice will help you make the most out of every single 10k training run.
Dynamic stretching – is super important as part of your 5-10 minute pre-run warm up. There's a video demonstration of our recommended pre-run dynamic stretches in our post on stretches for runners.
Develop good running technique – this includes ensuring you're working on efficient breathing, running form and cadence during your running workouts.
Monitor your heart rate – our training plans are most effective for runners who are able to monitor their heart rate using a running watch. We're big proponents of heart rate zone training, as it's personalized to your own heart rate data so you can ensure you're running each run at the right level of intensity.
Nutrition as you run – Unless you're going for shorter runs in chilly conditions, it's advisable to carry water with you on every run.
Static stretching – don't forget to do some good static stretching after you finish each run. It will really help with flexibility and reduce post-run soreness. These are our favorite static stretches.
Get plenty of rest and sleep – another proven way to help recover quicker, make sure you're getting enough good quality sleep and that on rest days, you truly do rest!
---
Our FREE downloadable 4-week 10k training plan for intermediate runners pdf (printable)
---
COMPANION GUIDE for our 4-week 10k training schedule
This 10k training plan is designed to be simple to follow and prioritizes running consistency.
Train using heart rate zones
Effort levels for each run are specified based on ensuring you're running in target heart rate zones 2, 3, 4 or 5, which you'll monitor using a running watch that tracks your heart rate.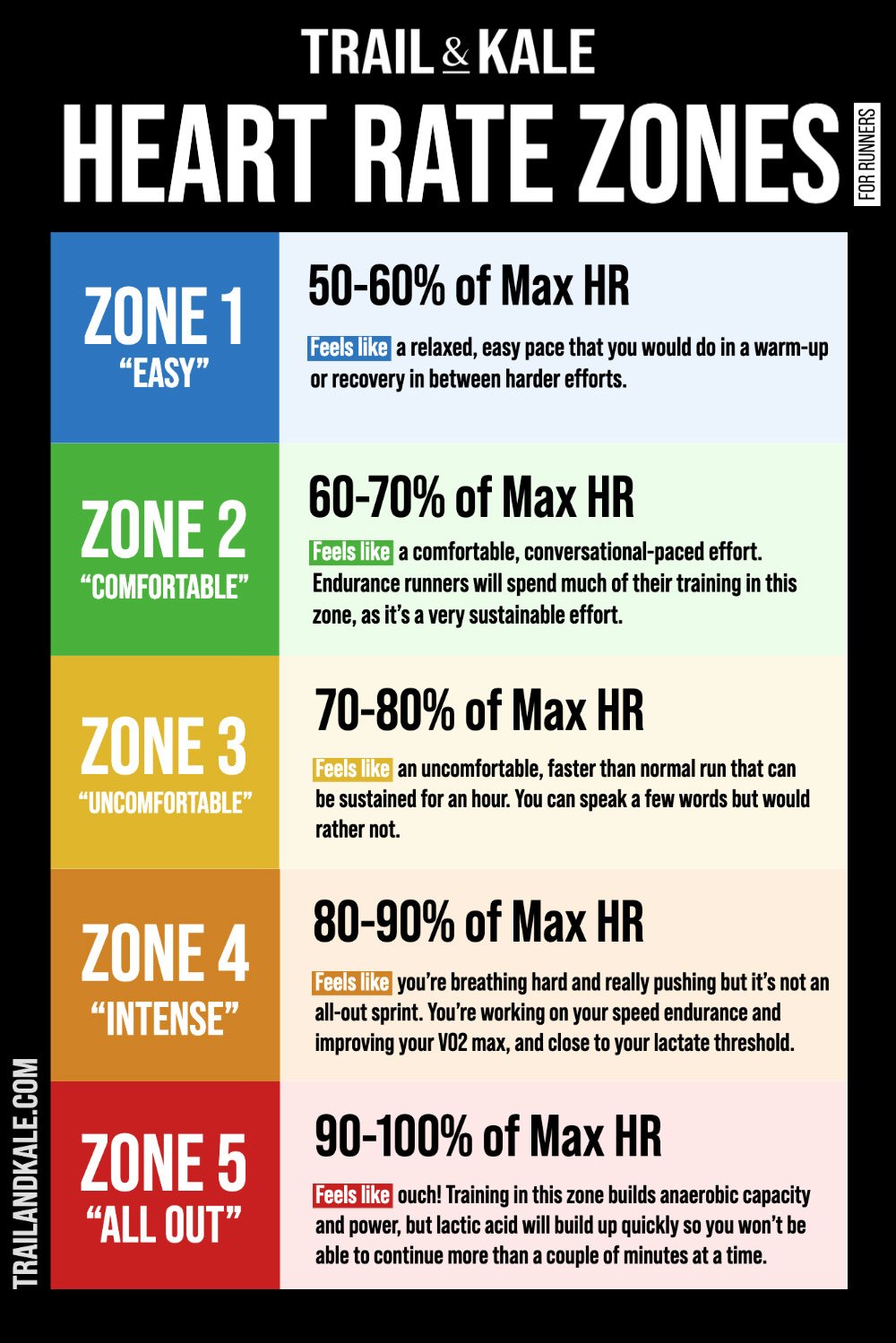 Read our heart rate training post to learn how to calculate your personalized heart rate zones, which is an essential part of how and why our training plans work so well.
You can also use this training plan without specifically using heart rate zones and tracking your heart rate, if you wish, but you'll need to gauge your effort level based on your perceived effort, rather than using heart rate data.
Your Tuesday speed intervals run will get you working up to a zone 4, and your Friday tempo run, as well as your 10k race day, will get you running at or slightly above a zone 3 as you push the intensity of your runs for prolonged (but sustainable) periods of time.
Warm up and cool down
Before every run, spend at least 5 minutes doing a warm up, which should include dynamic stretching.
After every run, spend 5 minutes cooling down until your heart rate is back comfortably in Zone 1. Then spend at least another 5 minutes doing some static stretches to help reduce soreness and promote flexibility and range of motion.
Our guide to stretches for runners lists our favorite dynamic and static stretches.
Rest days
Monday and Saturday are your rest and recovery days.
This doesn't mean you shouldn't do some activity, though, but take those days off from running. Depending on how you feel, you could do some yoga, breathwork, stretching, light cross-training (such as riding an indoor bicycle), light strength training or take a hike.
Happy training!
I'm excited for your 10k training journey and hope you find this 4-week intermediate 10k training program to be an easy-to-follow and enjoyable companion along the way!
---
PIN ME!