Well, well well it has been a while since I have reviewed a pair of The North Face running shoes, and I'm so glad it gets to be the Summit VECTIV Pro.
These trail racing shoes really caught my attention during this year's UTMB trail race in Chamonix, mainly due to the success of sponsored athletes who ran in them but also because the Athlete Edition colorway really stood out in style compared to the competition this year (yes, they're very bright).
So, when The North face offered to send me a pair for review, I jumped at the opportunity because I wanted to know firsthand how good these shoes are on varying trails.
➡ For a masterclass in trail running shoes and how to choose the right pair for you, read my Best Trail Running Shoes Buyer's Guide next; we're confident we'll have you matched up with the best shoes for you.
That leads me to today, after having several weeks of test time, I'm now ready to share my thoughts about them in this The North Face Summit VECTIV Pro Review.
In this The North Face Summit VECTIV Pro Review I'm going to be sharing my favorite features, and how they benefit running performance on the trails, as well as things I would change to improve these shoes for the Summit VECTIV Pro 2, who they're going to be best for, and whether they're worth your money.
The North Face Summit VECTIV Pro at a glance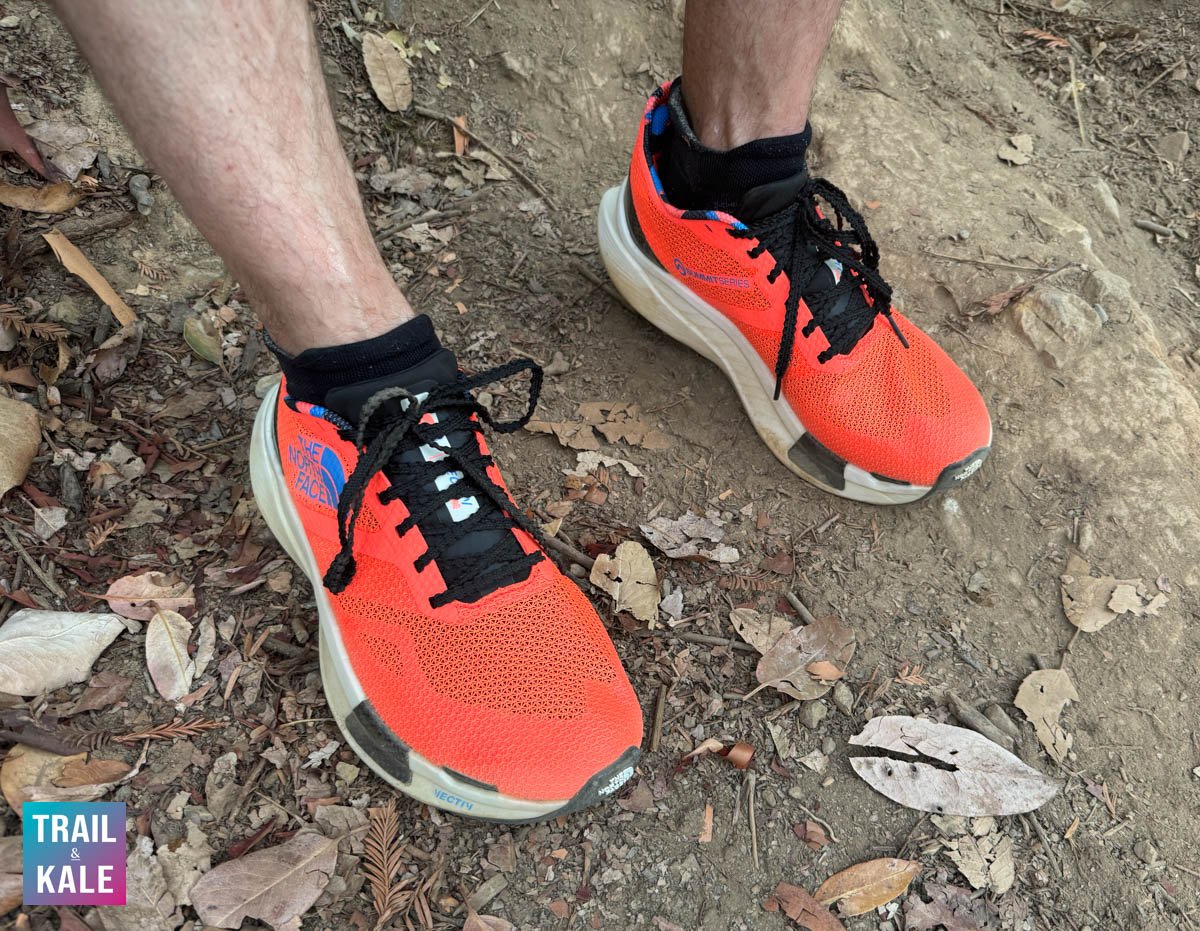 Sizing & Fit
True to size.
Weight
9.7oz (275g) for a size US(M)9 – that's pretty lightweight!
Drop
6mm / stack height: 32 mm – 26 mm
Width
Medium-Wide
Cushioning
Responsive.
Price
Key Features, PROS & CONS
🟢 Sticky rubber outsole
🟢 Responsive ride with great energy return
🟢 Very breathable & surprisingly flexible upper
🟠 Short Tongue and Lacing Issues
🔴 Heel counter needs articulation, or shortening
🔴 Stability wings put pressure on balls of feet
Usage
A premium carbon fiber plate trail racing shoe designed to help you glide over the trails faster, for longer.
Support / Stability
Additional forefoot stability built into the forked carbon plate design.
Closest competitors
---
We stand behind every review we write and recommendation we give, and because all our reviews are done in-house by myself or Helen, you can rest assured knowing you're getting a consistent voice from real people you can trust.
I hope this review answers all your pre-purchase questions about the Summit VECTIV Pro trail running shoes but if I missed something, please drop any questions in the comments down below and I'll get back to you.
Summit VECTIV Pro sizing and fit
The VECTIV Pro fits true to size with a medium-narrow width in the midfoot area and a wide toe box which is great for those who need the extra space there.
There is some level of arch support in the footbed too, a little more so than you may be used to if you normally run with On or HOKA running shoes, for example. which both have a more neutral foot bed.
The features I love and how they benefit performance
There's a lot to love about the VECTIV Pro but unfortunately there's an equal amount that I think needs improvement.
Below is my video review on YouTube which shares additional insights and clips of my testing these trail running shoes out on my local mountain – subscribe to our YouTube Channel for more running shoe reviews!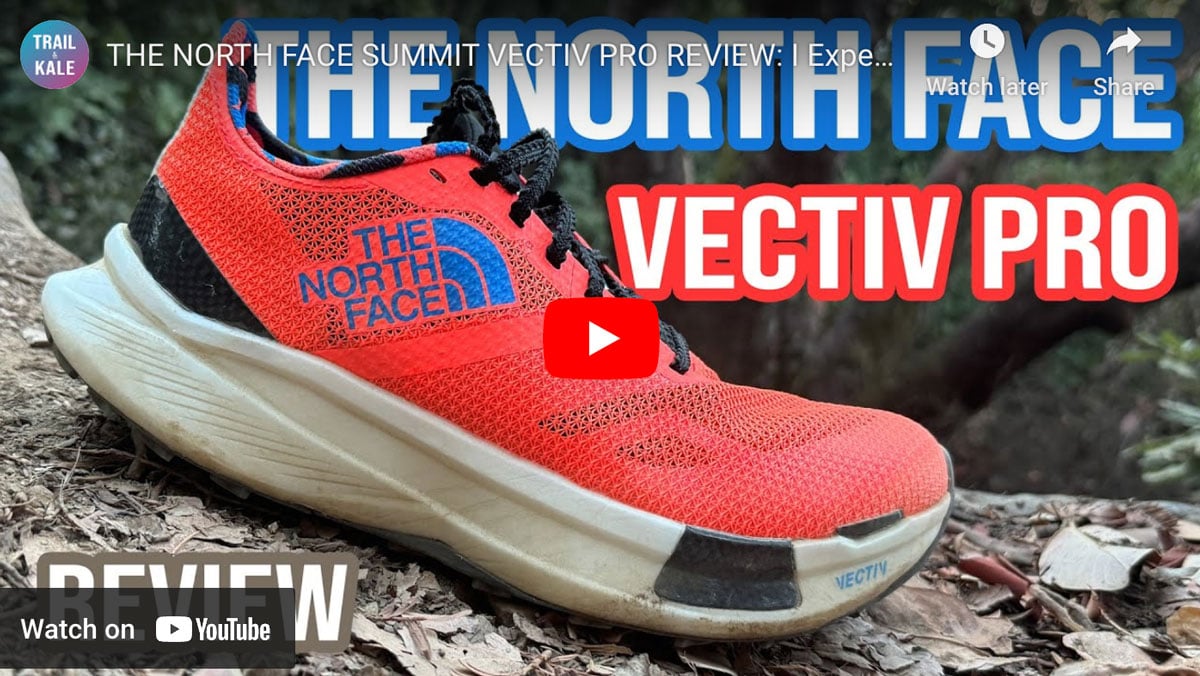 Let's start with the good aspects of this trail racing shoe…
The outsole is sticky and provides great traction
I'm going to start with the outsole then, which is probably the feature that stood out most quickly to me.
The rubber compound used is incredibly sticky and gives great traction when running both down and uphill.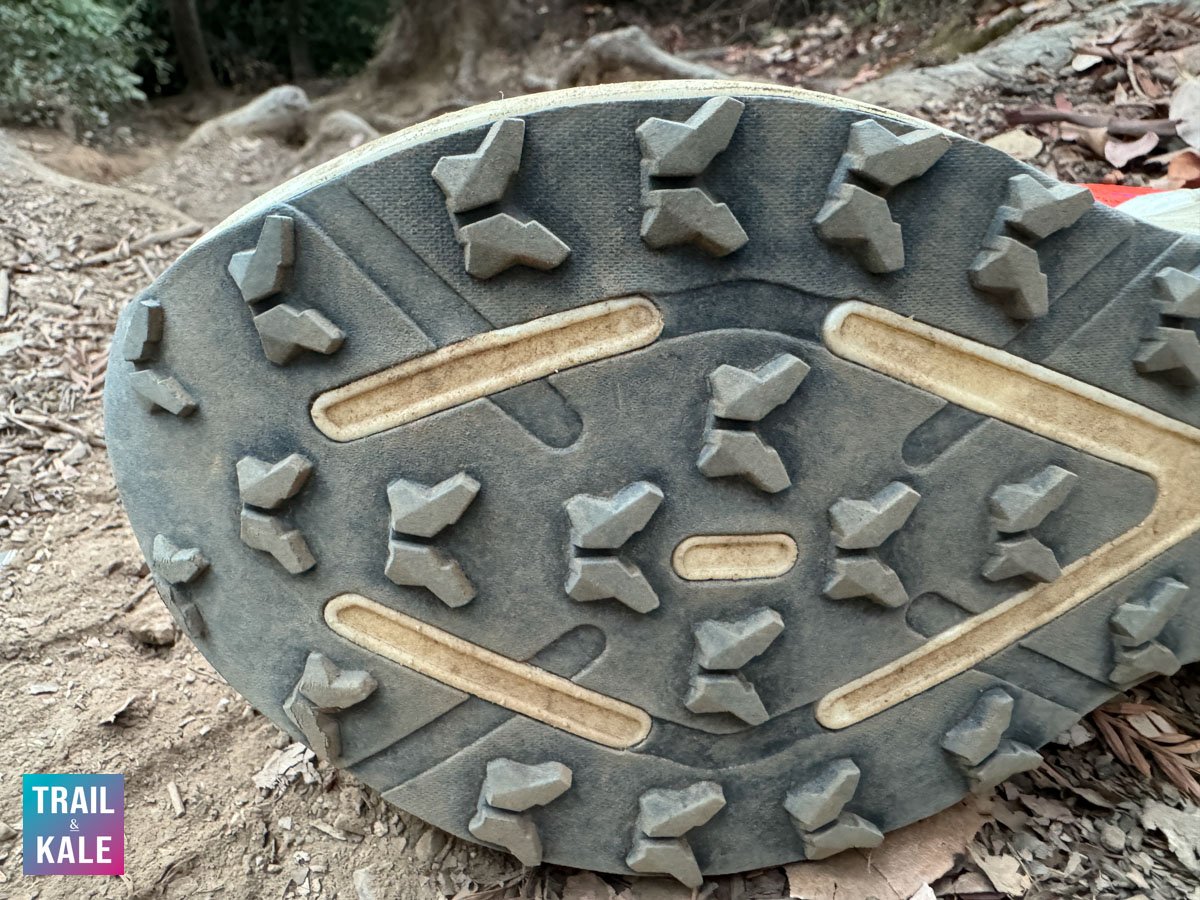 This sticky rubber compound, when combined with the carbon fiber plate that runs through the midsole, provides a really great platform for ascending mountains quickly.
The carbon fiber plate provides just the right amount of energy return that makes is feel very efficient too; the relatively large lugs claw into the trails very well too.
The midsole is bouncy and responsive with good cushioning
The midsole feels really good and certainly race ready; it's very responsive and there's plenty of cushioning in there for you to go the distance.
It's also fairly wide under foot as well which means you have a really nice stable platform to run on.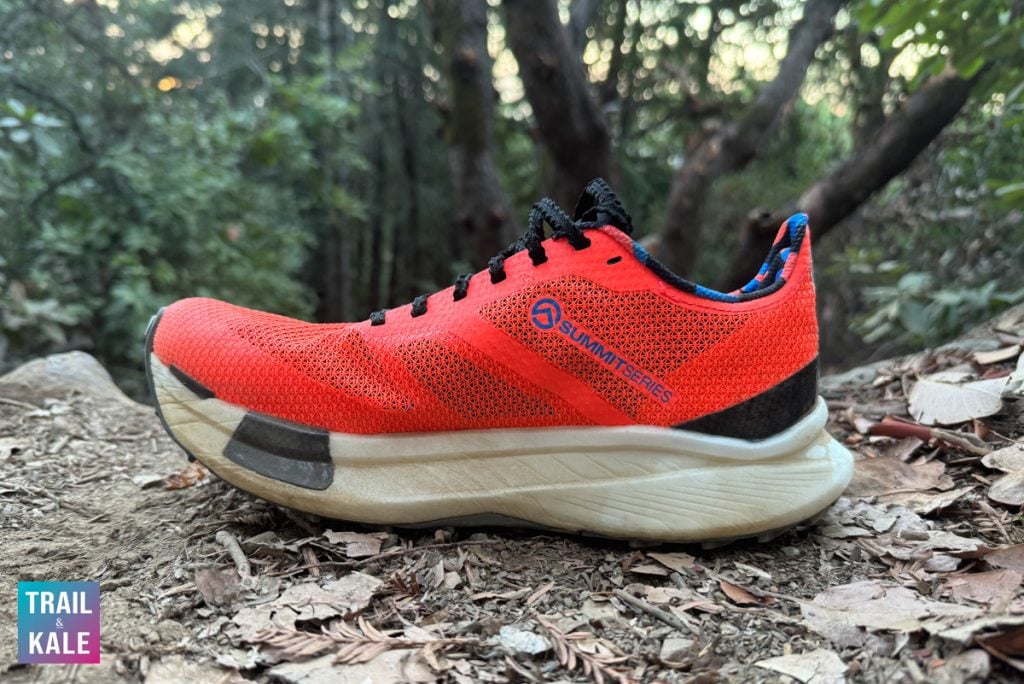 The North face has tried to increase the stability further by adding carbon 'stabilty wings' to the midsole forefoot, which are aimed at reducing lateral roll, however, in reality, I feel like these are more of a gimmick, and actually a bit of a hindrance in performance and comfort. More on that in just a bit!
The upper has some notable features but there's room for improvement
The upper has some notable features to mention but some bad ones too, which I'll list off in the section below where I talk about how TNF can improve this trail running shoe for next season's Summit VECTIV Pro 2.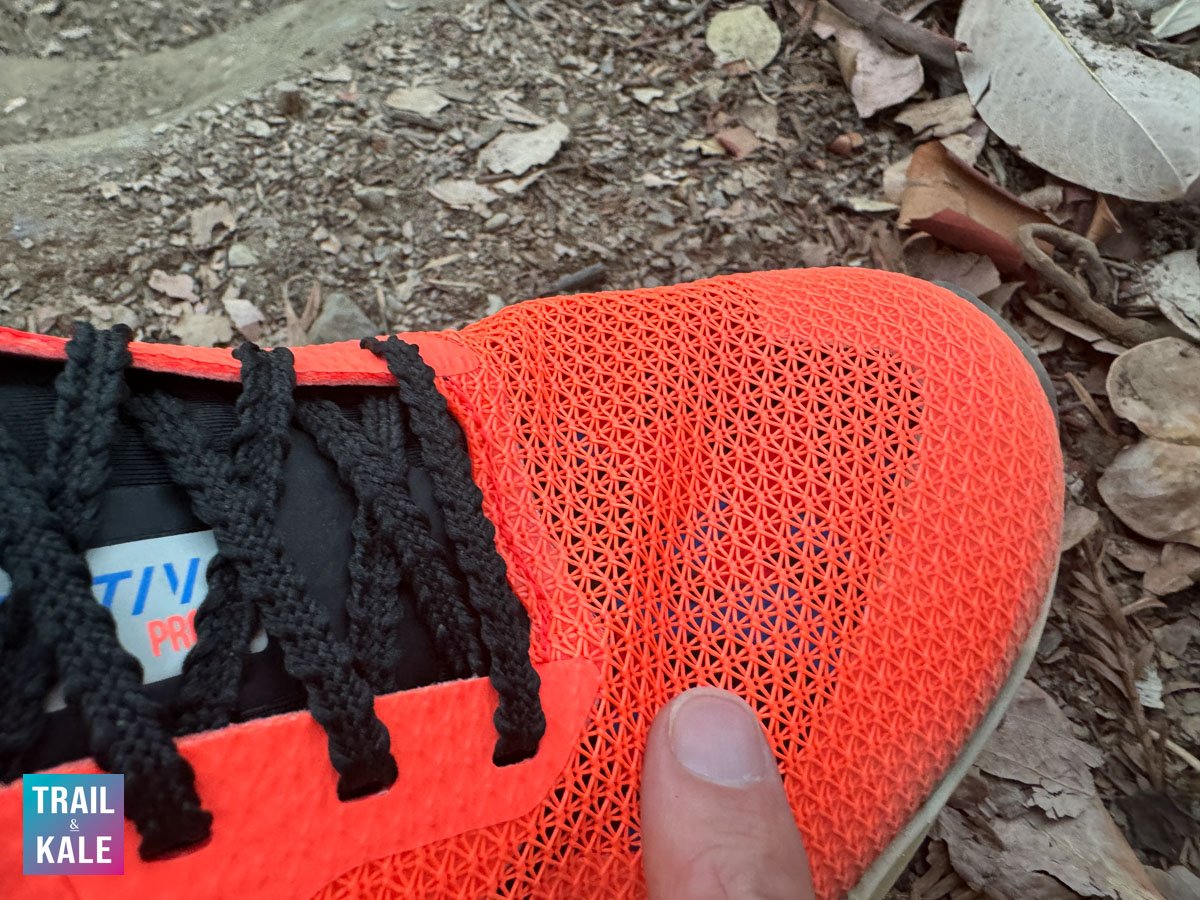 The upper is made with a durable plastic weave material which is surprisingly flexible and incredibly breathable, as you can see in the photo above, but doesn't offer any stretch. It actually performed much better than I was expecting for a high performance trail running shoe.
The lacing system works pretty well and the lacy laces create a secure knot when tied, thanks to their design which I have seen on high end Nike running shoes before.
I also quite like the padded supports around the heel inside the shoe, which are designed to help lock your feet into the shoes, see photo below.
The tongue is nicely padded and I really like the bright color and style of the upper but that's where the good points end for the upper and unfortunately there's plenty of room for improvement, which I'll go into now.
The features that need improvement
The dark side of the upper
Following on from the good things I had to say about the upper, here are the bad. First off the tongue has no loop on it for the laces to go though, and hence the tongue does slip down a bit, this can be easily fixed with the addition of a loop.
My next gripe with the tongue is how short it is, I tried using the top holes in the lacing system in order to get a more secure fit around my ankles but because the tongue is so short the laces were practically slipping off the top of the tongue and onto the top of my foot.
So it seems like those top lace holes don't serve a huge purpose in my eyes.
The next part of the upper that annoyed me is the heel counter which shoots up quite high with no articulation (backward slope).
This feature really leave these shoes open to rubbing against the back of your heel, especially if you wear low tab running socks like I usually do. If only The North Face just sloped this heel counter backwards then this wouldn't be an issue.
Those carbon fiber stability wings need to go…
My finally dislike is with the carbon fiber 'stability wings' which are more of a hinderance than a beneficial performance feature. They're design to reduce lateral roll and improve stabilty when running over technical terrain but instead they dig into the edge of the balls of your feet.
This made downhill running a real challenge for me because they were actually starting to hurt my feet and hindering my control because of it.
I have read about some runners cutting these stability wings out to stop this from happening but to me that's crazy. If I'm paying $250 for a pair of running shoes I'm going to be demanding they're near perfect or they're getting returned.
Who are these trail running shoes best suited to?
Those with deep pockets and a high pain threshold. Joking aside, these trail racing shoes do have a lot to offer but there's also a lot of room for refinement, which I have a feeling The North Face may well be addressing for their next version.
There's no denying that the Summit VECTIV Pro is a fast trail running shoe with a bouncy feeling and rockered carbon plate to help you effortlessly glide mile after mile but for me it's hard to get past those pain points that I was experiencing with the upper design.
So, if you're into trail racing and you're in the market for an extremely fast carbon plate trail running shoe, that prioritises speed over overall comfort, then these could be worth a try.
Are they worth your hard earned money?
Unfortunately at $250, I can't recommend you go out and buy these trail racing shoes – if you're spending that much money on a pair of running shoes, they really need to be closer to perfect.
I really wanted to love them, as I'm a huge fan of other TNF trail running gear right now like their Summit Series Run Race Day Vest 8 which is just a really awesome running hydration pack for carrying your running gels, water and accessories.
Sadly however they just don't quite hit the mark for me but I'm still hopeful that the Summit VECTIV Pro 2 will solve some or all of these issues and will end up being a hit; I'll let you know when I test them out! 😉
Some other carbon fiber trail running shoes that may be worth also investigating include the HOKA Tecton X 2, Nike Ultrafly, and the Scott Ultra Carbon RC
---
The North Face Summit VECTIV Pro review summary
The North Face Summit VECTIV Pro Review
PROS
The sticky rubber outsole accompanied by the large lugs provides excellent grip on varying terrains.
The carbon fiber plate embedded in the midsole offers a nice bounce and energy return, making your runs feel more efficient.
The midsole cushioning is responsive yet protective enough for longer runs, offering a balanced feel underfoot.
Despite being made of a durable plastic weave, the upper is very breathable and surprisingly flexible, accommodating the natural movement of the feet.
CONS
The stability wings aimed at reducing lateral roll actually hinder performance by digging into the foot, especially during downhill running.
The short tongue can cause lacing issues and may slip down during runs which could be bothersome.
The heel counter's high and stiff design might cause rubbing against the back of the heel, potentially leading to blisters over time.
At $250, the expectations for a near-perfect performance and comfort are not met, making it a less value-for-money option.
---
➡ I hope you enjoyed reading this Summit VECTIV Pro review; As always, your thoughts and experiences with these running shoes would be awesome to hear, so drop a comment down below and let's keep this running community thriving! 🏃‍♂️💚
Join our Strava club too, and be part of the joy that running brings to our lives and Follow us on Instagram for some behind the scenes reels of the Trail & Kale team testing new running gear, and other running lifestyle shenanigans.
---
Summit VECTIV Pro photo gallery