Remember that excitement I had of unboxing and reviewing the Triumph 21? Well, here comes another review on a Saucony running shoe, that's definitely worth tuning into. The Saucony Ride 16 is a shoe that's all about comfort and reliable performance, without breaking the bank. Let's run through the details together!
Saucony's Ride 16 is a really interesting running shoe that's lighter on the feet, and surprisingly affordable at $140. It managed to over-perform on my expectations for a $140 everyday trainer.
I'll do my best to explain why they surprised me so much in this review, along with my experience running in these affordable running shoes for beginner runners and intermediates alike.
Also in this Saucony Ride 16 review, I'll be going over the key specifications of these affordable, cushioned daily running shoes, what I really like about them, what could be improved, and finally whether I believe they're worthy of becoming a part of your road running gear.
Whether you're running daily or looking to start your running journey, this review is for you.
Oh, and if you are training for a marathon, half marathon, 10k, or 5k then head over to our FREE Training Plans library to download the perfectly optimized plan for you (you can choose based on your ability level and time remaining before your race).
Dating back to 1898, Saucony has stayed true to ensuring their fans get running shoes they're familiar with and love. This is why you'll likely know at least one person who has been running in a particular Saucony running shoe for years, iteration after iteration.
---
The key specifications of the Saucony Ride 16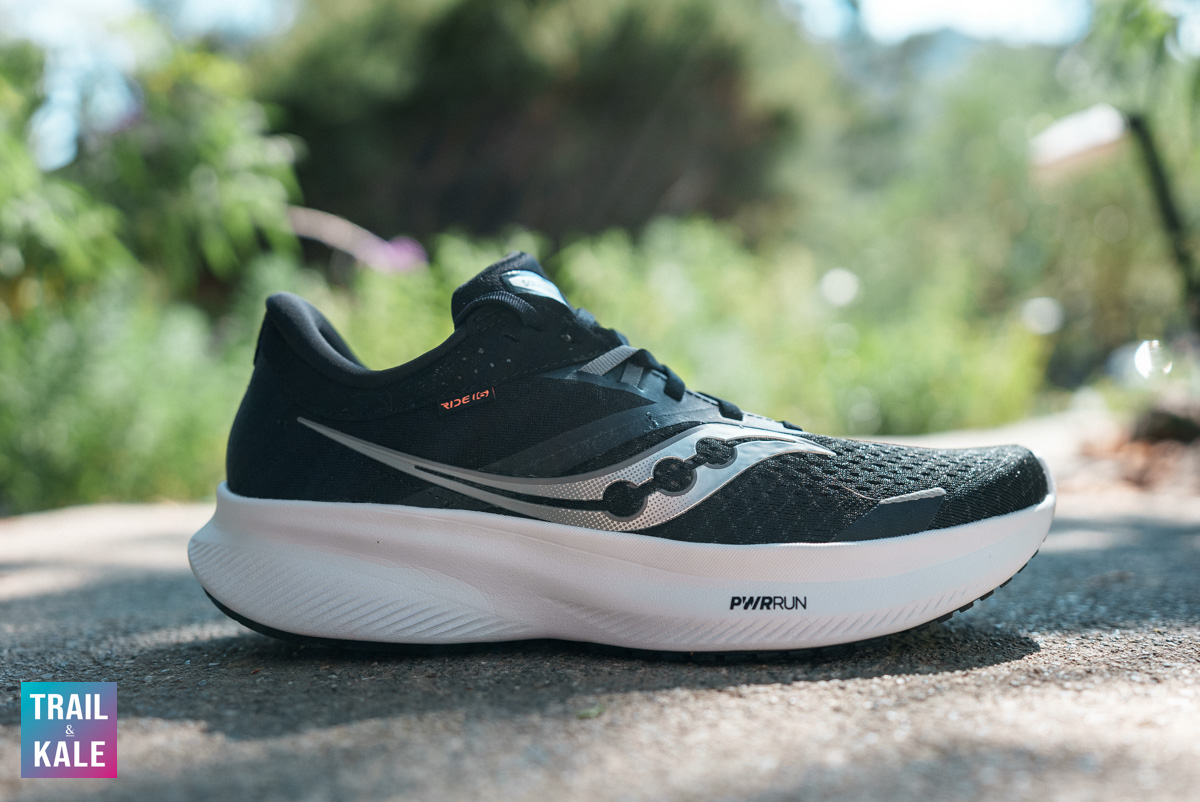 Usage: Perfect for training and daily runs the Ride 16 offers a reliably comfortable and smooth ride.
What's new: PWRRUN foam midsole provides cushioning, and higher sidewalls let your foot sink into the shoe.
Price: $140 at saucony.com
Weight: 8.9 oz / 252g for a size US(M)9 – it's lighter than the Triumph 21! What?!
Drop: 8mm (35mm heel / 27mm forefoot)
Toe box width: medium
Midfoot width: medium
Stability: Neutral
Cushioning: medium
Also available in a wide version
Sustainability: Vegan and contains recycled materials
---
Saucony Ride 16 Sizing and Fit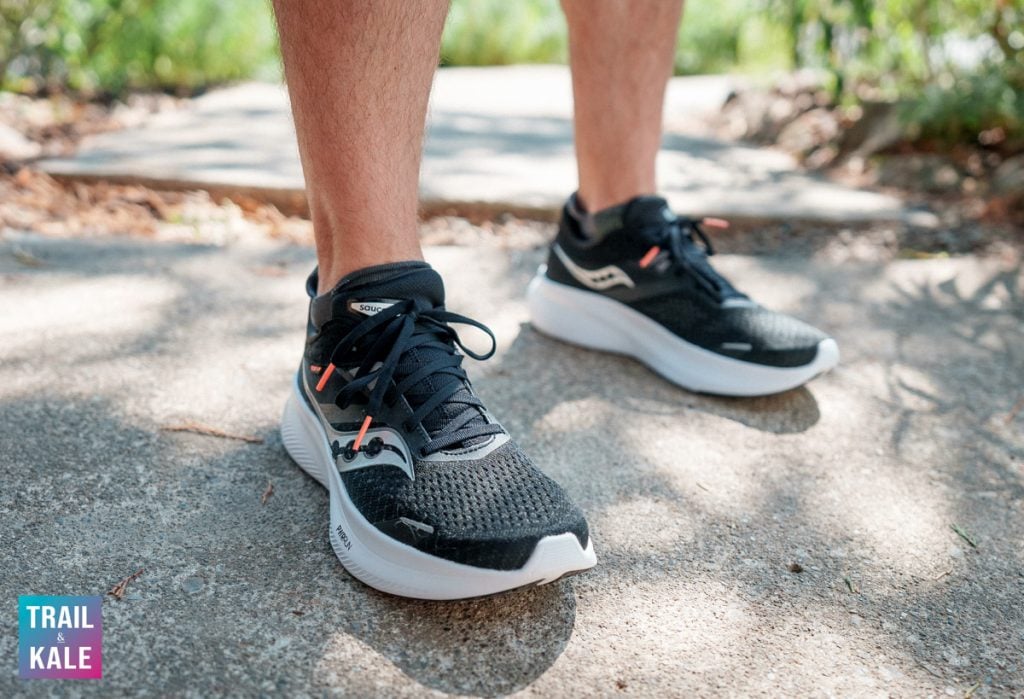 If you're wondering about the fit, I can confirm that the Saucony Ride 16 running shoes do indeed fit true to size and the medium width accommodates average-sized feet very well, it also has a very nice snug comforting fit, thanks to all the plush cushioning that is in the tongue, heel counter (the bit at the rear by your achilles) and collar region (the area around your ankles).
So, go with the sizing you are used to for Saucony if you have worn them in the past; they're also consistent with other running shoe brands like HOKA, On, Brooks Running, Nike, and Salomon for example, and you won't be disappointed.
Comfort has been a long standing importance factor for Saucony, and the Ride 16 appears to uphold this mission.
My experience running in the Saucony Ride 16
Pulling the Ride 16 shoes out of the box, the first thing that struck me was their streamlined appearance and the fact that they're a lot lighter than they look; this is not what I'd expect from a $140 running shoe as it's something you generally have to pay a premium for.
Out on the pavement, the Ride 16 truly shines; the cushioning is soft enough to absorb the impact but firm enough to provide a responsive feel.
While it may not have the same level of bounce and energy return of some higher-end models, like the Triumph 21, or the Endorphin Pro 3 for example it's incredibly consistent and reliable, making those longer runs feel steady and smooth.
Surprisingly, these shoes also held their own on very light trails and gravel roads. Although they're not trail-specific, the Ride 16 offers a stable and supportive ride on light trails.
I certainly wouldn't take them on more technical terrain, but for a soft trail run in the park, forest, or around the lake they absolutely fine, with outsole traction that lends itself well to hard packed or soft dry trails.
Now, if you're looking for a shoe that's going to shave seconds off your mile time, the Ride 16 might not be your first choice, and it shouldn't be.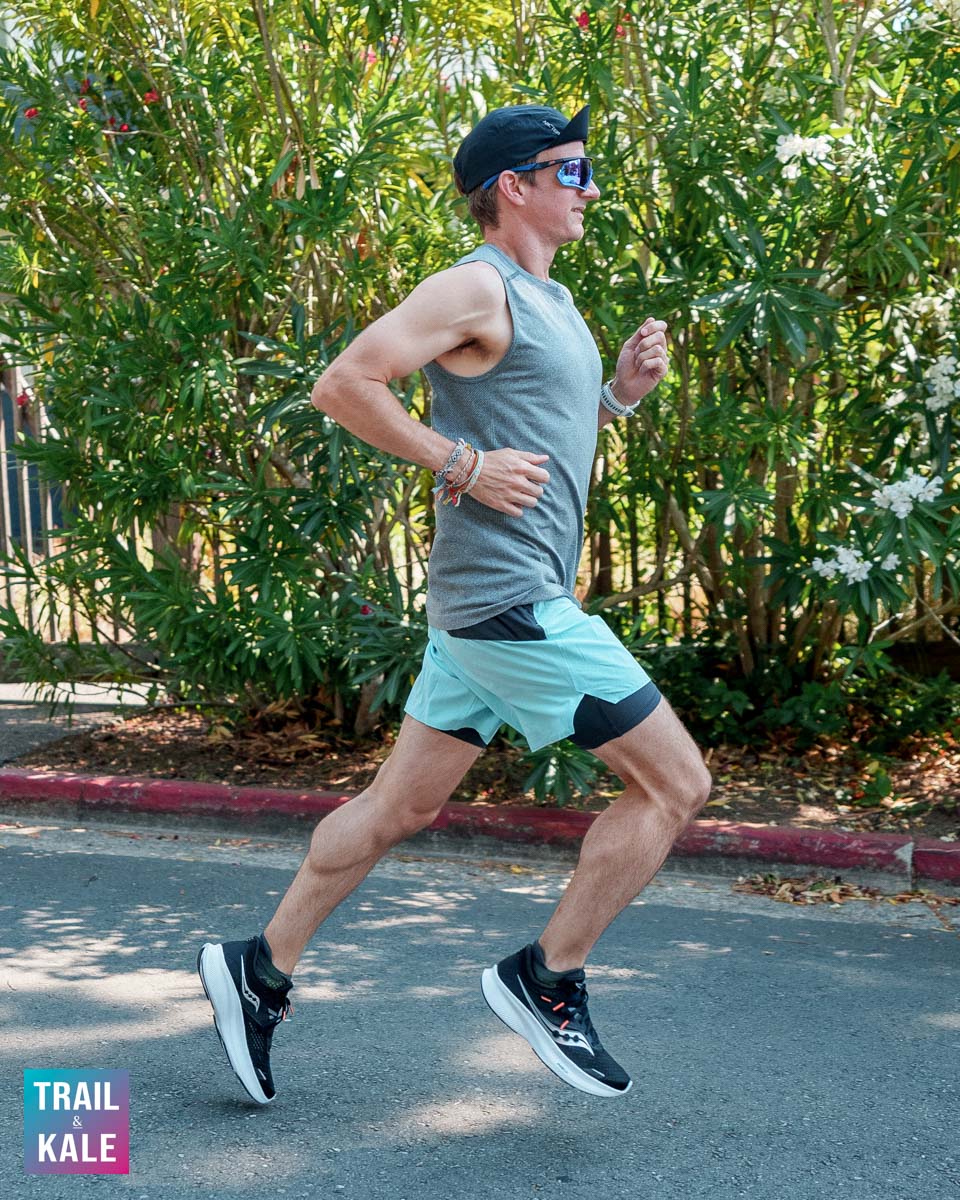 However, for tempo runs and less aggressive speedwork, they're a comfortable option that still allows for a quick pace.
I'm still always going to opt for the HOKA Rocket X 2 when interval training because they're just so damn fast and lightweight, and deservedly one of the best HOKA running shoes right now.
One of the more obvious features that stands out about the Ride 16 is the immediate comfort you feel when you step into them.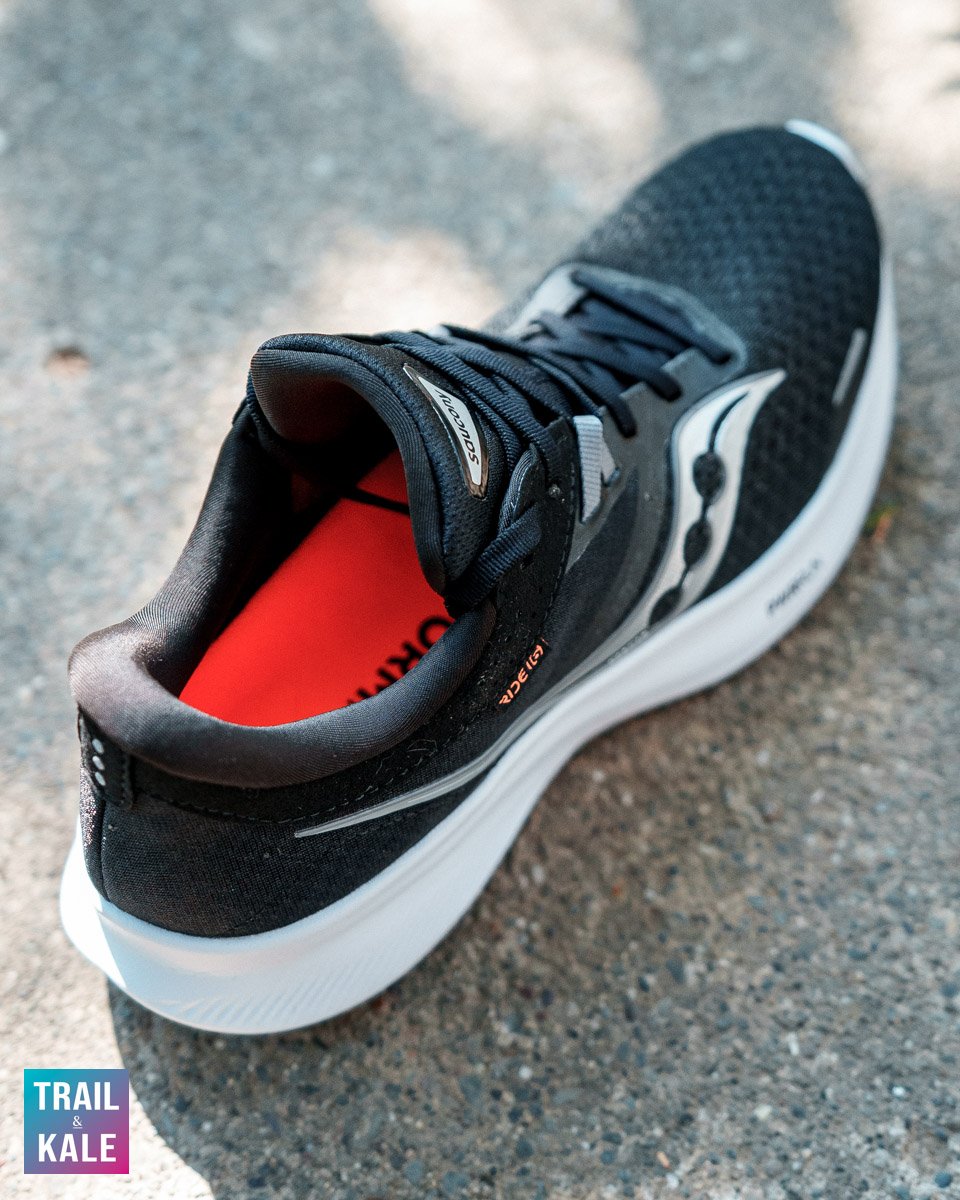 The higher side walls let the foot sit into the shoe, providing a snug yet non-restrictive feel. I've had some excellent long runs in these shoes, with zero hotspots or discomfort.
Rain or shine, these babies can handle it, although in the hot California sun, and I'm talking heatwave hot because it has been incredibly intense lately, the breathability could be improved.
This could have something to do with the fact I have the black version of these shoes, or because it has been super hot lately, either way my feet feel warm in them.
That said, this does make them a good option for running in cooler temperatures in the Fall and Winter months.
The Saucony Ride 16 offers a reliable and well-balanced experience and while they might not have the flashy responsiveness of more expensive models, they do provide a dependable, comfortable ride suitable for various distances of up to around half marathon, I would say.
They have a drop of 8mm, which feel well aligned to how the shoe rides. Lower drop heights in running shoes are an important consideration when running longer distances where proper running form and biomechanics, correct breathing techniques, and tailored cadence are essential tools to running with efficiency and good economy.
This is especially true when trail running, as the lower the drop the more control you'll maintain when running over uneven terrain.
It's a shoe that caters to both new and intermediate runners, and I'm sure it will become a favorite in many runners' shoe rotation because of its great value.
Now, while there's no loop at the rear to help you slip these running shoes on, as the Triumph 21 does, there are plenty of reflective detailing to help keep you safe while running at night.
And there's also an extra eye hole for doing your laces up all the way. These shoes do lock your feet in pretty well as is but the racer loop lacing technique will certainly improve this further should you ever feel the need to – I don't.
The lacing system by the way is simple but highly effective at cinching to the perfect fit, quickly.
Saucony Ride 16 performance review (YouTube)
Coming soon!
Are they worth your hard-earned money?
Yes! For only $140 at saucony.com, the Ride 16 offers comfort, performance, and an eco-friendly approach to manufacturing and materials.
The 8mm drop is balanced, and although the PWRRUN midsole may not give you that extra bounce that the PWRRUN+ does in the Triumph 21 ($20 more expensive), it still delivers a very comfortable running experience.
If you're looking to venture into a plush ride without spending a fortune, the Ride 16 might just be your next running partner.
For all of you who follow us on Instagram (and hopefully thats all of you! :oP), stay tuned for some exciting reels and updates on new running shoes, as and when I get them in for review.
➡ I hope you enjoyed reading this Saucony Ride 16 review; As always, your thoughts and experiences with the Ride 16 would be awesome to hear, so drop a comment down below and let's keep this running community thriving! 🏃‍♂️💚
Join our Strava club too, and be part of the joy that running brings to our lives. Happy running, friends!
---
Saucony Ride 16 review summary (rating with pros and cons)
Saucony Ride 16 review
PROS
Right from the first step, these shoes feel cozy. The higher sidewalls allow your foot to sink comfortably into the shoe.
Whether it's a road run or a very light trail, these shoes can handle multiple terrains pretty well.
The PWRRUN foam midsole offers a good mix of softness for comfort and firmness for responsiveness although the PWRRUN+ is certainly better.
Good for cool Autumn/Winter conditions as they'll keep your feet warm
This style is vegan and contains recycled materials, which is a plus for the eco-conscious among us.
Great value for money!
CONS
While comfortable, they may not be the best choice for those looking to set new PRs in shorter (or longer) distances.
Not the most breathable in very hot weather; my black color probably doesn't help though.
---
Saucony Ride 16 Photo Gallery