I'm sure you've all felt that excitement of unboxing a new pair of running shoes that feel like they were crafted just for your feet; it's that new shoe smell that gets me! 🙂
I got this same feeling with Saucony's Triumph 21 because it's the first time I'm testing a Saucony running shoe – and I have just been sent a whole load of their popular running shoes for review.
This has me excited as I'll be able to compare them with one another, but also discover (and share with you all) how Saucony compares to other popular brands for running like HOKA, On Running, Nike, and the rest!
In this Saucony Triumph 21 review, I'll be going over the key specifications of these super cushioned running shoes, what I really like about them, what could be improved, and finally whether I believe they're worthy of becoming a part of your road running gear. But before I get into all that, here's a quick bit of background on the Triumph 21, and who they're best suited to.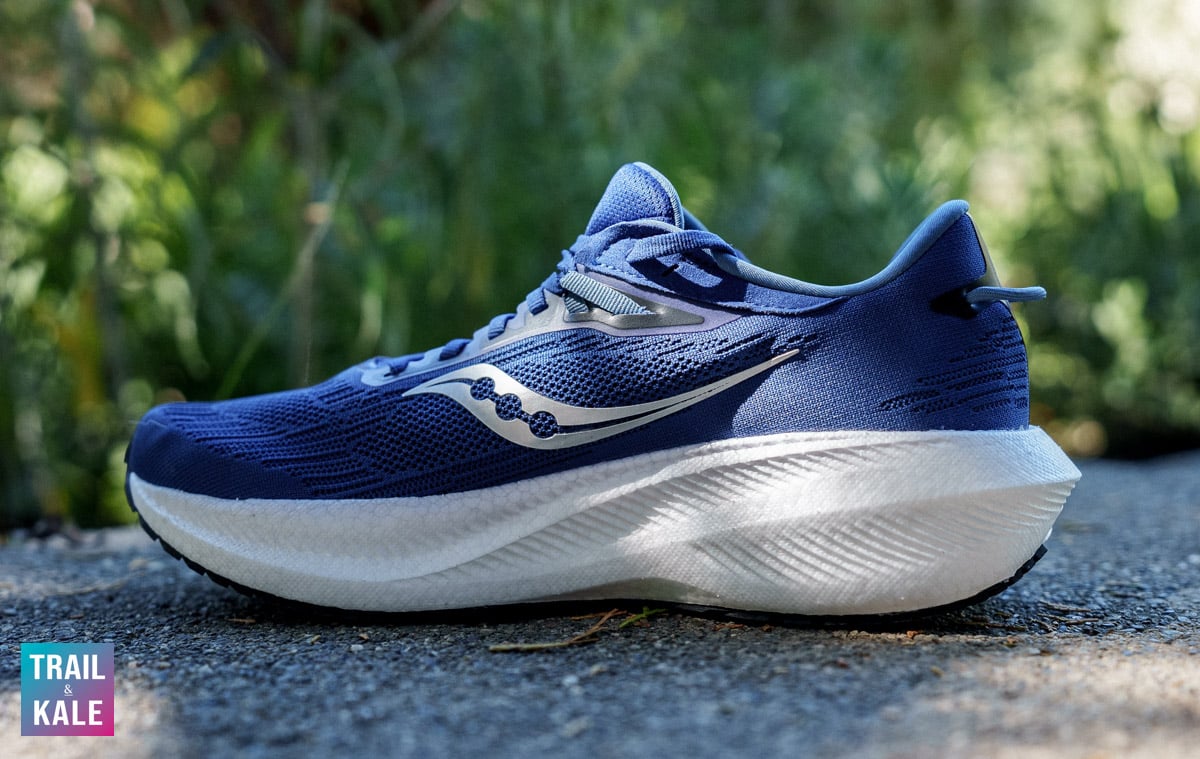 These high-performance running shoes scream comfort with a side of 'familiarity in style', and I even have a new pair of the Triumph 20 which by the way are very similar you'll be pleased to hear but I'll be comparing them both to see what improvements have been made to the new Triumph 21 anyway as there are some key updates.
Whether you're a seasoned marathon runner or just getting started on your running journey, this Triumph 21 review is for you.
Oh, and by the way if you are training for a marathon, half marathon, 10k, or 5k then head over to our FREE Training Plans library to download the perfectly optimized plan for you (you can choose based on your ability level and time remaining before your race).
The Triumph 21 isn't just another pair of running shoes, it's an experience, a comfort-driven creation for those looking to add that extra spark to their runs – I mean the Triumph is now on version 21 so you can be damn sure that Saucony has near perfected these running shoes over that time.
And with roots dating back to 1898, Saucony has always stayed true to ensuring their fans keep getting running shoes they're familiar with, and love. It's why you'll likely meet at least one person who has been running in a particular Saucony running shoe model for years.
So, without further ado, let's hit the road and delve into the magic that Saucony has stitched into the Triumph 21, and find out if it really is a Triumph or just another running shoe.
---
The key specifications of the Saucony Triumph 21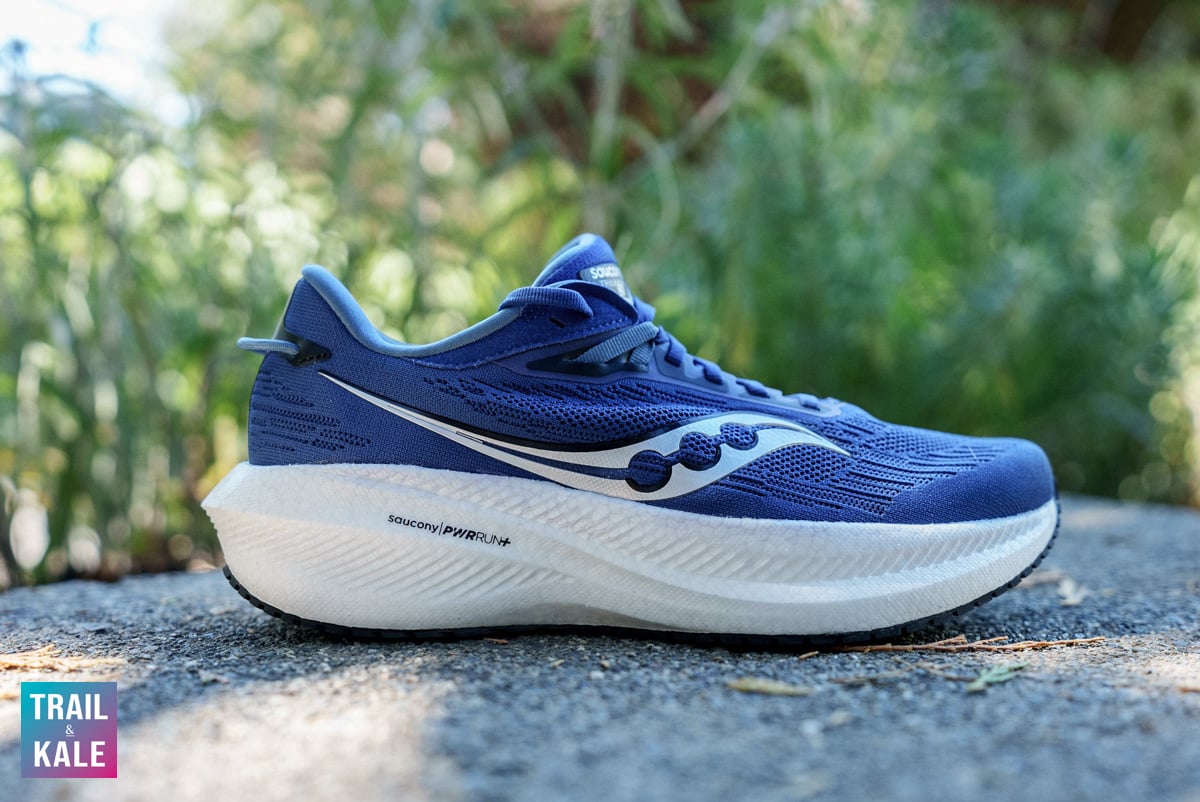 Usage: From daily jogs to pushing your limits, the Triumph 21 offers a comfortable, secure fit for most types of running.
What's new: The luxurious PWRRUN+ technology and sockliner deliver a plush underfoot feel, complemented by a flat-knit upper and redesigned lacing system.
Price: $160 at saucony.com
Weight: 9.7 oz / 275g for a size US(M)9 (my pair) – it's lighter than the previous version which was 10.1oz
Drop: 10mm (37mm heel / 27mm forefoot)
Toe box width: medium
Midfoot width: medium
Stability: Neutral
Cushioning: High cushioning
Also available in a wide version
---
Saucony Triumph 21 Sizing and Fit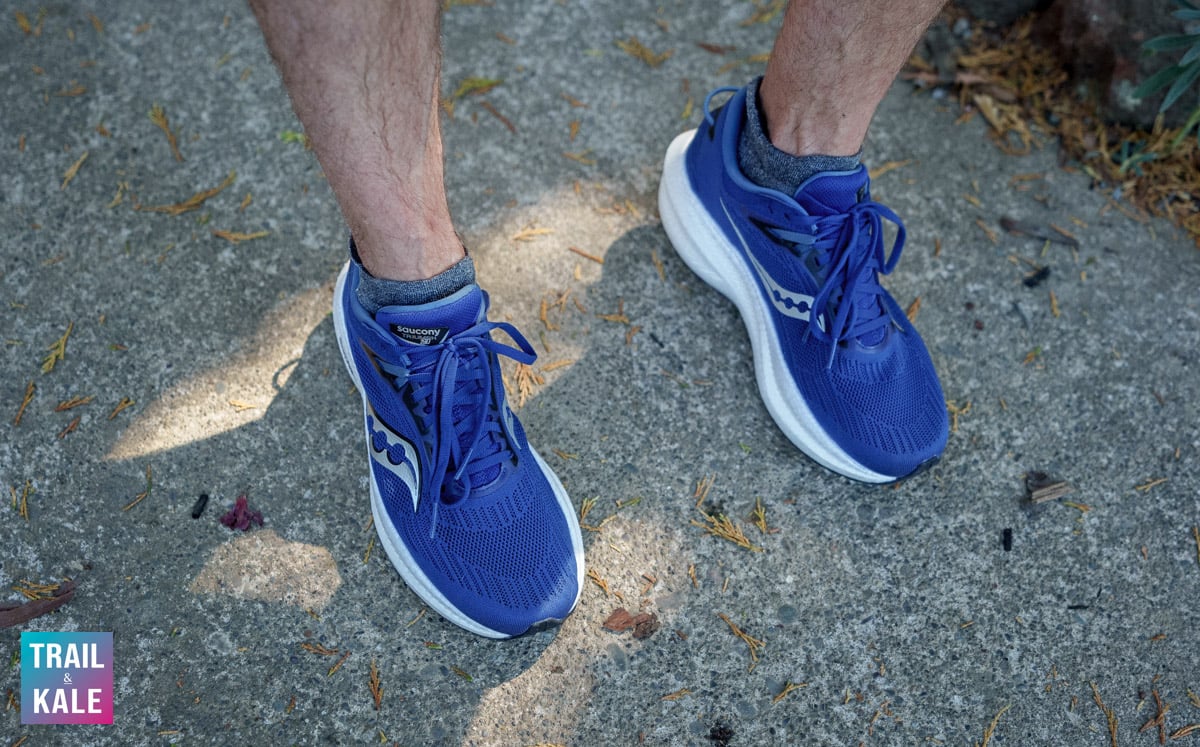 If you're wondering about the fit, I can confirm that these running shoes do indeed fit true to size and the medium width accommodates average-sized feet very well, it also has a very nice snug comforting fit, thanks to all the plush cushioning that is in the tongue, heel counter (the bit at the rear by your achilles) and collar region (the area around your ankles).
So, go with the sizing you are used to for Saucony if you have worn them in the past; they're also consistent with other running shoe brands like HOKA, On, Brooks Running, Nike, and Salomon for example, and you won't be disappointed.
Comfort has been a long standing importance factor for Saucony, and the Triumph 21 certainly seems to uphold this legacy.
My experience running in the Saucony Triumph 21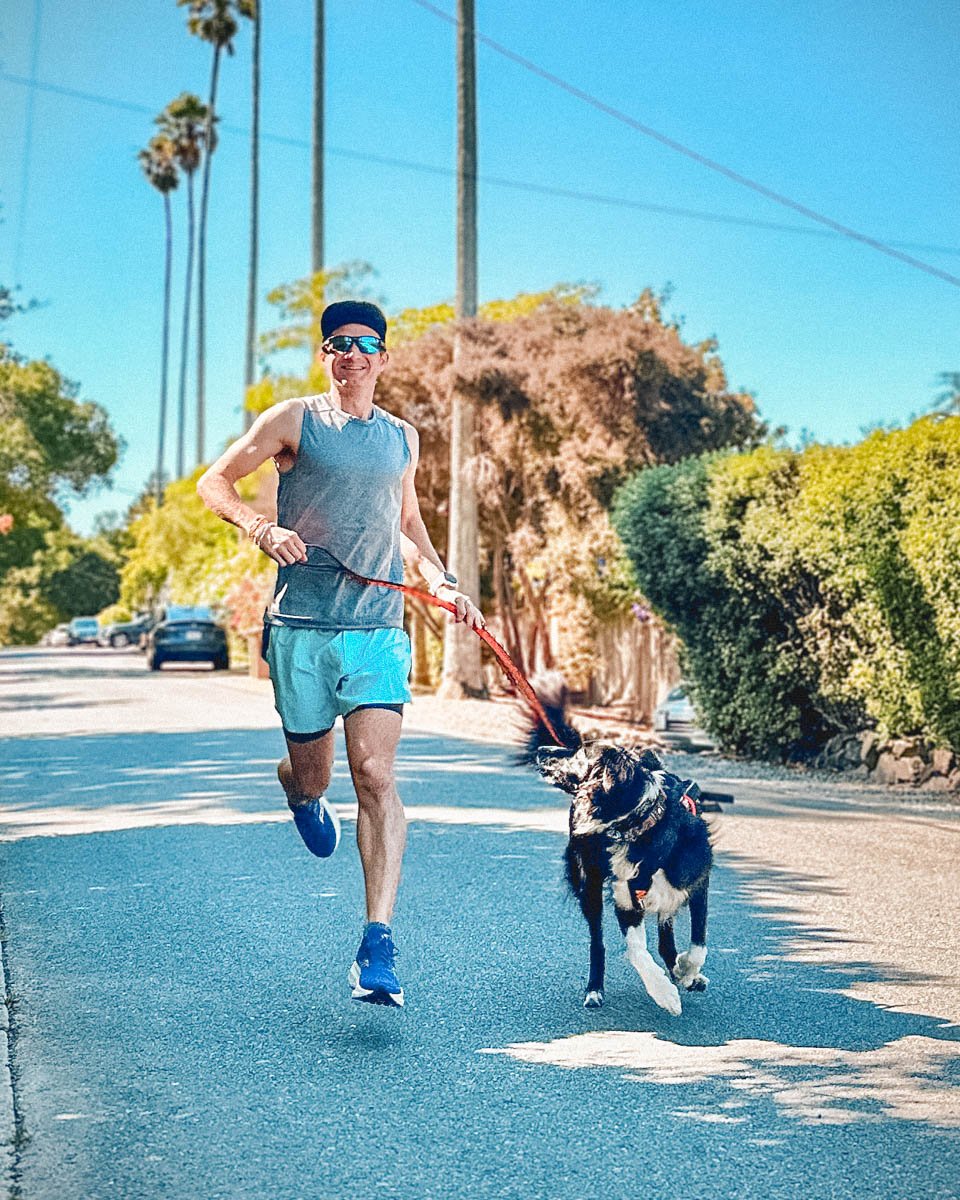 The first time I stepped into these shoes, it felt like stepping onto a cloud with a plushness that instantly caught my attention as one of the features that must be what makes the Triumph a favorite among Saucony fans.
I mean just look at the cushioning around the heel counter and collar region in the photo below; you can tell how comfortable they are without ever having stepped into one: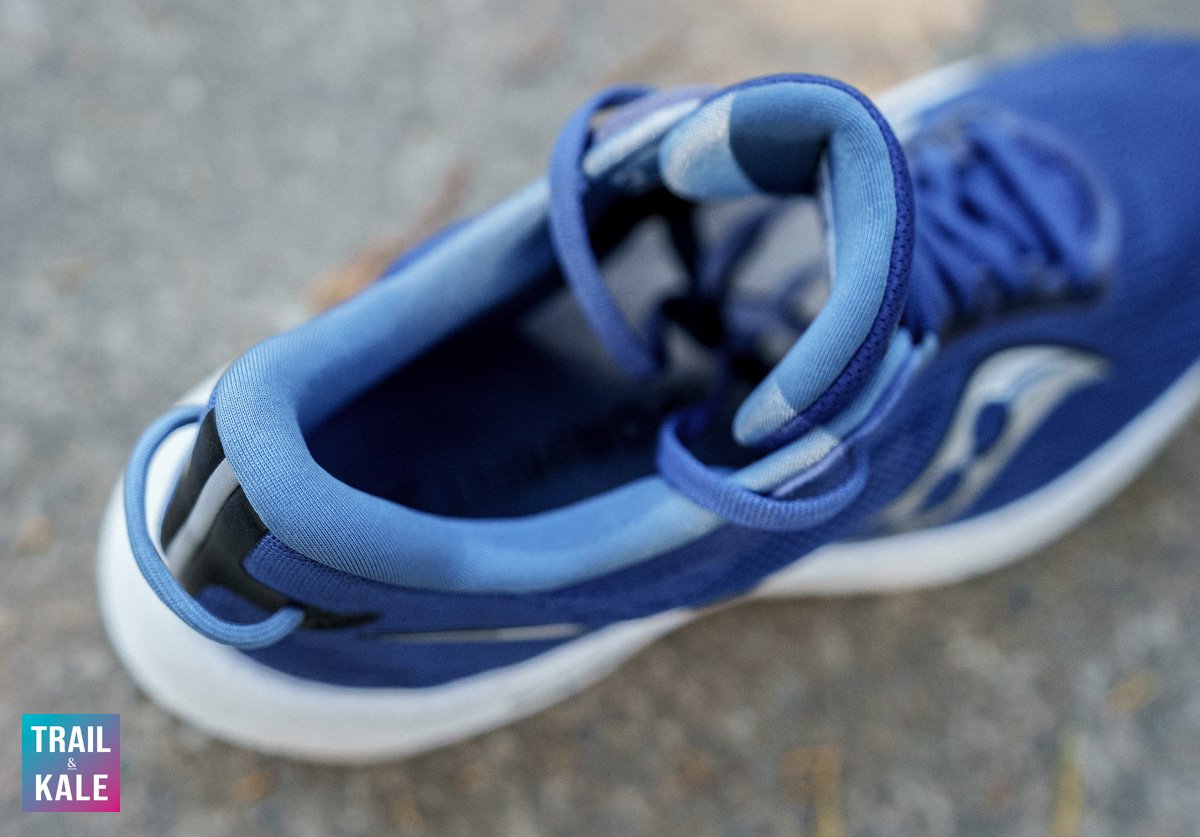 Maybe it's due to the PWRRUN+ cushioning or the way the shoe hugs your foot, but whatever it is, it's working and I really love what Saucony is doing here.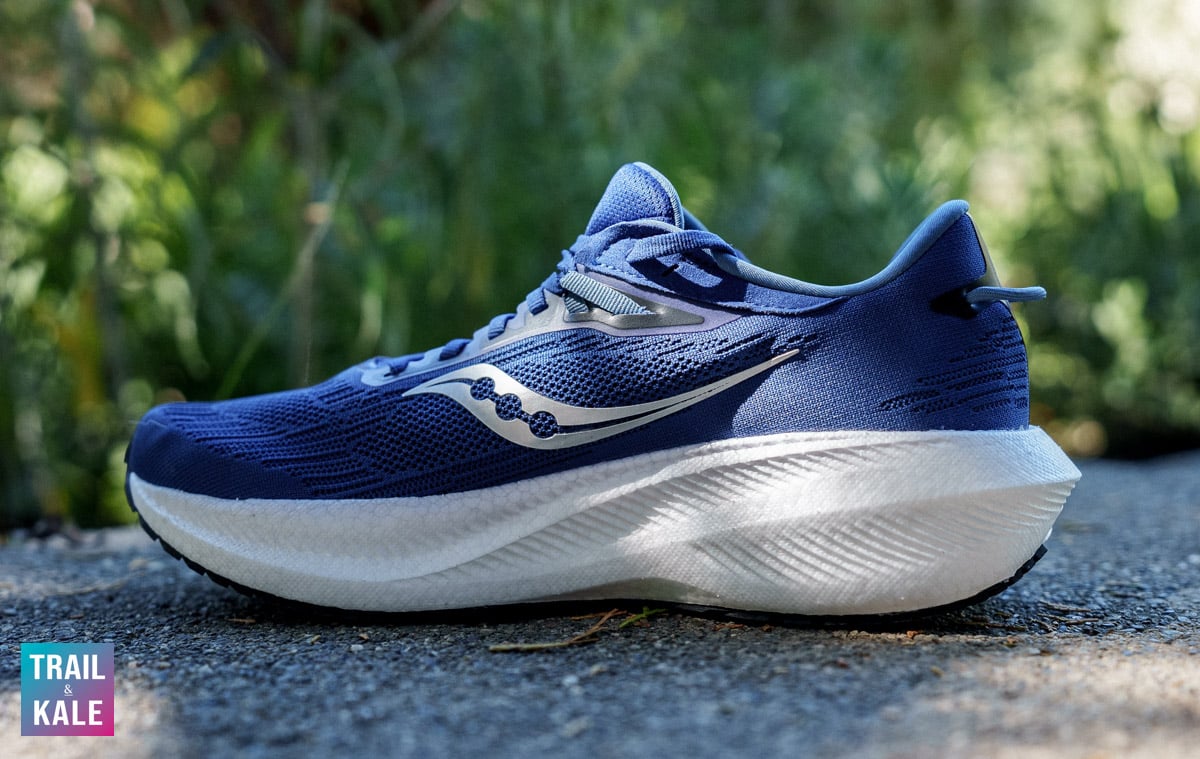 Running in these shoes brings a lot of comfort to my stride, and one that I appreciate when running easy miles, recovery runs and even tempo runs, right now however, I'm still always going to opt for the HOKA Rocket X 2 when interval training because they're just so damn fast and lightweight, and deservedly one of the best HOKA running shoes right now.
Whether I'm running fast or running longer, the Triumph 21 feels like it adjusts to the way I want to run; it's a really impressive multi discipline shoe.
But there's a twist; the 10mm drop from heel to toe is slightly higher than I usually prefer, but honestly, it didn't take much away from the overall experience.
It's something to keep in mind, though, especially for those longer runs where natural biomechanics (a lower drop, and good running form) is key to running efficiently with the reduced chance of picking up a running injury like shin splints or achilles tendinitis, for example.
Higher drops in running shoes are more noticeable when running longer distances where proper running form and biomechanics, correct breathing techniques, and tailored cadence are essential tools to running with efficiency and good economy.
I really like the vegan aspect and use of recycled materials in the Triumph too. It's a big win in my books, aligning perfectly with my values and adding to the pleasure of running in these shoes.
The Triumph 21 is not just another pair of running shoes, they're supportive, cushioned, and just generally a very reliable daily trainer, and as such I'm going to be keeping them in my running shoe rotation for recover and easy miles.
They have become a companion, supporting me through my easy recovery runs.
Another feature worth highlighting is the grippy outsole which may looks simple at first glance but actually due to the directional cuts in the rubber compound and micro texture on top of that has excellent traction.
It also only uses the rubber compound where absolutely necessary; a way in which Saucony has been able to keep this running shoe so lightweight.
Here's a closer look at the texture on the outsole: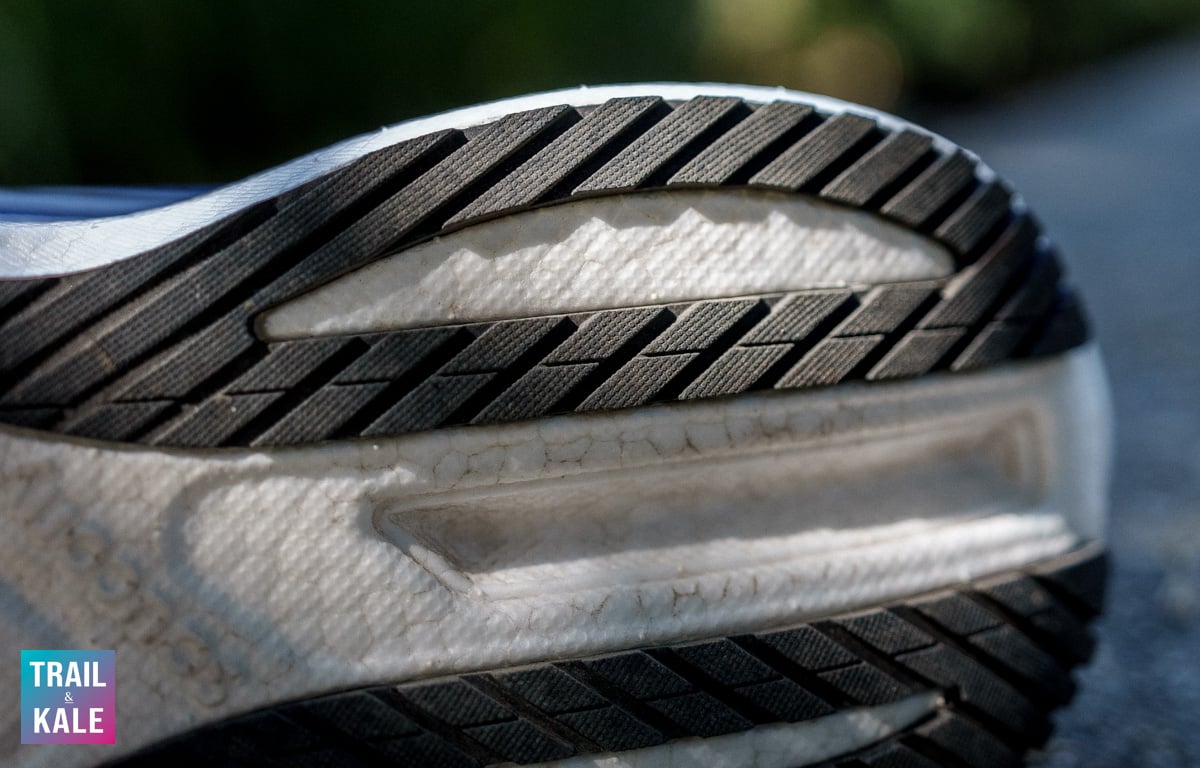 Some other lesser mentioned features include a useful loop at the rear to make slipping them onn much easier; coincidentally, the Triumph 20 also has a loop but it is much smaller and not as good as the new one. See below for a photo of it:
And there's also an extra eye hole for doing up the laces all the way. These shoes do lock your feet in better when using this top loop, so consider tying your laces in the racer loop format to make use of this.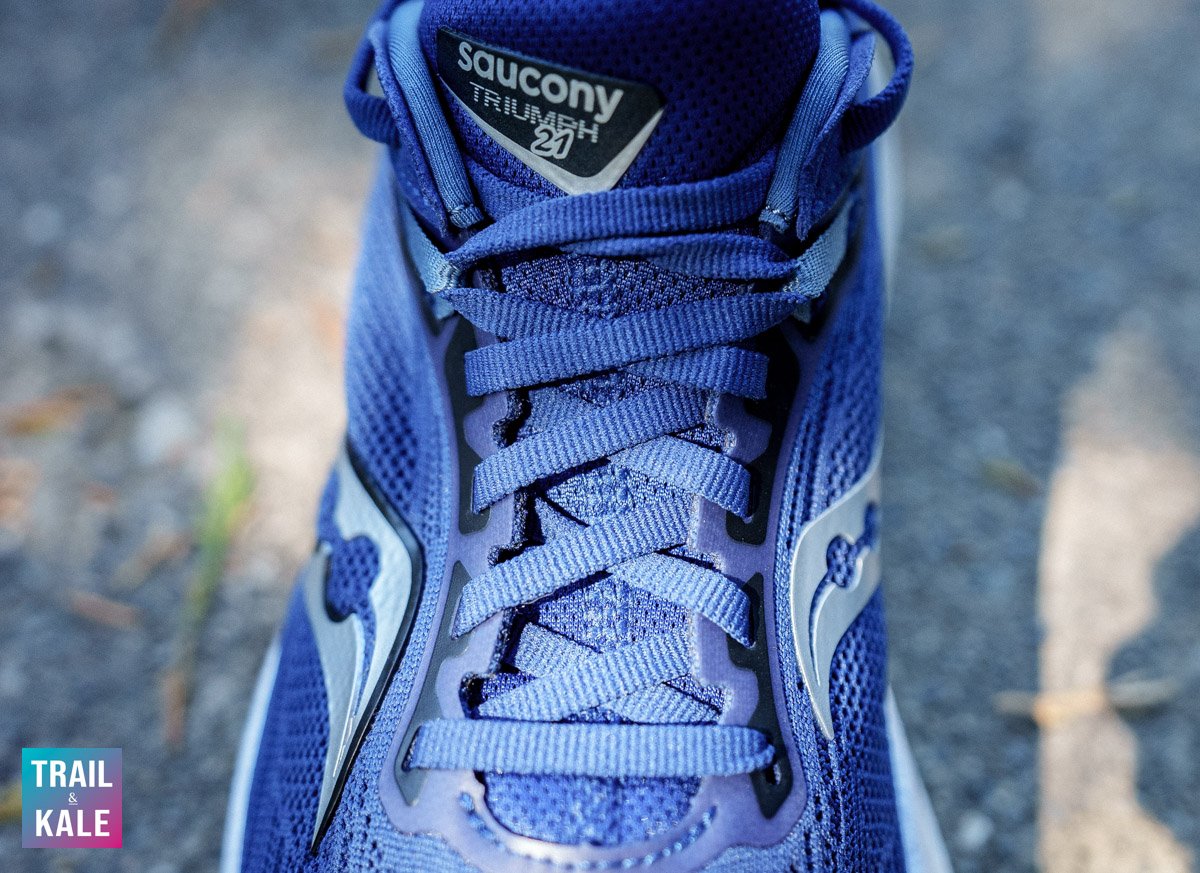 The lacing system by the way is simple but highly effective at cinching to the perfect fit, quickly.
Saucony Triumph 21 performance review (YouTube)
Coming soon!
Are they worth your hard-earned money?
The Saucony Triumph 21 are a winner for me due to its comfort, performance, and eco-friendly approach, and although that 10mm drop is more than I would normally choose for long runs, when it comes to distances of anything up to half marathon they perform fantastically.
For $160 at saucony.com, the Triumph 21 delivers an incredibly comfortable and ethical running experience. If you're looking to indulge in a plush, bouncy ride with a side of reliable comfort, give them a go.
Whether you're an experienced runner or just starting out, these shoes have something for everyone; oh and if you have wide feet, Saucony also offer the Triumph 21 in a wide version too.
For those who follow us on Instagram, stay tuned for reels of newly released running shoes, with a summary of my thoughts on them. And if you've already embraced these shoes or are planning to, drop a comment down below to let me know how you're getting on! 🏃‍♂️💚
We also have a Strava club, be sure to join us to keep an eye on all the amazing running that our community does.
---
Saucony Triumph 21 review summary (rating with pros and cons)
Saucony Triumph 21 review
PROS
The PWRRUN+ technology provides a plush underfoot feel that seems to hug your feet. Great for those looking for extra cushioning and support.
The new flat-knit upper, soft collar, and redesigned lacing system ensure a snug and secure fit where you need it most - although i recommend using that top lace hole to lock your feet in.
Designed for various types of run training from easy runs to tempo training makes it versatile.
Sleek and modern, the Triumph 21 is stylish and functional.
Offers balanced support, making it suitable for a wide range of foot types.
It's a vegan shoe made with recycled materials, aligning with the values of many runners - us included!
CONS
The 10mm drop might not be suitable for all runners, especially those who prefer a more natural or minimalist feel but 10mm is fairly popular for accessible running shoes like these.
At $160, it's on the higher side and might not be accessible for everyone. The Brooks Ghost 15 is a similar shoe (a bit less cushioning but costs only $140)
---
Saucony Triumph 21 Photo Gallery