The REI Labor Day sale is one of our favorite sales of the year when it comes to huge discounts off the top outdoor gear currently available, and the sale is not just on last season's gear either.
ADVERTISEMENT
Thousands of products from trail running shoes to backpacking tents, camping gear, and REI Co-op bicycles are discounted by up to 50% this week, making now a great time to gear up for Fall adventures as well as planning ahead for the rest of your year's adventures by upgrading and adding to your adventure-gear closet (or garage).
The sale is currently live and ends on September 5, 2022. All products in the sale are discounted until either they sell out or the sale ends, so expect the best deals to go quickly.
Top Tip – if you want to easily find the gear with the biggest discounts in this year's REI sale, this page on REI's website is set up to show all sale items sorted by the biggest percentage discount! Then just filter by activity to narrow down the results.
For specific recommendations, in this post, we're also sharing our top picks from the sale, including high-end outdoor gear we've reviewed in-depth and those that feature in our running, hiking, backpacking, and camping buyers guides.
Benefits Of Being An REI Member
Before you buy with REI, consider becoming a member for extra benefits.
Signing up for membership (only $30 for a lifetime) provides you with a member dividend of 10% back on what you spend, in spring each year, as well as access to exclusive member-only events and sales.
For example, in this year's sale, members get additional exclusive discounts that add up to 75% off, as well as an extra 20% off one REI outlet item – the links currently on REI's website lets you browse the available products included in this offer.
We love that REI is a co-op and invests in causes that we care about. To learn more about REI's values, what they do and what makes them different, click HERE.
---
Here are our favorite deals from this year's REI Labor Day Sale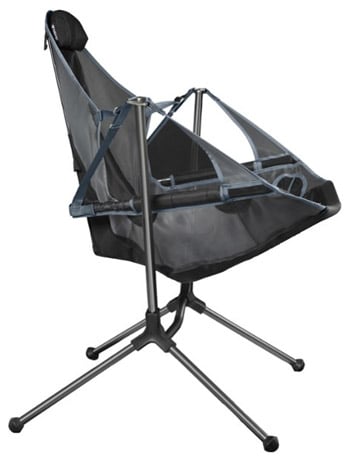 Nemo Stargaze Recliner Luxury Camp Chair (25% Off)
Top-rated in our best camping chairs roundup, this Nemo Stargaze luxury reclining camp chair currently has 25% off in REI's Labor Day sale.
Features that make it so great include the sheer comfort factor – head and arm-rest padding, an easy auto-recline and a smooth swinging motion.
It also features a lightweight aluminum frame that makes it extra portable compared to bulkier and heavier steel camp chair alternatives.
---
Biolite Alpenglow Lantern (25% Off)
Our favorite camping lantern (that you can use for ambiance at home and, well, anywhere really), the Biolite Alpenglow rechargeable multi-functional camping lantern from Biolite is currently discounted by 25% in the sale.
If you're in the market for a camping or running-appropriate headlamp, also check out the other Biolite products on sale.
This includes one of our favorite running headlamps, the Biolite Headlamp 330 (to learn more about it, read our Biolite Headlamp 330 review).
---
Ruffwear Approach Dog Backpack (40% Off)
If you have an adventure dog then check out the discounted dog gear in this year's REI Labor Day sale.
Our favorite pick is this excellent Ruffwear approach dog backpack which has…. 40% off and is currently less than $48 (normally $80).
It's the same orange color (discontinued so grab it while it's still available) as our trail dog Kepler wears and features on our popular dog backpacks buyer's guide (visit the guide to see him modeling it!).
---
Patagonia Nano Puff Jackets (30% Off)
These versatile Patagonia puffy jackets are a classic and great for Fall and Winter layering, and they're currently available with up to 30% off at REI, while stocks last.
---
EcoFlow DELTA Max Portable Power Station (24% Off)
This powerful and capable portable power station will normally set you back $1,899 – read our EcoFlow review to learn more and what makes these generator alternatives so great when it comes to portable power uses such as for camping and home backup.
If you want to save a huge chunk of money on buying one, you can pick one up for a limited time in this year's REI Labor Day sale for $1,440 – that's 24% off the regular price.
REI also has some other portable power stations discounted in the sale such as various Goal Zero Yeti and a variety of solar panel options – see the full list of on-sale power stations.
---
La Sportiva Bushido II Trail Running Shoes (31% Off)
The La Sportiva Bushido 2 is for those looking for a high-performing trail shoe with the combination of responsiveness, stability, and comfort with excellent protection and impressive traction.
This excellent trail shoe is also a top pick in our guide to the best trail running shoes.
Read my full La Sportiva Bushido 2 Review to learn more about these great trail running shoes.
---
Grayl Ultralight Water Purifier Bottle (25% Off)
An innovative method of storing and purifying water, the Grayl Ultralight Water Purifying Bottle is an accessory that's so handy to have with you and is engineered to stand up to the harsh demands of international travel, outdoor adventure (backpacking, hiking, camping, fishing) and emergency situations.
For more detail on this water purifying bottle and other backpacking water filter options, read our water filters buyer's guide.