The REI Labor Day sale is one of our favorite sales of the year when it comes to huge discounts off the top outdoor gear currently available, and the sale is not just on last season's gear, either.
Thousands of products, including trail running shoes, hydration packs and running apparel are discounted by up to 40% this week, making now a great time to gear up for Fall adventures, especially if you're training for a marathon or half marathon race this year.
The sale is live from August 25 through September 4, 2023! All products in the sale are discounted until either they sell out or the sale ends, so expect the best deals to go quickly!
Top Tip – if you want to easily find the gear with the biggest discounts in this year's REI sale, this page on REI's website is set up to show all sale items sorted by the biggest percentage discount! Then just filter by activity to narrow down the results.
For specific recommendations, in this post, we've picked out the best deals on some of our highest-rated running shoes, hydration packs apparel and accessories. This includes premium running gear that we've reviewed in-depth and those that feature in our running buyers guides.
Benefits Of Being An REI Member
Become a member now and get huge savings in this year's sale:
Signing up for membership (only $30 for a lifetime) provides you with a yearly member dividend of 10% back on what you spend, as well as access to exclusive member-only events and sales.
For example, in this year's sale, members get additional exclusive discounts including:
An extra 20% off one REI outlet item – REI's website lets you browse the available products included in this offer – use the code LABORDAY23 at checkout.
An extra 20% off REI Re/supply pre-owned gear between September 1st and 4th, when you use the code RESUPPLY20.
It's a great idea to browse the RE/Supply store before buying new, if you're in the mood to pick up the best deals out there (and help the environment by buying pre-owned gear)!
---
Here are the best deals on running gear in this year's REI Labor Day Sale
Adidas Terrex Running Shoes (30% off)
T&K pick: Adidas Terrex Speed Ultra trail shoes was $160 sale price $112
REI is taking 30% off Adidas running shoes in this year's sale, which means you can pick up a pair of Adidas running shoes with more than $40 off, including the excellent ultra-marathon ready Adidas Terrex Speed Ultra trail shoes.
Plus… there's also 30% off all adidas running & fitness clothing, so now's a great time to stock up on fall running essentials, including tights, tees, jackets and accessories.
---
Brooks Running Bras
T&K pick: Brooks Dare Crossback Run Bra 2.0 was $65 sale price $45.49
Let's face it, comfortable, high quality sports bras are hard to find, and when you find a good one, it comes at a price.
Brooks' Dare Crossback Run Bra 2.0 is one of the highest-rated running bras we've tested, which is why it features high up on our running bras buyer's guide for good reason.
Stock up on one (or two) of these with a huge 30% off in the REI sale.
---
All Darn Tough Socks (25% off)
T&K pick: Darn Tough Run No-Show Tab UL Socks was $18 sale price $13.49
There are many reasons why Darn Tough have held a position on our guide to the best running socks for many years.
With 25% off in REI's Labor Day sale, now's a great time to stock up on your fall and winter running sock stash!
Darn Tough's Run No Show running socks are made with 50% merino wool and are incredibly soft, form-fitting and seamless too, making them some of the most comfortable socks for running (or walking) any distance in.
---
Leki Trail Running Poles (25% off)
T&K pick: Ultratrail FX One was $220, sale price $165
For long or particularly steep and rugged mountain trail running adventures, one of your greatest investments is a quality, lightweight pair of folding poles.
Leki makes some of the best poles on the market, and you can grab their carbon Ultratrail FX One poles for a discounted price of $165 (normally $220) in this year's REI Labor Day sale.
Learn more about choosing poles in our trail running poles buyer's guide.
---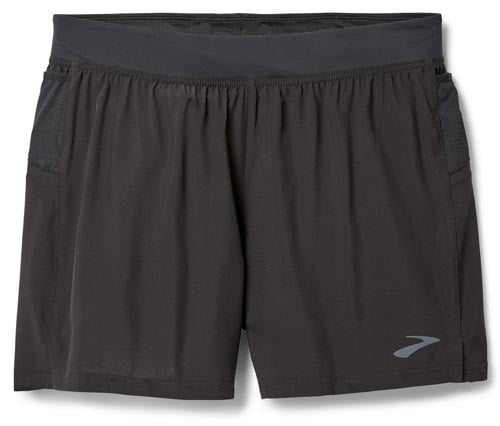 Brooks Running Shorts (30% off)
T&K pick: Brooks Sherpa Running Shorts 5″ was $64 sale price $44.79
REI is offering 30% off all men's and women's Brooks running clothing in this year's sale, and that includes their hugely popular men's Sherpa running shorts.
The Brooks Sherpa shorts are made with sweat-wicking, breathable, stretchy material, have a comfortable wide waistband and several pockets, including a center back zippered pocket – all features that make them great for running all distances, from short running interval sessions to long trail marathon training runs.
For advice on choosing the best running shorts for you, head over to our men's running shorts and women's running shorts buyer's guides.
---
Nathan Running Hydration Packs (25% off)
T&K pick: Nathan Pinnacle 12l hydration pack was $200 sale price $150
A running hydration pack is a must-have for any trail runner or runner looking to head out on longer runs where you need to be self-sufficient and carry your spare gear, accessories, water and energy gels or food comfortably.
Pick up a Nathan running hydration pack (such as the popular Pinnacle 12 liter pack pictured above) in this year's REI Labor Day sale with 25% off!
---
Altra Lone Peak 7 Trail Shoes (25% off)
REI has 25% off all Altra trail running shoes in this year's sale, including the popular zero drop Lone Peak 7, which are normally $150, discounted to $112 in this year's sale.
This discount makes now a great time for Altra fans to stock up on your favorite zero-drop running shoes for wider feet!
---
REI Co-op Swiftland Running Gear (30% off)
Already great value even at full price, with 30% off in this year's sale you can kit yourself out in REI running gear from head to toe by selecting items from their Swiftland range.
REI's Swiftland gear is available in regular and plus sizes and include tights, pants, socks, shorts, vests, tees, caps and hydration packs and yes – even trail running shoes!
Learn more about REI Swiftland running shoes and apparel.
---
La Sportiva Running Footwear (25% off)
T&K Pick: La Sportiva Bushido 2 was $155, sale price $116
The La Sportiva Bushido 2 is for those looking for a high-performing trail shoe with the combination of responsiveness, stability, and comfort with excellent protection and impressive traction.
This excellent trail shoe is also a top pick in our guide to the best trail running shoes.
Read our full La Sportiva Bushido 2 Review to learn more about these great trail running shoes.