When I test a pair of running shoes, I usually restrain myself from reading up on them too much beforehand. It's better to not let any marketing bias my initial thoughts and feelings whilst running in them for the first time. Once I've been for a long run in them, It's great fun than going to the Brand's website and seeing how they are marketing them. The Inov-8 Trailroc 285 is one of those shoes that are truly in line with how Inov-8 are marketing them.
ADVERTISEMENT
RELATED: Best Trail Running Shoes of 2019
Specifically, how well protected this shoe is when going over hard rocks. The protection given by the footbed is fantastic. I found myself purposely heading for the really sharp rocks to see if any of them would spike my feet. Nothing but softly cushioned responsiveness!
Looking for our Inov-8 Trailroc 285 Women's review?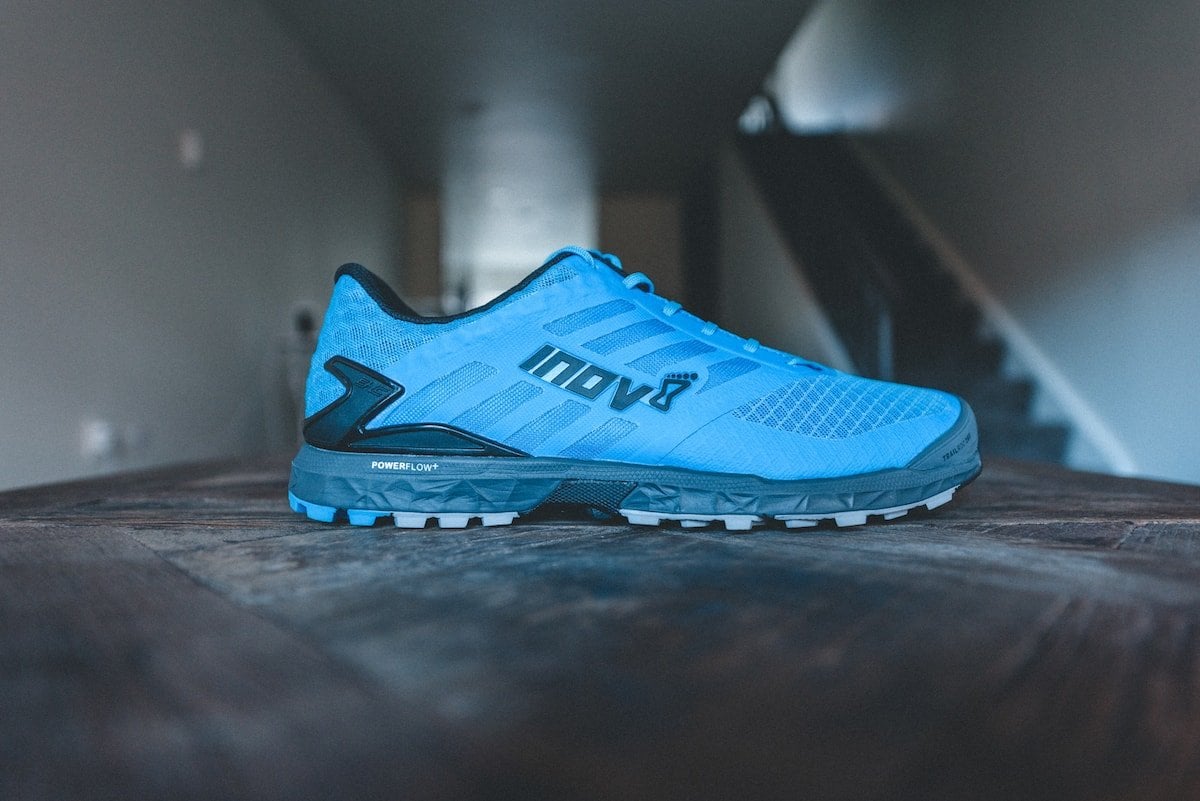 Inov-8 are marketing the Trailroc 285 as a shoe that is designed for running over hard packed trails around the world, no matter how rocky. Well, I agree with that statement 100%. And it's also touted to be: "perfect for running long miles, due to its extra protection, support and comfort over hard and rocky trails. Supreme grip and all-over protection combined with increased heel support, a cushioned midsole and durable upper, deliver the ultimate shoe for training on hard and rocky trails." All true words!
Fit & Design
The Inov-8 Trailroc 285's fit really well all round, including length and width. They also give your feet a sense of protection and support. I put this down to the solid and well-padded heel cage or what Inov-8 call the Met-Cradle+. It's interesting that I can actually feel this support from the laces to the midsole rather than it being a pointless function. Good work Inov-8!
The Trailroc 285 is definitely on the light side of modern trail shoes, weighing in at (as the name suggests) 285g. I'd expect heavier from a shoe that offers so much support and cushioning, so that's impressive to see.
There's an 8mm drop from heel to toe that allows Inov-8 to get that extra cushioning and protection on the footbed, especially in the heel area.
No complaints with the laces; they are consistent with other Inov-8 shoes I have tested. I really like the materials they use to make sure the laces don't come undone during a run.
The 'upper' is constructed from a single piece of breathable fabric, which bends freely when you take off from a stride. The fabric is also very breathable and made of the exact same material as the Inov-8 Parkclaw 275's and Inov-8 Trailtalon 235's, both of which I highly rated.
There's a re-enforced rubber frontage that will protect your toes, should you accidentally kick a rock while running on those gnarly trails. This is probably the only feature that the Inov-8 Trailtalon 235's were missing in my opinion.
I'm a big fan of Inov-8's rubber soles and the grip that you get from them on rocky and buff trails. They seem to stick abnormally well, giving you the control you need while navigating tough trails and downhill sections.
The grip has an interesting staggered formation which is supposed to stop any build up of dirt between the lugs.
I've yet to run in anything sticky enough to test this theory, but soon, I'll be racing on a course that will surely give me some of that sticky terrain. So I will be sure to wear these shoes and report back afterwards.
Running in the Inov-8 Trailroc 285's
The sense I get from these shoes is that I would be able to run for a long time on the trails and my feet will feel protected throughout. I'll be running a 50k in a couple of weeks so will know for sure about that. While I was testing the Trailroc 285's though, my feet felt very secure and the footbed gave me excellent protection from sharp rocks.
As with many of Inov-8's recent shoe line up, the Trailroc 285's feel very comfortable whilst retaining the responsiveness of an aggressive trail shoe. I can't wait to put these through race conditions to see how they hold up. My gut feeling is that they will deliver! Keep an eye out for Helen's own review of the Trailroc 285 Women's shoes, she really enjoyed running in them too and will have other fresh topics to touch on.
Inov-8 Trailroc 285
Find the best price for Inov-8 Trailroc 285
Last Amazon price update was: 16th August 2022 7:01 pm
In Summary
If you're looking for trail running shoes that are responsive and lightweight, but also offering superior protection and cushioning on hard rocky trails, then you need to get yourself a pair of the Trailroc 285's. I've not experienced any other shoe that feels this light and nimble while fully protecting the bottoms of your feet, and tips of your toes from sharp rocks.

A preview gallery of the Trailroc 285 Women's shoes (keep an eye out for Helen's review, coming soon):
The Inov-8 Brand
Founded in 2003, Inov-8 is one of the World's leading all-terrain footwear, apparel and equipment brands.
Operating in over 60 countries, Inov-8 pride themselves in designing high quality, innovative products in both the running and performance training sectors. Their origins and footprints remain firmly etched into the muddy British fells but over the years they have optimized their products to meet the needs of the many terrains they have travelled.
If you fancy learning more about their products, be sure to browse their online store.
If you have any questions about the shoes or anything relating to them then please leave a comment below and I will reply as soon as possible. Happy Trails!!