There's a new Cloudventure Waterproof in town for 2019! Read our review HERE.
ADVERTISEMENT
I've been a huge fan of ON road shoes for a long time, so I was really excited to receive a pair of their new Cloudventure Waterproof trail running shoes for review. Let's see what On-running have managed to create with the Cloudventure Waterproof trail running shoe.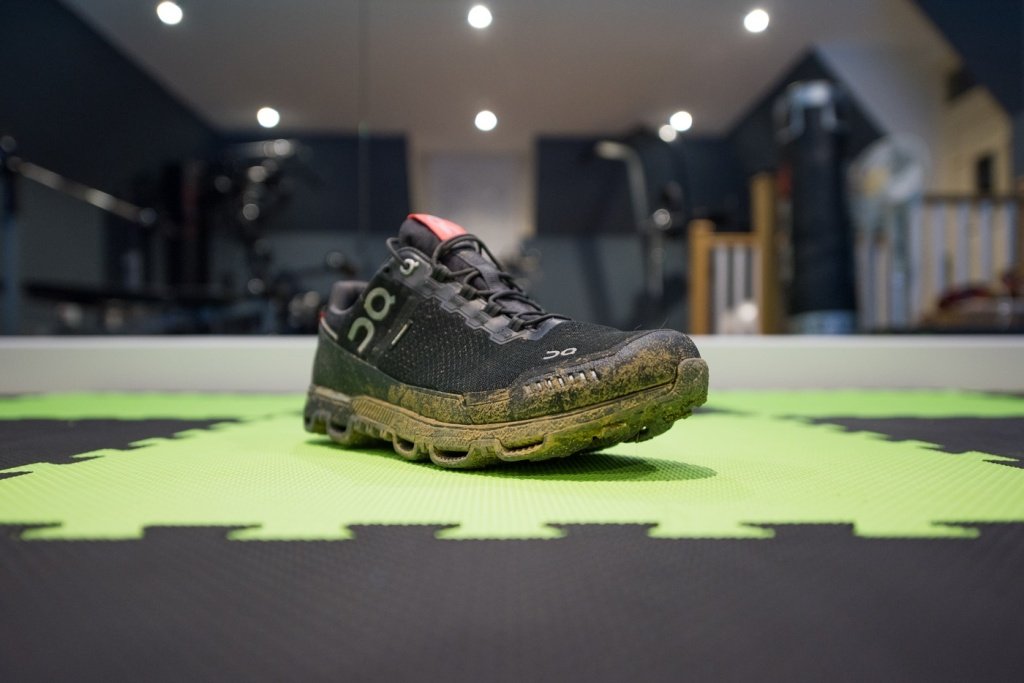 Fit
For me, On shoes always feel amazing when I put them on, they don't even need to be broken in. Maybe its the shape of my feet, but I think it's more likely to be the soft inner materials that they choose to use. The Cloudventure Waterproof is no exception.
The sizing of this shoe comes out ever so slightly larger (not enough for you to order a different size than you normally would though) than Salomon and Inov-8 trail shoes, so if you run in either of those brands then you will be ok going for your usual size, maybe just wear a slightly thicker pair of socks.
---
RELATED:
---
The first time I went for a run in them I felt my heel slipping up slightly which surprised me a bit. When I got back I experimented with different lacing and realised that the foot becomes a lot more secure when you do the laces up all the way to the top holes of the shoe. This is not something I normally have to do, so it must be related to the shoe design, I'm just not sure why the laces aren't done up like this out of the box, ah well it's an easy fix!
Running in the On Cloudventure Waterproof shoes
These shoes feel so springy when running on buff trails and any roads that you may need to run on to get to your favourite trail head. But with bounciness comes a slight loss of power when moving slowly. I did notice this a bit during uphill climbs, the clouds seemed to be absorbing a lot of force that I felt was needed to help push myself off quickly and efficiently. If you're looking for a lightweight trail shoe from ON that performs very well during climbs, take a look at my On Cloudventure Peak review, it's not a waterproof shoe though. I can appreciate that with such a radical and innovative "cloud pod" design on the soles there are going to be things that will work brilliantly and some things not quite as well.
I noticed that "On" have left a space near the toe end of the sole free of pods which is exactly what I would have done to their road shoe design if making a trail shoe. But for me, this only works when running up a shallow gradient hill. Anything steep and the whole forefoot would need to lose the pods. But then how do you get that design to work for fast downhill running?
I found the fine grip to be really good on any wet patches of light mud but if you're going to be running in really muddy regions, the spaces between the pods may get clogged with dirt.
The bounciness coming from the pods is so fun whilst running downhill and you can really let yourself fly down the trails. In fact, I found myself wanting to run faster than usual on the downhills because the shoe made my feet feel so protected and free from niggles. The foot plate protection felt great and I didn't experience any heel roll.
On occasion when the cloud pods get wet, you may hear a slight squeaking coming from them. A minor problem really but a surprise considering the shoes are designed for running in the wet. I did some running through deep puddles on the trails and my feet stayed completely dry, very impressive. However, being a waterproof shoe obviously means reduced airflow through the shoe, so you may find your feet heating up on a warmer day.
In Summary
These shoes look really badass whilst thrashing the trails. But for a waterproof trail shoe, I felt they performed better on the road and buff dry trails than on the wet and muddy ones. I like to be able to feel technical terrain underfoot when on the trails so maybe this shoe has too much of a "buffer" between the foot and the ground for me to benefit from that. If you prefer a more minimal feel then check out my On Cloudventure Peak trail shoe review. This extra cushioning did, on the other hand, allow me to storm down the hills much faster than usual on hard terrain without feeling any foot niggles. Cushioning has its benefits too!
Where to buy?
Still not sure which On Running Shoes to buy?
Visit our Best On Running Shoes Guide for an ordered list of the top ON shoes for road and trail running. It has been designed to make your buying decisions easier.