The Salomon XA Elevate is a trail running shoe, designed for challenging yourself to take your adventure runs higher. They should inspire confidence on smooth or rugged trails, and ensure traction on wet or dry surfaces.
ADVERTISEMENT
RELATED: Best Trail Running Shoes of 2019
It sounds like they do everything, don't they!? I took them out on some local runs involving an 800-meter peak. Not just to see if they lived up to their reputation but because I love to bag vertical ascent during a run. 🙂
First Impressions
The XA Elevate looks a lot like the Salomon Sense Ride, a highly rated shoe in itself. But this shoe is an entirely different beast altogether. Salomon has done a great job on the design here, there's nothing wasted on its exterior with beautifully integrated fabrics and support structures. I love the unique blue/lime colour combination but the shoe also comes in a military style 'under the radar' black/balsam green colour scheme which looks great too.
Enough of the introductions lets find out how the shoes feel and perform when running on the trails.
Fit & Design
When I arrived at the trailhead, I was greeted with a distinct lack of parking spaces so ended up driving a few minutes away and parking on a residential street. This meant I got to test out the XA Elevates performance while running on the roads. I was impressed at the cushioning and rebound energy transference, helping with forward propulsion. I think this was Salomon's EnergyCell+ midsole in play. Although it's not ideal starting a trail run on the roads, it's good to know that a shoe can deal with this situation without causing discomfort to your feet along the way. So I'd say that makes this shoe a good door to trail shoe too.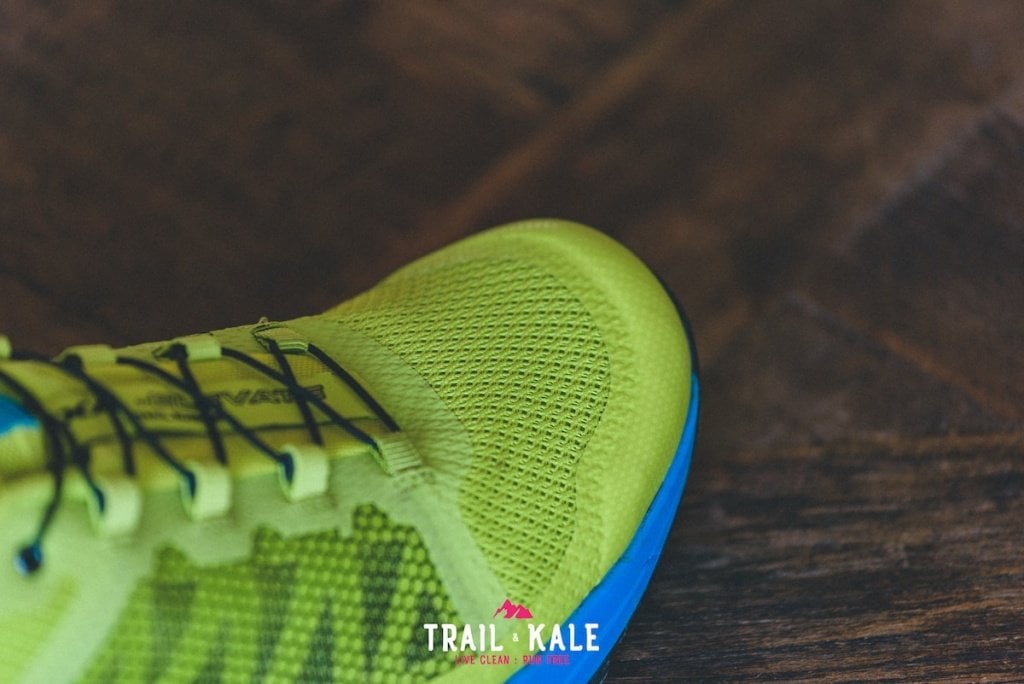 Toe box
The toe box felt a bit snugger than I am used to with Salomon's more minimal shoes. Fortunately, the upper mesh is made from a stretchy fabric which meant my toes never really felt that constrained.
There's also reinforcement in the toe cap for toe protection if you ever kick a rock by accident. I've done this many times but it usually only happens towards the end of a long run when my legs tired.
Sizing
The fit of this shoe is consistent with all other Salomon running shoes that I have worn before, and that's a lot. The sizing is also consistent with Inov-8 and On-Running shoes.
Weight
At 295g the Salomon XA Elevate isn't the lightest shoe on the market but that's the sacrifice you make for having a shoe that packs in support, cushioning, comfort and protection.
Drop
The 8mm drop on the XA Elevate gives it an advantage for running up hills without overstretching your calves and hamstrings.
The XA Elevate has very comfortable padding around the achilles and ankle areas. This really helps to support your foot and prevent ankle roll.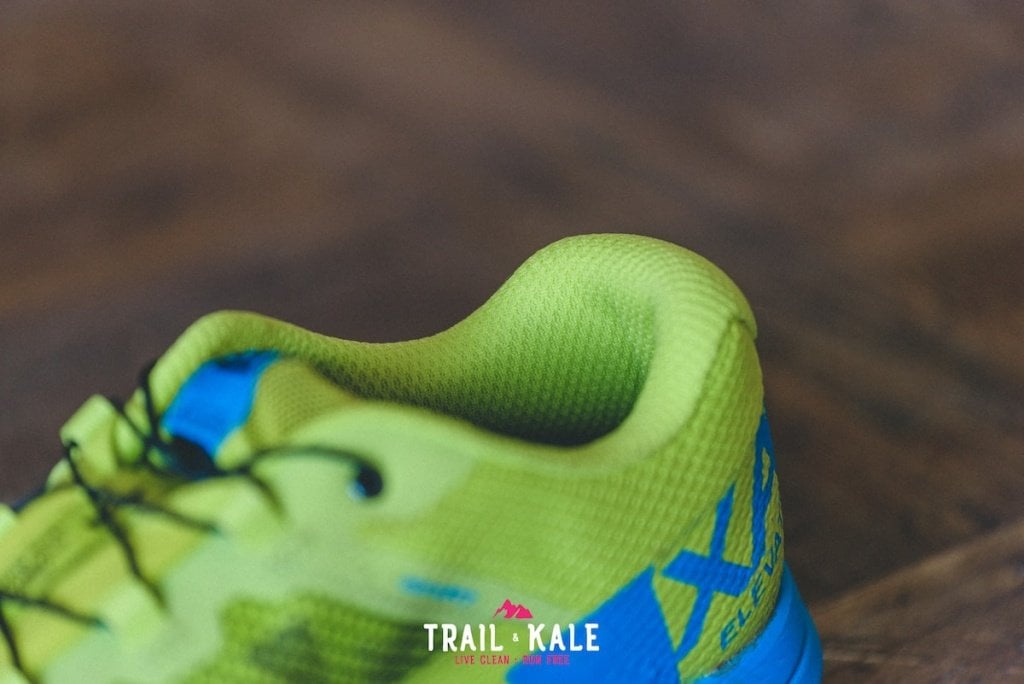 If you've read any of my other Salomon trail running shoe reviews you'll already know how much I love Salomon's Quicklace system.
It's a really quick way to fasten your laces and secure your foot in place. You'll find that you will be able to produce a consistently comfortable and secure fit (not too tight, not too loose), that locks in place with this system. It's easy to become a bit obsessive-compulsive with a traditional lace system because it's so easy to get an inconsistent fit while doing them up. And we all know how a bad-fitting shoe can ruin a run. You won't ever have a problem with excess flapping laces either as the system tucks away neatly into the tongue. Kudos to Salomon for driving this innovative system forward.
Salomon is using their Profeel Film a lot, in areas where fabrics connect and sections that don't need any stretch. Profeel Film is the tough looking plastic film areas that protect your shoes from getting tears on the trails, the same technology used in the Salomon XA Alpine. This should ultimately mean increased durability. The film also makes the shoe waterproof in these areas. The film also lines the bottom half of the shoe, so if you're running through water or mud that doesn't completely submerge your feet, then the shoe should keep all that stuff out. So far, every run in these shoes has been a dry one for me.
Grip
This is another area that the Salomon XA Elevate shines in. The Contragrip is excellent in the wet and all the lugs are separated to give extra grip on rugged terrain.
 Running in the Salomon XA Elevate
The Salomon XA Elevate gave me a really fun and protected ride on gnarly trails. They also offered me excellent uphill speed. I managed to make it to the top of my local hill faster than usual and the only reason I needed to take a break at the top was to take a picture of the shoes with the stunning San Francisco backdrop. 🙂
The mid-sole protection on this shoe is excellent and I found myself not worrying at all where I placed my feet when pushing hard on the way back down. I've had a few minor ankle rolls with other shoes recently so this was a huge plus for me because I also love to beast the downhills at any opportunity.
The Contragrip in the lugs also helped my maintain my aggressive descent without and slipping or skidding. Something that has happened in the past on small loose stones. This is where the separated lugs helped out. The combination of good grip, ankle support and sturdy mid-sole gave me confidence to go crazy on the downhill.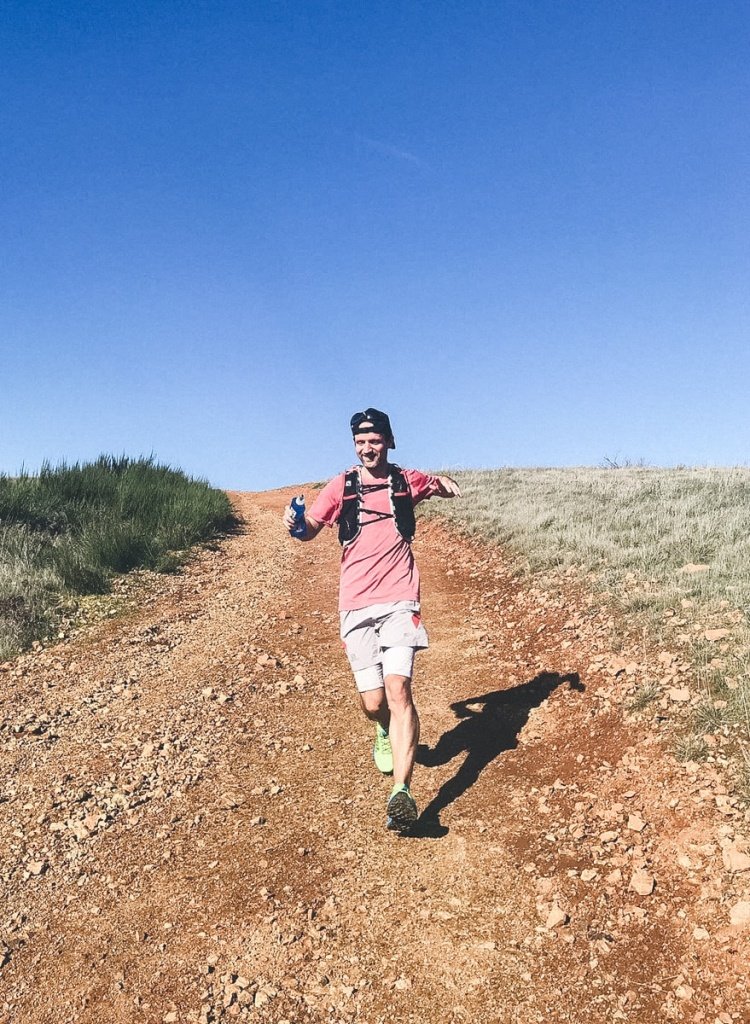 The run
In Summary
Salomon have done a great job with the XA Elevate. If you're looking for trail running shoes that combine comfort, protection, cushioning, superb grip and a bullet proof exterior that will endure many a tough trail run, then I recommend you try Salomon's XA Elevate, you will not be disappointed!
Salomon XA Elevate (Summary)
Find the best price for Salomon XA Elevate
Last Amazon price update was: 4th December 2022 4:01 am
If you have any questions about the shoes or anything relating to them then please leave a comment below and I will reply as soon as possible. Happy Trails!!