I'm super excited to share my thoughts in this Nike Terra Kiger 8 review because this trail running shoe has totally surpassed my expectations in nearly every aspect of the tests I put them through.
ADVERTISEMENT
My last Nike Trail shoe review featured the Pegasus Trail 4, and unfortunately, it didn't really perform as well as I would have liked on my local technical trails.
It's a good door-to-trail running shoe for the road and light trails but as soon as I ventured onto more technical terrain I was left feeling very cautious of rolling an ankle.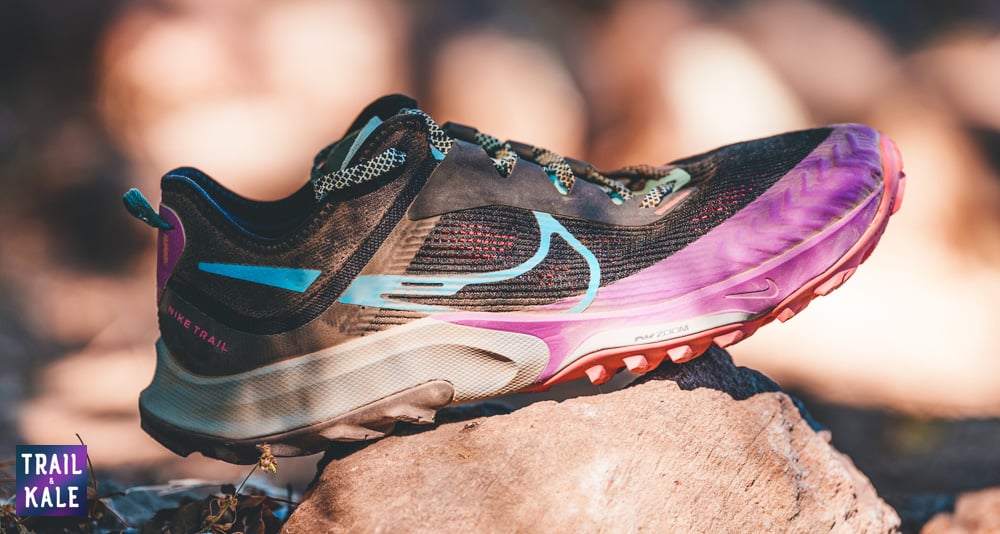 Okay, I've already talked about the Pegasus Trail too much in this review but it's relevant to the evolution of the Nike Air Zoom Terra Kiger 8 (and my overwhelmingly positive response to its new design), which I'll go into more detail on later in this review.
This Terra Kiger 8 review, like all our outdoor gear reviews, is in no way sponsored. Often brands will send us gear to get our honest opinions in a review but we don't take payment and sometimes we just go out and buy products ourselves to speed up the process.
Terra Kiger 8 sizing and fit
So what's the sizing and fit like out of the box? Well, these trail running shoes, for the most part, fit true to size – it's just the length where things get strange.
I've read some Nike Terra Kiger 8 reviews on the Nike website to see how others got on with the fit, and to see how their thoughts aligned with my own.
Although the Terra Kiger 8 does generally fit true to size, in quite a few of the reviews, people have said the shoe is longer than previous versions of the Nike Terra Kiger, but the rest of the shoe fits well. So that's kind of curious and aligns with my own findings.
I'm not sure what's happening with this, so I would recommend dropping down half a size to get the length of the shoe to fit you better, and you'll just have to have the laces a little looser to ensure the rest of the shoes fit you well too.
I actually went with my usual size and it does feel a little bit longer than I'm used to with other Nike Trail and road running shoes.
But to be honest, when I'm running downhill, I don't feel my feet sliding to the front or hitting the front of the shoe or anything like that.
I have since ordered another pair (yes they're that good) a size half size smaller, so once I've been on some runs in them I'll update this review to let you know how I got on with them, and which size I prefer.
Out of the box, the fit is excellent. The Terra Kiger 8 is very comfortable and there's no breaking-in required. As you can see in my video below, there's actually quite a lot of flex in the shoe, so it does work with your feet.
All the materials in the upper construction are very soft too, with plenty of padding going on which all contributes to that instant feeling of comfort.
Key features and specs worth knowing about
Price – $140 at Nike.com
Weight – 10.4 oz. (295g) for a US M9 – that's a tiny bit heavier than the Peg Trail 4.
Width – medium
Midsole – Air Zoom with some React foam – Air Zoom gives excellent control and responsiveness on the trails.
Stack height: Heel Stack Height: 23mm / Forefoot Stack Height: 19mm – this is great for ground feel and a natural stance.
Drop – 4 mm drop – perfect for technical trails and all-mountain running
Let me go over some of the key features in more detail then. The shoe itself costs $140 – I'll let you know later on in this review whether or not I believe the Terra Kiger 8 is worth $140.
It weighs 10.4 ounces for a size US 9 men's which is a little bit heavier than the Nike Pegasus trail. This is unusual because historically the Nike Terra Kiger line has been the lightest option in the Nike Trail running shoes lineup.
So it's interesting to see that it's slightly heavier than the Pegasus Trail 4, in terms of how Nike is positioning this shoe – and the types of trail runner they seem to be targeting.
The Terra Kiger 8 in no way feels like a heavy trail running shoe when you're actually running in them.
So, even though I'd like to see the shoe get lighter when the Nike Terra Kiger 9 is released, it didn't really affect my running style or ability to run for long periods of time.
It has a pretty low stack height with a resulting drop of 4mm from heel to toe – and I really like how this feels.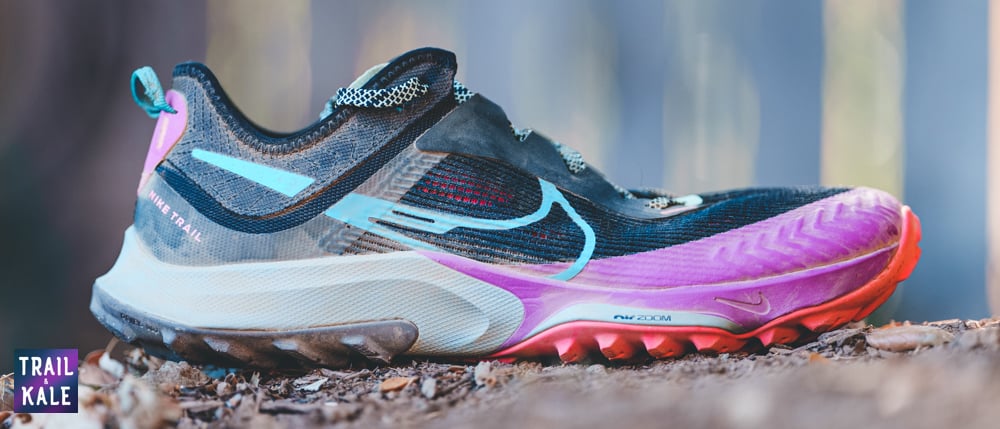 I have always recommended a lower drop as in my experience it reduces the chance of getting the most common running injuries like plantar fasciitis, Achilles tendinitis, and shin splints.
Not only does it give you a better feel for the trails but you're also in a more natural running stance, resulting in a better running form. With a low drop and a low stack, you can really feel the trail and use the proper biomechanics of your ankles and feet.
There are a lot of bones in your feet – so it's really important to be able to have your style and stance as natural as possible when you're on the trails because there's a lot of stabilization that your joints, bones, and muscles need to be doing.
So, the more you can leave things like stabilization to your biomechanics, the better. I don't like these big midsoles that you sometimes see on trail running shoes because it takes a lot of that away from your biomechanics and what your feet should actually be doing, naturally.
READ NEXT: My post all about how to try barefoot running explains the reasoning behind why you should give low-drop (or zero-drop) running shoes a try.
The Terra Kiger 8 is the only Nike Trail running shoe that has Nike Air Zoom foam in the midsole. I absolutely love that Air Zoom foam because it gives you more control and response.
Full Nike React foam when used on a midsole with a high stack compresses far too much when you're running over technical terrain like rocks or roots. This means your foot's rolling all over the place, and as a result, you lose that much-needed control on the trails.
For this very reason, the Nike Terra Kiger is always going to be my favorite Nike Trail running shoe.
The TK8 is medium width and there's a good amount of room in the toe box for your feet to splay. So I really like that about the shoe.
There's also a rock plate under the forefoot that stops any sharp rocks or other spiky things on the trails from actually getting through the bottom of the shoe.
The tongue has a nice amount of padding and I really like the new laces that do up and stay done up after hours of running and no double knots. I just love the simple design of them as well.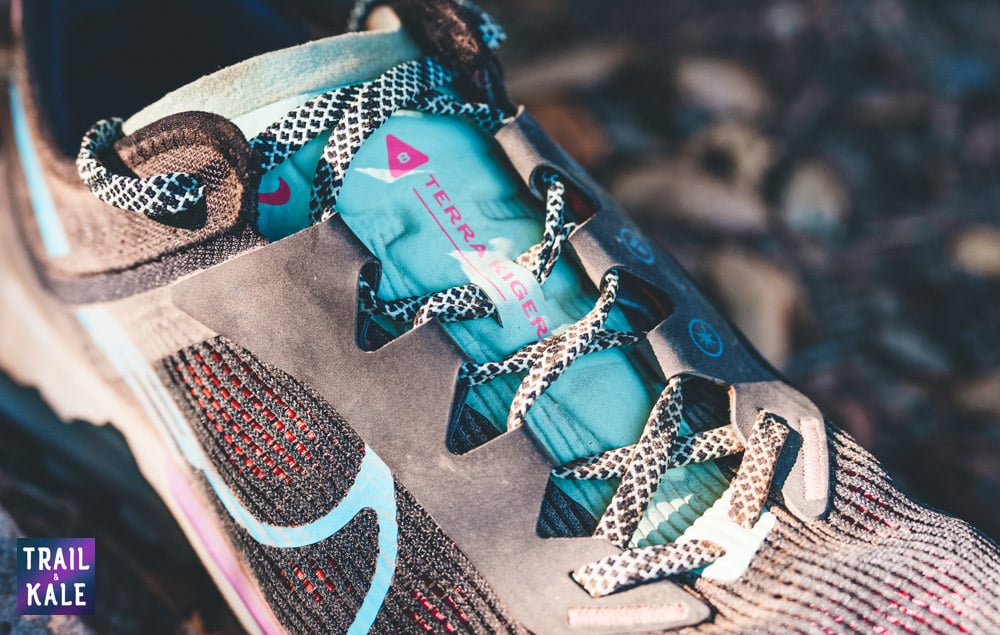 I really like the lacing system at the top as well. Nike has fixed some issues with how the shoe wraps around the front of your leg and now they provide a really secure fit.
There's a finger loop at the rear, which makes getting the shoes on a bit easier, and there's a solid toe cap at the front which will protect your toes if you stub any rocks or roots.
Inside the Terra Kiger 8, you've got padding that doesn't go all the way up to the heel wall. It feels comfortable and does a good job of locking your feet into the shoes.
This heel lock system was introduced a couple of years ago but I wasn't a fan because it just wasn't padded enough to feel comfortable on my achilles – it now does.
The upper is really great as well. It's a really nice design, very breathable. You can probably see underneath this top layer there's a nice soft internal layer as well, and that kind of protects your feet from the upper and it's very soft as well.
Nike Air Zoom Terra Kiger 8 performance review
Moving on to the Nike Kiger 8 performance review then – so what do the shoes actually perform like when running on the trails?
Running on road surfaces
Let me start with what they are like when running on asphalt, tarmac, or concrete pavements/paths.
I have to run about a mile before I get to the actual trails and it's not the most cushioned shoe. It's a fairly minimal shoe and not as good as the Pegasus Trail for road surfaces but I wouldn't expect it to be.
This is a trail running shoe and I want it to be a high performer on the trails – not the roads. I'd rather sacrifice a little bit of comfort on the road and to be honest, it's not even that uncomfortable, it's perfectly sufficient for any trail runs that feature some road sections.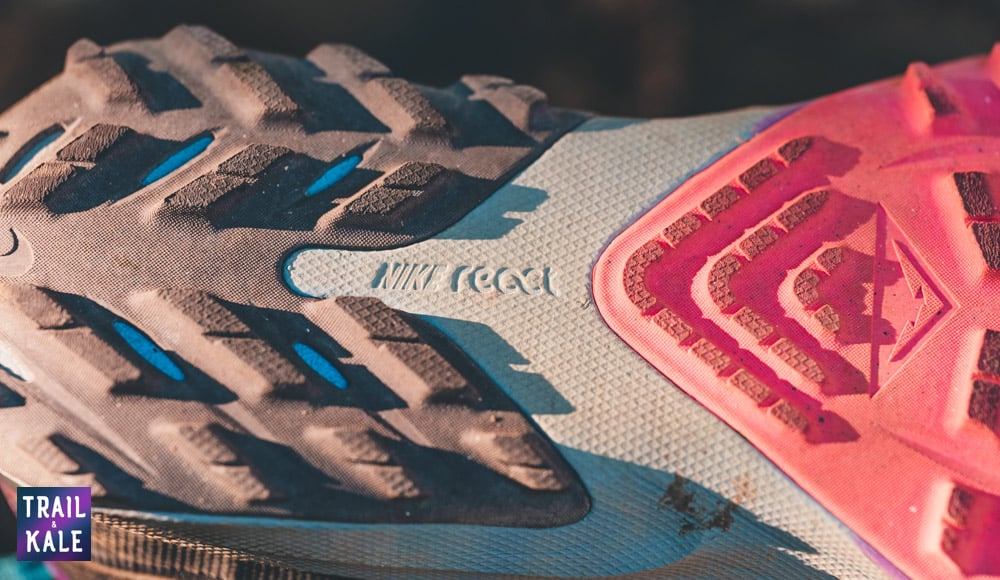 The rock plate and Air Zoom + React foam midsole give you plenty of cushioning to run a little bit on the road to get your trail, so I wouldn't worry about that at all.
How do they perform on different types of trails?
On most trails and mountain terrain including rocky, hard-packed, gravel, dusty, or forested single track they are absolutely amazing. The Nike Air Zoom Terra Kiger 8 is now my favorite trail running shoe due to how well it performed in my testing across multiple terrain types.
If you follow my training on Strava you'll notice how much progress I have been making in overall fitness and performance – I attribute this a lot to these trail running shoes because I feel like I'm able to push much harder out on the trails, in shoes I can trust.
Oh, if you are on Strava, be sure to join the Trail & Kale running club with thousands of other runners.
It's also Helen's favorite – she loves the women's Terra Kiger 8 for many of the same reasons as me!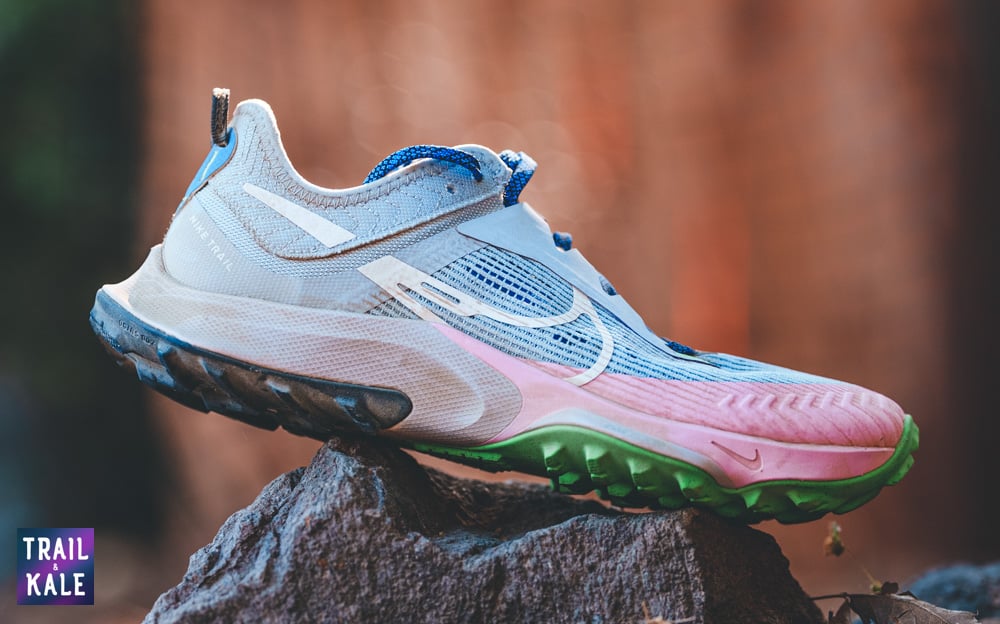 It takes a lot for a brand to come along and actually take that Best Trail Running Shoe title. If you follow this link up here, you will find my best trail running shoes buyer's guide.
The tread on the outsole has aggressive lugs made with a very sticky rubber that clings to the trails and digs in well. Sticky rubber does however come with a drawback – I'll share more on that in a bit though.
I haven't tried them in wet conditions or thick mud yet because it hasn't rained here in Northern California for quite a while now. As soon as it does rain, I'll be sure to take these out and update this Terra Kiger 8 review accordingly.
What are they like for running/hiking steep uphills?
As I mentioned earlier, the tread on the outsole is exceptionally sticky and the grip rolls right up to the toe cap, resulting in amazing traction (see image below). As a result, when running uphill I can really hook into the trail and push on with long climbs, whether they are persistent gradual gradients or short steep climbs.
The lower drop also really helps when running up and downhill as it helps provide more control, and feels more natural.
You'll definitely feel like you're using your calves a lot more if you're not used to a lower drop but don't worry about that – that's totally to be expected.
You should be using your calves when running! It will take a few runs to get used to the lower drop on these trail running shoes but I promise you, you're far less likely to pick up injuries from using a low drop shoe as opposed to one that uses 8mm and above.
LEAVE A COMMENT: If you have switched from a high drop to a low drop running shoe recently (or ever), leave me a comment down below – I'd love to hear your thoughts on how it helped your running and just generally how you got on with it.
Now the shoe could be a little bit lighter – I always appreciate a lightweight shoe when running uphill. The less weight you've got on your feet, the less you're actually carrying up the hill, and the less your muscles have to work as a result of that.
So from an endurance point of view, I'd like the Terra Kiger 9 (next version) to be a little bit lighter and then it really would be an unstoppable shoe. But to be honest, like I said earlier, it doesn't really feel that heavy.
What are they like for steep downhill running?
My local trails have lots of rocks and roots sticking out, and that's on my downhill routes as well. The Nike Terra Kiger 8 performed very well.
A lot of this is down to the midsole responsiveness, and it's 4mm drop – It puts me in a nice running stance going downhill.
I have plenty of control with the shoe, the sticky grip is fantastic, and I haven't slipped over or lost control in them yet.
I will say actually because the rubber is very sticky, it's not the most durable. But to be honest, they should last at least 500 miles – I'll update this review when I hit that range.
When you compare that to Salomon's S-Lab Sense 8, which is $180 ($40 more expensive) and has a similar range, due to the fast-wearing yet highly effective sticky rubber outsole – I think the Nike Terra Kiger 8 is still a great deal.
It's worth mentioning, for anyone not familiar with sticky rubber outsoles – this rubber will wear down faster because it's doing a better job. Much like you would expect from a formula 1 car changing sticky tires at pit stops regularly.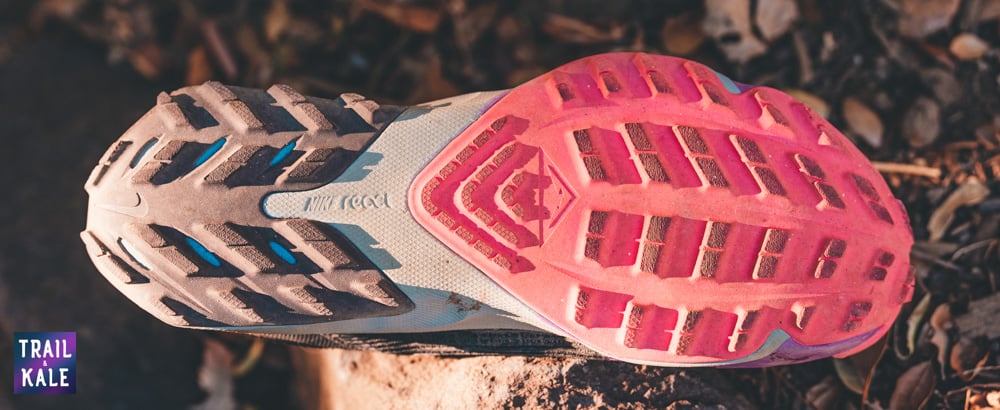 The tread is actually sticking to the trail and keeping you where you place your feet. It's worth it for the more enjoyable runs I get because I'm actually trusting my shoes and can run more aggressively without worrying about slipping over or skidding off the trail.
Slipping or skidding on some of my downhill trails is usually standard practice as I have steep trail sections with very small stones and loose dry dirt covering them. So, I either dig in and trust the shoes, or I control the descent with a skid-like technique, much like skiing.
With the Terra Kiger 8, I am able to trust the shoes and just do my thing. I just really don't have anything bad to say about them in this scenario.
I've been looking for a great shoe like this for so long that I'm just so happy the Terra Kiger 8 has come along and filled the void for me there.
And so far this shoe really has performed in every area. You can probably tell I'm very excited about it, and I really am, for good reason. The shoe is a winner for me!
How do they compare to other trail running shoes available at the moment?
Well, to be honest, it doesn't compare. It completely blows away any other shoes I've been testing lately.
That's a call out to any trail running shoe brands reading this that if you think you have trail running shoes that can outperform the Terra Kiger 8, please do send them over and I'll put them to the test.
Are they worth your hard-earned money?
Is the Nike Terra Kiger worth $140? Hell yeah, it is!
The most comparable trail running shoes to this right now, I would say is the Salomon S-lab Sense 8.
They have the same drop – the same traction on the sticky rubber outsole, and the same general 'trail feel' – the Terra Kiger 8 is heavier but it does cost $40 less.
The comfort, performance, and control I'm getting out of the Terra Kiger 8 makes them 100% worth it to me.
So yes, definitely try the Nike Terra Kiger 8 (with Nike's worry-free return policy) if you're an intermediate/advanced trail runner or just maybe even a beginner trail runner who wants to run more technical trails.
I promise you, you're going to enjoy it.
I am currently training for Matterhorn Ultracks Ultramarathon in the Swiss Alps this summer, and I am just so happy that I have a trail running shoe now that I can trust to get me around that course quickly and with total control.
I hope you enjoyed reading this Terra Kiger 8 review – please leave a comment down below if you did and join our Newsletter for more outdoor gear reviews just like this one.
Nike Terra Kiger 8 review summary (rating with pros and cons)
Nike Terra Kiger 8 Review
PROS
Hands down the best trail running shoes right now.
The low 4mm drop and low stack height provides excellent control on technical terrain and the rock plate protects the bottom of your feet very effectively.
The sticky tread is incredible - I really trust myself to be more aggressive on steep descents because of it.
Love the Nike Air Zoom midsole - it provides just the right amount of response and comfort.
Great breathability thanks to the upper material. Lacing system provides a nice secure fit too.
The wrap around tread at the front of the shoe really helps me dig in to the trails on steep hill climbs.
CONS
Could be a bit lighter - that would truly make them the ultimate trail running shoe.
Sizing comes up a bit long - I'd recommend sizing half a size down.
I have left you with some more photos of the Terra Kiger 8 below, and also my YouTube video review. Enjoy, and see you on the trails!
Nike Terra Kiger 8 Review [From Our YouTube Channel]
More Terra Kiger 8 Photos