As a passionate runner and running shoe reviewer, I'm excited to share my thoughts on the HOKA Bondi X, a unique shoe with plush cushioning and a carbon fiber plate designed for efficiency, and arguably one of HOKA's most well-recognized.
The Bondi X fine-tunes the geometry of its predecessor, the Bondi 8, by incorporating an extended rocker for greater acceleration.
While the carbon fiber plate offers an efficient transition and smooth toe-off, I found that the combination of plush cushioning and the carbon plate didn't quite work for me.
In this HOKA Bondi X review, I'll delve into the features, pros, cons, and comparisons of these popular HOKA shoes, as well as discuss some alternatives for runners who might prefer different shoes.
Bondi X sizing and fit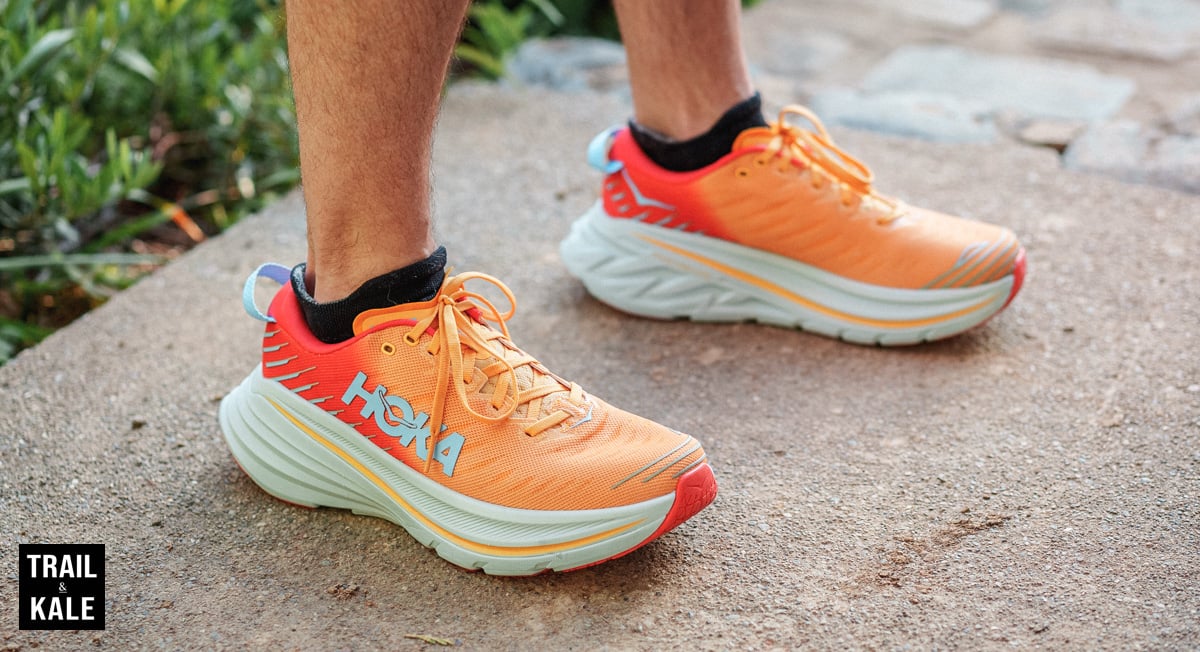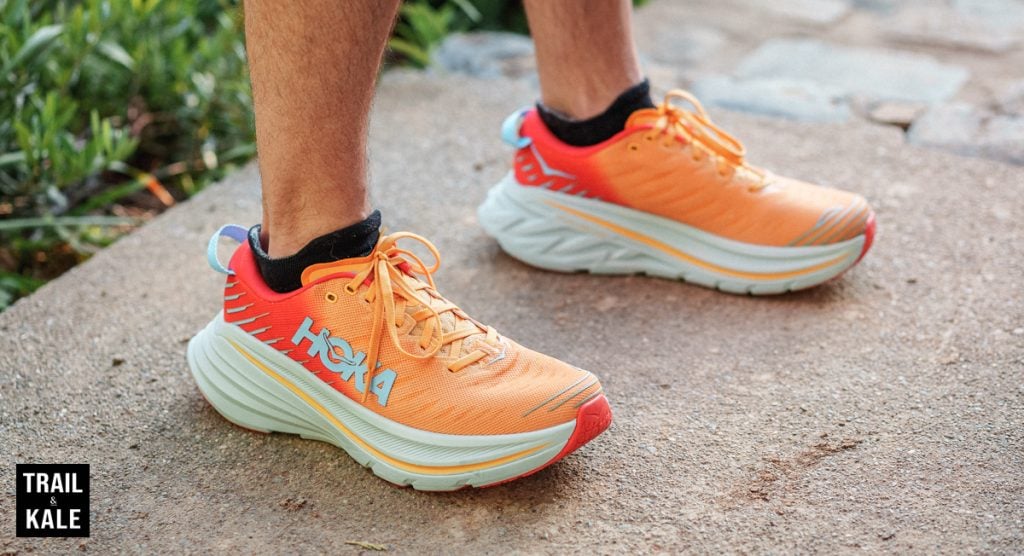 The HOKA Bondi X fits true to size, consistent with other HOKA running shoes I have reviewed over the last few years, and with popular running shoe brands like On Running, Nike, and Brooks.
I recommend sticking with your usual shoe size for the best fit.
The key specifications of the HOKA Bondi X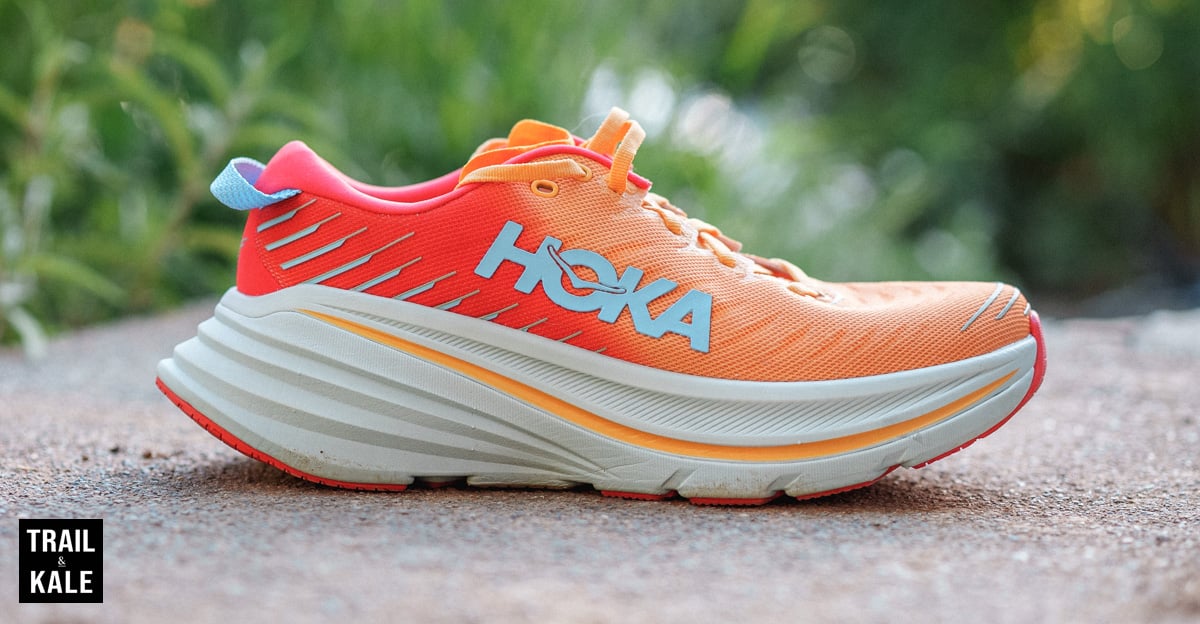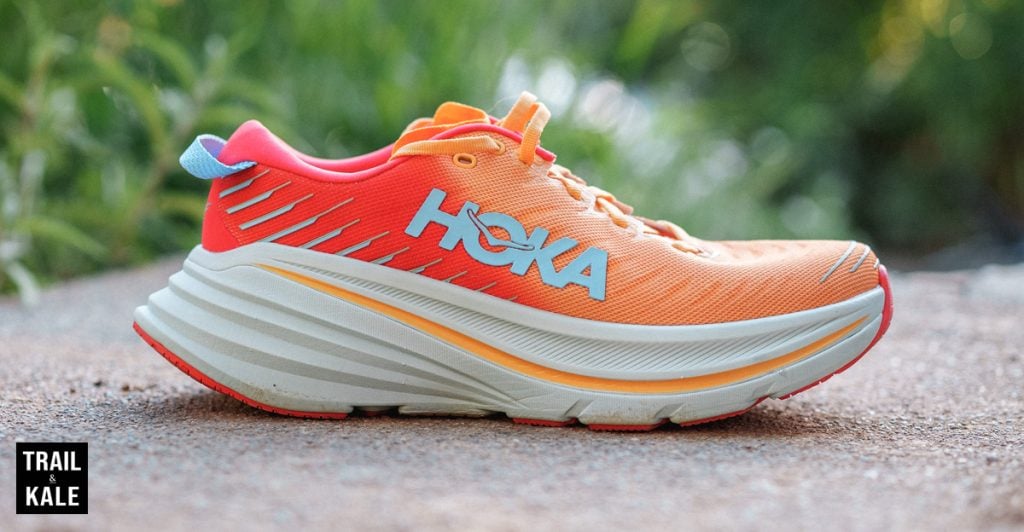 Price: $215 at hoka.com
Usage: Maximally cushioned everyday runs and races – best suited for beginner runners with a larger build, looking to increase their speed
Weight: 10.4 oz (295g) for a size US(M)9 (my pair)
Drop: 5mm
Toe box width: medium to wide with a roomy fit
Stability: Neutral
Cushioning: Plush, HOKA speak for maximum cushioning
---
3 features of the HOKA Bondi X that I like
1. The compression-molded EVA foam midsole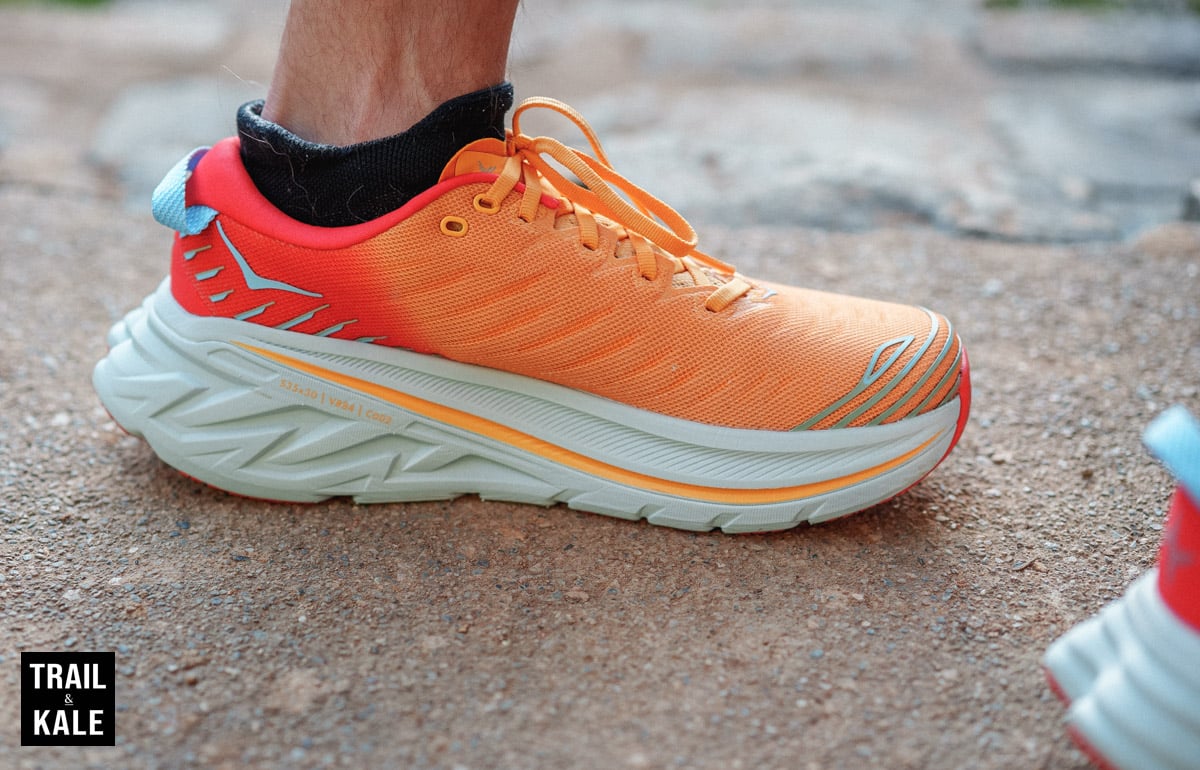 The Bondi X's extremely cushioned midsole offers a very plush ride and thanks to the complementary carbon plate that runs through the middle of it, also provides a good amount of forward propulsion.
It's this plush reputation on the Bondi line of shoes that will attract most people to the Bondi X, others will see it as an opportunity to get all that comfort but with the additional benefit of more speed.
This unique midsole provides a soft and comfortable experience during long runs, making it an excellent choice for runners who prioritize cushioning.
2. The carbon fiber plate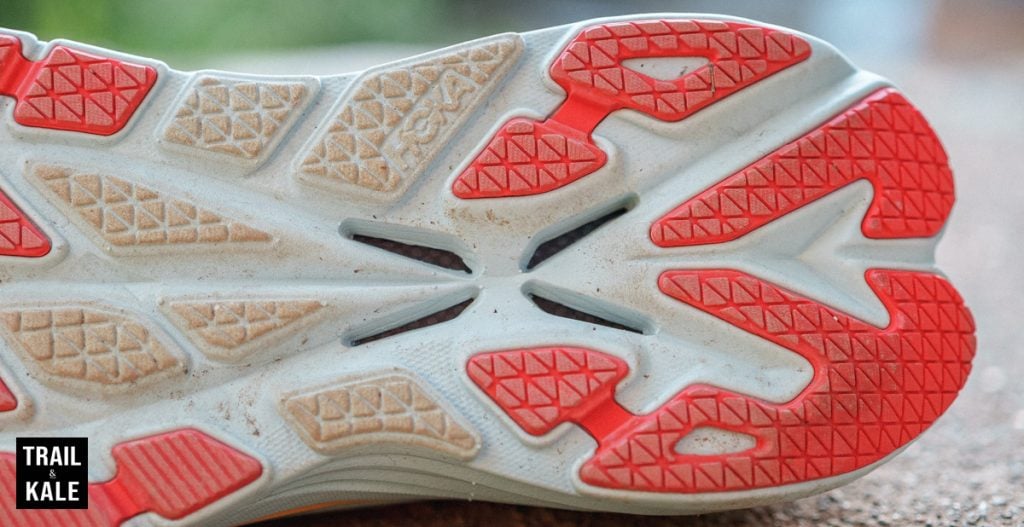 "X" marks the spot; that dark cross you see in my photo above is a window into the soul of the carbon fiber plate that runs through the midsole.
The carbon plate is certainly appreciated for its efficiency, even though the combination with the plush cushioning didn't work as well as it could have for me.
While it does add a level of support and energy return while running, I feel like it's somehow fighting the extreme level of plushness in the midsole foam.
There's no doubt in my mind that there's a maximal amount of plushness that a carbon-plated running shoe can have before the benefits of that plate get diminished, and the Bondi X is borderline with this theory.
3. The upper is roomy, durable, and breathable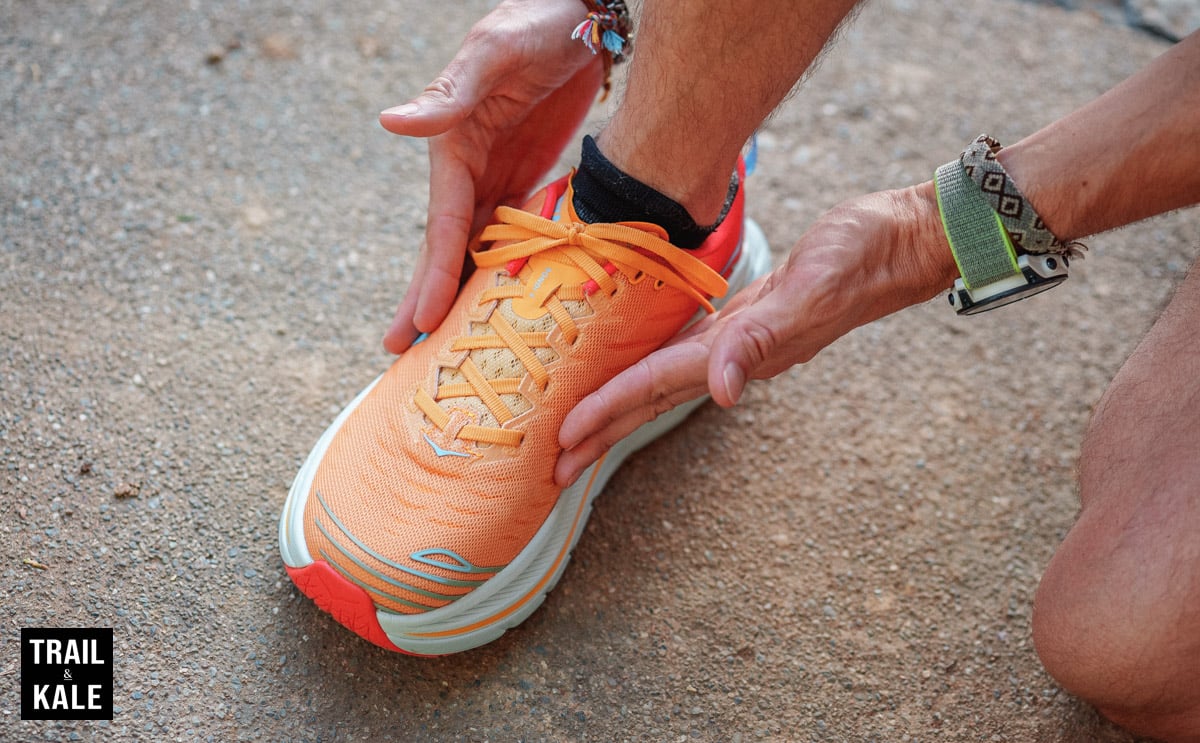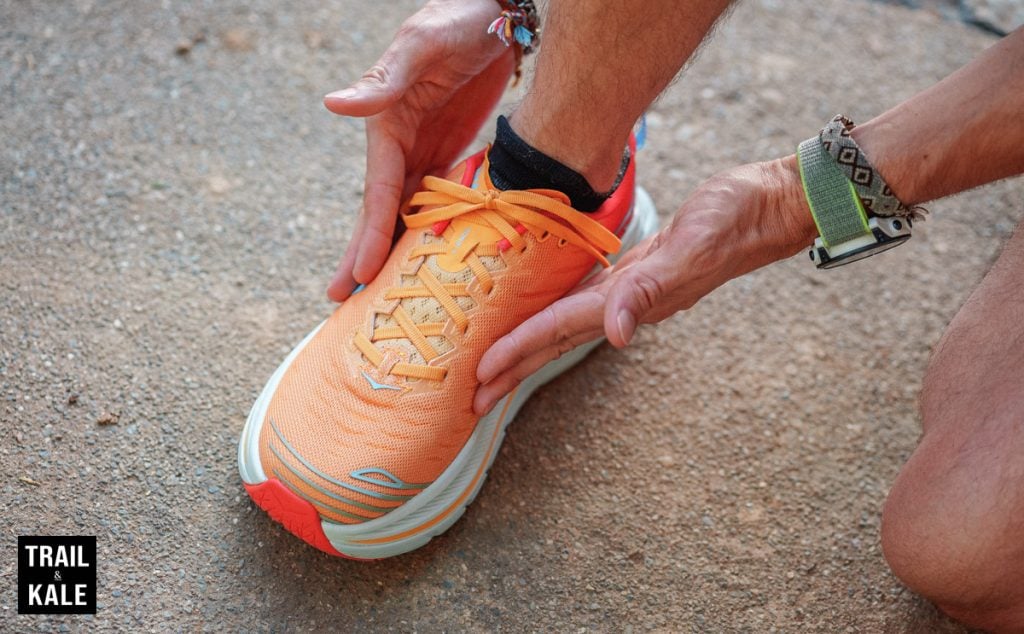 The wider-than-average upper ensures a comfortable running experience for most people unless you have especially narrow feet. I have average-width feet and there's plenty of room in there.
The materials used in the construction of the upper are designed to last too, so you can trust that the Bondi X will hold up through many miles of wear.
The toe box provides ample room for toe splay, which can be beneficial for runners who experience discomfort in more narrow toe boxes. This design allows your toes to spread naturally, contributing to a more comfortable fit whilst running.
4. The outsole has great traction with thoughtful tread placement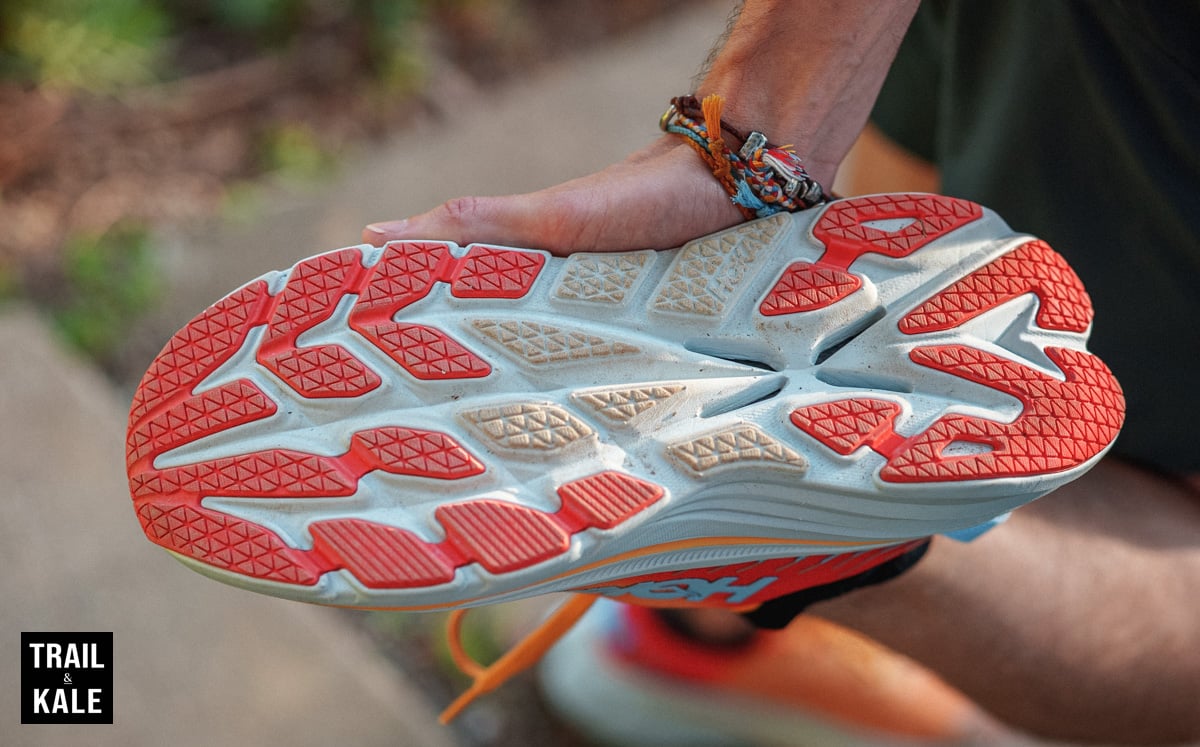 The outsole features strategically placed rubber for increased durability and traction on various surfaces.
The outsole is also designed to last, unlike the EVA foam outsole on the HOKA Mach 5 which, although one of HOKA's best running shoes, still struggles to make it past 450 miles, due to the durability of the tread.
400 miles is the advised lifespan of a pair of running shoes anyway, so that wasn't a deal breaker for me with the Mach 5.
The features that I don't like
1. The Bondi X is too bulky for lighter runners like myself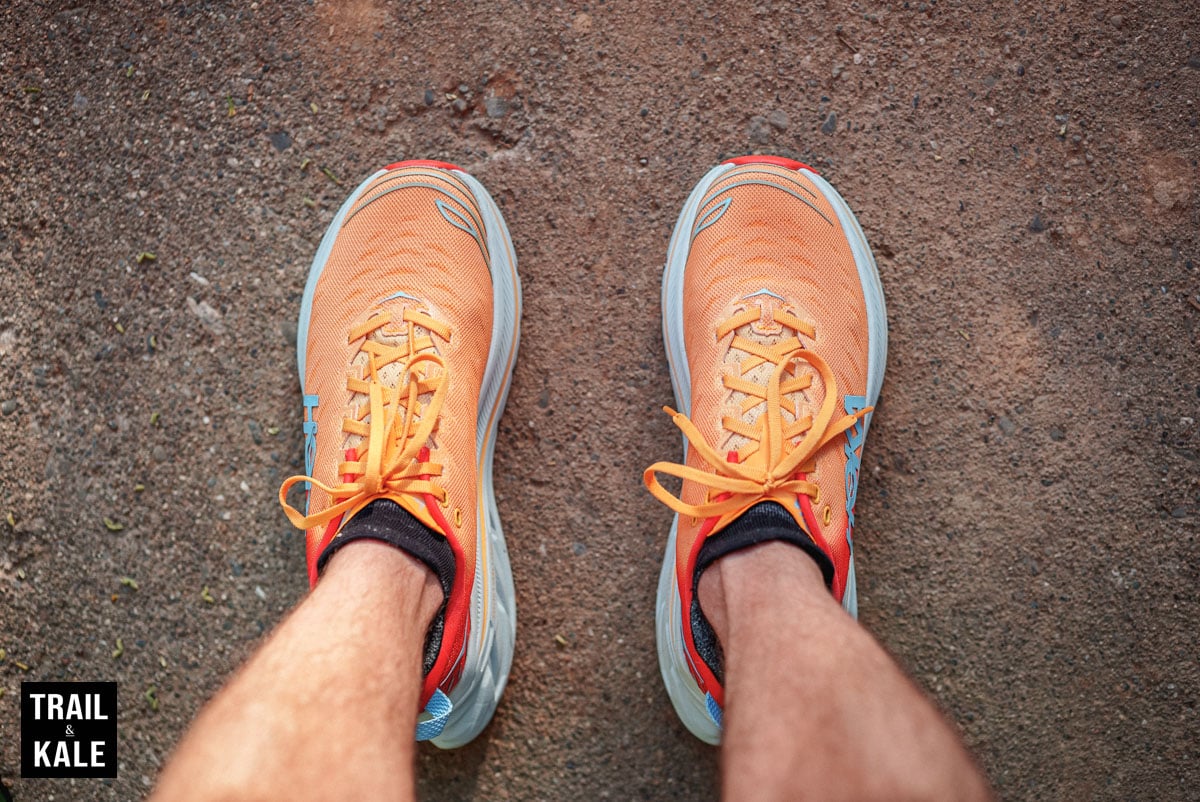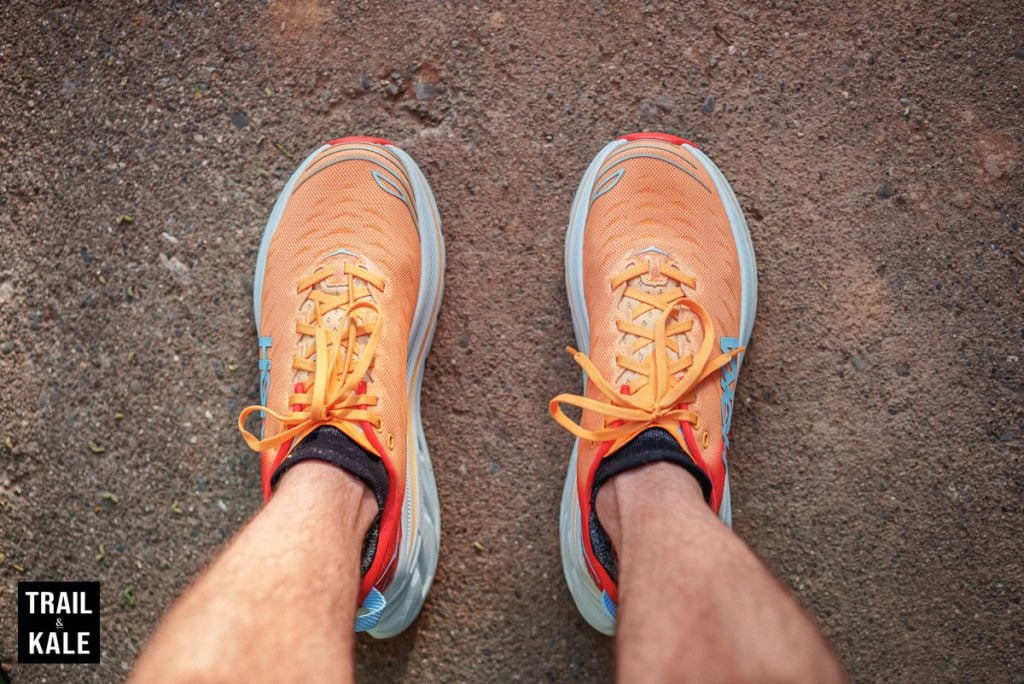 Due to the thick midsole, wide outsole platform, and relatively short-walled upper around the ankles, the overall volume of the Bondi X feels a bit cumbersome for me during runs.
I wouldn't recommend them to lightweight runners, with an agile, light-footed gait BUT they could be the perfect running shoes for heavier runners who need more cushioning and surface area when connecting with the ground, to support the additional landing force for their build.
2. The heel lock isn't the most secure
Unfortunately, I don't feel like my feet get a secure enough fit in the Bondi X, because of the upper design, which can lead to some instability during runs.
You can see from my photo above how low the wall is on the upper geometry, in comparison to the large midsole. There's a lot of weight beneath your feet with this design, and not enough of a secure fit to support that weight.
Although it's comfortable enough, I feel like it could be improved by a better upper design around the ankle and heel area.
Sure there are those extra eye holes to get those laces even tighter, but as I explain in a moment, that leads to additional discomfort due to the oddly short tongue design.
A better heel lock would enhance the overall fit and support, making the shoe more appealing for various types of runners.
3. I'm not a huge fan of the oversized midsole design and the extra wide outsole geometry.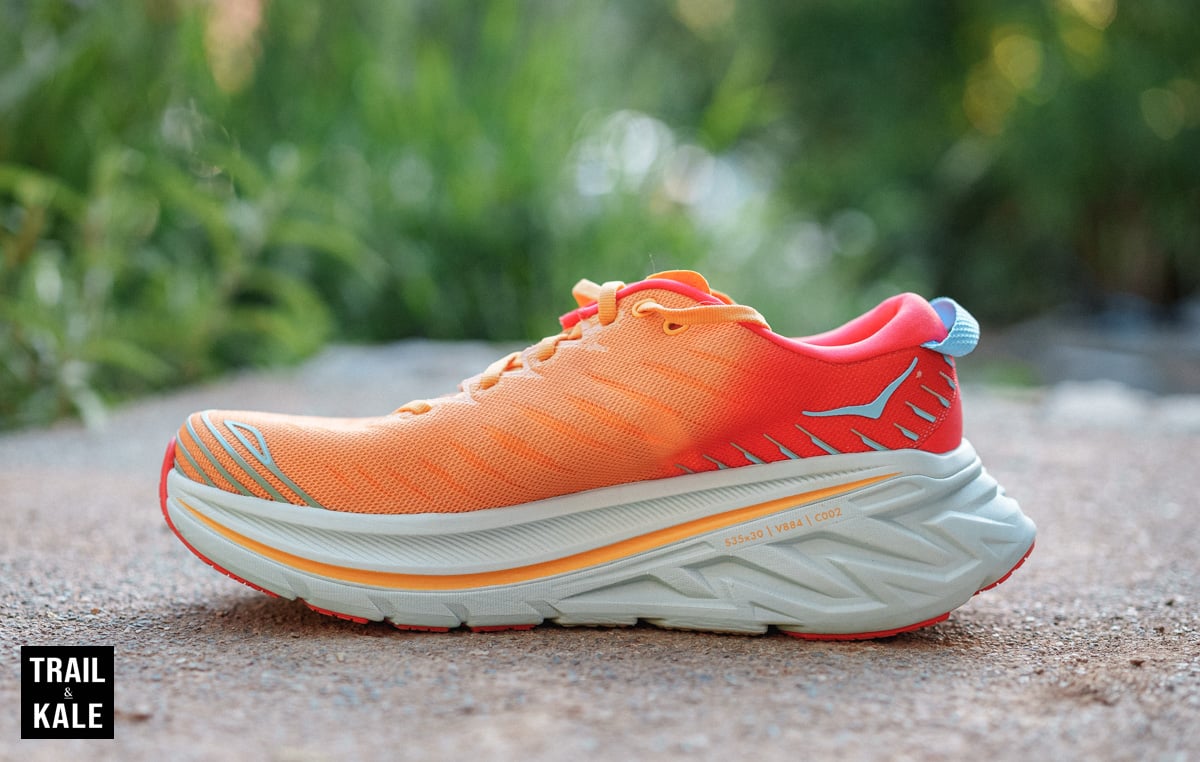 This aesthetic may not be for everyone, and the width of the outsole can contribute to the bulky feel of the shoe. The HOKA Bondi X may not be the best option for lightweight runners who suffer from a pronation issue.
Of course, this midsole is partly what makes the Bondi range so popular among HOKA fans!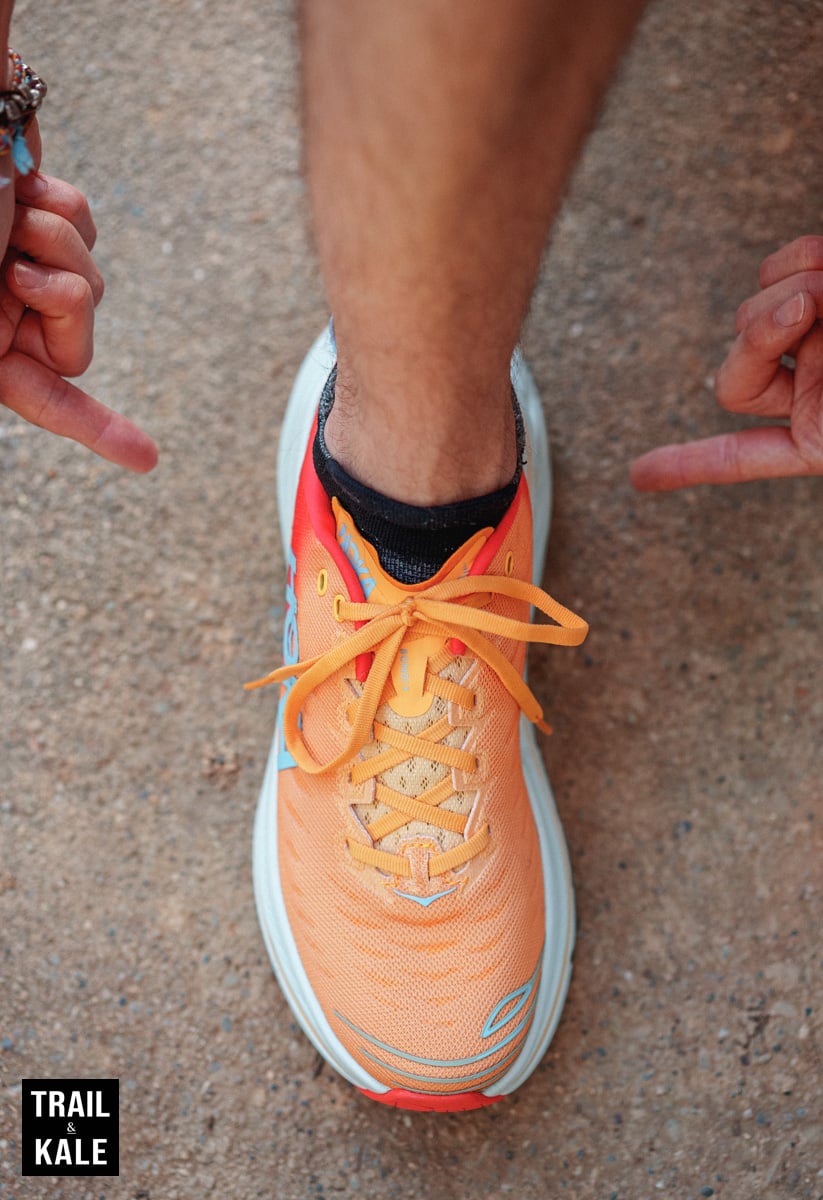 The wide outsole and midsole footprint offers good stability for neutral runners, but those with pronation problems may find an uncomfortable ride as the side of the shoe might contact the ground sooner than desired. As you can see in my photo above, they're wide.
4. The tongue is too short
Having a short tongue like this can cause discomfort on the top of the foot when the laces are tightened.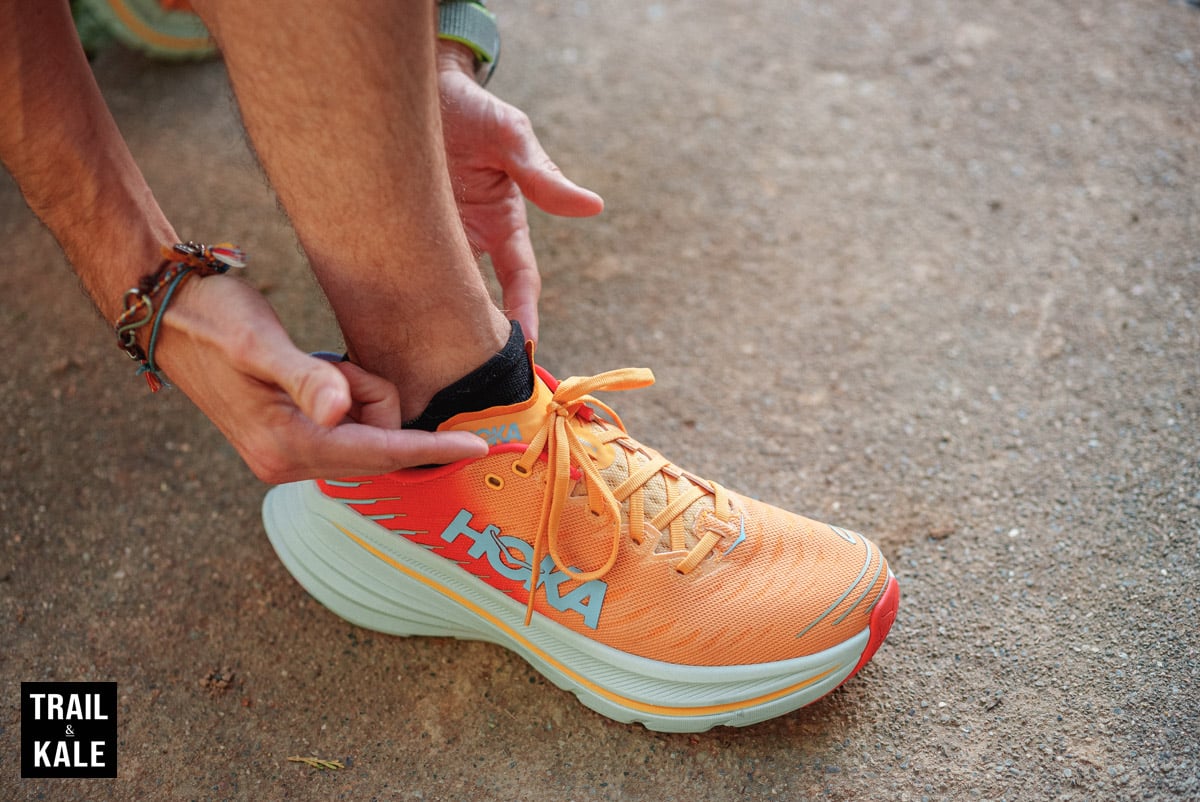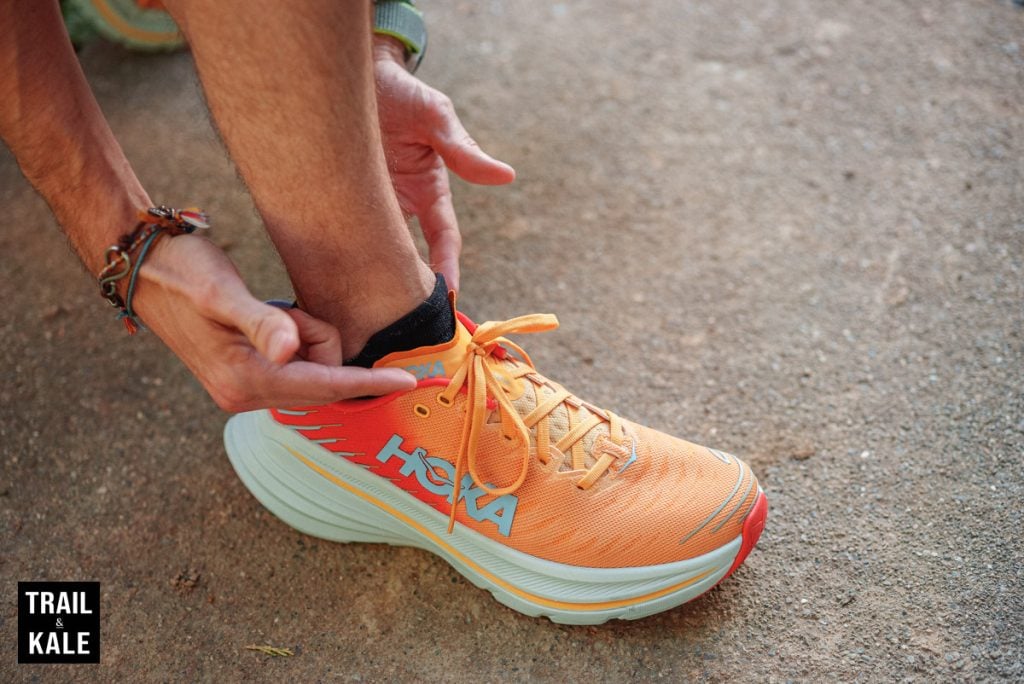 A longer tongue would help to distribute the pressure more evenly, enhancing the overall comfort during runs. This seems like a bit of a strange oversight from HOKA.
Comparing HOKA Bondi X to other popular running shoes
HOKA Bondi X vs. HOKA Clifton 9
The Clifton 9 is better suited as a daily running shoe, in my opinion, offering a near-equal amount of plush cushioning in a much less bulky, lower volume geometry.
It's also significantly less expensive at $140 and lighter than the Bondi X. This makes the Clifton 9 a more versatile option for various types of runners, including those looking for a shoe that is easier to manage on daily runs, during speed work, or even walking.
HOKA Bondi X vs. Bondi 8
The Bondi X aims to improve upon the Bondi 8 with a carbon plate and extended rocker for better acceleration.
However, the combination of the plate and plush cushioning doesn't work as well as the cushioning in the Bondi 8, making the Bondi 8 a better choice for those who prefer a more harmonious ride without the added stiffness from the carbon fiber plate.
Oh, and it won't hurt your wallet as much as this carbon-plated alternative.
Who will enjoy the HOKA Bondi X the most?
The HOKA Bondi X is best suited for beginner runners with a larger/heavier build who are seeking additional cushioning and looking to run faster during training or races.
The maximally cushioned design and carbon fiber plate may appeal to those who prioritize comfort and energy return. The Bondi X may not be ideal for lighter runners or those requiring more support due to its bulkiness and neutral stability.
Some alternatives to the HOKA Bondi X
For those who may be interested in exploring other options, here are some alternatives to the HOKA Bondi X:
On Cloudmonster
The On Cloudmonster is a lightweight, cushioned shoe with a unique CloudTec sole for a smooth ride.
It's a great option for runners seeking a comfortable and responsive shoe that doesn't compromise on style or speed.
HOKA Clifton 9
HOKA's Clifton 9, as mentioned earlier, is a versatile daily running shoe with plush cushioning and a less bulky design.
This shoe is ideal for those looking for a lighter, more agile option that still provides ample cushioning.
Hoka Rocket X 2
HOKA Rocket X 2 is HOKA's refined super shoe that, like the Bondi X, also has a carbon plate but it is much lighter and carries no bulk with it at all.
It will better suit experienced runners and people with a lighter frame.
On Cloudsurfer
The On Cloudsurfer 7 features a combination of cushioning and responsiveness for a really enjoyable, cushioned running experience.
Although not as fast as a carbon plate running shoe, it is perfect for runners who want a balanced shoe that can handle a variety of distances and paces.
How much does the HOKA Bondi X cost, and are they worth your money?
The HOKA Bondi X costs $215, and therefore a premium-priced running shoe but is it worth that hefty price tag?
While the Bondi X does provide a plush, cushioned ride with a carbon fiber plate for added efficiency, some features may not be ideal for all runners, such as the bulky design.
It's not a hit for me, unfortunately, and there are certainly better running shoes out there, but then again I don't believe the Bondi X is really designed for runners like me (lightweight, and lightfooted).
I think if you're a beginner runner with more weight in your step, and you'd like to work on increasing speed without sacrificing cushioned comfort, then these could be the perfect running shoes for you!
It's essential to weigh the pros and cons and consider alternative options before investing in the Bondi X.
Where to buy the Bondi X
The HOKA Bondi X can be purchased directly from HOKA's website via the buttons below, or at various authorized retailers, both online and in-store – I have listed our trusted stores below.
---
HOKA Bondi X review summary
HOKA Bondi X review
PROS
Plush, maximized cushioning for a comfortable ride.
Carbon fiber plate adds efficiency and responsiveness.
Durable, breathable upper material helps regulate internal temperature well.
Wide fit for a roomy fit.
Extended rocker for improved efficiency.
Strategically placed rubber on the outsole for durability and traction.
CONS
Bulky design may not be suitable for lighter or more agile runners.
Heel lock is not the most secure, which can affect stability.
Oversized midsole look and wide outsole geometry may not appeal to everyone.
Short tongue can cause discomfort when laces are tightened.
Bondi X video review
Coming soon
HOKA Bondi X image gallery