The Buddy Dog Bed from Toby and Ace seems to hit that sweet spot of being a thoughtfully-designed, quality orthopedic dog bed, without breaking the bank or looking ugly in the corner of your living room.
In this Toby and Ace review I share my thoughts on their original orthopedic dog bed, the Buddy Bed, as well as an overview of the key features, answers to some frequently-asked-questions about the bed, and my review summary – plus, where to buy it and get 20% off.
Note: Since we initially wrote this review, we were made aware that the company had experienced supply chain issues and significant delays in shipping, with requested refunds not being fulfilled during 2022. However, as of April 2023, we're pleased to hear that the company is back on track! If you're researching the best dog beds for your pet, you can also head over to our dog bed buyer's guide for some other great dog bed options 🙂
---
Toby & Ace Buddy Dog Bed Review: Table of Contents
---
Key features of the Buddy Bed
It can be overwhelming shopping for dog beds online because they all start to look the same from the pictures, and it's hard to tell what is a great dog bed and what is going to be something that needs replacing after six months (or less).
Toby and Ace are a new dog products brand with a focus on quality, durable products, and their original product, the Buddy Dog Bed (or simply, the 'Buddy Bed'), is designed with several key features which help differentiate it from other dog beds you may have seen online or in pet stores, and what made it attractive to me and my parents.
Specifically:
Orthopedic foam – The bed features three layers of foam, including a top 'egg-crate' design, which is designed to help with joint pain, allow support for the spine and allow circulation with no pressure-points, which can happen especially if your dog is lying in the same place for longer periods of time
Supportive bolsters – The high, firm bolsters are designed to recreate a dog's natural denning instinct and give a feeling of shelter, so they can snuggle into the bed. This can help reduce anxiety they may be feeling and help them get better sleep (or at least, higher-quality naps). So many bolster-style dog beds seem to have insufficent or overly-soft filling, which quickly sags.
Fabric, washable cover – The fabric used to make the bed's cover is relatively tough and durable, compared to cheaper dog bed alternatives. It can be taken off and gently machine or hand-washed
Design and style – This dog bed is good-looking and comes in a tasteful gray color that should fit with most homes' decor.
---
FAQs about the Buddy Bed
Before I get into my Buddy Bed review, here are some answers to frequently asked questions about it, which you may find helpful.
What material is the Toby and Ace Buddy Bed made from?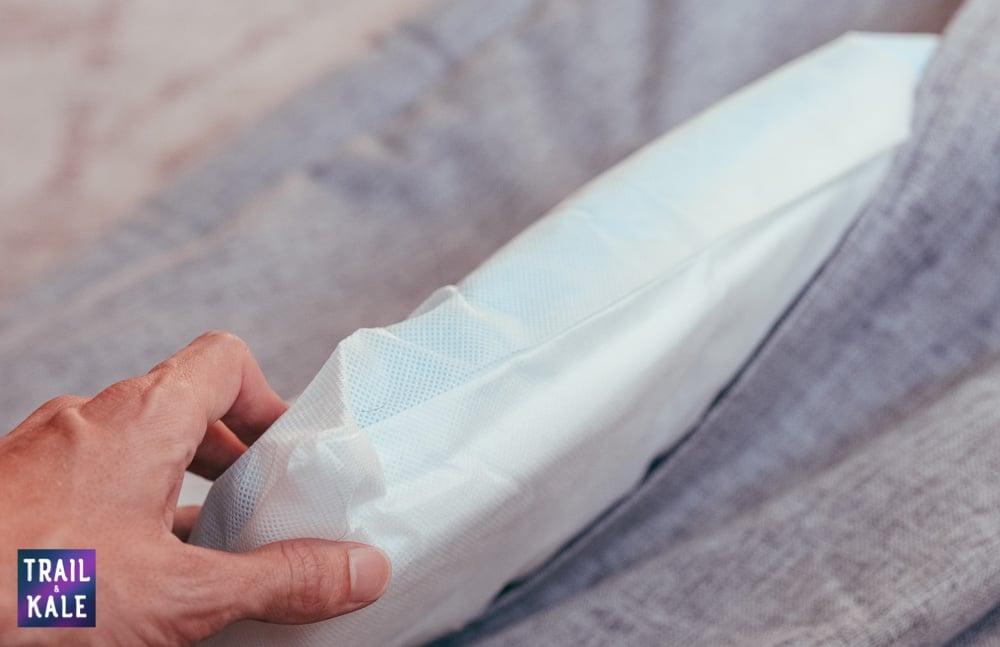 The core of the bed is made from multi-layer orthopedic CertiPUR-US foam. This foam is designed to give even support, retain its shape, and allow improved circulation when your dog lies on it (rather than putting too much pressure and restricting blood flow in certain parts of their body).
The outer cover of the bed (including the bottom) and the piping around the top is made from a durable woven fabric. The inside material in the center of the bed is a faux-velvet. It's not clear what materials these are, but both seem to be man-made.
This material is described as being both water and odor resistant, rather than waterproof (this is why it's washable). So if you get it dirty or wet, it's best to have your parents take it off and wash it as soon as possible so it cleans off more easily and doesn't soak through onto the foam inside.
It's also worth noting that this material is described as being 'scratch proof'.
I have tested it with casual scratching and it still looks great, with no holes.
If you are a fierce digger then you could damage it, but for the typical scratching that many dogs do to get a bed 'just so' and ready for sleeping on, this bed stands up to it.
What size bed should I choose?
For size reference, I weigh around 45lb and am a fully-grown Border Collie. Border Collies tend to have long-ish backs for our height, and I have long-ish legs, too.
For a dog of my size, Toby & Ace suggests a Medium bed would be about the right size but we're at the top end of the size range.
I actually chose the Large dog bed so that there would be plenty of room for me to sleep stretched out on my side and sprawl out, but when the Medium arrived, I was happy with it and do like to sleep curled up when I'm really tired or need that extra feeling of security that comes with sleeping in that position, up against the bolsters.
I do still sometimes sleep stretched out on the bed, which means that I have half my body hanging off the bed. My parents say it looks uncomfortable but I'm quite happy in that position.
The interior dimensions of my Medium bed are 26 x 15 inches (exterior is 34 x 23). For other sizes, click here to visit their site, click Buddy Bed and then 'size guide' to see them.
Is the Toby and Ace Dog Bed washable?
The fabric parts of the dog bed are machine washable.
You just unzip the cover and put it in the washing machine when needed. My parents wash it on a cool wash in their machine and it turns out like new.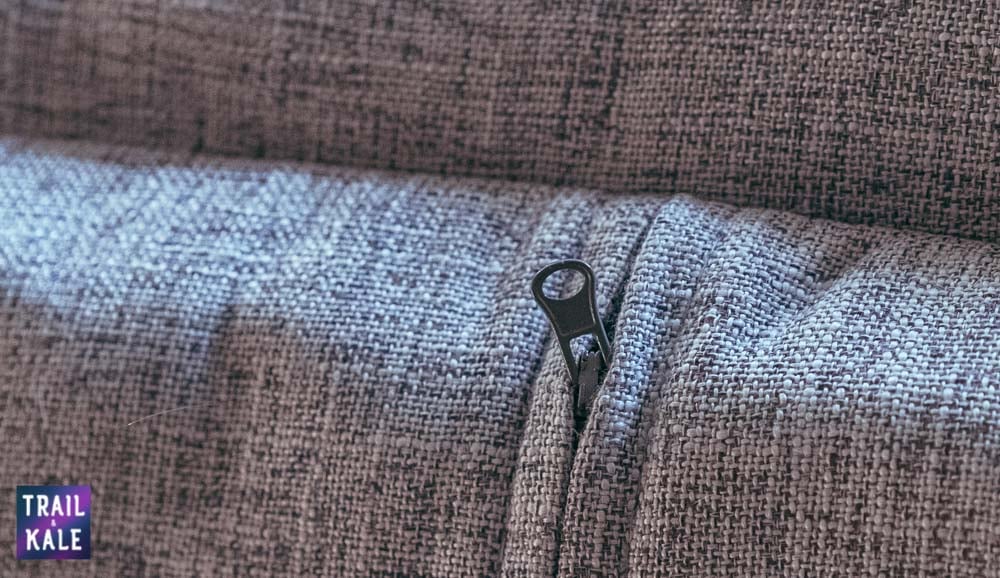 Even when the bed doesn't actually need washing, my hair brushes or vacuums off easily.
---
Toby and Ace bed assembly
The bed comes without the cover on (like most dog beds bought online) and so your human parents will need to spend 5-10 minutes assembling it by putting the foam mattress and four bolsters inside the washable cover.
It's helpful to wait patiently and try and contain your excitement while they are going through this process.
If you like to jump up and grab things then maybe wait in another room so when you're presented with your bed it is already fully-assembled by them, and ready for you to hop into!
It's pretty easy to insert the base, and then the bottom of the bed zips up in the center.
There is also a zip for each of the four bolsters, I've included example images in the photo gallery at the bottom of this review.
These zips are tucked away inside the bed so they don't show and your dog doesn't lie on them when the bed is assembled. This can make it a little fiddly to get them done up once you've inserted the bolster filler, but the result is a nice, moderately firm (and plump!) bolster bed.
---
Toby and Ace dog bed review
One of the main reasons my parents were looking for a new dog bed for me was to find one that provides me with not just comfort but also the security and 'nesting' vibe that you get from having a bed with high bolsters around the sides.
The idea was to help me relax and not get anxious or over-excited when there are things going on in and around the house, such as the UPS delivery truck, or loud fireworks outside.
What I like about this bed
I'm really happy with this bed. It is super comfortable and the material inside the bed is soo smooth, like suede (see image above)!
Even for a busy dog like me, I find myself hopping in there for a nap, so it's helping to encourage me to relax when I'm in the home and my parents have work to do.
Other things I particularly like about it are that it:
Stands up to scratching (although maybe not intensive digging, if that's your thing)
Looks good (too many dog beds are waaay to ugly, not to mention BROWN!)
Is easy to wash and vacuum/brush hair off
Has firm (but not-too-hard) bolsters that don't sag under my weight
Why are bolsters important on a dog bed?
Bolsters are really important to me because if I use a bed without bolsters, I tend to roll or slither off! This is not only uncomfortable (not to mention embarrassing), but it also wakes me up from my nap and then I get grouchy.
The bolsters are much firmer than bolsters on other dog beds we have seen and used, which is great for resting your head, paws, or legs on without them collapsing or sagging under the weight.
They're also 8 inches wide (on my Medium sized bed) so they're really supportive for your whole head.
Downsides of the Buddy Bed
For me, this bed is great – super comfortable, easy for my humans to clean, looks good, and we're really happy with it as it seems it will last me a very long time.
As with most dog beds, if you have a particularly need for features such as a fully waterproof cover, or for it to be extra-durable because you like to chew things you shouldn't, then it would be worth thinking carefully about whether this is the best bed for you, because it is not designed to stand up to chewing and there may be better options out there if you have toilet accidents.
Another, minor downside, is that it's only available (currently) in the gray color as shown in my photos in this review.
I (and my parents) really like this color as it fits in with our home decor and furniture, but if you're after a specific color then unless it's gray then it's not currently an option!
It's worth noting that if you like the brand, you can also consider their faux-fleece style bed, the Charlie Bed, which comes in 'caramel' (beige) and white (if you're brave or super-clean and have white hair).
---
Is this Toby and Ace Bed worth the money?
With so many cheap dog beds available out there and foam beds available for around $50-70 at places such as Amazon, Walmart and Chewy, it may be tempting to go for a less expensive option.
However, in my experience, these cheaper beds have some significant downsides and can end up costing you longer in the long run, when they need replacing – either because they get damaged easily, start to smell, or have overly soft/insufficient filling with no support, or get saggy and uncomfortable quickly, for example.
It's also likely that they don't offer the same level of support and comfort as a more premium dog bed that is designed to offer those benefits and help with improved relaxation and easing anxiety.
At a cost of $80-250 (depending on size, and before our 20% off discount), the Buddy Bed offers a good balance between quality and comfort as well as affordability, compared to a more expensive (yet also excellent) dog bed such as the YETI dog bed that I have reviewed previously here, which costs around $300 (especially if you order the bed from Toby & Ace using our discount code, below 🙂 ).
A good benchmark my parents use to assess how much I like a dog bed is whether I will take my treats and toys back to it and sit in the bed with them. This is a bit like a wild dog taking their catch back to their den to enjoy, and so they reckon if I do that with a dog bed I must consider it to be worthy of being my 'den'.
This bed has definitely become my office-den, as in the one that I snooze and eat chews on while my parents work, so it gets a big paws-up from me!
---
Where to buy the Buddy Bed
The Buddy Bed and Toby & Ace's other dog bed styles are sold exclusively on their website.
If you're looking at checking them out further and buying one for yourself, head to their site using the button below and use our exclusive code TRAILANDKALE20 to get 20% off your order:
---
Toby & Ace Buddy Bed Review Summary
Toby & Ace Buddy Dog Bed Review
PROS
Very High quality and durable
It looks great in my humans' living room, and I love using it
Reasonably priced
bolstered sides keep me inside the bed where I belong because they are firm and don't sag
Theres a nice weight to the bed which keeps it in place when i jump in or out of it
CONS
Not designed to be completely waterproof (although it is water-resistant!)
The bed is scratch-proof but if your dog is a chewer or a bed biter then this one may not be the best choice for him/her
---
Image Gallery
---
I hope you enjoyed my Toby and Ace Dog Bed review.
If you're interested in checking out other highly-rated orthopedic and supportive dog beds, you may also like to read our buyer's guide to the best dog beds.