The Cloudflyer Waterproof is one of On's first waterproof road running shoes, released alongside the new On Cloud Waterproof. After running in both of these shoes it's clear that the Cloudflyer Waterproof is a more appropriate shoe for running long distances in wet and cold conditions.
Hopefully, this On Cloudflyer Waterproof review answers all your pre-purchase questions but if you have another question after reading, please drop me a line in the comments below.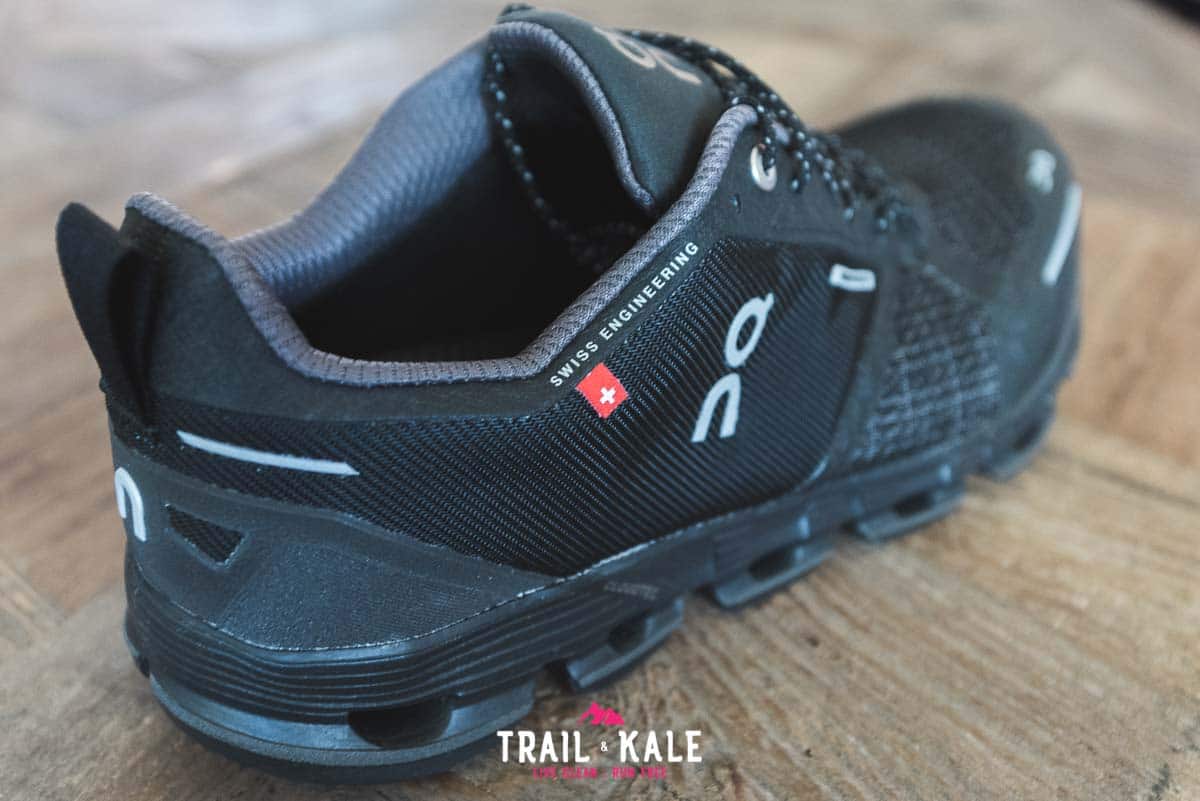 On Cloudflyer Waterproof Fit & Design
The Cloudflyer Waterproof has a good amount of cushioning in the upper and I really like the look of the shoe itself. It certainly feels like it has been made to last too. There's also a fairly sizeable finger loop on the back which I have noticed all the Waterproof On shoes have; handy if you're going to be wearing gloves in cold conditions, making them easier to put on.
---
RELATED:
---
On Cloudflyer Waterproof Upper Construction
The On Cloudflyer Waterproof is fully waterproof in the upper which make them a good choice for running during the wet winter months. Being waterproof means that the upper is not very breathable but on the flip side, winter running tends to be cold so a shoe that doesn't breath will keep your feet warm, so that's ok!
Reflectivity
There's a ton of reflective material on the upper too, it has even been woven into the laces and also the material above the toe box which you can see in the image above (it's the silver colored threads).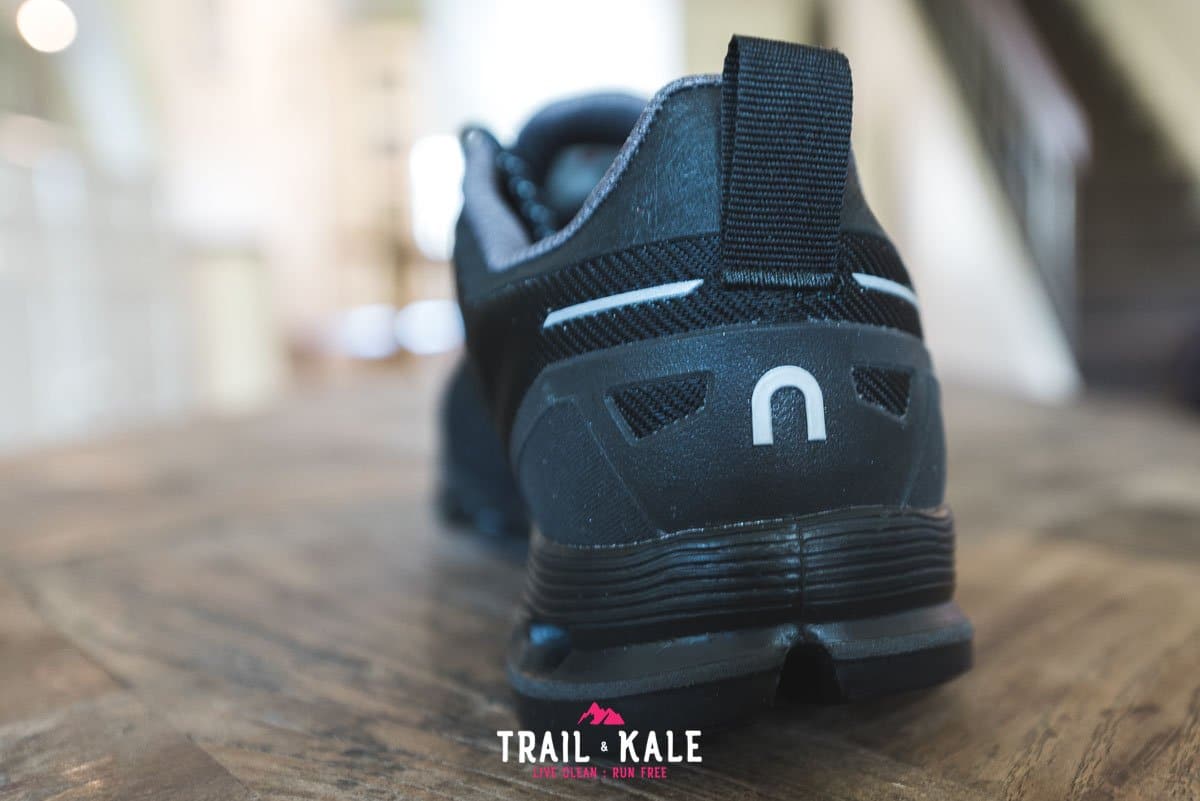 Heel Cage
Looking to the rear of the upper you can see that On has introduced a reinforced heel cage which locks your foot in place and offers good support to help minimise lateral roll.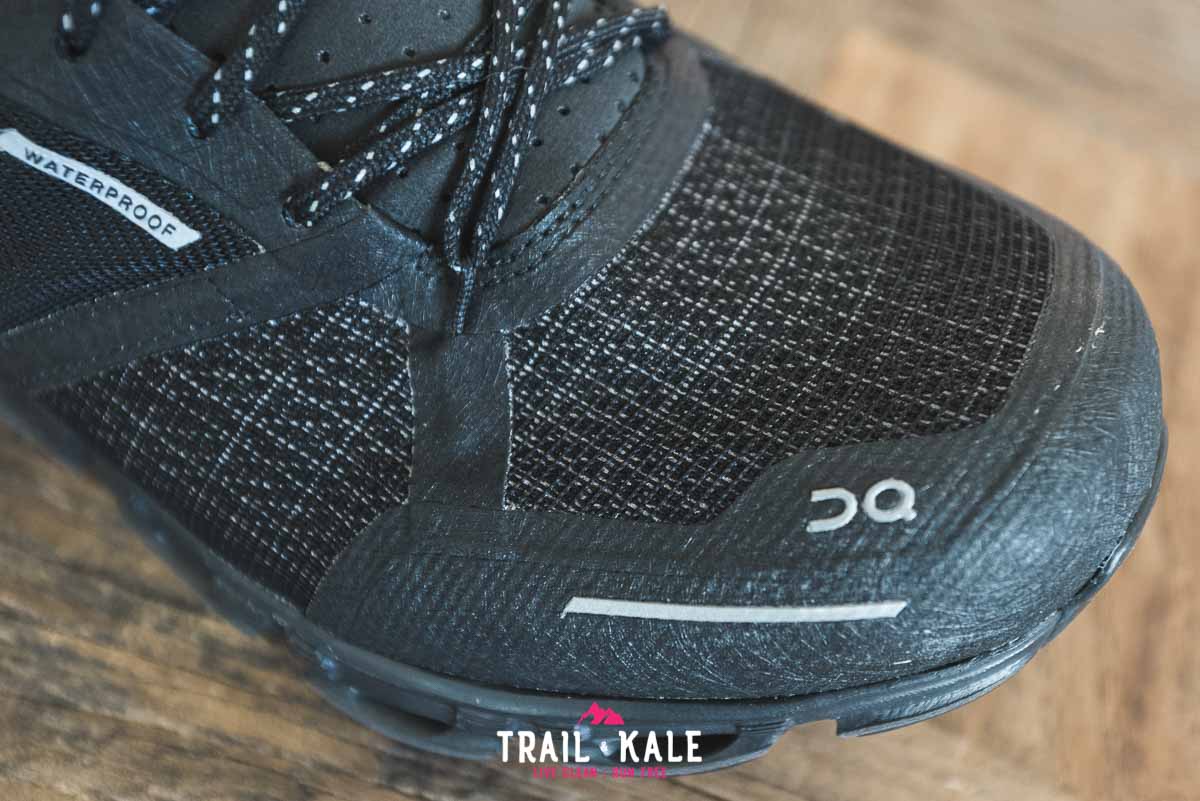 The toe box is medium width and the coated toe cap prevents cold wind and water from hitting your toes and adds extra durability. As with all new On's there are areas in the upper that have been protected with strips of 'no-sew foil', this firmly holds fabrics together without the possibility of fraying edges, further improving durability.
Inner Sock
There's also an inner sock that attaches the tongue to the forefoot area, similar to the On Cloudflow, On Cloud X, On Cloudace and On Cloud running shoes. This keeps the tongue from slipping out of place and also stops dirt or water sneaking into the shoe. The sock will also reduce any chaffing as there are fewer seams inside.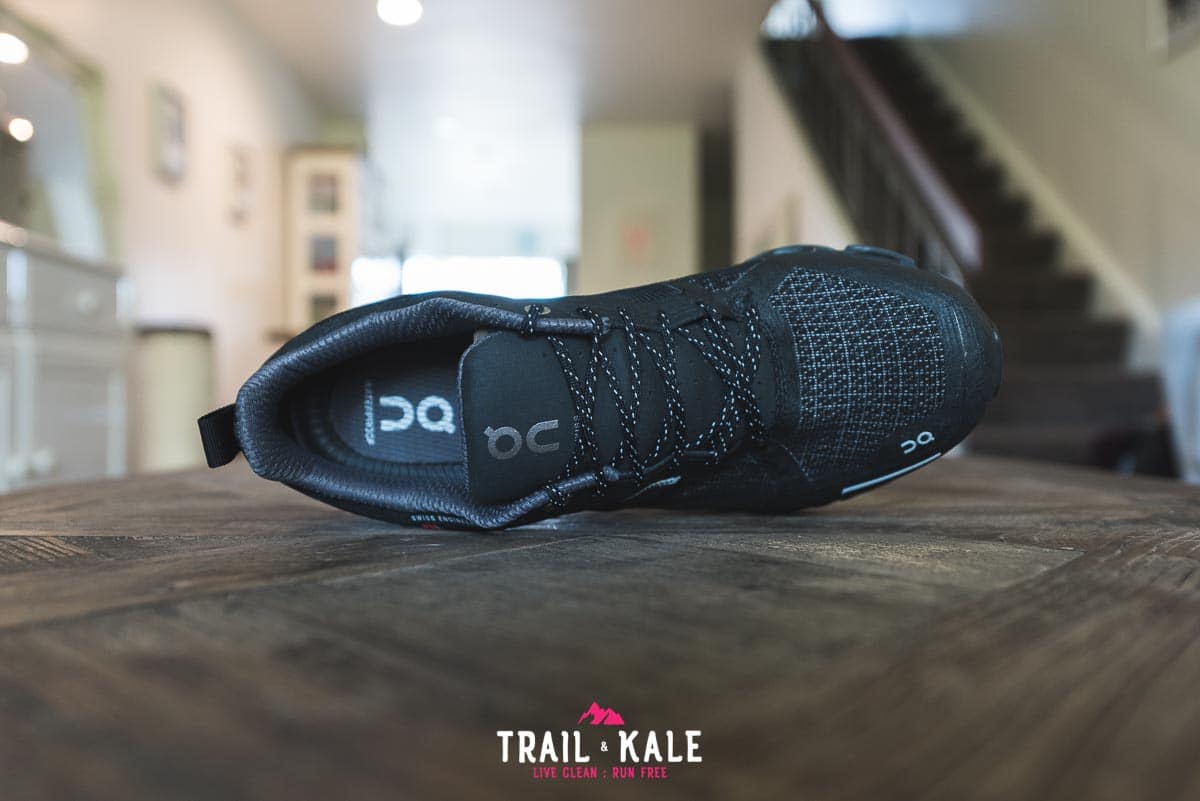 Similarly to other new On releases, inside the shoe, there are soft rubbery strips that run either side of the insole which helps to keep your feet in place while running.
On Cloudflyer Waterproof Outsole
Running on Clouds
I say this in all my On Running shoe reviews but If you haven't tried "Running On Clouds" before, I recommend you give it a try! CloudTec is an innovation that always helps me to run faster, especially when putting on a new pair. The cloud pods give you that feeling of a cushioned landing, as they compress under your weight and then provide a barefoot take off as your foot leaves the ground and the pods spring back.
Let's talk about the grip on these running shoes – Wowsers! Well if you know what a slick formula one tyre looks like then you'll probably be drawing some similarities to the rubber used on the outsole of the Cloudflyer Waterproof. It just looks grippy! And my tests confirm that in practice, they offer very good traction. Take a closer look at the details below.
And because the outsole looks so sexy I'm going to go even closer in on it, so there!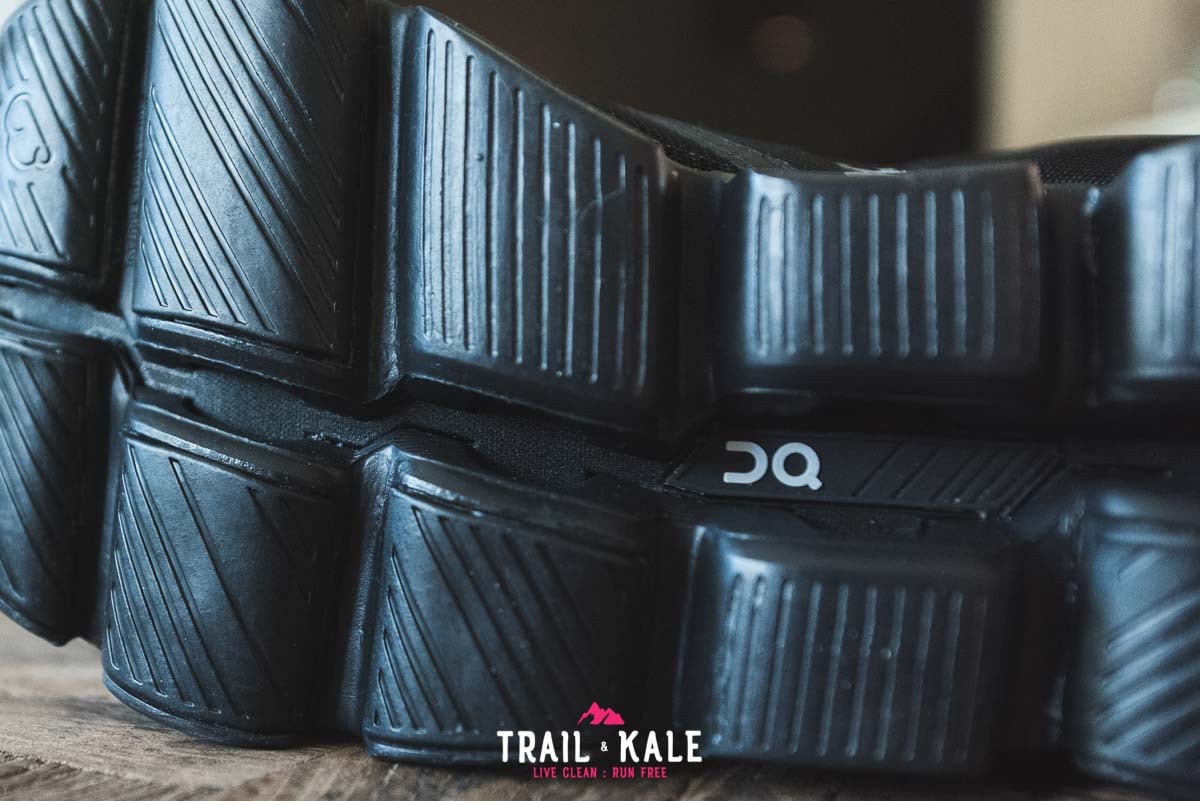 Reflective strip
The reflectivity doesn't stop on the Upper, if you look closely at the image below, you can see a reflective strip spanning the whole length of the outsole. Reflective decals are so important for your safety on the roads, as the nights start drawing in.
Drop and Weight
The Cloudflyer Waterproof has a heel to toe drop of 7mm, and weighs in at 292g for size 8.5 (M). That's very lightweight for a shoe with so much cushioning and complete waterproof protection!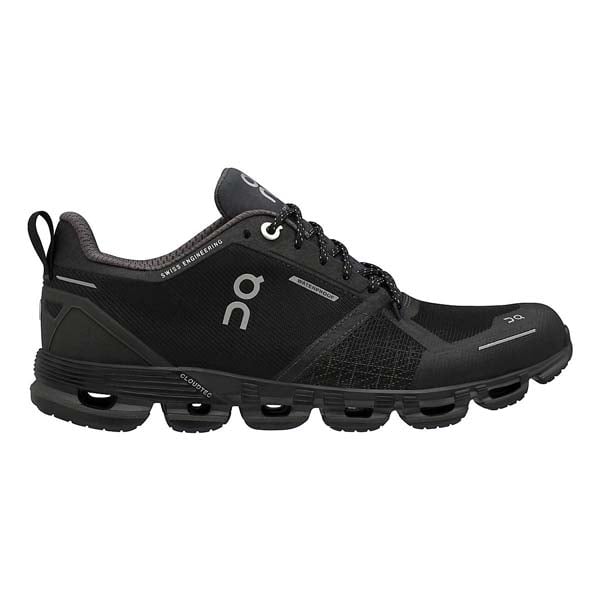 On Cloudflyer Waterproof
Pros
Waterproof
Keeps Feet warm in cold conditions
Lots of reflective decals for night runs
Great comfort and support for long runs
Excellent grip in the wet
On Cloudflyer Waterproof Review Summary
The On Cloudflyer Waterproof is a very comfortable shoe for running in cold and wet conditions. It has the added benefit of being covered in reflective detailing for when you have no choice but to run during the early morning hours or after work at night.
I noticed that running long distances in them felt easy because of the support provided by the addition of the heel cage to the rear, the cushioning helps too.
So, if you're looking for a running shoe to take away ALL your excuses not to run in the cold and wet weather, then the Cloudflyer Waterproof is your shoe.
Still not sure which On Running Shoes to buy?
Visit our Best On Running Shoes Guide for an ordered list of the top ON shoes for road and trail running. It has been designed to make your buying decisions easier.