If you follow the Trail & Kale blog closely, you've probably read my review of the Pegasus Trail 2 predecessor, the Pegasus 36 Trail. It's a trail running shoe that won our Trail & Kale Editor's Choice award for best trail running shoes, so as you can imagine, getting hold of the latest Nike Pegasus Trail 2 has been a high priority for me so that I can thoroughly test the shoes, compare them to the Peg 36 Trail and report back to our readers my findings.
ADVERTISEMENT
In this Nike Pegasus Trail 2 review I will be talking about all the innovations and features on the Peg Trail 2, how well they perform while running on the trails (and also the roads), how they compare to the Peg 36 Trail, whether they're worth buying, and a review summary score out of 10 complete with my pros and cons.
UPDATED PEGASUS: Nike Pegasus Trail 4 Review
---
Nike Pegasus Trail 2 Review: Table of Contents
---
Nike Pegasus Trail 2 Fit, Features, and Key Specs.
General fit and comfort
Starting with the important question of how the Pegasus Trail 2 fit. I can confirm that the Pegasus Trail 2 trail running shoes fit true to size and consistent with other Nike running shoes I have tested and reviewed here on trailandkale.com. They are also consistent with other brands like On Running, Adidas, and most Salomon trail running shoes. Drop a comment down below with the brand you normally run in and I'll let you know how they fit relative to them too.
The Pegasus Trail 2 is a really comfortable trail running shoe, and that's right out the box – I attribute this to the very flexible and stretch-forming upper materials used. There's really no danger in feeling any hot spots in these shoes because of these soft, foot conforming materials. The midsoles have plenty of cushioning in them too, and the material used is now React foam which certainly feels more plushy than the previous version of these shoes, the Peg 36 Trail.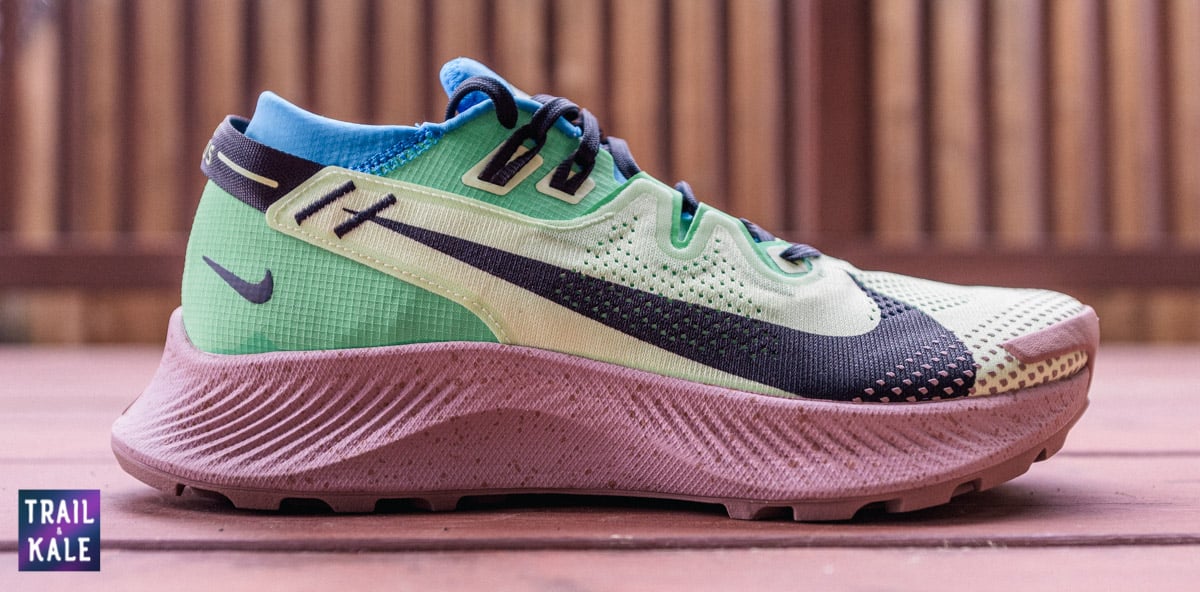 If you're a fan of the Nike Pegasus range of running shoes – don't expect these shoes to be the same. Sure they share the same name but the architecture of these shoes is completely different – that's not to say one is better than the other, they're just very different. The Nike Trail 2 is so cushioned that you may be led to believe that these are road running shoes, and to be fair you wouldn't be far wrong because they perform very well on the roads. The reason they perform well on the roads is that they have a very cushioned outsole, lightweight breathable upper, and a high drop of 10mm which encourages a forward-leaning stance.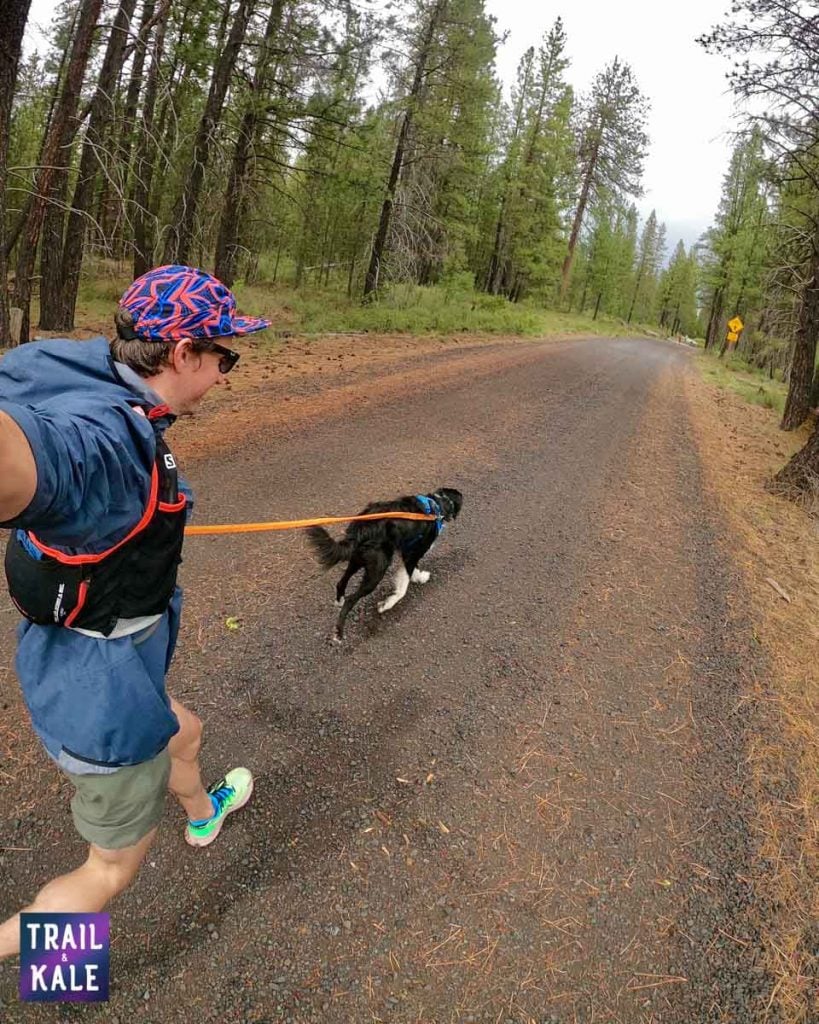 I'm a trail runner first though, and road runner second, and these are trail running shoes so I'm not going to be talking too much about using these on the roads in this Nike Pegasus Trail 2 review. I just wanted you to know that you absolutely can run road sections of your trail run in these, and they'll feel just like a high-performance road running shoe while doing so.
The Pegasus Trail 2 is essentially a great door-to-trail or trail/road hybrid running shoe – this also makes them a top performer for dry, buffed, hard-packed trails.
These shoes also feel very neutral in their support type, with no feeling of too much arch support, or not enough for that matter – they feel great underfoot for the runner with average shaped foot arches.
The toe box and shoe width both feel around medium in size.
Pegasus Trail 2 Key Design Features
1. Upper Mesh construction
The upper mesh in the Nike Trail 2 is super breathable, with perforated holes above the toe box, on both sidewalls and even the neoprene tongue. This breathability allows air and water to flow through the shoe as conditions change while out on the trails.
---
2. Neoprene Tongue and Internal Sock
There are interesting things going on with the tongue too, for example, it's made from a stretchy neoprene-like material with a durable water repellent (DWR) coating to stop moisture from absorbing into the material.
The tongue also joins to the internal sidewalls of the shoes to form an internal sock – this 'sock' hugs your feet really nicely and it reduces the chances of any hot spots due to less internal seems. Many trail running shoes now use this internal sock design for securing the foot in place and to help stop blisters from chaffing.
The tongue itself also has laser-cut holes in it which improve the breathability of the tongue material and also lets water drain through it.
One thing I will say about the tongue is that it's quite thin, so you may find yourself, like I did, having to do some micro-adjustments to the tightness of the laces in order to not feel the pressure of them on the top of your feet. Maybe if I wore thicker socks, I wouldn't notice this as much but either way, I'm pleased to say that it is possible to secure these shoes in place without the laces being uncomfortable while running.
---
3. Nike Trail 2 Faux Gaiter
The faux gaiter that wraps around the heel and ankles is a bit of a double-edged sword for me. On one hand, it does a good job of keeping dirt and debris out of the shoe but on the other hand, it doesn't provide much heel/ankle support because of its flimsiness.
I really wanted this innovation to work but because the midsole+outdole is disproportionately heavier than the upper section, the shoes don't have enough heel-wall support to securely lock your feet in place. I feel more comfortable running on mild terrain with these shoes rather than anything too technical due to the lack of support in this area.
As you can see in the picture above, Nike has added an extruded soft padded surface inside and below the gaiter in an effort to help lock your heels into the shoes, but it's too low for it to work properly, and actually could cause discomfort to anyone who struggles with the dreaded achilles tendonitis, or anyone who sometimes gets niggling pain in the area after coming out of recovery from this injury.
---
4. Pegasus Trail Finger Loop at the rear
I find finger loops really useful for slipping on running shoes, especially during cold weather when you may be wearing gloves but Nike has really failed with this new horizontal loop on the Pegasus Trail 2. The loop looks nice but it's near impossible to get your finger through the loop, and I wasn't even wearing gloves. Nike would have been better off leaving these loops out of the new Peg Trail 2 design, or better still, making them bigger, either way, it's a feature that doesn't really work in my book.
---
5. Rubber Bumper/Toe Cap
I really like the style of the new bumper on the Pegasus Trail 2 and it's very effective at protecting your toes from direct forward motion stubbing on things like rocks and tree roots.
---
6. Nike React Cushioned Midsole
Nike is now using React foam in the Pegasus Trail 2 Midsole. React foam is more cushioned and softer than Zoom which was used on the Pegasus 36 Trail that came before it. I like the soft ride of this new midsole although I did notice more compression under the forefoot area which makes the 10mm drop feel more higher than the same 10mm drop of the Pegasus 36 Trail – I attribute this to there being more compression when striking down my forefoot during a stride which effectively gives less height in the front than the rear – making the drop seem more.
I personally preferred the Zoom midsole and 'lower drop feel' of the Pegasus 36 Trail – but the Pegasus Trail 2 by no means feels bad, just different, and probably more tuned towards road runners who may prefer a more aggressive forward-leaning stance (which is something a high drop helps with).
---
7. Nike Pegasus Trail Rugged Outsole Grip
I love the outsole upgrades on the Pegasus Trail 2, the lugs are deeper and much more aggressive for tackling fast downhills and digging into the trails while climbing hills. I like the bike tire inspired multi-directional tread pattern too, it works well on both the trails and roads.
---
Pegasus Trail 2 Key Specifications
1. Nike Trail 2 Weight
The Nike Pegasus Trail 2 weighs 11oz (312g) for a size US (M) 9 per shoe making it quite a heavy shoe. To give you a comparison, the Pegasus 36 Trail weighs 9.1oz and in my opinion feels like a much better shoe because of it. It's up to you whether you feel the new Pegasus Trail 2 features are worth the additional weight – I don't think so.
2. Drop
The Pegasus Trail 2 has a 10mm drop from heel to toe which feels a little high for me and I think this is because of how the React midsole compresses more than a zoom midsole, when you land on your forefoot.
3. Nike Trail 2 Support Type
Maximum cushioning with a neural footbed. So if you have average arches and feet then these should be perfect for you.
4. Shoe Width
The Pegasus Trail 2 is a medium width trail running shoe that fits true to size. The toe box is also medium width.
---
Nike Pegasus Trail 2 performance
The Nike Pegasus Trail 2 is a high-performance trail running shoe for those running light, or buffed non-technical trails. The 10mm drop feels high when compared to the 10mm of the Pegasus 36 Trail – and this forces a more forward-leaning stance which is typical of a running shoe for runners who want to run fast. Personally while on the trails the drop on the Pegasus Trail 2 feels too much for me and i feel like I am sacrificing control on technical trails.
These trail running shoes are however very well suited to running fast downhill and they also pack a punch while running uphill due to the aggressive tread on the outsole and that super-cushioned React foam in the midsole. There's no danger of feeling spiky rocks underfoot either because of this same protective midsole.
The faux gaiter on the rear does a great job of keeping most dirt and debris out of the shoes but it lacks in heel/ankle support on technical trails. It's construction also allows for a little heel slip unless the shoe laces are tightened more than you may like. I say more than you may like because the tongue is thin and lacks protection from the lace tension on the top of your feet.
If the shoes were lighter in the outsole then I think the heal construction would lock my feet in place much better, and the shoes would be much better suited for longer runs. Watch my video above to learn more about how they perform while trail running (Subscribe to our YouTube channel so you don't miss our future trail running shoe reviews).
---
Pegasus Trail 2 VS. Pegasus 36 Trail
I'll keep this short because my Nike Trail Running Shoes Compared post is a much more detailed comparison between all the different Nike Trail running shoes – and it's definitely worth a read after this post.
If you asked me which shoes I prefer to trail run with, I would tell you the Nike Pegasus 36 Trail – but it's more complicated than that. I love the Peg 36 Trail because I love lightweight running shoes, and I enjoy running ultramarathons across technical mountain trails. The Peg 36 Trai is a much more well-rounded trail running shoe which tackles technical terrain better than the Pegasus Trail 2. I prefer the heel cage and curve heel support in the Peg 36 trail too because it locks my feet in place and makes me feel like I have more control while navigating technical terrain.
If you're a road runner who occasionally runs on light trails then these shoes are for you, because they perform just as well on both surfaces. If you run on dusty buffed fire roads then the Pegasus Trail 2 is probably for you too. If however, you're looking for an all-mountain workhorse that's got you covered on pretty much any type of trail then I would most certainly buy the Pegasus 36 Trail.
RELATED: Nike Pegasus 36 Trail Review
---
Are they worth buying?
Yes, these shoes are definitely worth buying if you run on light, non-technical trails, and especially so if you're a road runner who wants to transition over to the trails. Having a hybrid shoe like this will save you some money as you can use them on the trails and the roads. If this sounds like you then definitely have a read of this article which will help get you up to speed on the trails: The Ultimate Beginner's Guide to Trail Running.
Last Amazon price update was: 7th December 2022 3:01 am
---
Nike Pegasus Trail 2 Review Summary
Nike Pegasus Trail 2
PROS
Great for Running on the roads and also light, non-technical trails
They perform well while running fast downhill, and the dig in well while climbing hills too
Nike React foam offers great protection and cushioning under foot
Generally a very comfortable fit
very reasonably priced
Love the design
CONS
Not as light as they could be - 2 oz. more than its predecessor the Peg 36 Trail is too much
Drop feels a bit too high
Gaiter keeps dirt out but doesn't offer enough lateral roll support for technical terrain
Finger loop at the rear is too small to be useable
---
Nike Pegasus Trail 2 Review – YouTube Video
---
Related Reading
---