It can be difficult to keep your dog cool in summer, especially if you want to take them trail running or hiking on trails where they may get a lot of exposure to the sun. This is particularly true for dark-colored dogs and those with thick fur and undercoats like me – I'm a (mostly) black Border Collie.
This Ruffwear cooling vest review covers one of Ruffwear's solutions to keeping your dog cool in summer during hot weather hikes and trail runs – the Ruffwear Swamp Cooler vest.
The 'Swamp Cooler' vest is a full-coverage dog cooling vest designed to be worn in hot weather to help keep your dog cool and more comfortable, and in this review, I share my experience of running and hiking in it, as well as photos and my thoughts on the cooling vest's key features.
---
Ruffwear Cooling Vest Review: Table of Contents
---
How to keep your dog cool on summer hikes and trail runs
If you're reading this post and other content on our website then the chances are that you are also a lover of hiking and running with your dog on trails and in wild places.
The key ways that my parents ensure I am staying comfortable and relatively cool during trail runs and hikes in summer are:
Visiting trails during the mornings or late afternoons when the sun is less intense – although mornings are preferable as the ground hasn't become too hot yet
Taking me running on trails with good amounts of shade and water sources
Bringing plenty of water and having lots of shady drinking breaks for me
Using water, if plentiful, to soak me in to help keep me cool – ideally finding a cool stream for me to splash around in during our run
Doing whatever they can to keep my thick, black fur from soaking in too much heat – hence the need for a cooling vest.
While having an undercoat means I am well-insulated from cold, and in theory from heat, too, it means that once I start to warm up above a comfortable temperature, it can take a while to cool down without help, especially if I continue to stay in the sun and move around.
Having a vest that actually works to cool me down is a game-changer, and that's what the people at Ruffwear had in mind when they designed the Swamp Cooler dog cooling vest.
---
How dog cooling vests work
The Ruffwear Swamp Cooler and other similar dog cooling vests work in two main ways:
Evaporative cooling
Reflecting solar radiation
For a cooling vest to work, it first needs to be soaked in water, then put on the dog. Evaporative cooling works by using the water to pull heat away from the dog's body.
Because of my thick coat, I find that this dog cooling vest is more effective if it's already on me before I get hot. If I am already hot then my fur is so thick that I need to be soaked or have plenty of time to naturally cool down – the jacket is only going to keep me so cool.
The second way the Ruffwear cooling vest works to keep me cool is by reflecting solar radiation.
It covers a significant portion of my body (core) so it provides shade and is made from a light gray fabric designed to reflect the sun's rays and provide UPF 50+ protection to my body, which means it blocks 98% of the sun's rays.
The UPF protection is more important for shorter-haired, lighter-colored dogs as they may be more at risk of the sun's rays reaching their skin than I am.
To use the cooling vest, my parents soak it thoroughly in water. It can soak up quite a lot of water until it starts dripping, so it's best to soak it somewhere you have plenty of water, such as in a bucket or sink at home, or a river or clean lake if you're out on the trails.
They don't really wring it out at all – the wetter the better! Then it goes straight on me and gets to work.
We've generally found that it stays wet and has a good cooling effect for up to an hour, but that really depends how hot and dry it is out there – on a really hot day I would say it was great for about 45 minutes and then not that cool after that.
It will usually still be wet after an hour, but not particularly cool or wet enough to have too much of an effect after that time.
---
Ruffwear Cooling Vest Review: Other specific features of the Swamp Cooler vest
Appearance
First impressions on the appearance of the Ruffwear Swamp Cooler is that it looks a bit like a European 80's athleisure tracksuit.
That's not a bad thing! While it would be cool to have a few different color options, these may impair some of the UV protection the vest offers, and in any case, I have grown to like the light gray color and go-faster blue and yellow stripes down the sides.
Because the color is light and the cooling vest is designed to be worn by a dog when wet, it picks up dirt pretty easily.
This cooling vest has been through the wash (gentle cycle in the washing machine) and comes out like new each time. My parents put it in a pillowcase or mesh bag to stop the clips getting caught or bashed around too much while spinning in the machine.
Harness compatibility with the Swamp Cooler vest
You may be wondering, as I was, how this cooling vest works with other dog running and hiking gear such as harnesses.
This Ruffwear cooling vest is designed to be worn over most of Ruffwear's dog harnesses, including the Front Range harness that I often run in.
The Swamp Cooler has a leash-portal between my shoulders that is perfectly designed to feed my dog running leash through and clip it in.
This is ideal for when I go hiking and trail running with my parents, as it means I can wear my harness the whole time and don't have to take it off if we decide to put my cooling vest on midway through a run.
Next to the leash portal this cooling vest also has a place to attach a light, which is handy if worn in low light conditions (although it wouldn't be that hot then so not sure how necessary this is – although it's a nice touch).
Putting the Ruffwear Swamp Cooler on
One feature I like greatly is that the Swamp Cooler does up around my body using two small, lightweight plastic pinch-clips – one either side behind my elbows.
So it just slips on over my head and the two sides clip in. Note that the neck opening does not come undone or adjust to be larger or smaller.
I am fortunate that the fit around the neck is pretty much spot-on for my neck and body shape but can imagine if you have a body of different proportions that this would need to be a consideration for you when thinking about your cooling vest's sizing and fit.
---
Ruffwear Swamp Cooler vest sizing
Speaking of sizing… being a Border Collie on the larger side, I tend to vary between being a size Small and Medium, depending on the brand and product. I weigh around 40lb and have a 24 inch 'girth' – haha no, you rude people, girth is not what you think! This is the measurement around my chest, behind my front legs, thank you very much.
These measurements put me in the middle of Ruffwear's 'Small' sizing per their size guides, and while I wear a Medium in the Ruffwear Front Range Harness, the Small fits perfectly when it comes to the Swamp Cooler vest and I'm right in the middle of the size adjustment.
The only thing I would change is that because I have a fairly long back, I don't get as much coverage along my back as other dogs with different proportions may benefit from.
I also have other Ruffwear clothing including the Approach backpack and their Float Coat life jacket, and I am also a Small in those, so if you have one of those then I'd say the sizing is going to be the same for this cooling vest, too.
---
Running in the Ruffwear cooling vest
I use my Swamp Cooler vest for during and after runs in hot weather, on both pavement and trail – as well as sometimes in the backyard if I'm playing and it's hot.
It's also nice to put on after playing, when I'm chilling on my elevated bed and need some extra help to cool down.
This cooling vest is very comfortable to run in – I typically wear it for up to a couple of hours at a time, while running on trails (including jumping over downed trees, through streams and up rockfalls) and it's stood up to all my wiggling and movement, with no chafing or discomfort.
I doubt I'd have any issues wearing it for full-day hikes in future.
My parents notice a significant improvement in my running when I have my cooling vest on (video below). It's just so much nicer to run comfortably with that extra bit of cooling.
For example, this past weekend we ran out-and-back to a lake, about 45 minutes each way. It was pretty shady and my Dad carried my cooling vest in his human running backpack (Ed: his running hydration pack) and soaked it in the lake when we got there.
My Dad told me I was noticeably faster and perkier after putting the cooling vest on – and we ran faster in the second half of our run than the first half. Woo!
---
What are the differences between the Ruffwear Swamp Cooler and Jet Stream cooling vest?
When my parents were researching what dog cooling vests were best for trail running, they noticed that Ruffwear also sells another dog cooling vest called the Jet Stream.
While the Jet Stream is a more minimal garment that is designed for fast and light adventures, including running with your dog, and is also less expensive, they decided to choose the Swamp Cooler vest, noting the following differences between the two:
The Jet Stream covers less of the dog's body than the Swamp Cooler
While the Swamp Cooler clips together, the Jet Stream does up via a zip, and they prefer to use clips as there's less chance of catching my fur in clips
The Jet Stream has a closer-to-the-body fit and is more of a 'spandex' for dogs rather than a jacket, and so we believe it may be better suited for shorter-haired dogs (the zip also suggests that)
The Swamp Cooler has the leash portal I mentioned above, whereas the Jet Stream does not – so may need to be worn under a harness if you're going to use a harness for running with, rather than a collar.
The back of the Jet Stream is available in blue and orange, so it has a couple of color options compared to the Swamp Cooler.
Maybe one day I'll get to try out a Ruffwear Jet Stream vest, too, and if I do then I'll update this review with a more detailed comparison from that experience.
---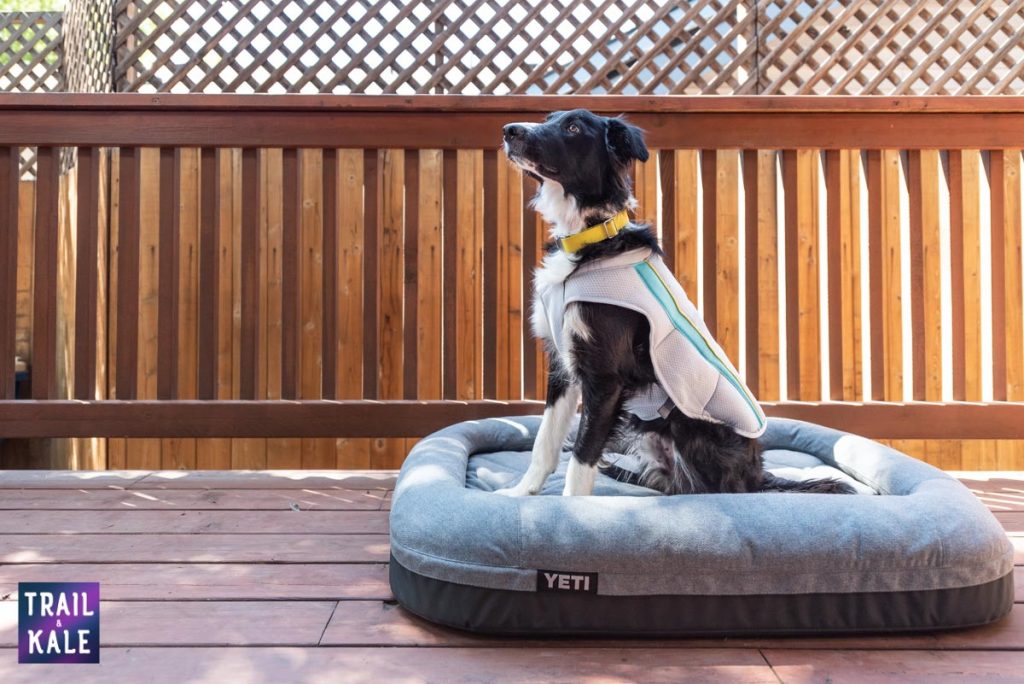 Where to buy
The Ruffwear Swamp Cooler vest is available directly from Ruffwear via the button below:
You can find it in these stores too:
Last Amazon price update was: 29th September 2023 8:30 am
---
Ruffwear Cooling Vest Review Summary
Ruffwear Cooling Vest
PROS
Comfortable even when worn running for hours
Fits true to sizing guide and doesn't move around once on
Noticeable cooling effect
Compatible with harnesses
CONS
Neck hole is not adjustable
Only comes in grey
I hope you enjoyed this Ruffwear Cooling Vest review – if you still have a question for me about my cooling vest, please leave it in the comments below and I'll get back to you!
If you are interested to learn more about running with your dog, I've written a whole post about it which you can find here: Trail Running with your dog
---