Nike Trail has officially released the Pegasus 36 Trail GTX waterproof trail running shoes. If you've already read my review of the Pegasus 36 Trail (non-waterproof version) then you'll know that I gave it an Editor's Choice award and also an overall award for ranking as the best performing trail running shoes currently on the market.
ADVERTISEMENT
UPDATED PEGASUS: Nike Pegasus Trail 4 Review
With that said you're probably wondering how the Nike Pegasus 36 Trail Gore-Tex (GTX/Waterproof version) performs while running during winter conditions, I know I was! Keep reading this review to find out how these two running shoes compare, how well the GTX performs while trail running, and also how it stacks up against other waterproof trail running shoes.
What's the difference between the Nike Pegasus 36 Trail GTX and the Pegasus 36 Trail?
You may think that the Nike Pegasus 36 Trail GTX is just a waterproof version of the Pegasus 36 Trail, and to some extent it is, but there's actually a whole lot more to them than just the additional water protection, which you will learn more about later in this review. The key differences between the Nike Pegasus 36 Trail GTX and the Pegasus 36 Trail are as follows:
The GTX version has a fully waterproof membrane upper which is impermeable to water (you'll see just how good it is later in this review).
The GTX version is not as breathable due to it's waterproof upper but they will keep your feet dry and warm during your cold/wet weather winter runs.
The GTX is 1oz. lighter.
The GTX doesn't have Nike's Flywire cable lacing system.
The GTX version is more reflective which adds additional safety while running at night.
The GTX is not quite as flexible due to the waterproof upper and lacing system.
They both have the same great all-terrain and hybrid running feel overall.
A quick thank you to Nike for sending over a pair of Pegasus 36 Trail Gore-Tex for me to trail-test and write this in-depth review about.
RELATED READING (links open in new tabs):
---
Pegasus 36 Trail GTX Fit & Design
The Nike Pegasus 36 Trail GTX fits true to size, relative to other popular running brands, so no need to size up or down. Feel free to leave me a comment at the bottom of this review with the brand you normally run in and I'll let you know how they fit relative to them just in case. Or just say hello!! 🙂
Comfort while running in the Pegasus 36 Trail GTX is nearly as dreamy as its non-waterproof counterpart. It's obviously better suited to running in the winter though due to the Gore-Tex upper that keeps your feet warm and dry, so it certainly wins in that arena. There are a couple of areas where it falls short when compared to the summer running shoe alternative though. The two design aspects that adversely affect the comfort of the Pegasus 36 Trail GTX are:
The lacing system is different. The GTX version does not use the same Flywire Cable lacing system that I loved so much on the non-GTX shoes. The Flywire Cable system adds an extra layer of flex and stretch to the upper which is something this shoe would certainly benefit from. That being said, they're by no means uncomfortable, in fact, they are very comfortable, just not as cozy as the Pegasus 36 Trail.
The waterproof Gore-Tex upper is stiffer than the standard Peg 36 Trail. This means there's less flex going on as you run. This is common in any waterproof version of a running shoe because the materials used have to be able to stop water entering, which these do exceptionally well (see image below).
If you have been running in Nike Pegasus road shoes before then you will already be familiar with how well-cushioned these shoes feel, this also makes them perfect for door-to-trail use as they are very much hybrid running shoes. They are also neutral running shoes which means you won't get any added arch support inside the shoe, which for me is a very good thing!
Pegasus 36 Trail GTX Upper Construction
The mesh upper is very durable and 100% waterproof but not particularly breathable, this will keep your feet dry and warm though, which is perfect for cold weather winter runs. The Pegasus 36 Trail GTX upper wraps comfortably and securely around your feet as you tackle technical trail sections.
There's also an inner sock that attaches the padded tongue to the forefoot area adding to that slipper-like fit. This design keeps the tongue in place, stops chafe and prevents debris from coming between your foot and the shoe walls.
Like the Pegasus Trail 36, the GTX has no finger loop on the rear of these shoes but you can easily grab onto the curved heel-support to slip them on.
The interesting curved achilles heel support, similar to that of the Nike Air Zoom Pegasus 36 an the Nike Pegasus 36 Trail, works very well for me as it allows for a little bit of over-striding when running fast downhill, without agitating my achilles.
Interestingly, the heel walls, in general, feel lower than many other trail shoes, allowing your feet to maneuver and adapt to the trail beneath it. At first, I thought this design may not provide a secure fit for my feet, but after I threaded the laces up to the top holes (as seen in pictures), I ended up with a very secure fit.
Nike Pegasus 36 Trail Gore-Tex toe box and toe cap
The toe box is medium/wide width and feels nice and airy with room for your toes to spread naturally, exactly the same as the Peg 36 Trail actually! The toe cap is not hugely reinforced and exists more to protect the durability of the shoes, rather than your toes, so take care not to kick a rock by accident, it happens! A more minimal toe cap design like this reduces overall weight in a shoe, which is obviously a good thing for many!
Reflective detailing Galore!
There are tons of reflective hits on these shoes (see image above from Nike.com). This should be enough to keep you safe at night where you may find yourself on-road sections of your trail run. The Pegasus 36 Trail (non-waterproof) lacks a little in reflective detailing but I suppose the GTX is meant to be worn in the winter where daylight is much more limited, so this makes sense. Nike needed to distinguish these two shoes from one another somehow, and this is one clever way of doing that.
Pegasus 36 Trail GTX Tongue & Laces
Briefly mentioned earlier, the tongue is well padded yet lightweight and slim but the lacing system is definitely not as good as Nike's Flywire cables system seen in the standard Pegasus 36 Trail. Having an extra layer of 'stretch' (like in the flywire system) means that your feet can stay comfortable when they expand or contract due to body/environmental temperature fluctuations, unfortunately, the GTX uses a more rigid system, and I don't know why Nike decided to go with this setup instead. Maybe it was to keep the cost and weight down, if anyone at Nike has a definitve answer for me please drop it in the comments below.
Pegasus 36 GTX Trail Midsole
Two Zoom Air units (in the heel and forefoot) and midsole cushioning in the Pegasus 36 Trail GTX offer responsive comfort that's unique to the Nike brand. It's so nice to feel this on the trails (not just the roads). The midsole is also very flexible toward the forefoot, which is essential for a trail shoe that needs to conform to the ground beneath it. A shoe that can flex also means your feet can use their joints and muscles in a more natural manner with minimal strain. The Zoom Air midsole cushioning, and lightweight construction makes this shoe a great choice for winter ultrarunning too.
Pegasus 36 Trail GTX Outsole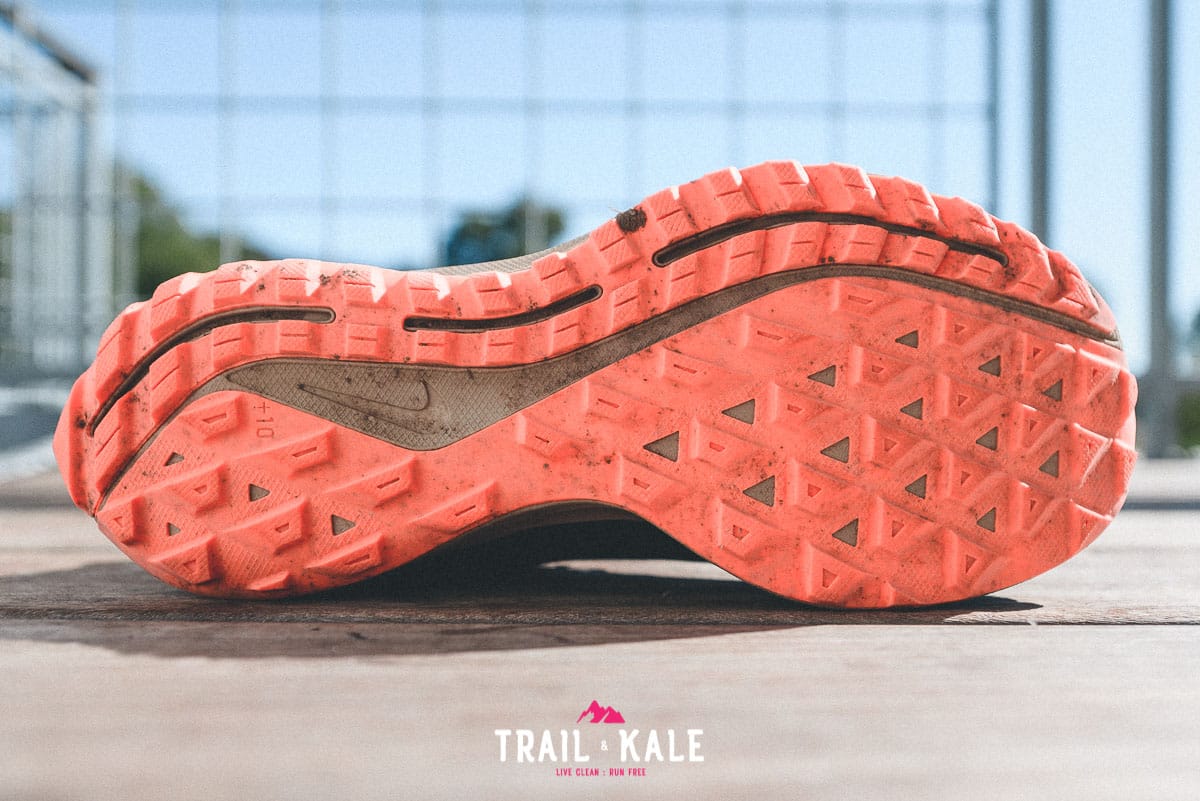 The outsole is identical to the standard version of this shoe and stretches wide in the forefoot giving you more surface area to spread your weight across. This makes running further or faster, feel more comfortable and effortless.
The outsole also features a flex groove down the center that gives a smooth and stable ride, while letting your feet roll and flex on uneven surfaces, which is what our feet were designed to do. I found the grip to be very good on buffed, rocky and dirt trails.
Drop & Weight
The drop from heel to toe is 10mm. A lower drop could potentially give this shoe an even better feel for the trails when the terrain gets extra technical. I have historically been a bit of a low-drop fanboy if that's a thing haha, but since the Pegasus 36 Trail I am enjoying running with its 10mm drop which coincidentally feels like less than 10mm, others in the community have observed the same.
Weighing in at 9oz. (255g) for a size US (M) 9 the Nike Pegasus 36 Trail GTX is a very lightweight trail shoe, especially considering all the cushioning in the midsole. Somehow it's lighter than my size 9 Pegasus 36 Trail (non-waterproof). To me, this is unheard of in a waterproof version of a shoe. Maybe with the lack of a Flywire Cable lacing system Nike has managed to reduce the weight by an ounce. Whatever the reason, I'm very impressed.
---
In Summary
Nike Pegasus 36 Trail GTX
PROS
100% Waterproof!
Very comfortable, feels and runs like a road shoe on hard surfaces
Lightweight (lighter than the non-waterproof version!)
nice wide toebox
Really like the curve achilles support toward the rear
Lots of reflective detailing for night running
Great cushioning in the midsole (Air Zoom)
CONS
No Flywire Cable system for increased flex and stretch in the upper
toe cap not solid reinforced
Well, Nike has done it again, and I can confidently say that the Pegasus 36 Trail GTX is now my current favorite waterproof trail shoe for winter running. It's a high-performance trail running shoe that feels just as comfortable on the road as it does on the trails. The Pegasus 36 Trail GTX should actually be labeled as a waterproof road/trail hybrid, or a door-to-trail running shoe because it performs equally well on both surfaces. Contributing to the comfort is the Nike Air Zoom midsole that provides plenty of protection from sharp rocks. It's also super lightweight, has lots of reflective hits for the safety-conscious, responsive, and very grippy.
I love the curved achilles heel support. It works very well for me as it allows for a little bit of over-striding when running fast downhills, without agitating my achilles. At $160 I feel that the Nike Pegasus 36 Trail GTX is reasonably priced too, especially considering the protection it provides and how durable it is.
I have awarded the Nike Pegasus 36 Trail GTX an Editor's Choice Award, and they currently sit at the top of my list of the '5 Best Waterproof Trail Running Shoes for Fall/Winter' gear guide.
I really hope you enjoyed this review, if you did, please leave a comment below to let us know you made it all the way to the end. Happy trails! 🙂