If you're looking for a simple, easy to use, easy to clean and leak-resistant reusable water bottle then LARQ's new LARQ Bottle Swig Top is definitely an affordable yet premium option to consider.
In this LARQ Bottle Swig Top review, I cover the key features, pros and cons of this reusable BPA-free stainless steel water bottle from renowned water purification brand, LARQ.
About LARQ and LARQ Bottles
LARQ disrupted the water bottle market with its innovative patented UV water purifier bottle, the original LARQ bottle (which you can learn more about in my LARQ bottle review).
Since launching the bottle, featuring on Shark Tank in the US, and subsequent product launches including a UV water purifying pitcher and a filtration bottle cap (that can be interchanged with the UV purifying cap), LARQ has become one of the more popular reusable water bottle brands out there.
How is the Swig Top Bottle different from other LARQ bottles?
The Swig Top bottle is LARQ's first wide mouth water bottle, with an easy open snap cap.
Its construction is similar to other double-walled LARQ bottles, meaning it's made from food grade stainless steel and designed to insulate the contents, keeping your cold water cold for up to 24 hours.
The bottle can also be used by drinking straight from the stainless steel wide mouth, which is another satisfying way to hydrate thanks to how the smooth cold stainless steel feels against your mouth.
Unlike the original LARQ bottle, the Swig Top bottle does not offer UV purification, although of course you could purify water in the LARQ bottle or pitcher before filling the Swig Top bottle up to take out for the day.
This makes the Swig Top bottle a direct competitor of other insulated stainless steel water bottles out there, including products from YETI and Hydro Flask, for example.
Key Features of the LARQ Bottle Swig Top
The key features of this bottle center around the Swig Top cap.
The cap flips open to reveal an ergonomically-sized drinking spout and a small ventilation hole that allows for easy water flow out of the bottle as you drink.
The cap's hinge is plastic and seems robust, although time will tell on that front; i'll update this review in the coming months if I notice any durability issues as I plan to be using this bottle a lot.
You can open the cap with one hand using your thumb, although the seal is quite firm – partly what makes this lid leak-proof.
It also means you can tell when the bottle is fully closed, as the lid 'snaps' back into place when you close it.
I find it helpful to hold the open cap with my index finger to keep it from partially closing on my nose as a take a swig or sip.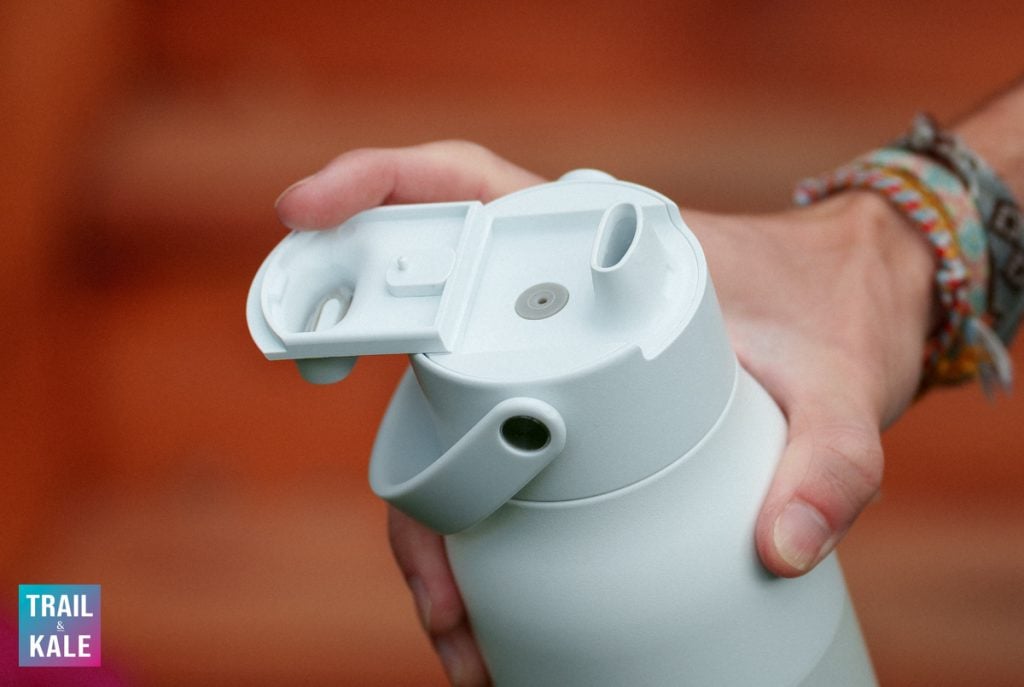 You can carry the bottle with just couple of fingers using the comfort-grip handle on top. This is particularly helpful for people with smaller hands who use the larger bottle, with its wider diameter.
Because the bottle has a wide mouth, it's easy to hand-wash (as you can easily see inside and fit a bottle brush in there) and this also makes it easy for you to put large ice cubes inside to keep your water colder for longer.
Although it sounds obvious, having a reusable bottle that can easily be washed thoroughly is super important to ensure your bottle is clean and hygienic – a feature that's often overlooked by designers of cheaper water bottles on the market.
As mentioned above, it's made with BPA-free, food-grade 18/8 stainless steel.
You can put the Swig Top bottle and its cap through the dishwasher (with the cap in the top rack) although LARQ recommends hand-washing with warm water and soap if possible.
This bottle is designed for cold water, not hot water. I would also personally just use it for water and not for other cold beverages to keep the taste fresh and pure.
Swig Top LARQ bottle colors and sizes
The Swig Top LARQ bottle is available in two sizes, 23oz (709 ml) and 34oz (1 litre).
Currently the color options are black, green and white – the latter is the color I have in the 34 oz size, as pictured throughout this review.
I would always choose the larger size unless you have a reason for needing a smaller bottle, simply because it's more versatile and useful for days where you have to go a while between refill opportunities, such as when you're hiking, flying or doing some other form of traveling.
The smaller bottle may be the better option for you if you want to fit it into a particular bag's bottle compartment that's too narrow for the 34 oz size, or because it needs to fit into your vehicle's cup holder. If that's important to you it's worth checking the cup holder's diameter to ensure the bottle will fit!
On that subject, the size and weight of the bottles are (for the 23 oz and 34 oz sizes respectively):
Diameter 2.93″ / 3.27″
Height 9.96″ / 11.26″
Weight 11.05 oz / 14.4 oz
Cost and where to buy it
The LARQ Swig Top Bottle costs $39.95 for the 23 oz and $49.95 for the 34 oz size, which are competitively priced compared to other reusable water bottles of this quality and premium design.
LARQ also provides a 1 year warranty and free returns, as well as free shipping within the contiguous U.S. on orders over $80.
Review Summary
LARQ Bottle Swig Top Review
PROS
Easy to drink from - good flow and no sucking needed!
Easy to clean by hand or in the dishwasher
Secure, leak-proof cap that's obvious when fully closed
Sleek design and quality construction
CONS
Limited color options
Cap can be stiff to open initially
Time will tell regarding the longevity / durability of the cap's hinge
I'd love to see this bottle also available with LARQ's water purification tech
Thanks for reading this LARQ Bottle Swig Top review, if you enjoyed it please hit that like button in the bottom right, and if you have any questions at all drop them in the comments below 🙂 -Alastair
LARQ Bottle Swig Top review photo gallery