The Somewear Global Hotspot is a satellite communication device that works anywhere in the world using GPS to track the user's location and it allows them to communicate with other people using two-way messaging.
This Somewear review covers the key features of the Somewear device, how it works, the pros and cons, device and subscription cost and our overall verdict from using it for hiking and trail running in remote locations.
Personal GPS tracking devices like Somewear have been gaining popularity in recent years among the adventure community, for effective satellite-enabled communication and location-tracking in emergency situations, which is especially valuable to people spending time off-grid, in the backcountry, or simply in parts of the world (or globe) where cell service is non-existent or unreliable.
As ultra trail runners and hikers we have spent many hours and covered many miles in places with no phone signal and having personally experienced a debilitating injury while alone in the backcountry I am a strong advocate for adventurers to carry personal tracking devices like the Somewear.
This personal locator beacon and satellite messenger device could potentially save your life in such a situation, whether you're trail running, hiking, fastpacking or doing something else adventurous in remote locations with limited cell service.
Somewear Global Hotspot Review – Table of Contents
---
What is a Somewear Global Hotspot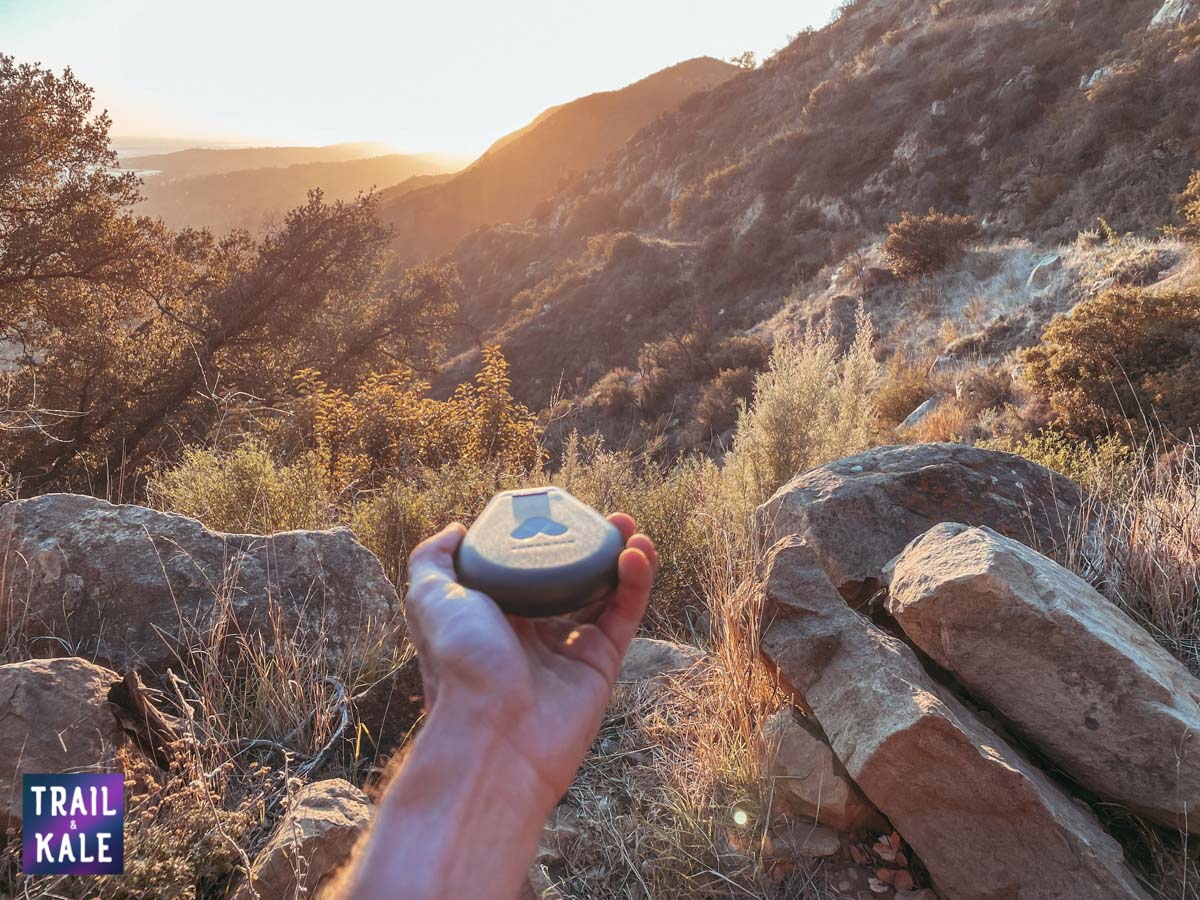 The Somewear Global Hotspot device itself is a small gadget that fits in the palm of your hand and weighs around 4oz. Once set up with a GPS subscription, you pair the Somewear device with your phone and use it to share your location with other people who can:
track your location
communicate with you via Somewear's two-way messaging function.
Because the Somewear device works by pairing with your phone via Bluetooth, you control all communication (except the Emergency SOS function, explained later) with your phone. So sending and receiving messages and sharing your tracked location is as simple as texting someone, irrespective of whether or not you have phone signal (because it uses satellite data when your phone is out of service).
The messages you send from the Somewear are received by the other party as either a Somewear message (if they are also Somewear users) or as text messages if they haven't downloaded the Somewear app to their phone.
A GPS tracking device and satellite communicator like Somewear is not the same as a GPS hiking handheld or GPS running watch, as its primary focus is on ensuring you can communicate with others (whether emergency responders, other members of your party, or friends/family at home) anywhere in the world. It is similar to a GPS watch in that it tracks your location and you can set waypoints, but it is not intended to be a tool that you use for navigation.
If you are looking for a GPS watch that you can use for navigation (but which doesn't offer the same satellite communication functions) then head over to our list of the best GPS watches for hiking, trail and ultra running where you'll find our top recommendations.
When would you use Somewear
The Somewear global hotspot has so many applications – from businesses working in remote or off-grid locations to military, however for our purposes as adventurers primarily spending time in the wilderness hiking and trail running the primary reason to invest in a personal tracking device with a locator beacon is to keep us safe in the event of an accident or emergency, such as a personal injury, or getting into a dangerous situation such as exposure to extreme weather and needing to evacuate an area urgently (for example, due to a wildfire nearby) or even getting lost.
If you are an adventure traveler and spend time in other parts of the world, perhaps doing adventure sports such as kayaking, mountaineering or something like backpacking or volunteering in developing countries, then having a satellite communication device that can track and send your location to other people, including emergency services, is a great asset to your gear bag.
We have personally used the Somewear primarily for trail running and hiking. As we have also run trail ultra marathon races in remote places with no phone signal for miles, the Somewear global hotspot is ideal for carrying on those races for communication and sharing your location in an emergency, regardless of where you are in the world, especially if the race organizers do not provide something similar to the participants.
Helen could have definitely benefitted from having a satellite messenger device on her when she found herself on the dark side of a volcano during an ultra marathon race with an injured leg, nobody around and no phone signal to communicate with anyone to request help. Fortunately, another trail user who came along notified the race organizers at the next checkpoint, but it would have been a much quicker evacuation if she had been able to message them directly shortly after the injury.
---
Key features of the Somewear device and GPS tracking service
There are three key functions of the Somewear global hotspot:
Messaging – 2-way
Tracking – GPS-enabled personal locator beacon (location tracking)
Weather reporting – for your location
Using the Somewear's functions requires you to have a smartphone and the Somewear app, as well as a Somewear data subscription. Unlike other satellite communicators and tracking devices the Somewear itself does not have a screen and only has two buttons, being the on/off button and the hidden SOS button.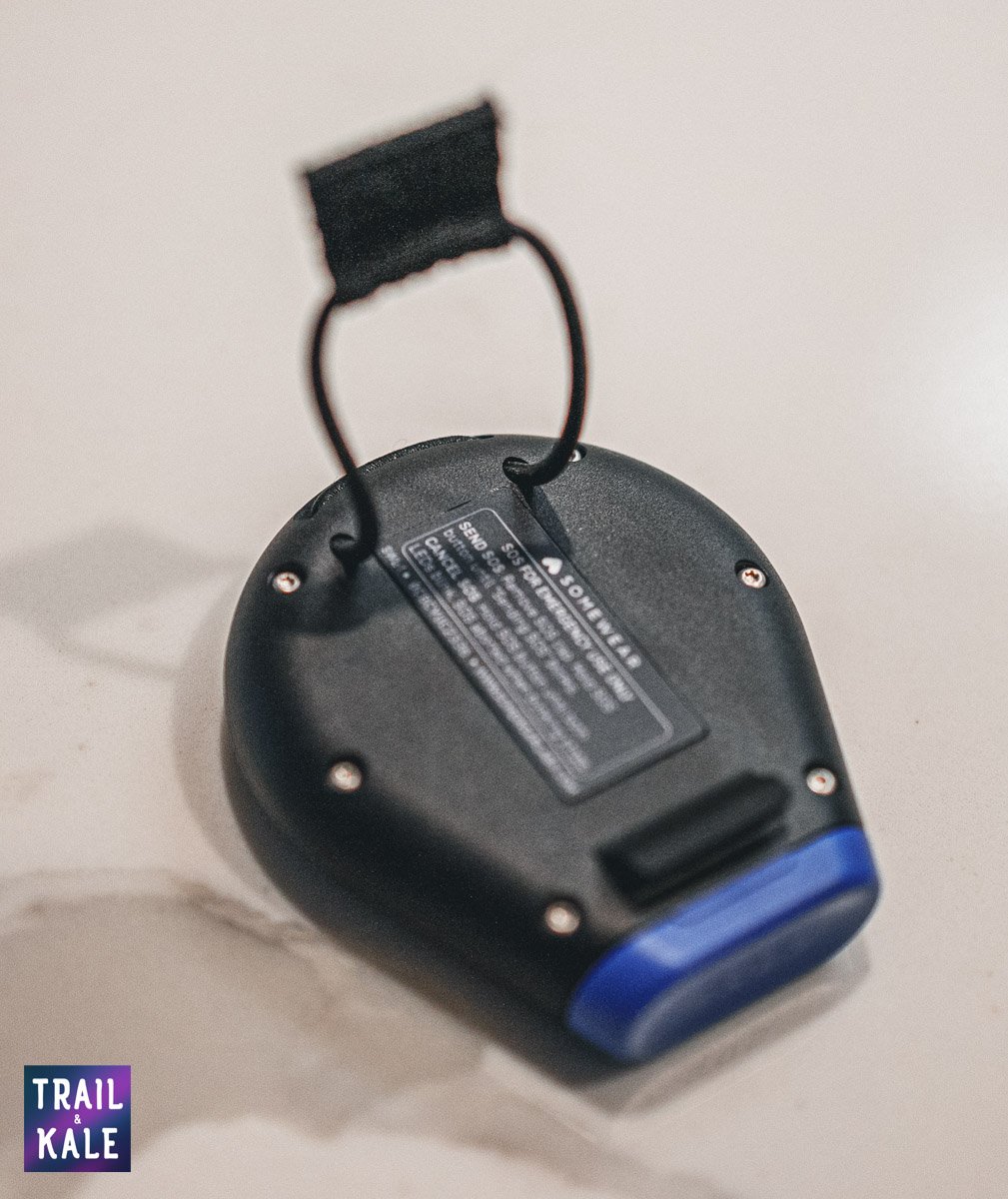 Personally, I like this simplicity and it means that once I have switched the Somewear turned on, I can put it somewhere safe in my backpacking backpack or running hydration pack and use my phone for tracking Helen's location and for sending/receiving messages via the Somewear app, and not have to worry about using another device for communication if I need to.
The Somewear phone app is easy to use – you essentially have three tabs to choose from, being one for each of the tree functions listed above ('messages', 'weather' and 'tracking').
The messages tab shows you message history just like your regular messages app or What's App does, and allows you to send messages to anyone in your contacts list. Messages are sent and received via wifi or cell signal where available, otherwise they are sent and received by satellite data as part of your plan's message bundle (detailed further in the Somewear cost section of this review, below).
The weather tab shows your current location weather and upcoming week's forecast. Access to this weather information is included in the Somewear subscription (not an added extra like other satellite communication devices offer) and uses cell signal rather than satellite data where available. I'd find it helpful to be able to search for the weather in other locations (such as places along the route of my hike) if I'm doing a longer journey, so hopefully this will be included in a future update. With that said, I have other apps and websites that I use to research weather in other locations.
In the tracking tab it shows your location and you can also hit a download button to download map views for easier readability and access when you head out on your hike. The tracking tab also allows you to set waypoints easily by pressing and holding on the screen at the desired waypoint location. All tracking information is transferred using satellite data (not cellular like messages and weather data is, where available) and it's designed to be accurate to as close to within 2.5 meters of your actual location.
Physical features of the Somewear Global Hotspot GPS tracking device
The first thing you notice about the Somewear global hotspot device is that it is small and nicely compact. It's only 3.5 inches long and weighs 4oz, making it light enough to carry in a daypack or running hydration vest without weighing you down.
The Somewear unit is also designed to see some adventurous action. It's water-resistant (up to 2 meters for up to 30 minutes, with an IP68 rating), and it even floats.
It's also built to handle temperatures in all seasons from -4°F to 140°F and is designed to handle significant shock and vibrations – it is tested to US Military Standard 810, which is a pretty rigorous testing environment used to test protective military gear.
It feels very well built, durable, and compact in the palm of your hand and you don't have to worry about knocking it about when it's in your pack (although it would be best to put it somewhere safe and protected rather than putting this too strenuously to the test, given this is a device you need to have in good working order in a life-saving emergency situation!).
---
Using Somewear Global Hotspot as a satellite communicator for sending messages
When you are out with the Somewear device and it is paired with your mobile phone, you can use the Somewear app to communicate with people in your phone's contact list, and those messages show up for them as text messages that they can reply to. Messages can be sent to US and Canada phone numbers, or any email address.
The other person does not need to download the Somewear app, however the company (Somewear Labs) recommends it as it will provide them with access to additional functionality if they are going to be tracking and communicating with you using their phone. They can also track you via a computer using the Somewear web app.
If a message is sent by satellite data, you'll see a small satellite icon beside the message (this applies to both incoming and outgoing messages). You will be notified if for whatever reason your message was not successfully delivered, similar to when you send messages via your phone's messaging app.
Messaging between two Somewear devices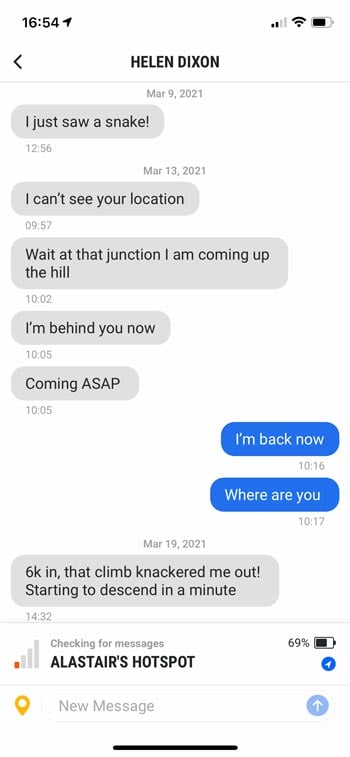 For this Somewear review, both Helen and I used a Somewear device on multiple trail runs and hikes where we were not together (but were in the same area). This is something we do often and will run separately for several hours without seeing each other (or anyone else, for that matter). If, like us, you and other people in your group have Somewear devices, you can track each other's location via the app as well as exchanging messages using the app.
For messaging, Somewear transitions seamlessly between using your phone's network (when available) to send and receive messages, and using satellite networks for messaging when there is no phone signal. We found the messaging function to be reliable even when running through canyons we know to be phone signal dark-zones.
---
Somewear and GPS location tracking
When switched on, the Somewear global hotspot will track your location. We've found it to pick up GPS signal within a couple of minutes of turning it on, and the device has reliably tracked our locations while in use.
You can choose the tracking frequency, with the most frequent being that it updates for your current location every 10 minutes. You can share your location for the duration of your hike or other adventure with anyone you choose, and they can see the latest position (as of the last 'ping') as well as your location history on the map screen of the Somewear app.
You can share your location easily using the mobile app, and there is also a public tracking link available in your personal Somewear account on the web (computer) app that you can share with people via email or on social media (if you really want that many people to be tracking you that closely).
Somewear device tracking frequency
Because the location is updated every 10 minutes (at its most frequent), you don't get the same smooth location history as you do with your GPS running watch, for example.
The location pings have no data on your location between the last ping and most recent, so you'll see the map looking something like this (blue line) compared to the trail that I was actually running along.
For most situations, and most peoples' uses, this is still plenty accurate for getting a good location for a Somewear user to within half a mile if they're traveling on foot, for example, hiking. If on a bike or other vehicle, then you may be able to cover significantly more ground in the 10 minute intervals.
As runners we can also cover a fair amount of ground in the space of 10 minutes, so it would be good to see more frequent tracking intervals for greater accuracy in future software updates, even if it results in a shorter total battery life.
Somewear's Emergency SOS Button
The Emergency SOS button is located under the blue cap on the top of the Somewear device. Assuming you have a Somewear subscription (which you need to use the device's other features) then pressing this button will send an SOS signal to local emergency services.
This service is provided by Somewear in partnership with GEOS Worldwide, which provides 24/7 SOS monitoring and operates the International Emergency Response Coordination Center (IERCC) (and, interestingly, which was acquired by Garmin in early 2021).
Once you've pressed the button, you can use the messaging function to communicate directly with the emergency responders, so you can give more specifics about your location, situation and the nature of the emergency.
---
Somewear Battery Life
When set to the most frequent GPS update interval of once every 10 minutes, the Somewear global hotspot's battery will last around 10 days of continuous use without charging.
This makes this PLB well-suited to carrying with you for trail runs, travels and thru-hikes lasting less than 10 days (or longer if you take the means to charge devices with you).
---
How much does Somewear cost?
The cost of the Somewear device is in two parts – the one-off cost of the Somewear global hotspot unit and the subscription cost for the GPS data plan.
The Somewear global hotspot device costs $280 at the time of writing – hit the button below to check for any recent changes. By using our exclusive discount code TRAILKALE10 you can get 10% OFF your Somewear Satellite Communicator order.
This price for a satellite communicator / PLB tracker is around middle-of-the-market when compared with Somewear's competitor devices such as the more expensive and ever popular Garmin Inreach Mini and others such as Spot and Zoleo.
Learn about these other devices in our best satellite communicators buyer's guide and our in-depth Garmin inReach Mini 2 review.
Somewear offers some great, flexible subscription plans. Somewear's subscriptions can be bought yearly or monthly, with the flexibility to pause them if you anticipate periods of time without needing to use your Somewear device, as well as up and-downgrading as needed.
About Somewear subscriptions
It's important to note that regardless of which Somewear subscription plan you choose, they all come with 24/7 SOS monitoring, which is the life-saving feature most people looking at getting a GPS personal locator beacon ('PLB') device will want.
Somewear offers 4 data plans, ranging from $8.33/month for the cheapest 'Ultralight' plan (paid up front as $100/year), to $50/month ('plan 3') which offers unlimited satellite messages and pin drops. These prices are correct at the time of this review.
Click here to see the current data plan rates including any promotional offers currently being offered by Somewear.
Our preferred Somewear subscription plan
If your intended use for a Somewear device is like us – for backcountry trail running, weekend adventures, and multi-day hikes over a week or so, and your main reason for considering a Somewear is for communication in an emergency situation, then the Ultralight plan is a great deal as it will provide you with the SOS monitoring service and allows you to send up to 10 satellite messages a month. You can get this plan if you sign up for an annual contract, meaning you will pay $100 up front for a year of this data plan.
It's important to note that the 10 satellite messages (or 75 satellite waypoint pin-drops) are in addition to any messages you send while within phone signal range (unlimited assuming your phone contract has data). Plus, if you have a situation where you actually need to use more than those 10 messages via satellite (because there's no phone signal) then you can pay a $1 per message additional charge.
If you don't fancy committing to a full year's subscription, then the next plan up, 'Plan 1' can be bought monthly for $15 per month, and includes 20 satellite messages with additional messages costing $0.50 per message.
Other points to note about the Somewear subscription plans:
You get the first month free when you sign up for an annual data plan
Monthly subscriptions can be paused/resumed for no fee
There is a one-time setup fee of either $25 or $35 depending on which plan you choose
To track the number of satellite messages you've sent and received each month (to check you're within your data plan allowance) you'll need to log on to the web app when you're at a computer.
For the latest details the button below will take you to a summary of each of the data plans on Somewear's website:
---
Somewear review summary
Somewear Global Hotspot Review
PROS
Simple to use and control using the integrated phone app (also means you can keep Somewear safe inside your pack)
Reliable GPS signal gives confidence in the backcountry
Weather updates included with data plans
Ultralight bundle is ideal for recreational use as a safety / emergency device
Robust and weather-proof design suitable for most adventures
CONS
We'd like to see more frequent GPS location updates (more than the current 10 minute intervals)
No screen or controls on the device itself - reliant on use of a phone to communicate
You can only track your data consumption via the web app (not mobile app)
---
Somewear review gallery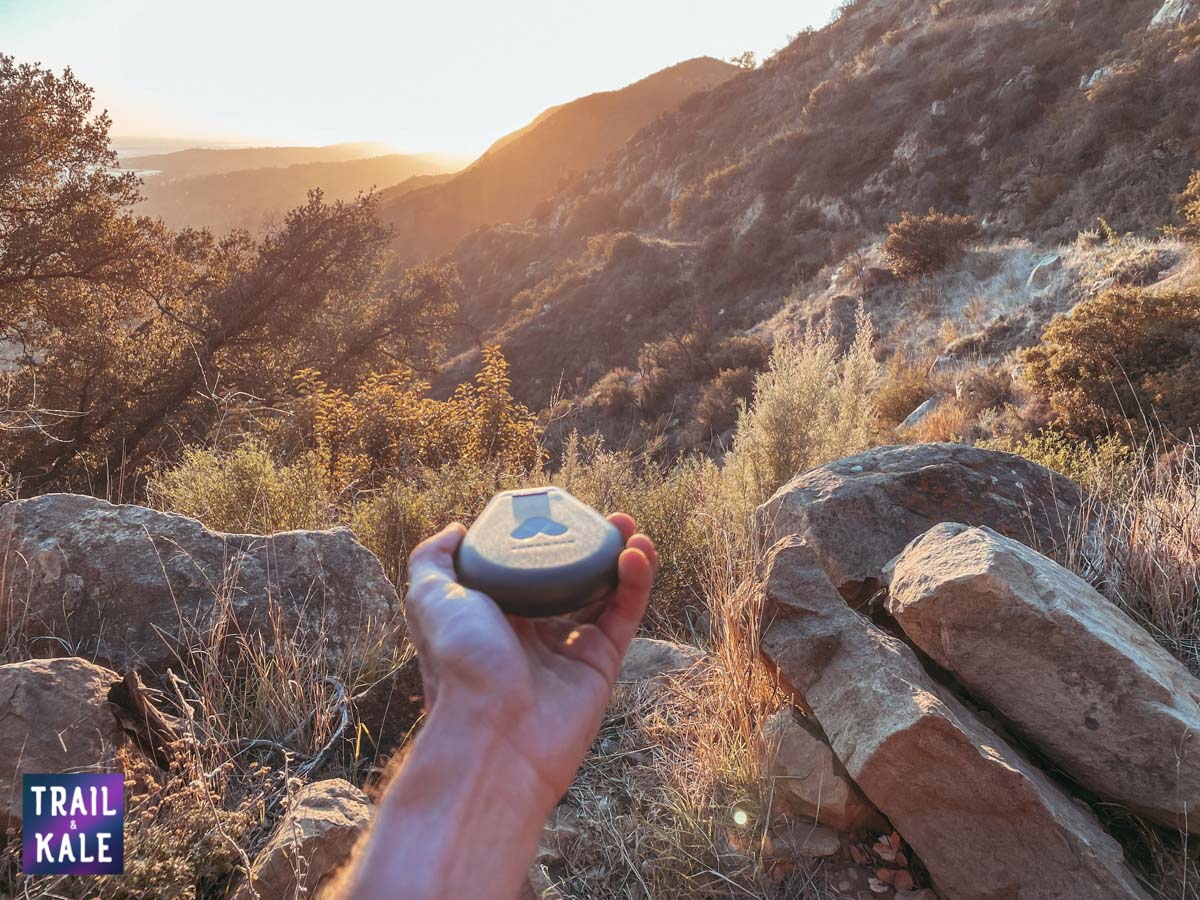 ---
I hope you enjoyed this review of the Somewear Global Hotspot, and if you think a friend will do then please share it with them, and if you have any questions about using the Somewear let us know in the comments!