Fabula Coffee is a company specializing in organic, specialty-grade, health-focused coffee, and sells directly to us as consumers on their website and through Amazon.
In this Fabula Coffee review, I explain how low-acid coffee is different from other coffee brands, the health benefits of coffee (and from Fabula in particular), what this coffee is like in terms of taste and flavor, what makes Fabula one of the healthiest coffee brands, and where you can buy it from.
If you're a regular reader of our website and/or follow us on social media then you probably already know that we love our morning coffee to start the day.
We prefer espresso-based coffee and take great joy in seeking out delicious coffee options (generally of medium roast) and making our own barista-style Cortado, Machiatto, or Flat White each morning with our espresso machine – even when we are road-tripping in our DIY Sprinter campervan!
When it comes to all the food and drink we consume, we do our best to find healthy, plant-based meals (not Vegan, we do eat fish and chicken too, our meals are just more plant-heavy in general) that are low in toxins and contaminants.
Given that we have a morning coffee every day, and I enjoy the morning routine of making it for us both (and drinking it of course), it is important to us that we also drink the healthiest low acid coffee that also taste good.
We appreciate the health-focused principles behind the brand like providing ethically sourced, single origin, low acid coffee, among other things which are explained later in this review.
---
Table of Contents
---
How is Fabula Coffee different from other organic coffee brands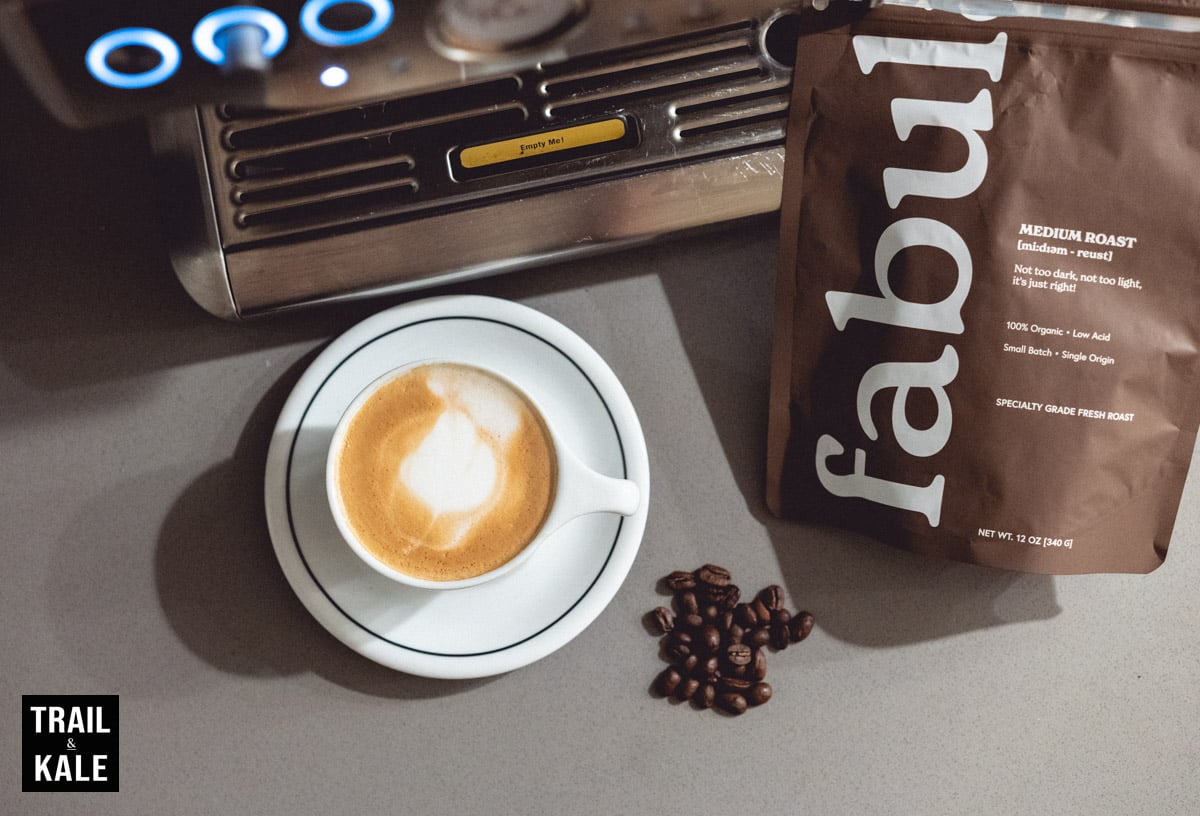 Fabula Coffee's goal is to make 100% organic, healthy, and delicious low acid coffee accessible to as many people as possible. They are committed to delivering coffee that is better for you, the community, and our planet.
We love this simple yet focused mission statement.
Fabula's coffee beans are grown in the shade at high elevations by quality organic farmers, in order to give them low acid properties.
These high-quality beans make for healthy coffee that's easy on your digestive system. With low-acid organic coffee, you can say goodbye to stomach aches, and acid reflux.
I love how according to Fabula, their low acid coffee is always freshly roasted, although I am unable to see any 'Roasted on' date stamps on the packets that they sent me to review.
I feel like this would certainly benefit the company if the beans have truly been freshly roasted just before shipping. Hopefully, this is something the company adds in the future.
The coffee tastes clean and fresh, however, which does in my experience make a big difference to the flavor and aroma of resulting brewed coffee.
Fabula strongly believes in organic farming, in the same way we do. It is not only better for your health but also better for our planet.
Fabula coffee is free from pesticides and mycotoxins, and is mold-free – they source the highest-grade coffee beans that are Certified USDA Organic and Non-GMO.
As advocates of living a fit, healthy and clean lifestyle, Fabula Coffee really resonates with us.
---
Why buy certified organic coffee beans or ground coffee? Here are some of the health and environmental benefits
Certified Organic low acid coffee such as Fabula Coffee's products is pesticide-free, and no synthetic fertilizers or chemicals are used in the growing or processing.
This means cleaner beans, air, land, and water – as well as a less toxic working environment for the people growing and producing the coffee.
There's a lot of talk in the scientific community about how coffee has health benefits due to the vitamins, minerals, antioxidants, and caffeine it contains, however as a consumer and not an expert in the coffee industry it is difficult to ascertain exactly what those are, and how much coffee you would need to consume to benefit from them.
Healthline has a good article with a load of trusted sources, on the benefits of coffee with science-backed information which shares how coffee can help certain health aspects and medical conditions.
In short, the list of potential benefits includes:
A boost in energy levels
It may be linked to a lower risk of type 2 diabetes
It could support brain health
It may promote weight management
It's linked to a lower risk of depression
It could protect against liver conditions
It supports heart health
It could increase longevity
It may enhance athletic performance
Given that organic coffee is free from chemicals, has low acid properties, and is fresher and cleaner than most other coffee that is not certified organic, this is going to win me over every time!
It is also generally recognized that organic coffee tends to be richer in antioxidants than other coffee.
---
Tasting notes and aromas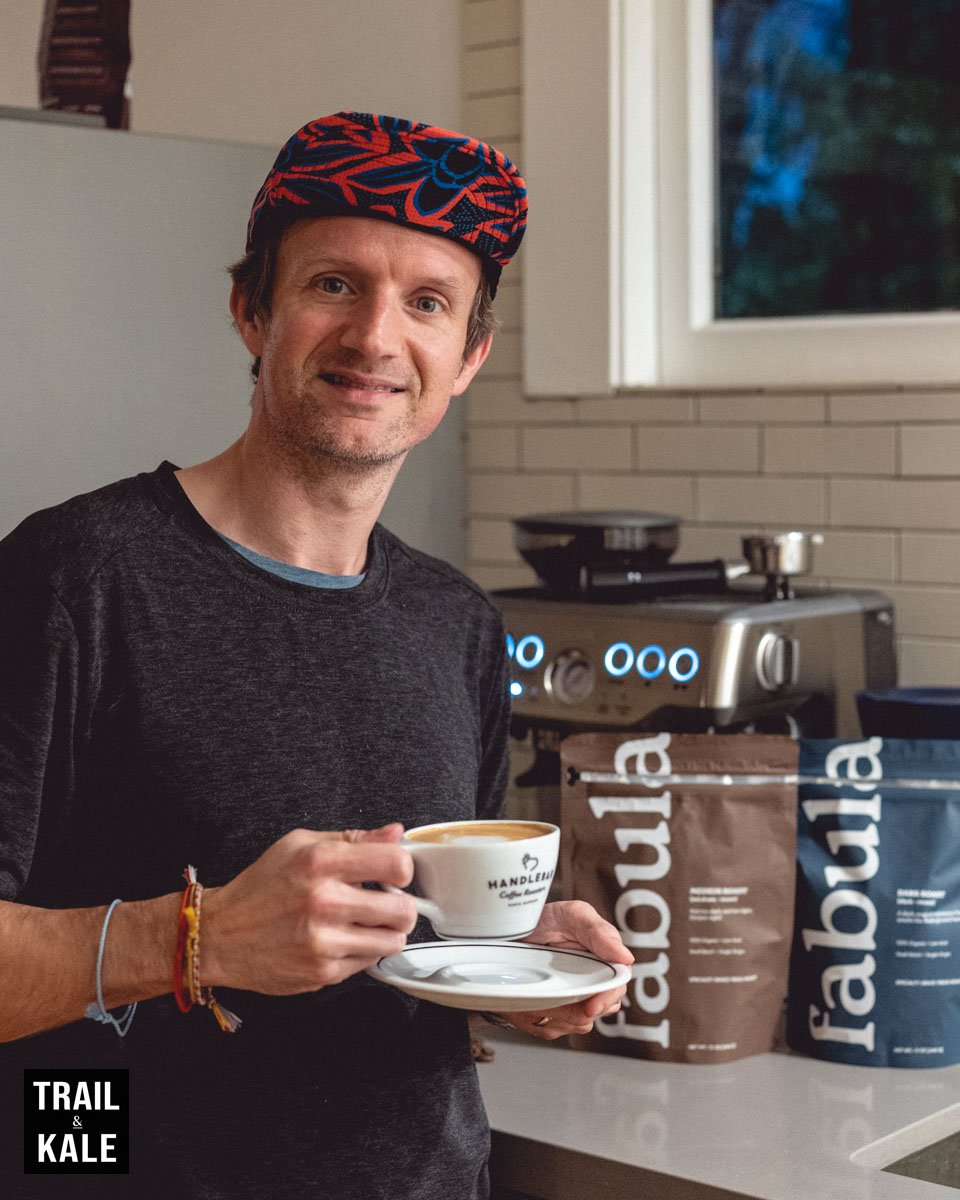 For this review, I was sent 2 bags of coffee beans to try out:
One bag of MEDIUM ROAST – Peru single origin of the Caturra variety which has an aroma of nuts, brown sugar, and mild fruits. Tasting notes include caramelized sugars, nutty, chocolate, and a rich taste. I never add brown sugar (or any sugar) to my coffee as the taste of good coffee is perfect for me.
One bag of DARK ROAST – Peru single origin coffee of the Caturra, Catuai variety which has an aroma of roasted nuts, and brown sugar. Tasting notes include caramelized sugars, bittersweet chocolate, round and smooth.
Medium roast is generally what Helen and I both drink in the mornings but dark roasted coffee is also a popular choice for many coffee lovers out there, so I wanted to test both when making our morning cup of coffee.
We tested the dark and medium roast whole beans in our espresso-based coffee drinks, which involves grinding enough beans for a cup immediately before brewing them with our Breville Barista coffee machine.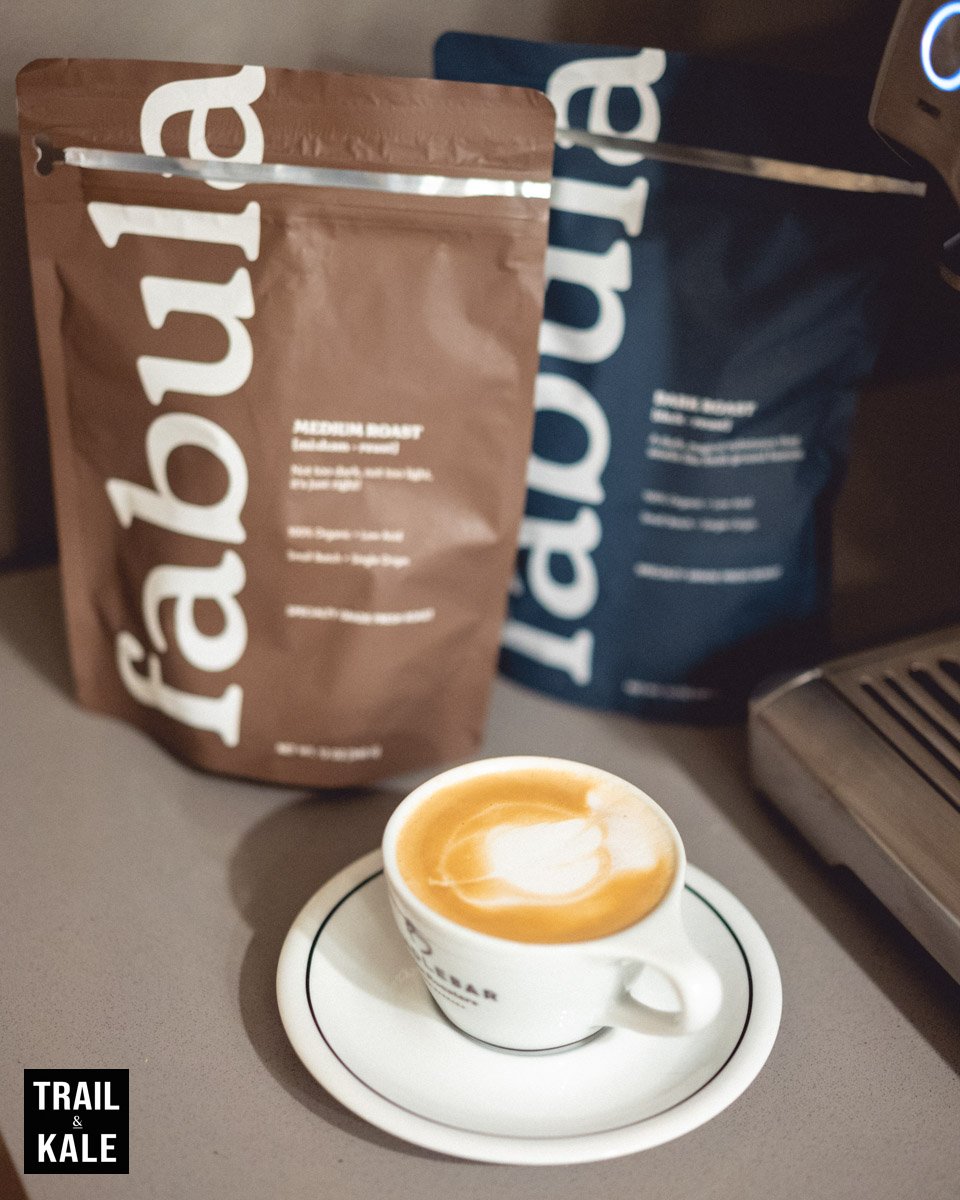 If you like drinking coffee in espresso-based drinks like we do, such as Macchiatos, Cortados, Cappuccinos, and Lattes, then I would recommend trying out the medium roast, which is the bag we both preferred.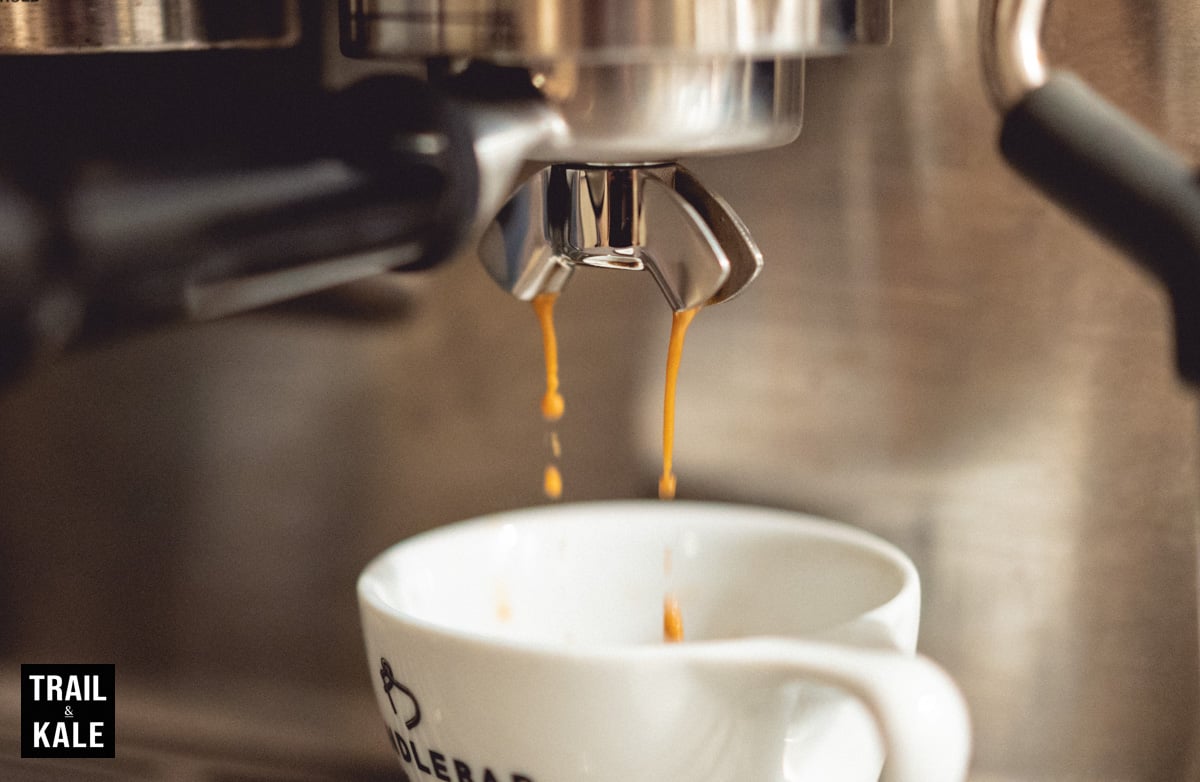 It has a really well-rounded taste to it that is easily on par with my favorite coffee called Jaguar Espresso from Equator Coffees which is based here in California.
I would go as far as saying these medium roast, single-origin beans are some of the best coffee I have had the pleasure of making at home and bringing into my morning routine.
To me that was a fascinating discovery in that Equator Coffee must also be a clean coffee brand and that I have found an equally delicious-tasting coffee in Fabula, that I would absolutely mix into my coffee regimen.
I'm not sure if I would switch it entirely just yet, as it is more expensive than my usual coffee but time will tell how I'm feeling after a month or so of using Fabula coffee compared to how I feel after drinking Jaguar Espresso whole beans from Equator Coffees.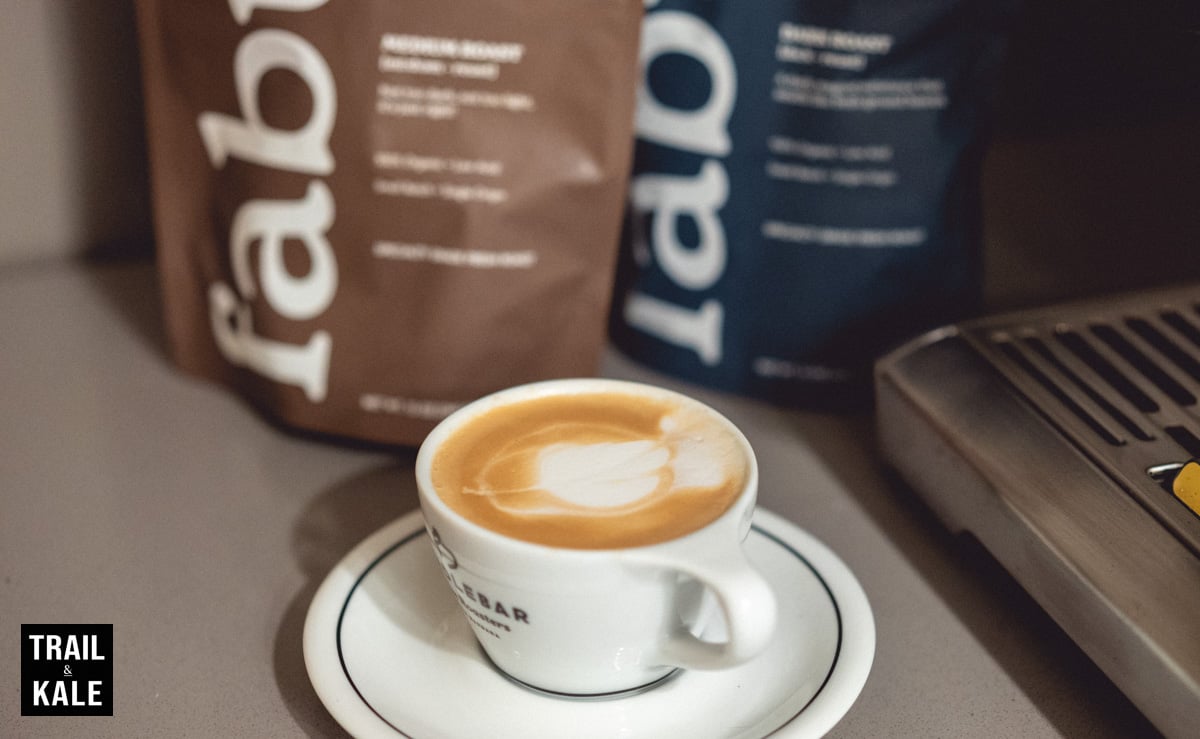 Fabula Coffee also tastes very nice when made with oat milk or regular cow's milk, so depending on your choice of milk, you won't be disappointed there.
The dark roast, meanwhile, is a bolder flavor and is probably better suited for raw espresso drinkers or for being brewed in a coffee maker or french press.
I do sometimes like to drink a long black coffee, and the dark roast is a great choice for that.
Probably because it is organic low acid coffee, we definitely noticed it had a 'clean' taste to it, with a very subtle bitter aftertaste but much less than other dark roasts I have tried in the past – both blends smelled light and 'fresh'.
The smell of the coffee when you open up a bag is very inviting and definitely draws you in to want to get that coffee brewed quickly.
---
The different Fabula Coffee products explained
Fabula Coffee is available to buy in a few different ways, and from fabulacoffee.com direct to consumer, or at Amazon.com:
Whole beans – in dark, light, and medium roast coffee (and a medium roast decaf option).
Ground – in dark, light, and medium roast (and a medium roast decaf option).
Fabula K-Cup pods, which are compatible with Keurig and Mr. Coffee machines.
Flavored coffee options are also available, including Hazelnut, Vanilla, Caramel, Chocolate, Cinnamon, Gingerbread, and Pumpkin Spice (YES!). I don't normally go for flavored coffee but Pumpkin Spice in the Fall, that's my exception right there!
All coffee options can be bought as a one-off purchase OR as a subscription service.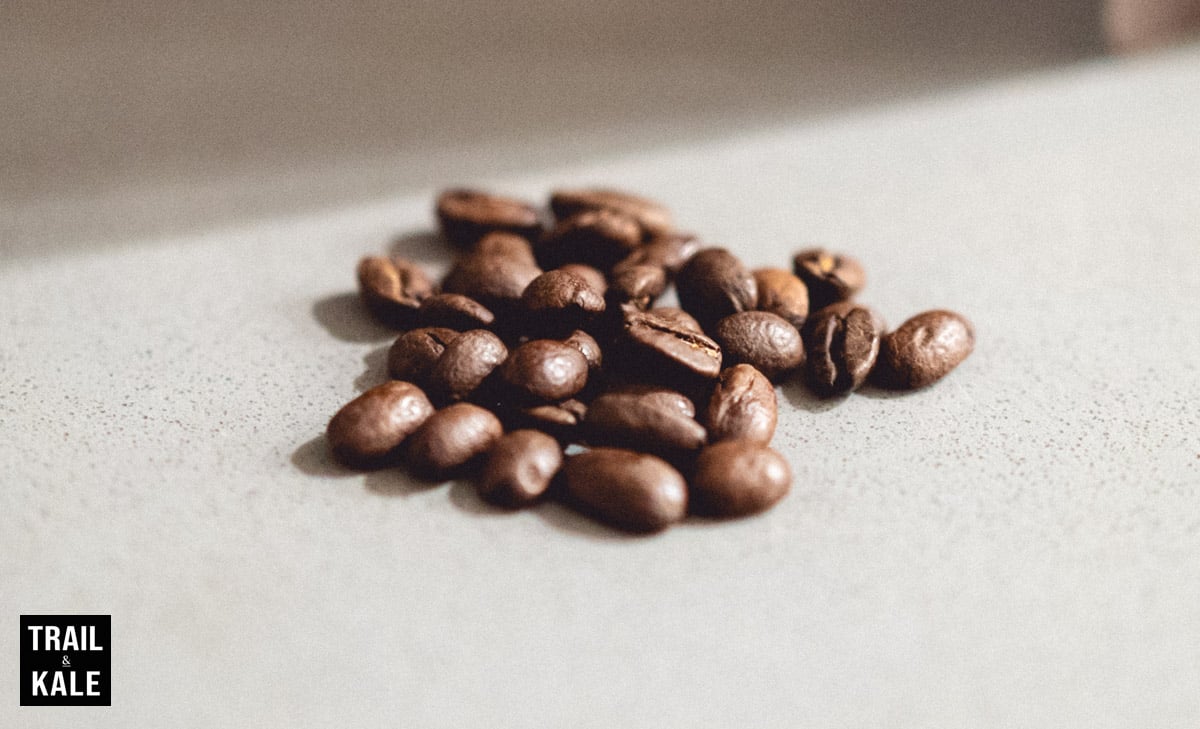 Organic Whole Bean (Light, Medium, Dark Roasts)
As mentioned earlier, we like to drink coffee in espresso-based drinks – everything from Macchiatos to Cappuccinos, depending on the mood and time of day.
This means that we prefer to buy coffee in whole bean form, as freshly roasted as possible, and grind it in our coffee grinder to unlock the flavors just before making the coffee.
This is the best way to ensure freshness, a rich flavor, and ultimately a delicious cup of low acid coffee!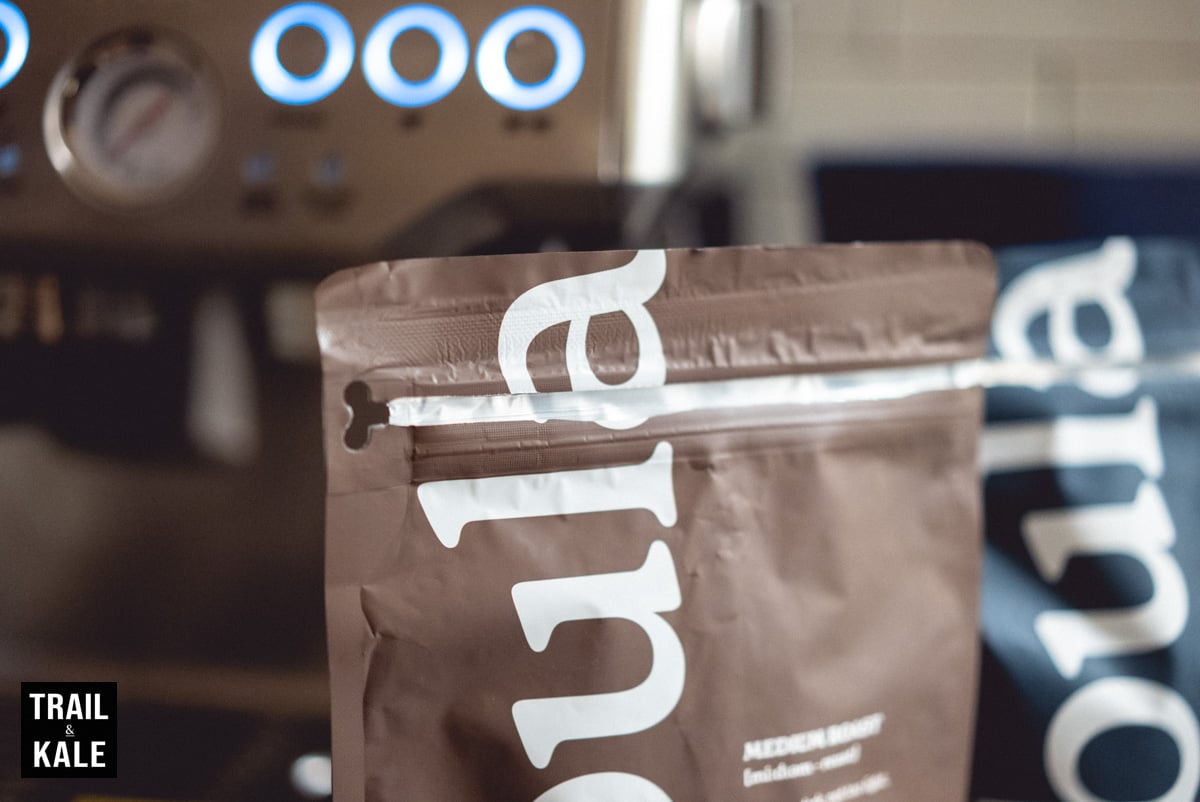 This fair trade coffee is available in three main types, in 12oz sealed bags:
Medium roast (as tested by us)
Dark roast (as tested by us)
Light roast
Decaf – for when you want your Fabula coffee decaffeinated, without as much of a caffeine hit, so you can sleep better at night.
K-Cup Pods
Fabula coffee pods are compatible with most Keurig and Mr. Coffee coffee makers and are made with paper and 100% compostable materials, in boxes of 24.
More than 10 billion (with a B) plastic K-cups come to market and add to the plastic disaster of our planet, every year. It's really refreshing to see that K-cups are made from paper and fully compostable materials.
It's also nice knowing you can now drink coffee from coffee pods guilt-free, knowing that your coffee pod choices are helping protect the environment
---
Can you buy Fabula on a subscription?
Yes, whole beans, ground coffee bags, and K-cup pods are indeed available to buy on subscription and I'd recommend doing that to save yourself some money.
Listen, I get it, Fabula's coffee is certified organic, non-gmo, fair-trade, and grown at high altitudes in the Andes Mountains, so there are always going to be extra costs associated with farming in those sorts of conditions, and to ensure everyone involved in the growing process is compensated fairly.
Fabula is expensive when you 'buy once', rather than subscribe, and I mean a lot more!
When bought with the 'buy once' option a single bag of Fabula Coffee (medium roast) costs $29.99. That is a lot of money for a 12oz bag of coffee.
Thankfully Fabula Coffee gives a 50% discount to any new customers when you purchase a minimum of 3 bags and use the code FAB50 at checkout. If you buy 3x bags of coffee to try then the total cost will be $44.08 as the shipping will also be waived in that deal.
If you would like to just try 1 bag, which is totally understandable, then you can use our code TRAILANDKALE20 at checkout which will get you 20% off your order – this essentially covers the cost of shipping.
The FAB50 deal is a better money saver for sure and will give you the opportunity to see how you like the tasting notes of the coffee and also whether you notice the benefits of low acidity coffee over time.
I for one would never subscribe to a food/drink service before ever trying a product – and I always recommend to our readers that buying with a buy once option to see if you like the product before subscribing is the smart choice.
By all means, subscribe once you're happy that you enjoy the product enough to continue buying it each month as subscriptions are a smart way to buy products that you know you're going to need each month.
Subscriptions save you cash, up to 35% off coffee in this case, and can be so much more convenient than constant one-off purchases.
Nothing makes me grumpier than going to make a coffee first thing in the morning to discover we're out of beans, in which case I have to make a trip to our local Equator Coffee shop to buy a coffee and a bag of beans – not the worst thing in the world, I know ;).
Once signed up, subscription management is very flexible, you can do things like skip orders, move dates, adjust to more or fewer bags, or the frequency of delivery to suit your requirements.
You can also cancel your subscription any time you want to.
For example, you may be going away on vacation for a few weeks and need to skip your subscription or delay it slightly, or you may have guests coming to stay with you next month, in which case you can order a few extra bags.
You can do all that with no problem on the Fabula Coffee website subscription portal.
---
Review Summary
Fabula Coffee Review
PROS
The tasting notes are very well rounded and clean.
Aroma is very nice
Coffees and latte art shaped up well with the crema I was getting out of Fabula coffee extractions.
Coffee comes freshly roasted and the high-quality bags seal back up very well after being opened.
Overall I really enjoyed drinking Fabula Coffee and would recommend it. I will probably buy more bags to include into my coffee rotation.
CONS
Expensive coffee but on the plus side it does taste great. I don't usually have acidity issues with my stomach when drinking coffee because I already choose premium quality beans, so I couldn't ultimately tell the difference in how I felt after a couple of weeks of drinking Fabula. I felt as good as I always do after my morning coffee (possibly a bit better).
---
FAQ
Is there a money-back guarantee?
Yes, They believe in their product, so if for any reason you are not happy with your first purchase, they will happily accept your return within 30 days of the sale date for up to 3 bags or 2 boxes of pods. You can contact them at help@fabulacoffee.com. Here is their full return policy.
How frequently is Fabula Coffee roasted?
They roast and ship 3 times a week, so your coffee is guaranteed fresh – just what every coffee lover likes to hear. It makes a big difference, and you feel the coffee is more flavorful and with a stronger aroma. So essentially, coffee delivers shortly after being roasted, and probably no longer than a week, depending on where you live.
Is this coffee sold in stores?
No. That would compromise their mission to always deliver fresh coffee since they don't know how long the coffee will be sitting on the shelf. Neither will you, the consumer!
How long does the coffee stay fresh?
According to Fabula, coffee peaks around 2 weeks after roasting, and it goes stale after about 2 months. This is not something most brands will tell you because they can sell stale coffee, especially if it sits on the shelf of distribution centers and retailers.
Where is Fabula' Coffee's coffee grown?
They source from different farms, in different countries, mostly from Latin America. Their bestselling coffees are from Peru, Colombia, and Mexico. They are always small batches, from small farms, and always organic and is grown in higher elevations and in the shade, low in acidity, and good for your stomach.
Is it possible to see Fabula's laboratory test reports?
Yes, they test for +350 chemical compounds and say they will gladly share the reports if you contact them at help@fabulacoffee.com.
Image Gallery