Prana is a California-based apparel brand specializing in sustainability-focused activewear.
ADVERTISEMENT
You may have heard of Prana if you are into yoga or climbing, as the brand was founded with this focus, however over the years, Prana has grown its product range to include a large range of stylish clothing designed for everyday activities as well as hiking and travel.
We've added Prana clothing to our regular everyday lineup because they not only fit our needs perfectly for work, play and travel, but we also appreciate the brand's values and what Prana stands for.
In this Prana clothing review I share the three major reasons why you may love the Prana brand, a brief review of the clothing I've been living in lately, and what Alastair thinks of the Prana men's clothing he wears regularly too.
---
1. Prana is a positive, values-driven brand
What does Prana mean?
The Sanscrit word "Prana" is used to describe life, breath and positive energy.
So, it makes sense that the brand Prana's motto is centered around positivity: 'Clothing for positive change'. This is a message we love as it is aligned with our own mission to help effect positive change.
According to their website, Prana is deeply committed to mitigating the impact we have on the environment in manufacturing and delivering high-quality, stylish and versatile clothing and other products that are made in safe and fair working conditions.
Encouraging your customers to consider how, where and from what their clothing is made from is so important.
It's only by informing and educating that you can drive positive change in an industry such as this, so we applaud prAna for being outspoken and using these values to drive how and why they do what they do.
---
2. Prana's clothing staples are super-versatile
After many years of going to work in a suit, I don't think I can ever get away from wearing comfortable, stylish leggings for a typical day again… so much so, that all of my suits have gone to goodwill 🙂
When I was growing up, leggings were something you wore when you didn't want to leave the house – and they were often unflattering.
Now I want to go everywhere and do everything in a versatile pair of leggings that is flattering, comfortable and can pair with pretty much anything on your feet or top half, and prAna offers a wide range of leggings that tick these boxes, including the Kimble leggings described in this Prana clothing review.
The same goes for the Prana tees and warm layers. The texture, fit and quality of the fabric and design mean these clothes look and feel extra special.
---
3. Prana's range of clothing utilizes sustainable, quality materials
When it comes to clothing and determining how sustainable it is, it is important to ask questions such as what am I wearing, how were the materials made, who manufactured it, how long will it last and what happens to the clothing when I am done with it?
It also goes without saying that the better quality and longer lasting an item of clothing is, the less often it will need to be replaced – and therefore you're consuming less over time.
I consider Prana to be similar in values to other brands such as Outerknown and Patagonia, which are also actively working to ensure the sustainability and reduced environmental impact from the manufacture of their clothes.
To learn more about the Outerknown clothing brand, I wrote a full review on their clothing HERE.
---
Prana Clothing Review: Women's Kimble Printed Leggings
The Kimble design leggings stood out for me as I'm a magpie when it comes to vibrant, bright colors. I already own a few pairs of darker, more subtle leggings and the pattern on these leggings is a lot more fun.
These prAna leggings/tights for women are designed to be great for activities such as yoga, but I wear them more as everyday leggings – for everything from chasing Kepler around with his frisbee, to sitting at a desk for a few hours, running errands or grabbing a cheeky glass of vino during happy hour. I particularly love these features:
7/8 length – at 5ft 4, some yoga leggings are too long whereas the 7/8 length stops at my ankles, just above a trainer shoe height.
Peachy-soft, jersey stretch fabric – that amazingly doesn't cling on to pet hair (very useful when you have a dog and two cats).
Supportive, comfortable waistband – the waistband is pretty high rise, meaning a muffin-top doesn't happen and I get a flattering silhouette. It also features a hidden key pocket.
At $90 for a pair they are a typical price for a pair of good quality leggings… which is a good price when considering the value-driven manufacturing practices they were made with, and if you wear them a lot then the price-per-wear goes right down!
---
Prana Clothing Review: Women's Rogue Short Sleeve Top
The Rogue short sleeve top is sustainably made with a mix of recycled materials, and has a great amount of stretch, without being clingy.
This top is great for yoga but also smart enough to wear out and for work – and I am actually in love with the colorway, which is 'Peacock'.
There's something about those heathered, slightly muted colors that we can't get enough of lately.
Like the prAna Kimble leggings, the Rogue top is moisture wicking, which is so important because who wants wet sweat marks on their clothing?
Whether you're wearing it for yoga, hiking or general everyday stuff, it's good to know it will stand up to it. The Rogue top is also a bluesign product and fair trade certified.
Price-wise, the Rogue short sleeve costs $49. There are also long-sleeve and sleeveless options available in the same color-ways to go with the Kimble leggings.
---
Prana Men's Clothing Review: Crew t-shirt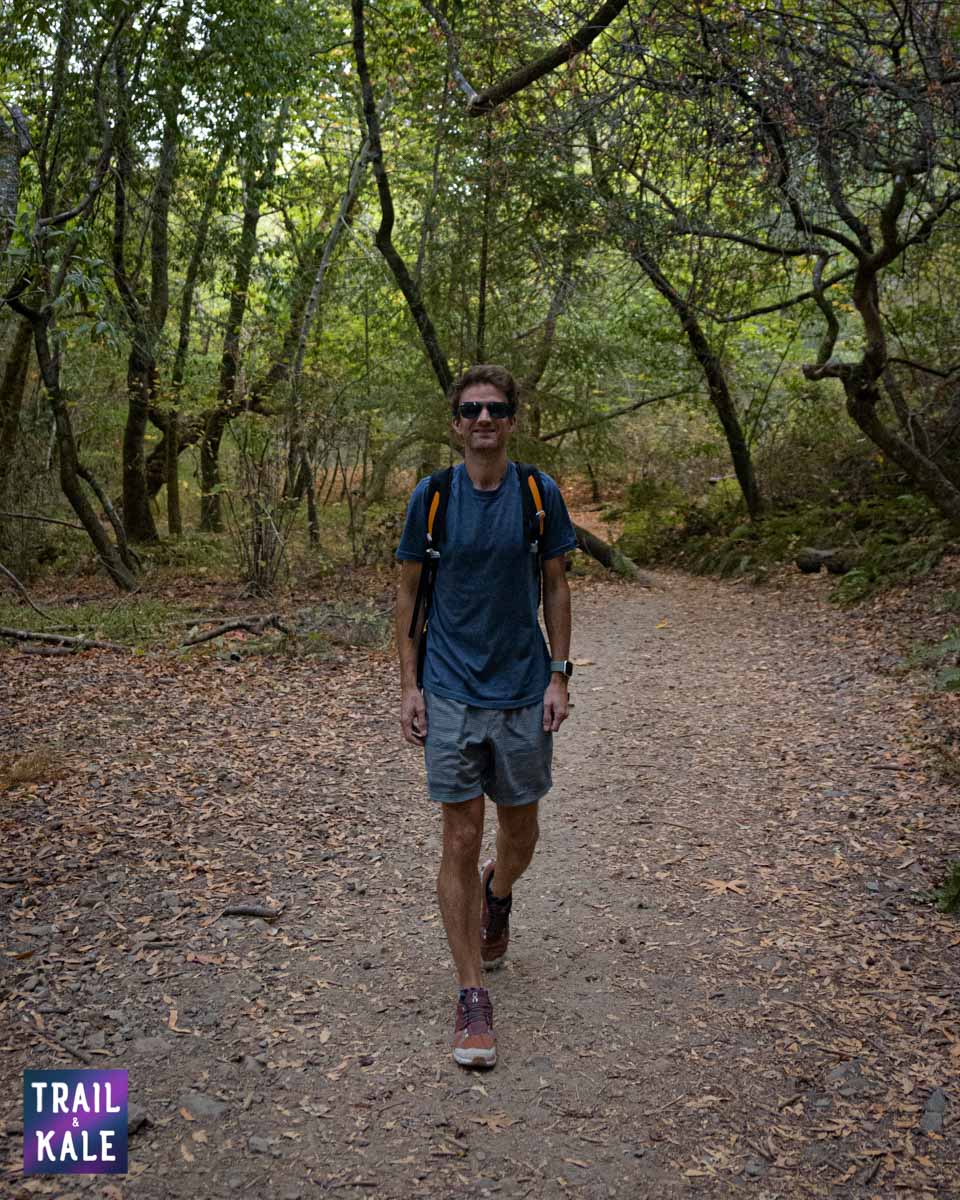 I mentioned earlier that both of us have been living in Prana clothing lately – and as you can tell on our Instagram feed, they show up on there a lot for that reason!
Alastair wears his prAna Crew t-shirt A LOT! It's described on their website as an everyday staple, and it is just that. It is super-soft as it is made from organic jersey cotton jersey fabric combined with recycled polyester fibers from Fair-Trade Certified suppliers.
Other features of the tee he loves are the neck size, sleeve length and fit.
As a slim individual, regular men's tees can look too baggy and the sleeves can be too long – but this one fits perfectly.
The prAna Crew t-shirt is available in several different colors (13 as of today) including a range of versatile muted heathered colors, including green, blue, yellow, pink, black, gray and teal. Also – at $29 – amazing value.
---
Prana Men's Clothing Review: Slope Shorts
Although we're heading into winter, he doesn't miss an opportunity to wear shorts – which is most of the time around the house, even if it's cold outside!
The Prana Slope shorts are actually designed with much more than staying at home in mind.
They feature sweat-wicking, stretchy and breathable fabric that is quick-drying and has a UPF 50+ rating, so they're well suited to hiking, SUP and other outdoor activities and travel. The Slope shorts are also made from recycled poly and organic cotton.
Other features of the Prana men's Slope shorts Alastair loves are that they're lightweight, have a comfortable elastic waist with drawstring, and are a good length – not too short, and not too long.
---
prAna Clothing Review Gallery
---
Prana Clothing Review Summary
We love that Prana design their clothing with the needs of active, sustainability-focused people in mind.
With many people now working from home and able to spend more time in comfortable clothing than their normal workwear, it seems that style-focused leggings, tees and casual pants like those featured in this prAna clothing review are here to stay in many peoples' wardrobes.
prAna Clothing Review
PROS
Bluesign Environment and fair-trade focused brand
Great Quality, versatile, well-made clothing
Stylish and well-fitting
Free shipping on all orders
Good value for high-quality, ethically-made and well-fitting clothing
CONS
Honestly, I haven't come across any yet
For all of the reasons above, if this sounds like you then Prana is a great brand to get to know better!