Silicone wedding bands are inexpensive silicone rubber rings which are worth considering if you want to wear a wedding ring at work, when working out or spending time outdoors where wearing a metal ring may not be a good idea.
ADVERTISEMENT
All of the best silicone wedding bands in this list are designed to break (instead of hurting your finger) if put under a high level of tension, and they're heat and cold-resistant.
This makes them a safer, more affordable, and versatile alternative to wearing metal rings, especially for people who work outdoors, with tools or spend work or leisure time in environments where they are concerned about damaging (or losing) a finger or the ring both.
To learn more about the advantages of wearing silicone wedding rings, how they reduce your chances of a surprisingly common (and very nasty) finger injury, and the properties that make these rings a good idea for people with an active lifestyle, scroll down to our silicone rings FAQ and educational buyer's guide.
Otherwise, read on to see our top picks when choosing a silicone ring.
1. Qalo Rings
Best for: QALO offers a wide range of designs, shapes, textures and patterns such as this women's rose gold silicone wedding band, which is made from two layers of silicone.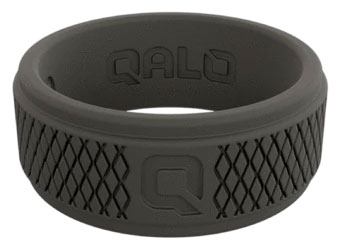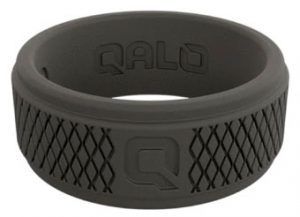 QALO offers a range of versatile designs including their reversible 'switch' and camo silicone rings, and stackable bands; their target customers are adventurers, workers, dreamers, and outdoor enthusiasts with active lifestyles.
Their silicone is 100% recyclable and they will recycle any silicone product for you (not just QALO products).
Their customer services include a 30-day refund, 60-day exchange, and one-time, any-time warranty policy.
---
---
2. Groove Life Rings
Best for: Groove Life offers innovative low-profile silicone rings which feature grooves on the back to allow moisture to escape.
Similar to Qalo Rings, Groove Life offers a wide range of some of the best silicone wedding bands, including the highly popular plain black silicone rings.
As well as single-color options, they offer a wide selection of bright patterns and textures, and in different widths, and ring customization and personalization are available on some styles and they also offer custom engraved case options.
Their Zeus range offers a more rigid larger men's silicone ring (compared to regular rubber bands) that will still break if put under sufficient tension.
Other innovations include textured double-layer rings and their Zeus anti-stretch range of more rigid (yet still breakable) men's silicone rings.
There's also a 30-day return or exchange guarantee if you get the wrong size, don't like the color or style, and a lifetime warranty.
---
---
3. SafeRingZ Silicone Wedding Bands
Best for: SafeRingZ specialize in safety-focused metal-effect silicone wedding bands for women and men. These rings are made in the USA from medical-grade silicone, a 100% non-conductive material.
Although non-conductive, they come in traditional colors such as gold, gun-metal, platinum and black, and custom engraving and personalization is available.
Safe RingZ are available in 3mm, 6mm and 9mm widths, including their Titan range, which is a selection for men designed specifically for those with larger fingers.
Most of these rings are slightly less expensive than the other silicone ring brands' ranges.
---
---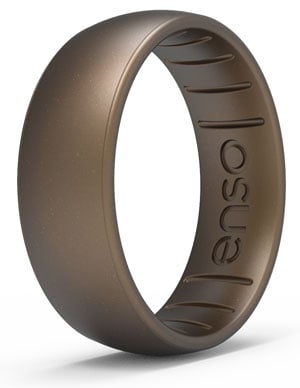 4. Enso Rings
Best for: Enso Rings are known for their men's and women's silicone wedding bands, including thinner, metallic-colored rings suitable for everyday wear, and stackable wedding and engagement rings, that can also be engraved.
You may have already heard of them from the TV – they received an investment on Shark Tank on 2017. Enso's original Elements collection is infused with precious metals for a more realistic metal sheen, like the ring pictured above.
They also now offer a variety of special edition and themed rings, such as Pride, Star Wars and Disney rings.
Enso Rings come with a lifetime warranty which rips, tears, stretching, wear and tear, and even discoloration.
---
---
Silicone Rings Buyer's Guide
Why do people wear silicone rings?
When you think about it, there are loads of reasons why you may want to wear a silicone ring some or all of the time – whether because you otherwise wouldn't wear a ring at all, or because there are times when it is safer to choose a silicone alternative.
Safety – avoid ring avulsion and other finger injuries
A metal ring is stronger than your finger, so if that ring gets trapped, caught or otherwise pressed against your finger then there are a lot of ways you can seriously damage your finger or hand.
You've probably heard of ring avulsion, or 'degloving' which can happen if your ring gets caught on something, and is as nasty as it sounds.
If you haven't heard of these hand injuries and are curious to know more, this video provides an amusing anecdote of how it can happen to everyone (even just at home in your kitchen), and, of course, if you google 'ring avulsion' you'll find plenty of pretty terrible images of what can happen when your finger, or part of it, stays with a caught ring.
A silicone ring, on the other hand, is made of rubber and is designed to stretch – it will break if put under enough tension.
So if you have a job that poses an elevated risk of injury or loss, or simply enjoy being active such as boating, watersports, trail running, hiking, climbing, athletics or workouts involving lifting weights, you probably choose to leave your metal ring at home but could probably wear a silicone band instead.
Budget and personal preference
Perhaps you're getting married and really don't feel the need for a traditional gold, silver or platinum wedding band, or are on a budget.
You can get metal-look silicone wedding bands, or go for a very different color or design than you could have with a metal ring, such as camo, bright colors, or a texture or pattern.
How long do silicone rings last?
Silicone rubber rings are heat-resistant, cold-resistant, UV-resistant and most are non-conductive.
Additionally, the properties of these bands mean they shouldn't stretch, shrink or fade in color, so they're surprisingly durable.
How long a ring will last depends on the style and how you wear it. Unless you damage or break it then the general expectation is that a silicone ring will last up to five years.
How much do rubber wedding bands cost?
These rings are inexpensive compared to gold, silver or platinum wedding bands, and typically cost between $30 and $40 USD, depending on the style and brand.
How to choose the best silicone ring for you
Whether you're looking for a silicone engagement ring, wedding band or lifestyle ring, with all the companies above offering a range of different ring sizes, widths, colors and styles, you're spoilt for choice.
Looking for the best silicone wedding bands for men and women, as alternatives to metal wedding bands? If so, then it's worth considering that plain colors such as black, or metallic effect rings such as silver, gunmetal, platinum or gold rings are popular choices as they look more traditional.
However, if you don't particularly want a plain ring you could choose an alternative such as colored, two-tone, patterned or stackable silicone rings which come in sets of three narrower rings that you can wear together.
As far as which is the best brand for womens and mens silicone rings, all the companies in this list are popular choices.
There are other companies offering silicone rings, however those rings, although possibly cheaper, may not be the same standard in terms of comfort (big and bulky rings will rub against the adjacent fingers) or quality.
Can you wear a silicone wedding ring all the time?
Yes – and many people choose to. It's important to take it off regularly, though, to clean and dry it out.
Because rubber is not breathable, your finger will sweat under the ring, so you need to periodically move it to dry your finger out and clean your hand and ring.
How to clean a silicone ring
They're easy to clean with warm water and soap. You can scrub it with an old toothbrush, which will help remove dirt especially if you have a textured ring design.
Silicone is heat-resistant so you can normally use hot water to help clean it up without worrying about damaging it.