With so many types of dog harness out there it can be hard to filter through all of the choice and work out what type of dog harness is best for you, the types of activities you like to do and your physical ability. This post features my Kurgo Townie Harness review, which should help you work out if this is a good option for you and your dog.
Some dog harnesses are pretty minimal and designed for walking in, as an alternative to a collar. Other harnesses are more built-out, with the use of more webbing and straps – these cover more of your body and are designed to withstand more wear and tear.
My preference is for the latter because, as an adventure dog I spend most of my time outside on trails and in wild places, and need a harness that is more substantial than one made of thin straps, but which is less likely to get caught on shrubs and rocks as I explore.
The Kurgo Townie Harness is definitely one of those more built-out dog harnesses. In fact, most of the Kurgo leashes, collars and harnesses I have used or seen, are built in this way – especially the products in their 'RSG' range, which are designed for some hard wear.
I've been wearing and running in this harness for a few months now, so it's about time I shared my thoughts, some pictures of the harness in action, how it compares to my Ruffwear Front Range harness, and my overall rating in this Kurgo Townie Harness review.
MORE Kurgo Dog Gear reviews: Kurgo Insulated Jacket Review / Kurgo K9 Core Sweater Review / Kurgo Cooling Vest Review
---
Kurgo Townie Harness Review: Table of Contents
---
Overview of the Kurgo Townie Harness
The Kurgo Townie Harness is designed to be quick to put on, and rugged enough for many everyday adventures and trail excursions.
I am a little confused about why it is called the 'Townie' harness, as it is targeted at trail dogs and adventurous beings like myself.
But anyway, it is indeed quick to put on: It goes on over my head, and does up with one big plastic pinch-clip around my belly. The strap around the front of my chest is velcro, and doesn't need adjusting once you have the size right.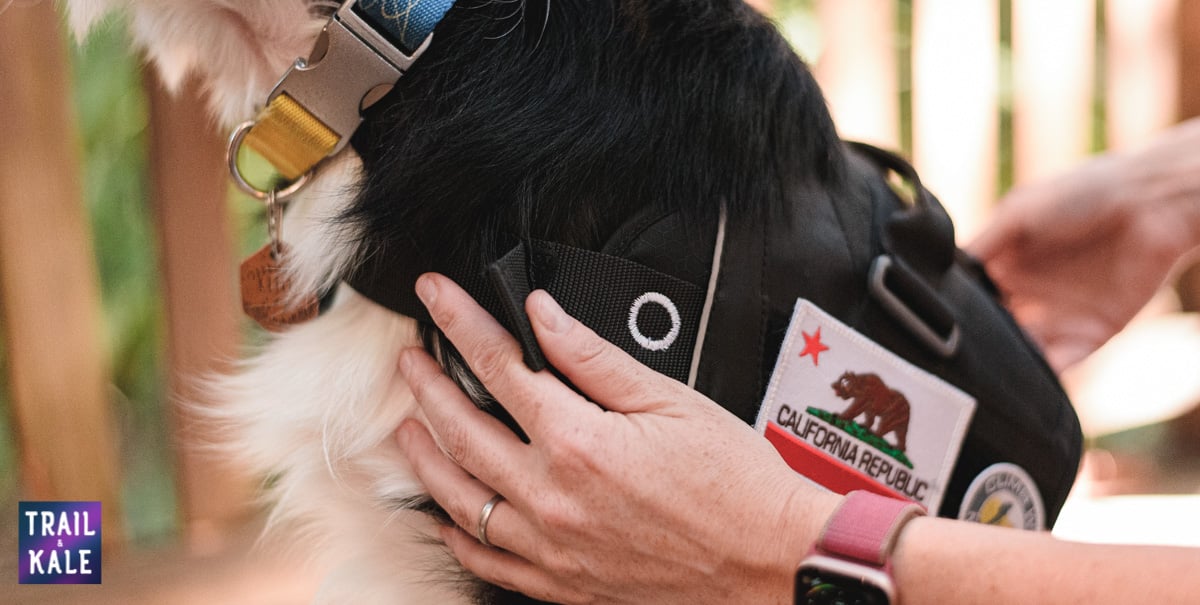 The other key features of this harness are:
Made from ripstop fabric and a breathable mesh underside
Reflective trim for visibility in the dark
Handle and back leash attachment
Available in black (like mine) or Kurgo's 'coastal blue' color
Covered by a lifetime guarantee from Kurgo.
---
Kurgo Townie Harness: Unique design features
One of my favorite features of this harness, which doesn't affect its performance but differentiates it from other harnesses and allows a great amount of versatility is the 'MOLLE compatible' features.
These MOLLE features, in normal speak, mean it has velcro strips on each side, which is perfect for attaching additional accessories and other hook-and-loop (aka velcro) compatible items – such as patches!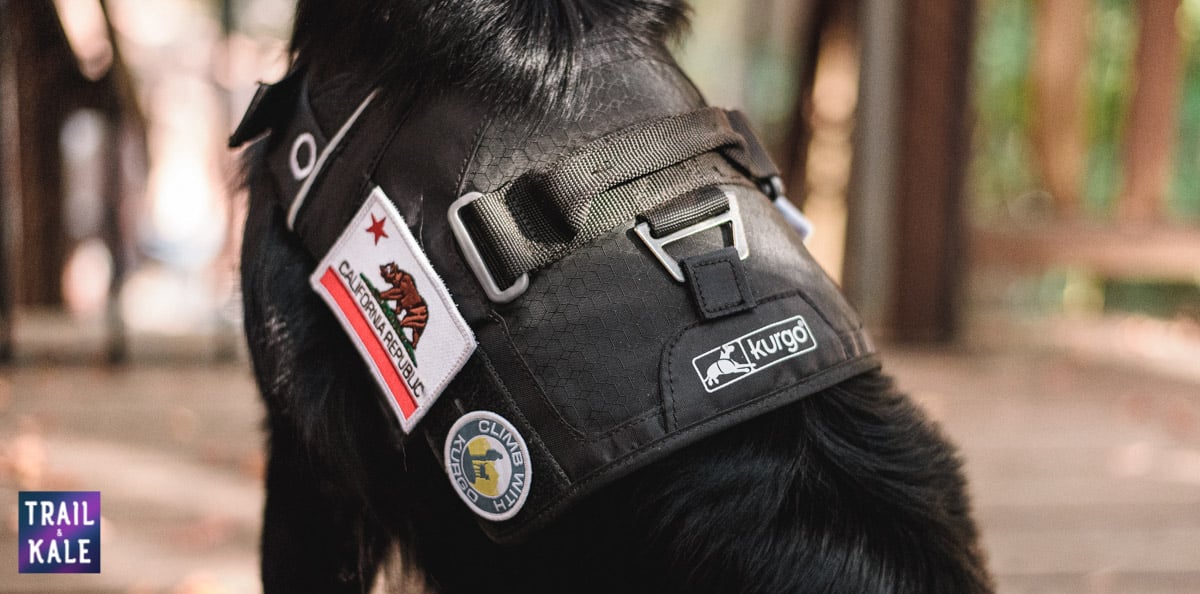 Using Kurgo harness accessories with the Townie
I don't think Kurgo shouts enough about how cool this feature is, and what it means for dogs and their owners who may have a need for such a harness.
It's not immediately clear on Kurgo's website, but if you dig around a bit you'll find other products in their 'RSG' range that are designed to attach to the Townie Harness.
This includes a treat bag, dog first aid kit, hydration flask and pannier.
You can attach two of these harness accessories (one either side) to the harness, and – voila! You have a customized dog backpack and your dog can carry their own first aid kit and water, or water and other stuff (poo bags, for example) in the pannier, or treats and first aid kit… etc, etc.
Plus, those add-on items also have the velcro strips on the outside, so you can still attach patches to them to customize the look.
Attaching patches to the Kurgo Townie Harness
For an example of the patches I like to have on my harness, check out the photos in this review!
Also, this could be a great feature if you are a working dog, or perhaps are nervous and need a patch asking people to keep their distance.
I've seen other dogs wearing patches that are designed to keep people from approaching/distracting them (of course, whether they still do is another matter).
I have one that says 'I NEED SPACE', for example (although that's more because I'm named after an astronomer it does have the added benefit of giving me the space I prefer when out in public).
Perhaps my Union Jack patch has the same effect on some people, haha.
---
Kurgo Townie Harness Review: Other features
Mild compression and calming effect
Because the harness is made from strong, ripstop nylon fabric, it is fairly structured and firm when it goes on.
This is important for allowing a firm base for the additional accessories I described above.
I also find the structure of the harness is actually very helpful for keeping me calm when I have it on, because when done up it offers mild compression around my upper body. That's not because it's on tight, it's because it is snug once done up enough to not move around.
As an excitable pup, I appreciate this – my parents say they notice a distinct difference in my state of mind when I have this harness on, particularly on walks when I'm near distractions like traffic and people running/cycling.
Putting the Kurgo Townie Harness on
Similar to the Kurgo cooling vest I reviewed previously, the Townie harness is easy to put on.
First, you need to ensure that the large velcro strap around the front of the chest is not too tight or loose.
It's easy to tell it's the right tightness because the back of the harness should then rest along your back without being too high or far back, and the velcro strap shouldn't interfere with your shoulder movement.
Once the velcro strap is the right tightness, then the belly strap needs to be sized to fit snugly when standing.
When I first put this on the strap was too loose, which meant that the harness slid around from side to side on my body. Once the strap is fitted more snugly (being careful not to make it too tight) then this doesn't happen.
I like that the buckle clip that lies against my body has a webbing flap, reducing the chance of my parents accidentally pinching my hair or belly skin in the buckle (ouch).
Washing the Kurgo Townie Harness
Because of the structured design of this harness, my parents have not tried washing it in a machine.
Instead, a hand-wash with warm, soapy water has removed all muck from it on a few occasions, including getting mud out of the velcro strips where it can get caught.
---
Kurgo Townie Harness sizing and fit
I am wearing the Medium size Townie Harness.
The best way to get the right size for you is to ensure your parents measure you and compare the dimensions against Kurgo's size chart.
The three dimensions to measure are around your neck, around your chest (girth) and the length of your back.
A word of warning, though – the chart is really just a guide! my neck is around 15-16 inches so that would put me in the Small size category. However, when I tried the Small on, it was like a crop-top on me and didn't cover enough of my back!
The Medium is a much better fit. It's also worth knowing that I had exactly the same issue when sizing the Kurgo cooling vest.
Depending on your body shape, and especially how long your back is, in proportion to the rest of you, the harness may cover most of your back, or half of your back.
I have a pretty long back, and you can see how much of mine it covers in the photos in this review.
I mentioned above that you need to ensure the front velcro strap is the right fit, to avoid it getting in the way of your shoulders.
I have no issue with the strap but can imagine if you have a different body shape that this is something to consider, especially if you plan to run or wear this harness for long periods of time.
I should also note that currently, when I walk or run, my parents attach my leash to my collar, and not to my harness.
They only attach my leash to my harness if we are covering some terrain where it is safer for me and my neck to have me attached by the harness, or if I am out on a long line.
So getting the fit on these two straps is really important, because I can imagine if you use the back leash attachment on this harness, and you tend to pull, then the harness will probably rotate around your body.
If you are walked on harnesses generally, and still pull, then this probably isn't the best harness for you. But hey, who wants to be a puller anyway? (well, me, but I'm working on that 🙂 ).
Running in the Kurgo Townie Harness
So far in this review, I have covered the look, features and fit of the Townie harness, but how does it perform when I run?
Well, I can tell you that I've worn this harness for extended periods on mountain runs and hikes (several hours at a time), including jumping over logs and rocks, and through streams.
I also wear it on those times when I have to go on challenging training walks near home, and my parents want me to feel more secure and confident (see my thoughts above on the mild compression effect it has on me!).
I find it very comfortable, and I must say, I think it looks great on.
---
Comparison between the Kurgo Townie Harness VS Ruffwear Front Range Harness
I've had a Ruffwear Front Range harnesses since I was a little pup. Below are the similarities and differences I noticed from wearing this Kurgo harness and my Ruffwear harness.
The Ruffwear Front Range has a more secure fit – the head-hole is smaller and is adjustable
The Kurgo Townie is more structured and covers more of my body – this does make it heavier, though
Ruffwear's harnesses are available in a wider range of colors
The Front Range harness has a front leash attachment as well as one on the back like the Townie
The Townie's velcro/MOLLE features are not something the Ruffwear Front Range offers
The Front Range is quicker to dry and so better for adventures involving long periods of getting/being wet
The Townie has a back control handle (not designed for lifting me with, though) whereas the Front Range does not have any handles – other Ruffwear harnesses do, but they involve more clips etc to attach the harness.
---
Where to buy the Kurgo Townie Harness
The harness may be available in your local pet shop, or you can buy it at Amazon for around $52 by tapping the button below:
Last Amazon price update was: 2nd June 2023 8:30 pm
---
Kurgo Townie Harness Review Summary
Kurgo Townie Harness Review
PROS
Structured, durable design
Easy to put on and take off
Unique customization features
Snug fit once you have strap sizing dialled
CONS
Heavier than other harnesses
No front leash attachment
Limited color options
Takes a while to dry once wet
---
Kurgo Townie Harness Photo Gallery
I hope you find my Kurgo Townie Harness review helpful – if you still have a question for me though, please ask in the comments below.