As plant-based athletes we've tested and reviewed the best vegan protein and meal replacement powders on the market, and are constantly on the lookout for new brands and innovations in this space.
Lyfe Fuel is an exciting California-based vegan brand that offers a range of plant-based shakes and meal bars, including their bestselling Daily Essentials Meal Replacement Shake, which I was particularly interested to get hold of to see how it stacks up to other plant-based meal replacement shakes I've tried and reviewed in the past (such as Huel, for example).
This Lyfe Fuel review includes the key features, ingredients, pros and cons of the brand's Daily Essentials Shake, Vegan Protein Recovery Shake and Essentials Bars, based on my experience of using them over the past few months.
About Lyfe Fuel Nutrition Shakes + Bars
LyfeFuel's three main products are their Daily Essentials Shake, Recovery Shake and Essentials Bars, which are manufactured in the USA using natural, and in many cases, organic, ingredients.
Daily Essentials Shake
LyfeFuel's Daily Essentials shake is a nutrition shake that is designed to be a complete, plant-based meal that you can make in 60 seconds or less.
It really is that simple – put a scoop of the powder into a suitable shaker bottle or blender (we use glass Ball jars with lids), mix it with 8-12 oz of water, shake it up, and drink it.
So if you're looking for a quick way to get a nutrient-rich meal to drink on the go (or just if you're very busy), the fact that it's so simple and quick to mix up is a big selling point.
However, what really makes this shake special is that it is made with natural ingredients and is nutritionally complete while being low in carbs and calories compared to alternatives on the market.
There's a comparison of Huel and Ka'chava on the Daily Essentials product page of LifeFuel's website, in case you're curious how they stack up against each other.
Performance (Recovery) Shake
LyfeFuel's Performance Shake is designed to be consumed post-workout to aid in effective recovery.
A serving (1x 37g scoop, mixed with water) provides 25g of plant-based protein powder, which comes from pea protein as well as brown rice and quinoa, and 4.5 grams of BCAAs (Branched Chain Amino Acids), which is important for stimulating metabolic processes for muscle repair.
For context, compared to other plant-based protein powders, 25g is a lot of protein. Most powders (including the best plant-based protein powders featured in our buyer's guide) tend to range between 20g and 30g per serving, with more of the other high-quality options being at the lower end of that range, so the fact that LyfeFuel's protein shake offers 25g is great!
This shake is grain-free, dairy-free, and soy-free.
Similar to the Daily Essentials Shake, this shake isn't just a 'protein powder', it includes a blend of other nutrients that come from superfoods such as Chlorella, Maca Root, and leafy greens such as one of our favorites, Kale!
See the product page on their website for a full list of ingredients.
So, while it's not designed to be a full meal replacement shake, this is a premium protein shake with added benefits that still manages to be low in calories, at 150 calories per serving and only 6g of carbohydrates.
Daily Essentials Nutrition Bars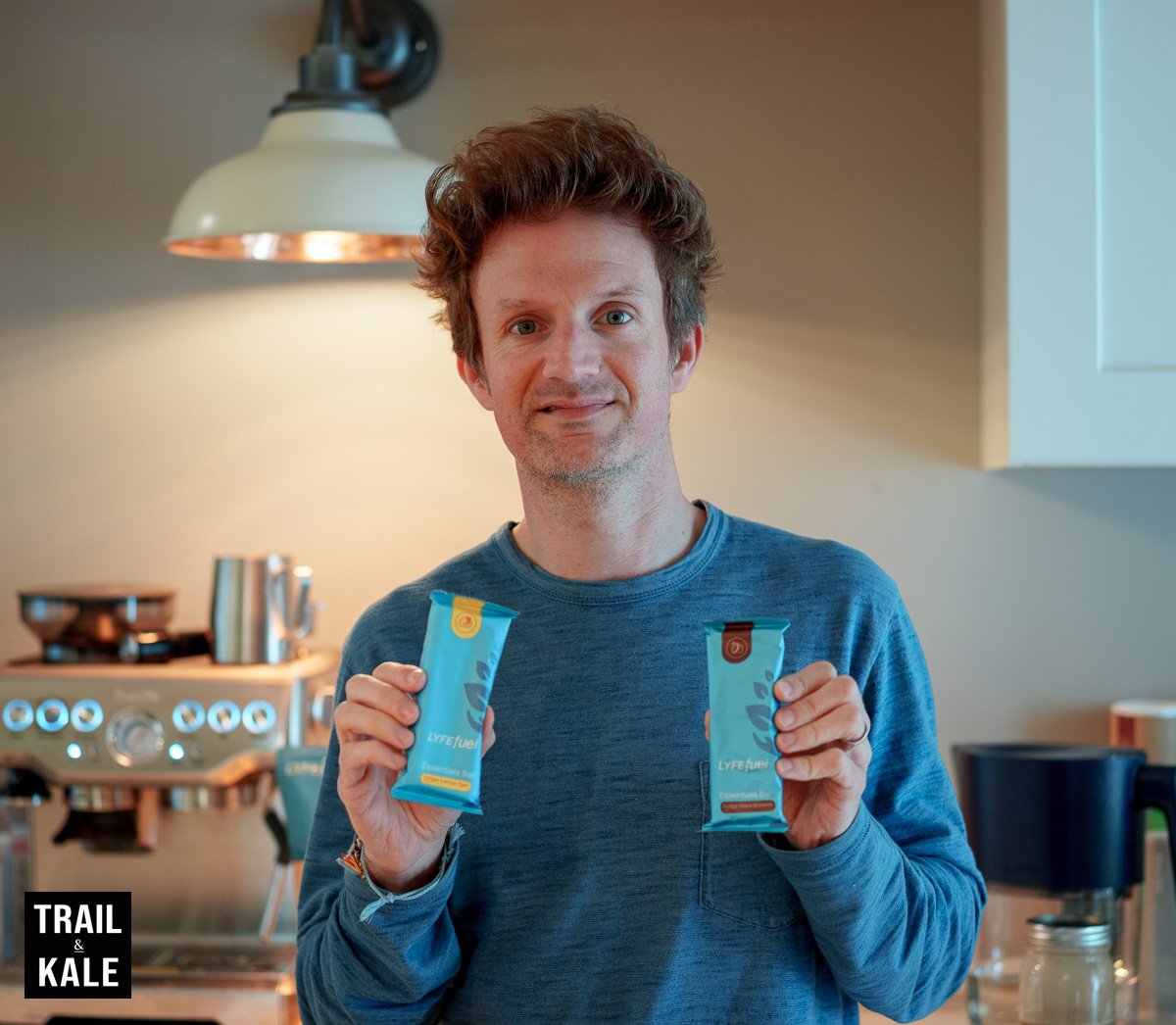 Although the shakes get a lot of attention, Lyfe Fuel's Daily Essentials nutrition bars are something pretty special, because they are also designed to be a complete meal, but this time in a bar, rather than a shake format.
The bars are made with 100% plant-based whole food ingredients, including prebiotics, fiber, superfood blends, and – importantly – with no weird additives or artificial flavors or sweeteners.
They provide 11g of complete plant protein, 12-14g of fibers, 13g of healthy fats for energy, and 21 essential vitamins and minerals with 210 calories per bar (see the product page on their website for a full list of ingredients).
These bars come in two flavors, Fudgy Maca Brownie and Lemon Ginger – they both taste delicious.
There's a good amount of chew and texture, with some crunchy nutty bits in there, they're not too moist or dry (some similar bars can be rather grainy), and the flavors are what you expect based on their names – so no weird smells or aftertaste here!
LyfeFuel Daily Essentials Shake review – key facts and features
What does the Lyfefuel Daily Essentials shake taste like?
Daily Essentials is currently available in two flavor variants, Vanilla Chai and Chocolate.
The flavors are true to the description. I've tried both and enjoy both – perhaps the Chocolate is slightly tastier in my opinion.
It makes a smooth, non-grainy blend without a huge amount of shaking.
The texture is slightly chalky but not in an unpleasant way – if anything it's nice that it feels like there's a good amount of substance to what you're consuming.
Whichever flavor you opt for, both are easy to drink and you'll feel good about drinking them instead of a solid food meal, given you know what's in it – and it's all-natural – nothing artificial or weird.
Daily Essentials ingredients list
In each serving (i.e. a shake) of Daily Essentials, the shake contains 110 calories, 2g fat, 5g carbs (including dietary fibers and sugars) and 18g protein.
There's also a load of important macronutrients included in the mix, so this isn't a simple shake to fill you up until your next 'proper' meal, it's actually designed to provide you with nutrition that perhaps you don't even get in full from your other meals of the day, including nutrients from a super greens and super-berry blend of ingredients, as well as pre and probiotics.
You can see the full ingredients list on this page of LyfeFuel's website.
Interestingly, in the details on the ingredients list, there is some Stevia in this powder.
I always check for it on the ingredient labels of the powders we test for review, because Stevia is often in products but way more than it should be – resulting in some shakes having a distinctive, overly-sweet taste.
I'm pleased to report that I don't taste or otherwise notice the Stevia in this particular product – and that's a really good thing.
How and when to drink this Lyfe Fuel meal replacement shake
Serving size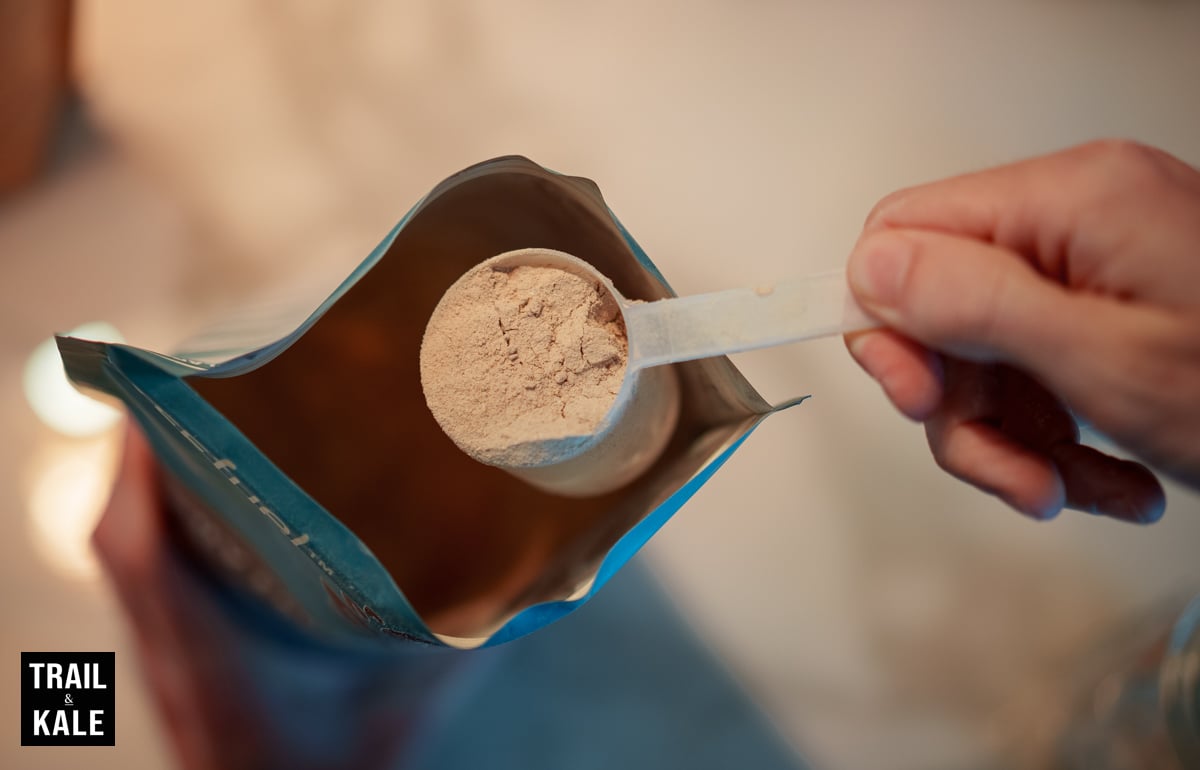 A serving size is 1 scoop, which is around 33g / 1.1 oz of powder, that you're supposed to mix with 8-12 oz of water.
You can also blend up your Daily Essentials powder with other fruits, veggies and liquids (such as your favorite plant-based milk) in a blender for a larger shake.
When to drink Daily Essentials
There's no specific meal that Daily Essentials is best for.
That said, I personally find it most beneficial to have as a quick lunch on those busy days when I don't necessarily have time to make a meal or go out and buy a sandwich.
It keeps me going until the early evening when I can think about dinner!
This shake is also popular as a breakfast meal replacement for when you're getting up super early or don't have time or supplies to make a nutritious breakfast meal.
If you're reading this thinking you could go all-out and have one of these shakes for every meal of the day, I suppose you could…
It's not something I would choose to do, however, simply because I enjoy the diversity and enjoyment of eating a range of plant-based meals complimented with some fish or chicken, and would quickly tire of consuming the same thing for every meal.
As a regular quick lunch or breakfast, however, it's a great option!
It's also worth considering that you can blend the powder with other ingredients to make meals such as smoothie bowls.
There are a few nice recipes on LyfeFuel's website that should give some more inspiration in this area!
Does it fill you up?
Yes! This shake does fill you up, much better than other meal replacement shakes I've used.
When I've had one I feel full and not hungry for several hours – not the fullest I've ever been, nor quite as long as a big meal would, but for a simple shake that takes seconds to prepare and contains such a broad blend of nutrients, this is impressive.
If I'm really hungry then I opt to pair the shake with an Essentials bar. This way I'm getting some nutrient-dense food in a larger portion but still with only 330 calories in total for the 'meal'.
Where to buy the LyfeFuel Daily Essentials Shake (& other LyfeFuel products)
LyfeFuel Daily Essentials is sold in packets that contain 24 servings, and you can buy it direct from Lyfefuel as well as on Amazon.
The prices on LifeFuel's website are lower, however, especially if you select the subscribe and save option, so I'd suggest going that route if you want to try it for yourself – you can always cancel your subscription after trying the product and you decide you're not a fan.
The meal replacement shake costs $70 per packet for a one-off purchase, which is $2.91 per serving.
Even better, it costs $60 per packet if you buy on a subscription (that you can cancel at any time) – yep, that's only $2.50 per serving – much cheaper than buying a sandwich or salad!
So, like with other similar products offering a subscription option, if you're considering trying out a bag, it's definitely worth setting up the subscription to get the discount, even if you decide not to continue it in future months.
Also good to know is that when you buy from LyfeFuel.com you get a money-back satisfaction guarantee (if you buy direct from them rather than Amazon). So you can actually buy their products, try them out, and if you find they're not for you then they'll refund you!
Similarly, the Vegan Performance Recovery Shake comes in a 24-serving packet for $50 for a one-off purchase or $40 for the subscribe and save option.
The Daily Essentials Nutrition Bars come in boxes of 10 for $40 for a one-off purchase, or $70 for two boxes (20 bars) if you opt for the subscribe and save option.
Shop LyfeFuel products at Amazon:
Last Amazon price update was: 28th November 2023 9:30 pm
---
Lyfe Fuel review summary
Lyfefuel Review
PROS
Couldn't be easier to prepare - no extra ingredients needed
Complete plant-based meal replacement shake and bar options
A healthy solution for quick meals and early starts
Subscription option represents great value for money
CONS
Limited flavor options
---
LyfeFuel review image gallery