SIDAS insoles are one of the most popular insole brands out there when it comes to finding insoles to wear in your outdoor footwear, including inserts for your running shoes, hiking boots, ski or snowboard boots, and even your regular everyday shoes, especially if you spend a lot of time on your feet.
In this SIDAS review, we're focusing on the 'SIDAS 3Feet Run' range of running insoles which are targeted at helping runners gain extra comfort and support in their shoes by replacing their existing running shoe inserts and matching the new insoles with one of three types of foot arch heights.
SIDAS Insoles Review – Table of Contents
About SIDAS
SIDAS is a French company that specializes in insoles for sports and athletes' shoes and boots. The types of footwear they focus on are:
Skiing boots (and snowboarding), including cross-country and nordic skiing
Running shoes (for trail and road running)
Cycling shoes
Golf shoes
Multi-Sport footwear.
SIDAS offer a wide range of shoe insoles for different purposes – some are made with merino or synthetic fur to help keep feet warm when worn in boots for hiking or skiing in winter, and others are more minimal and designed for use in cycling and golf shoes, as well as for everyday support.
When choosing a pair of insoles for running it can be difficult to narrow down the wide range of options out there. To help with choosing the right insoles for you, you can use the 'insole finder' function on SIDAS' website, which will suggest the best options based on your answers to a few simple questions.
This review focuses on the SIDAS 3Feet Run Protect and 3Feet Run Sense insoles, which are designed to be SIDAS's best insoles for running when you're looking for additional comfort, support or performance enhancement in your footwear, and may well be the insoles the insole finder suggests you choose. We'll cover more on the differences between these two types of SIDAS insoles later on.
Why may you need new running insoles
Not everyone needs to replace the insoles in their running shoes. However, it's important to recognize that we're all different and so, like with many types of footwear and clothing, if you can customize your running shoes' fit to your feet, running style and needs, then you may experience fewer issues and leg or foot injuries. Plus, wearing running insoles could help improve performance if they enhance your comfort and the shoe's responsiveness.
The types of issues that cause many people to consider getting new insoles for their running shoes are those such as foot strain, plantar fasciitis (which often shows up as pain on the sole of your foot), hot spots and blisters.
If you have particularly high arches, or very low arches (or consider yourself to have 'flat feet') then you may also feel like you need the additional support in your shoes, that you're not getting from the basic foam insole inserts that they came with.
That's not surprising when you compare the insert that your running shoes come with to a specifically-designed set of running shoe insoles that offers a significantly enhanced level of cushioning and support.
Which SIDAS running insoles are right for you?
SIDAS's 3Feet Run range of insoles are designed to replace the existing basic foam insole in your running shoes. They can also be used to provide additional support in your hiking boots and everyday shoes, too, especially if you're an active person and wear trainers most days.
The technology behind the 3Feet range is different from other ranges of SIDAS insoles as it is focused on offering three different styles for different height foot arches – there are three height options to choose from, between high, medium and low arches.
Which size and arch height is right for you
To choose which size insoles are best for you, it helps to know firstly your shoe size, and secondly your arch height.
Insole shoe size
If your shoe size is between the size ranges given in SIDAS's size guide, it's best to choose the larger size, because you can cut the insole down to fit inside your shoe. SIDAS insoles come in a range of sizes from XS to XXL, which cover everyone from size US 3 to 14.
If you do need to buy a larger size and take some length off to fit in your running shoes, carefully compare the SIDAS insole to your shoe's existing insert, and cut it down to the same size using the guide marked on the back of the foam.
To ensure you don't accidentally cut the insole too small, I suggest cutting it a bit larger than you think you may need at first, as you can always cut more off. For more pictures showing this, see the gallery at the end of this review.
Working out your arch height
Once you know your foot's arch height, you can determine whether you should choose the high, medium or low running insole.
While you can get your feet measured in a specialist footwear store, you can also get a good idea from wetting your foot and standing on a hard, dry surface to leave a footprint, then comparing the wet footprint with those in the guide below.

Most people are going to have the 'medium' height arch. To get an idea of how the arch height differs between the medium and low height insoles, have a look at the pictures in this review.
Our general view when choosing insoles for running shoes is that if you're unsure, it's best to go for the lower arch height option, as you don't want to create a new issue by having arch support pushing up into your feet when you run.
3Feet Run Protect and Run Sense insoles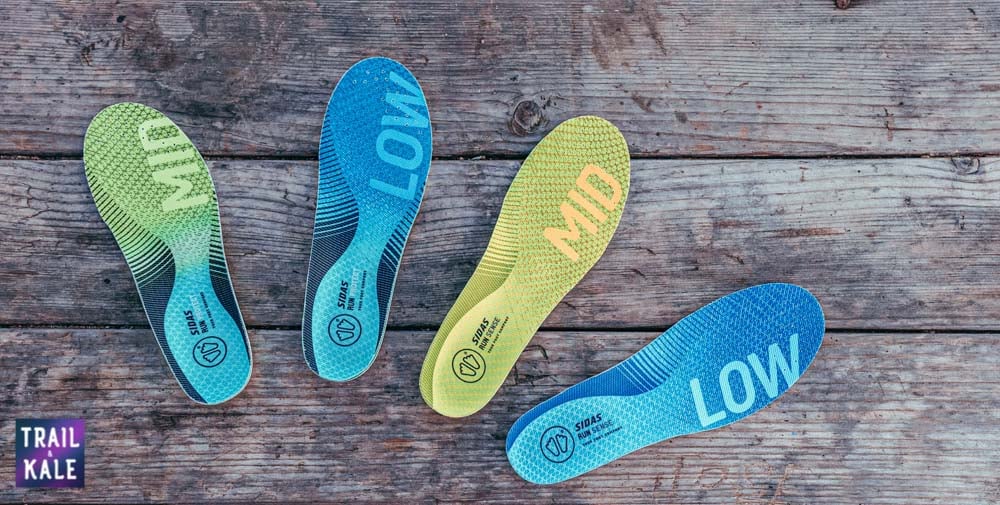 There are two main types of running-specific insoles offered by SIDAS, the Run Protect and the Run Sense, which I've used in my running shoes for this review:
The Run Protect insoles are designed to provide arch-specific foot support with a focus on comfort and enhanced cushioning.
The Run Sense insoles are designed to help maintain a natural stride as close to the ground as possible, with more responsiveness when you push off the ground, while also helping provide support and stability.
SIDAS 3Feet Run Protect insoles
The most noticeable features of these insoles are that they use soft EVA cushioning with a gel pad in the heel to dissipate impact, and perforation under the toe area to help with breathability.
The Run Protect insoles are the best running insoles if you're looking for help with reducing foot pain and injury that you feel is created or, at least, not helped by running in your existing running shoes.
If you believe that there is no problem with the shoes and that regardless of what running shoes you wear, you'll struggle to get the comfort and support you need, then these are a great choice to try and see if that helps ease some of the issues you've been experiencing with them – at a significantly lower cost than buying and trying another new pair of shoes.
SIDAS 3Feet Run Sense insoles
The Run Sense running insoles are a more performance-focused choice. These are designed to provide more responsiveness within your running shoe. As you can see in the photos, the existing running shoe inserts (the black insole) are very thin, flimsy foam that provide no support to your feet.
The shoe itself of course has a foam midsole that is designed to provide that support, but these SIDAS running insoles are intended to maximize the responsiveness of your shoes by having you switch out the flimsy foam insert for their rubber running insoles.
Given this, Run Sense insoles would be the better choice if you are looking for more support and responsiveness than you're getting with your running shoes' existing insoles when you push off the ground.
My experience wearing insoles for running (and hiking)
In terms of my personal experience wearing insoles in my running shoes, I generally prefer to consider replacing the insoles in road running shoes and not trail running shoes, because with trail running every step falls differently and this can cause new hot spots if my feet end up too high up inside the shoe as a result of having a thicker insole, for example, where they may rub on the upper.
Having worn and reviewed several different brands of insoles in road running shoes, in trialing these SIDAS insoles, I was very impressed with the design and quality, and there was a noticeable improvement in comfort and responsiveness when running with them when compared to my running shoes' standard insoles – which, in that particular pair of shoes, were especially unsupportive.
Additionally, although these specific SIDAS insoles are marketed as being insoles for running, I've found them to work great in other active footwear such as hiking boots. I tend to find that my feet sit too low within many brands of hiking boots, for example, and the insoles (Run Protect, with a Low Arch) have the effect of elevating my feet within the boots and giving more stability and support than the basic foam insole they came with.
Where to buy SIDAS insoles
SIDAS running shoe insoles are sold in many specialist footwear stores, or for convenience and the full range of insole choice, it's best to buy them directly from SIDAS:
SIDAS insoles review summary
SIDAS Running Insoles Review
PROS
High quality replacement running insoles
Tangible comfort and cushioning benefits vs regular shoe inserts
Great value for money compared to other running shoe insoles and orthotics (or a new pair of shoes)
CONS
Insoles are not for everyone - check they won't take up too much space inside your running shoe (which can cause rubbing in other areas)
---
Video Review
---
Gallery