The Cloudrock Waterproof is On's first-ever hiking boot and as you would expect, it comes with plenty of innovation from the Swiss running brand. These lightweight hiking boots are fully equipped with a wind and waterproof upper, a Missiongrip rubber outsole with lugs that dig into soft trails, a protective mudguard, and a speedboard that offers great stability and endless forward propulsion. Interested in getting up to 40% OFF On running shoes? Visit On's Classic range page to see their latest deals.
This On Cloudrock Waterproof review covers all the important design features that you should know about before buying the On Running Cloudrock Waterproof, and also my experience hiking with them on the trails, good and bad.
The Cloudrock Waterproof is built for speed hiking which means it's for people who prefer to cover more distance on the trails faster than the average hiker.
They honestly feel more like trail running shoes than traditional hiking boots, and this is at the heart of On's innovation.
---
Hopefully, this review answers any questions that you may have about the On Cloudrock Waterproof but if not, please feel free to ask me anything in the comments down below.
Scroll to the bottom of this page for my 'first look video' which outlines some of the design features which are better explained in a video.
---
On Cloudrock Waterproof Fit & Design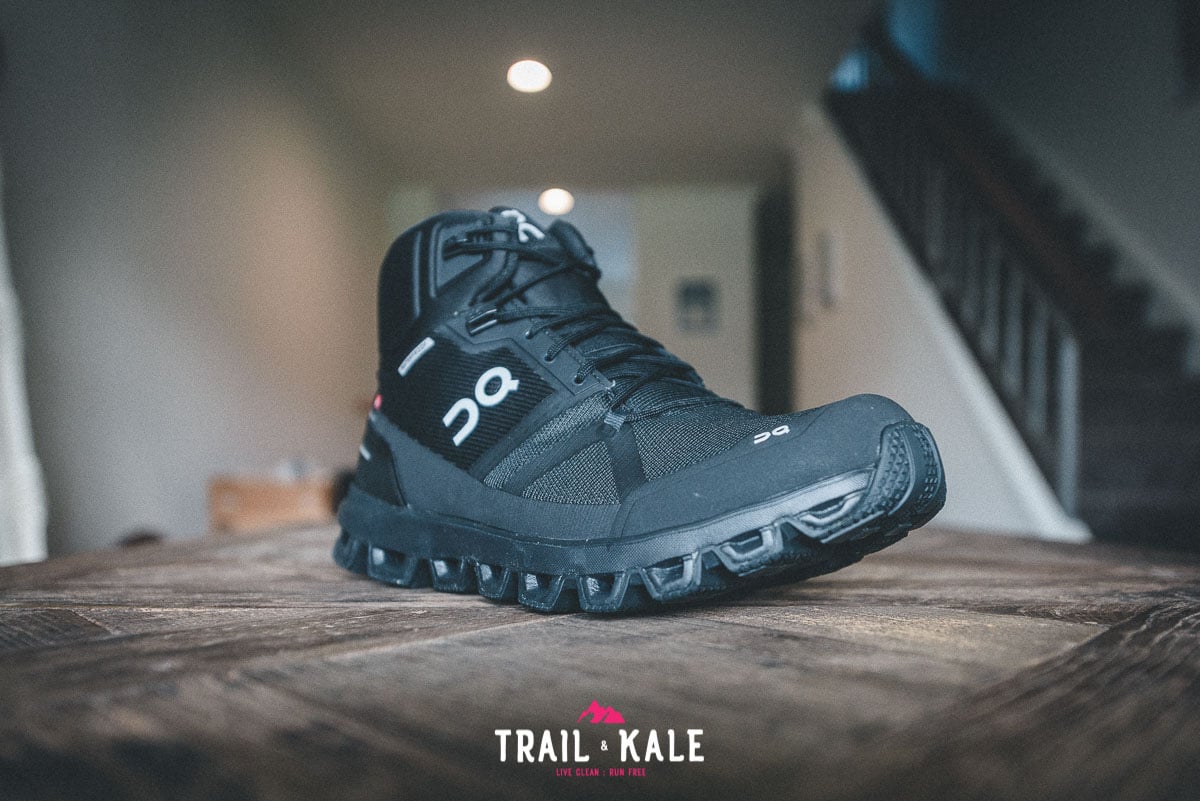 The On Cloudrock Waterproof hiking boots look like very comfortable boots, and they are, without any need for breaking them in.
In fact, they feel very similar to the On Cloudventure Waterproof (reviewed here), which I really enjoy trail running with when it's raining or cold outside.
The Cloudrock Waterproof boots fit true to size, so there's no need to worry about sizing up or down.
The FlexLock system (a fancy name for the lacing system on these boots) allows you to tie the laces traditionally or with a single pull.
This makes micro-adjustments less necessary as the boots conform evenly around your feet, from top to bottom with a single pull on the laces.
Other notable features that contribute to their overall comfort include:
the soft padded tongue with an inner sock that locks your feet into place without adding excessive amounts of pressure on the front of your legs. This inner sock lining makes the connection between the tongue and the side walls really seamless and super comfortable.
the cushioned midsole which is plushy enough to keep your feet feeling comfortable all day long. It also provides full protection from sharp rocks on the trails beneath.
the Cloudtec outsole which provides a nice amount of spring in your step.
the padded high collar which is designed to be flexible and so limiting any chance of restrictive movement.
RELATED POSTS:
---
The Cloudrock Waterproof Upper
The highly durable upper is both windproof and waterproof and because there are two types of mesh in the midfoot and forefoot area, stability and breathability are both enhanced.
That being said, this is a 100% waterproof hiking boot and so it can't also be particularly breathable.
This does, however, make the upper materials good at keeping warmth inside the boots; this is what you want during winter hiking adventures.
The high collar is made for movement and so it flexes well when you hike and the padding protects your ankles when the boots are locked firmly in place.
There's a very solid toe box that will protect your toes from any accidental rock kicks and it will also stop the upper from tearing if they ever got badly scuffed.
The black rubber toe box protector extends all around the lower half of the upper which acts as an extra layer of protection against wet mud (as seen in the image below).
The heel support towards the rear is very solid and holds your foot in place while reducing lateral roll, should you find yourself in a potential ankle rolling situation.
On Cloudrock Waterproof Hiking Boots official Video
Cloudrock Waterproof Laces
The laces have a little bit of stretch in them, therefore allowing your feet to expand and contract as they heat up and cool down during a long day of hiking, and the length is good.
Other than that, there's nothing particularly special going on with the laces.
Outsole and the On Speedboard
The MissionGrip outsole that's being used is very similar to the one used on the Cloudventure Waterproof, but definitely not the same lug distribution.
The weight/pressure distribution across the midsole feels really good and the multiple grip micro-patterns on the lugs help you stay in control as conditions around you change.
On's Speedboard combined with this outsole make the Cloudrock Waterproof a very good hiking boot, that performs just as well on hard/rocky terrain as it does on soft muddy trails.
Cloudrock Waterproof Drop & Weight
There's a drop of 7mm from heel to toe which feels really natural when walking in a boot like this, and also gives a good ground feel.
Weighing in at 445g (US M 8.5) the Cloudrock Waterproof is very lightweight for a hiking boot.
On goes as far as saying that it's roughly 30% lighter than its competitors, which is impressive, to say the least.
The synthetic materials and clever design make this low weight possible. The On Cloudrock Waterproof has a neutral stability footbed and the toe box is medium width which will suit most hikers nicely.
---
On Cloudrock Waterproof Review Summary
On Cloudrock Waterproof
Pros
Very comfortable
Outsole and grip is great for hiking trails fast and aggressively
A super Lightweight Hiking Boot (445g)
Fully Waterproof
Very durable Upper
Keep your feet warm
Cons
Not very breathable upper but it will keep your feet dry and warm
Quite expensive
I hope you enjoyed reading my On Cloudrock Waterproof Review, if you have any questions please leave them in the comments down below.
---
On Cloudrock Waterproof Hiking Boots Video Review
---
Still not sure which On Running Shoes to buy?
Visit our Best On Running Shoes Guide for an ordered list of the top ON shoes for road and trail running, each with links to our On Shoe reviews. Designed to make your buying decisions clearer.