Have you ever wondered if it's possible to cook using just the power of the sun and not have to rely on gas or electricity to cook a hot meal or boil water?
ADVERTISEMENT
US company GoSun makes solar-powered cookers and ovens that do just that, with the GoSun Fusion currently being their top-of-the-line model.
This GoSun solar oven review explains how solar cookers (aka solar ovens) work, the key features of GoSun's Fusion solar oven, its pros and cons, and what it's actually like to use to cook without electricity.
If you end up looking to buy yourself a solar oven after reading this review, make sure you visit their website where at certain times of the year you can get a discount of 10% (or more) off your order, either during a sale or by signing up to the newsletter.
What is a solar cooker and how do solar ovens work?
As you may be new to the concept of solar ovens and cookers before we get into my full review of the GoSun Fusion, here are a few key facts about solar ovens and how they work.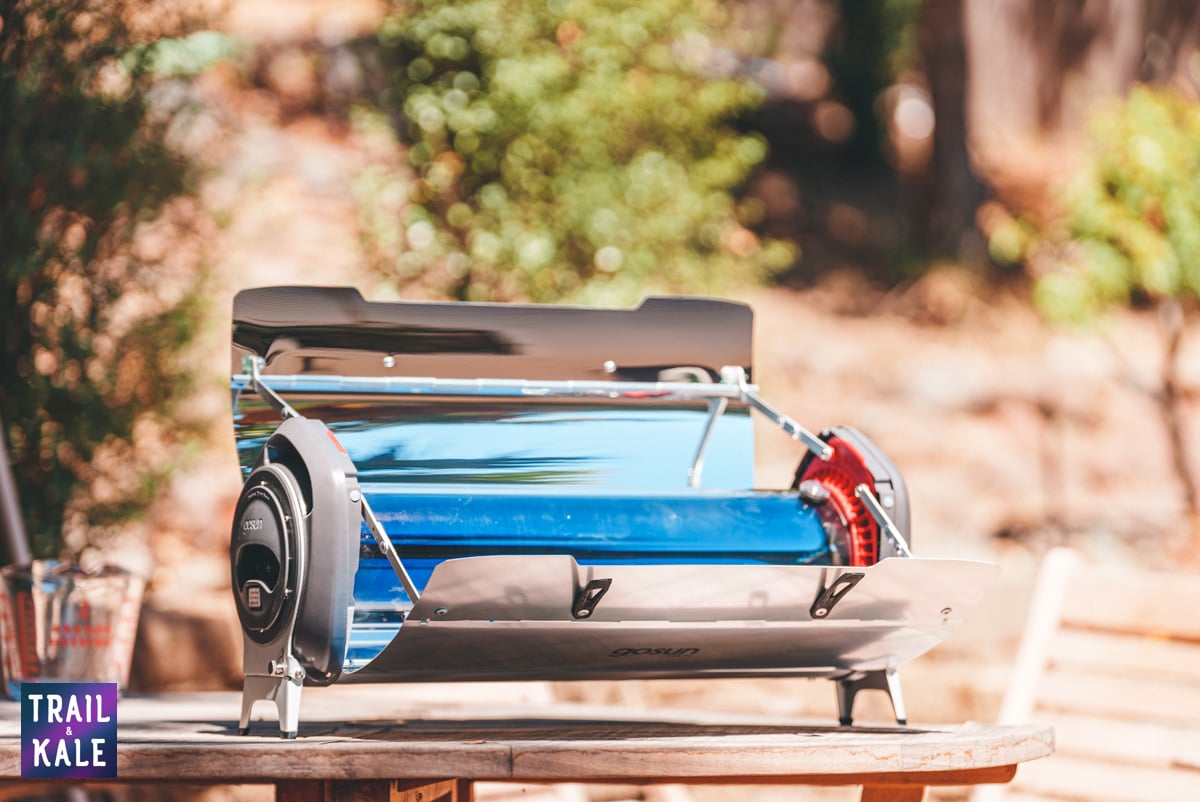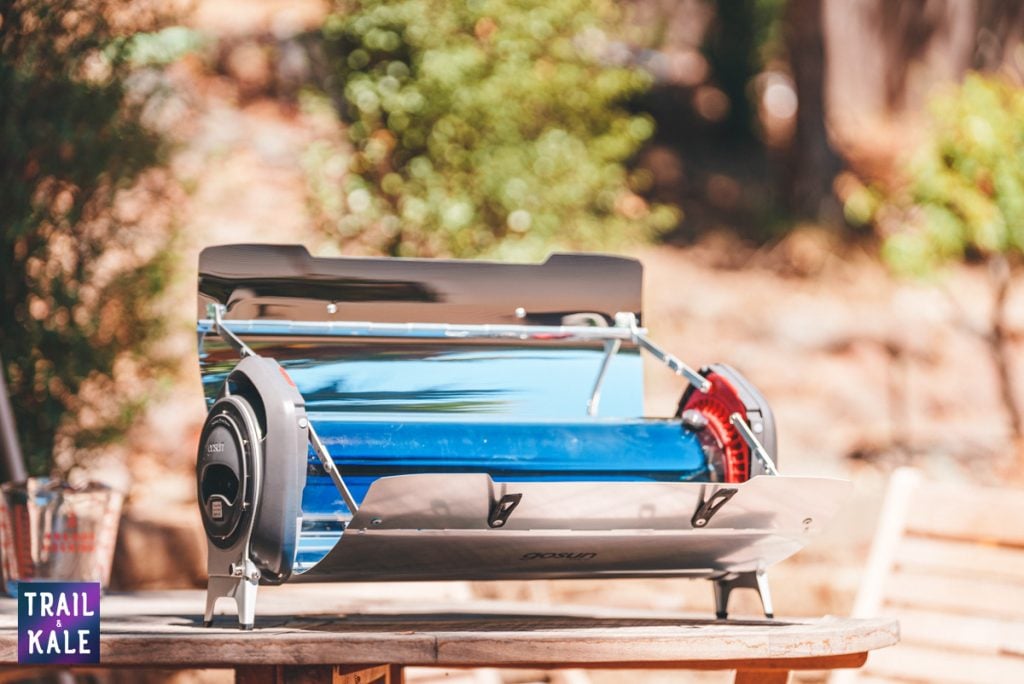 Unlike regular stoves and ovens, solar cookers use the sun, instead of gas or electricity to heat and cook your meal.
It's not the heat from the sun that powers these ovens, though – It's solar radiation!
Solar ovens like the GoSun Fusion (which has patented solar cooking technology) use a solar vacuum tube with a set of parabolic reflectors to use the sun's radiation to create heat within the oven.
I'm not a scientist so I'll let you visit this helpful article on the University of Central Florida's website if you'd like to read more about the background on how solar cookers work.
It doesn't need to be a bright, warm, sunny day for you to be able to use the solar cooker – although food will cook more quickly on those brighter days.
Even when it's overcast, there's often some radiation getting through the clouds.
A good way to know if there's enough sun to cook with your oven is to see if there's enough sun for a shadow.
If there is enough sun for casting shadows, you can use your solar oven – even if there's also rain, cloud cover, or snow!
For more about how the technology works, this page of GoSun's website has a more detailed explanation.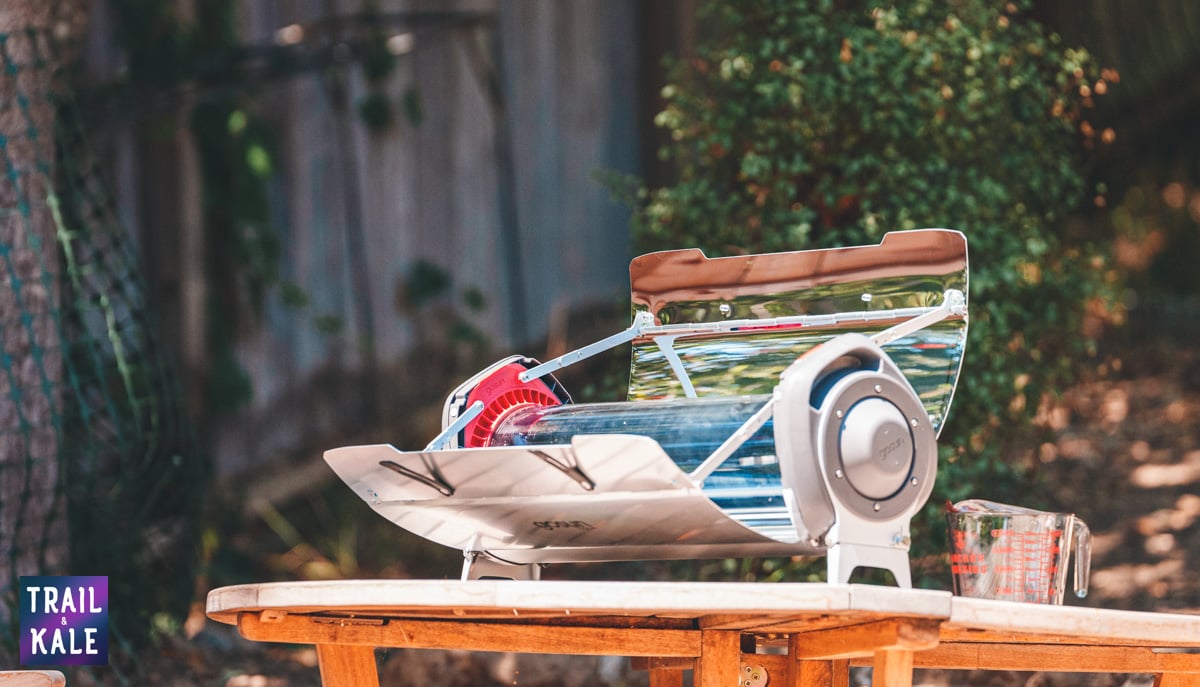 Ok, but what if there's no sunlight or you need to cook at night?
What makes the GoSun Fusion cooker different from other solar ovens is that it's the world's first solar cooker that also gives you the option of plugging it in and powering it using 12v electricity from your car, RV, boat, or portable power station.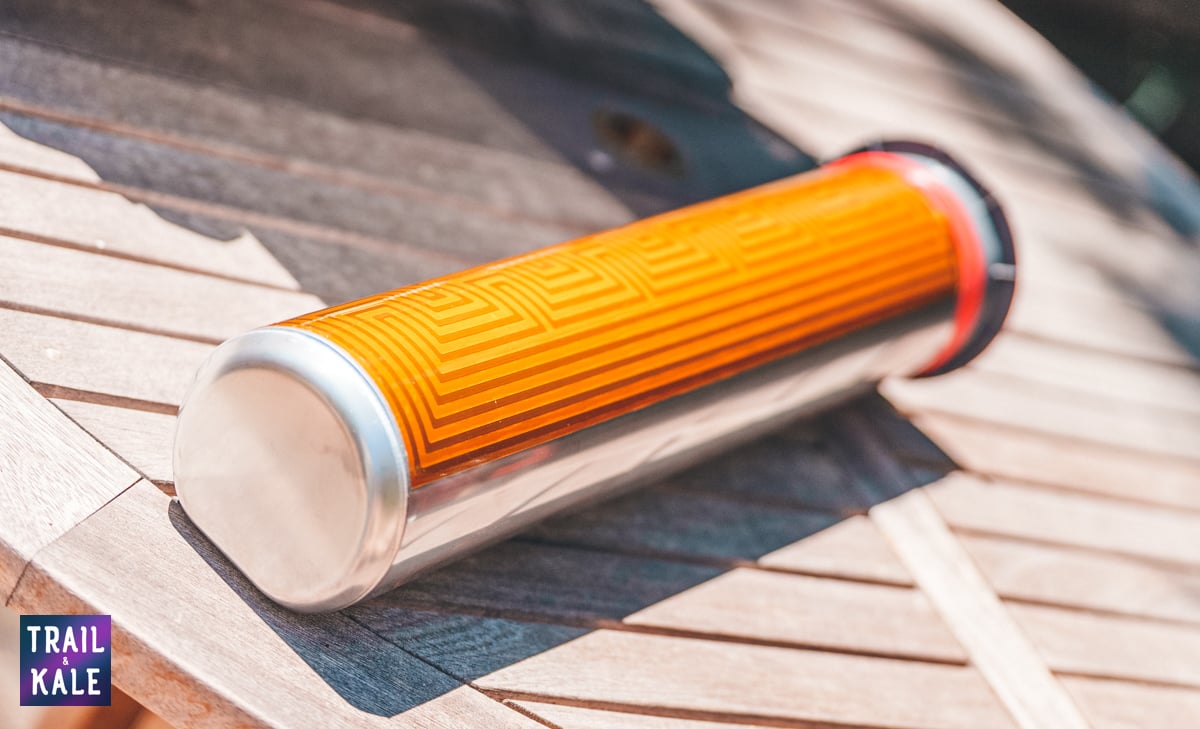 This means you can use the GoSun in the dark, indoors, or on very dull days where there is not enough sun to cast a shadow.
Key features of the GoSun Fusion
This GoSun oven weighs 14lb, which makes it easy enough to carry from your car, home, or RV outdoors to your cooking location.
It's pleasingly shaped, in a long cylinder that is portable, and easy to carry under one arm. It also has handles at either end.
The dimensions are 24 x 8 x 8.5 inches.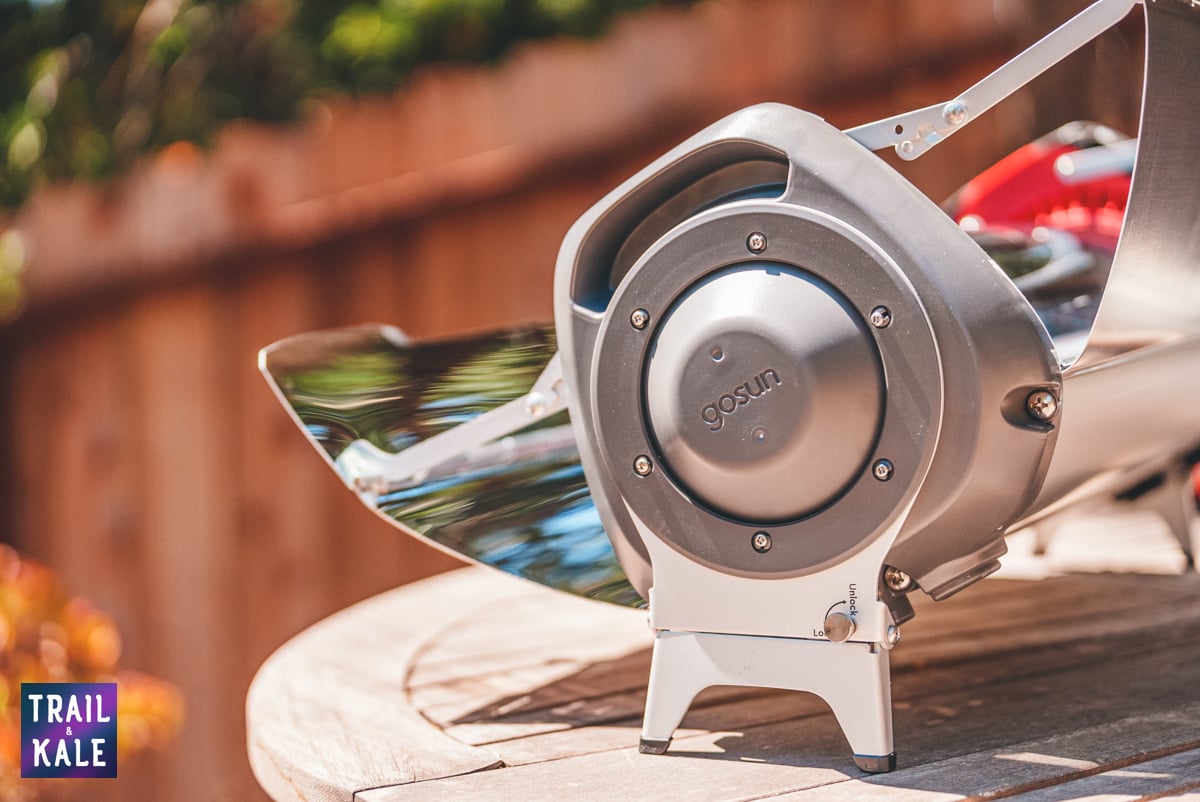 The Fusion is simple to set up. Just set it up on a stable surface somewhere outdoors where you can make the best use of the sun and open the panels to face the sun.
It helps to ensure you have it somewhere which will continue to have good sun over the next couple of hours as it may take that long for you to finish up using it.
Remember that the sun moves across the sky so think about whether there are trees or buildings that may block the sun over the next 1-2 hours while you're cooking, and try to avoid them.
Once it's opened up and ready to cook with, it resembles a little satellite!
The Fusion solar oven can make between 4 and 6 meals in one go, depending on what you're cooking, and your portion sizes.
Surprisingly, the Go Sun oven remains cool to the touch on the outside.
This is because all the heat is generated inside the tube, and it's separated from the outside of the oven by the vacuum layer, which the heat doesn't transfer through.
Using the GoSun oven for sun-powered cooking
How to set up the GoSun Fusion
The GoSun Fusion is easy to set up, with reference to the instruction manual it comes with.
However, before you do anything, make sure you remove all the plastic wrap from the outside and inside of the panels.
I managed to get most of it off, but as the film apparently went on before the bolts and screws, there were small amounts left where the screws had gone through the cling film.
Then, fold out the feet and lock them into place, and locate the oven where you want it to stay while you cook.
The solar oven works most effectively if it's angled at 90 degrees to the sun.
You can get it to this point by rotating it using the handles until the solar dial on the center has its red dot aligned with the glare of the sun, which shows as a bright dot on the dial.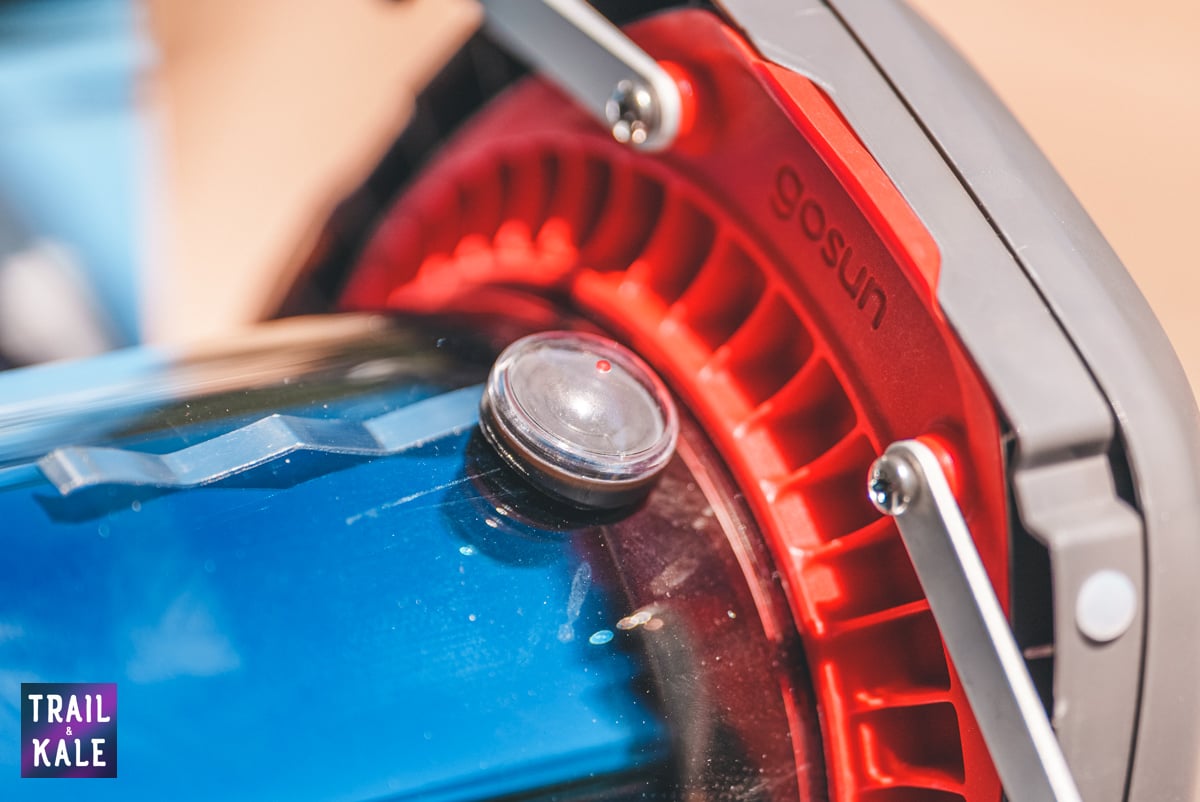 As the sun moves across the sky throughout the day, you should adjust the angle every hour or so – and remember to rotate the cooking tray so your food doesn't tip out!
Loading the cylindrical tray with food
The key thing to remember when filling up the Fusion's cooking tray is that many foods expand when cooked. So don't over-fill it or put it at risk of getting too full or overflowing!
Because the tray is long and narrow, food that fits (or can be cut down to fit) in this shape is the most suitable.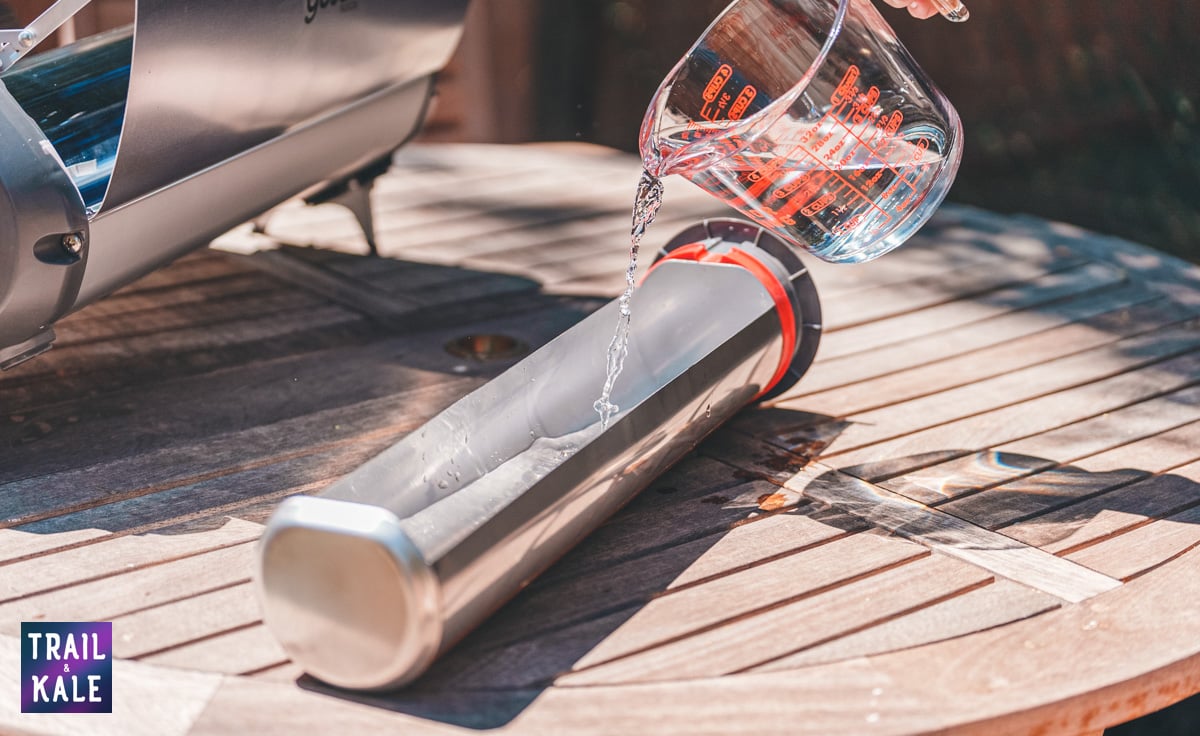 It's best to load your ingredients by the cooker, rather than doing it elsewhere (such as in your kitchen) and then needing to carry the tray outside, as its contents can slosh around and spill as you walk.
Cooking with the sun's power
Cooking time varies depending on the intensity of the solar radiation and what you're cooking. Full sun days will have quicker cooking times than overcast days.
For testing purposes, I first used this solar cooker simply to boil water.
I poured around 1 liter / 4 cups of water into the tray, and it was around 1/3rd full.
At 3 pm on a blue sky, Californian summer day, I'd say for my water boiling test I had pretty optimal solar cooking conditions.
I set it up in the full sun, although the sun did start to be obscured in part by a palm tree after around 45 minutes of cooking time, so I moved it to the patio.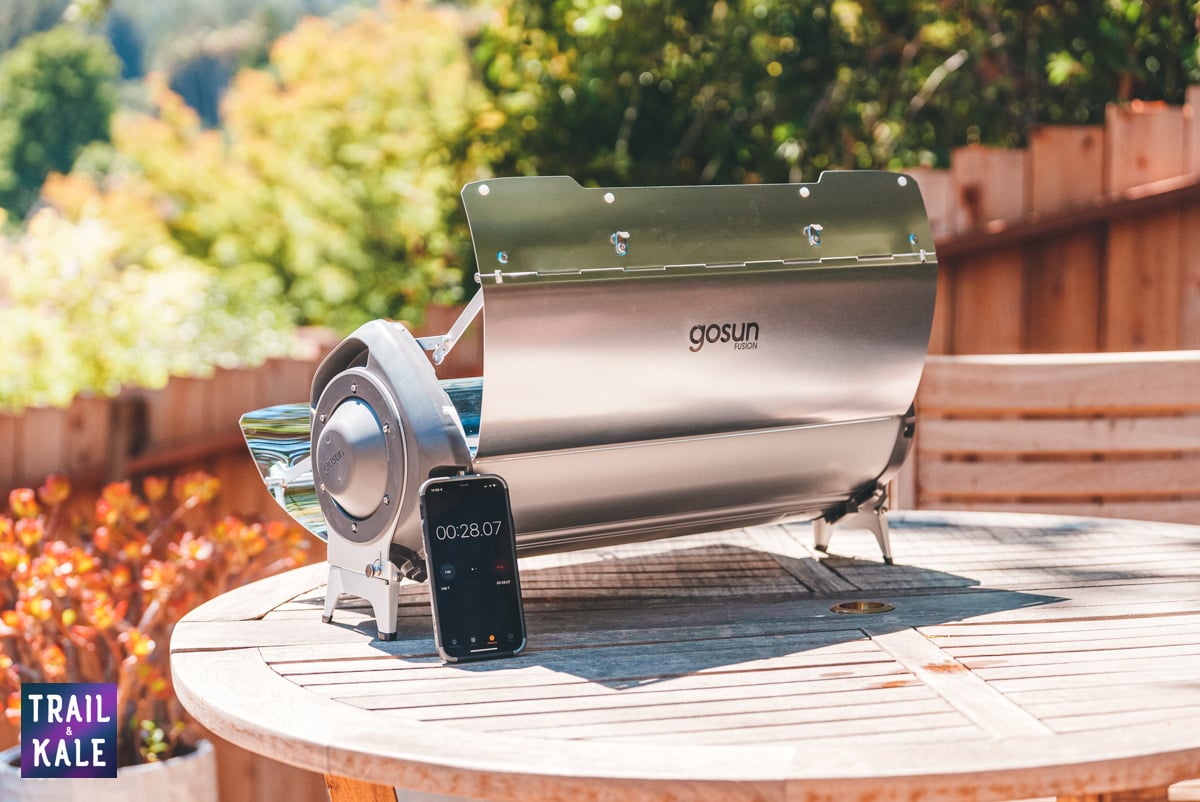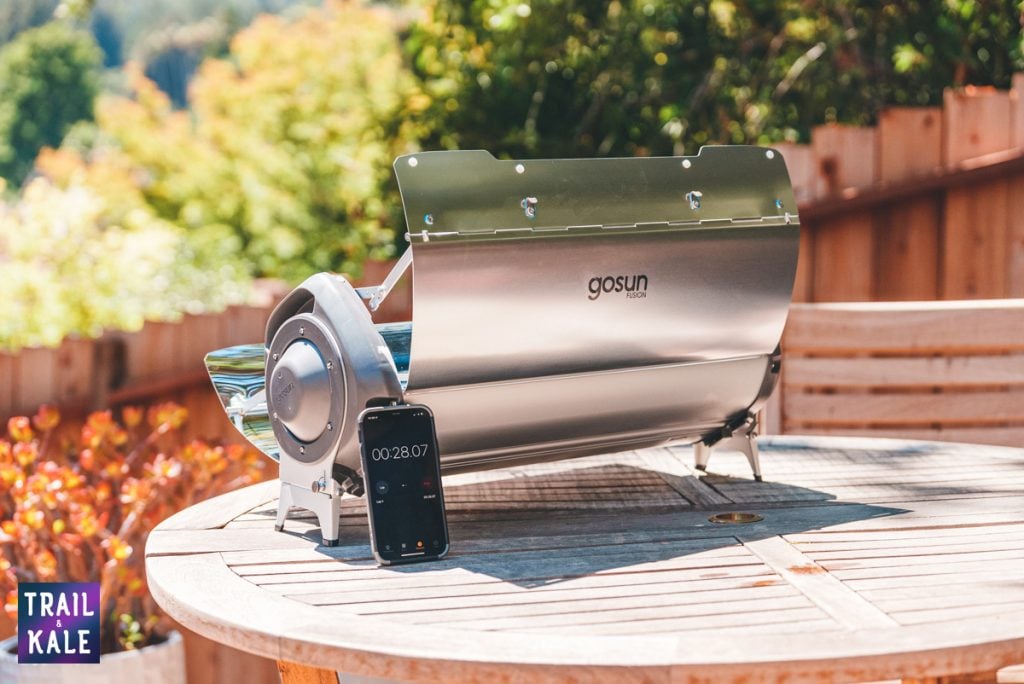 According to GoSun's cooking times guide, which is in the instructions booklet, water should take 1 hour to boil. This is longer than most foods, by the way.
I was reluctant to open it too much during that time as doing so lets the heat out and delays overall cooking time, but I did check on it a couple of times at 30 minutes, 1 hour and 1hr20.
The water was pretty hot at 1hr and 1hr20 but not boiling the way you may expect when heating water with a stove.
I went out for a run and returned 40 minutes later to see if I had boiling water then…
After nearly 2 hours it was very hot and steaming – this marked the end of my test.
Unlike a stove, you don't run the risk of water boiling over or drying up, as it's contained in the steamy cooking environment of the solar oven
This means you can pretty much set it and forget it, which is nice if you're not in a rush for your food or water.
That being said, for boiling water, you're probably better off using a camp stove so you can be more confident that it is hot enough when you need it.
A thermometer would also help. But then again, boiling water is not what the GoSun Fusion is best at.
For my next test, I cooked broccoli.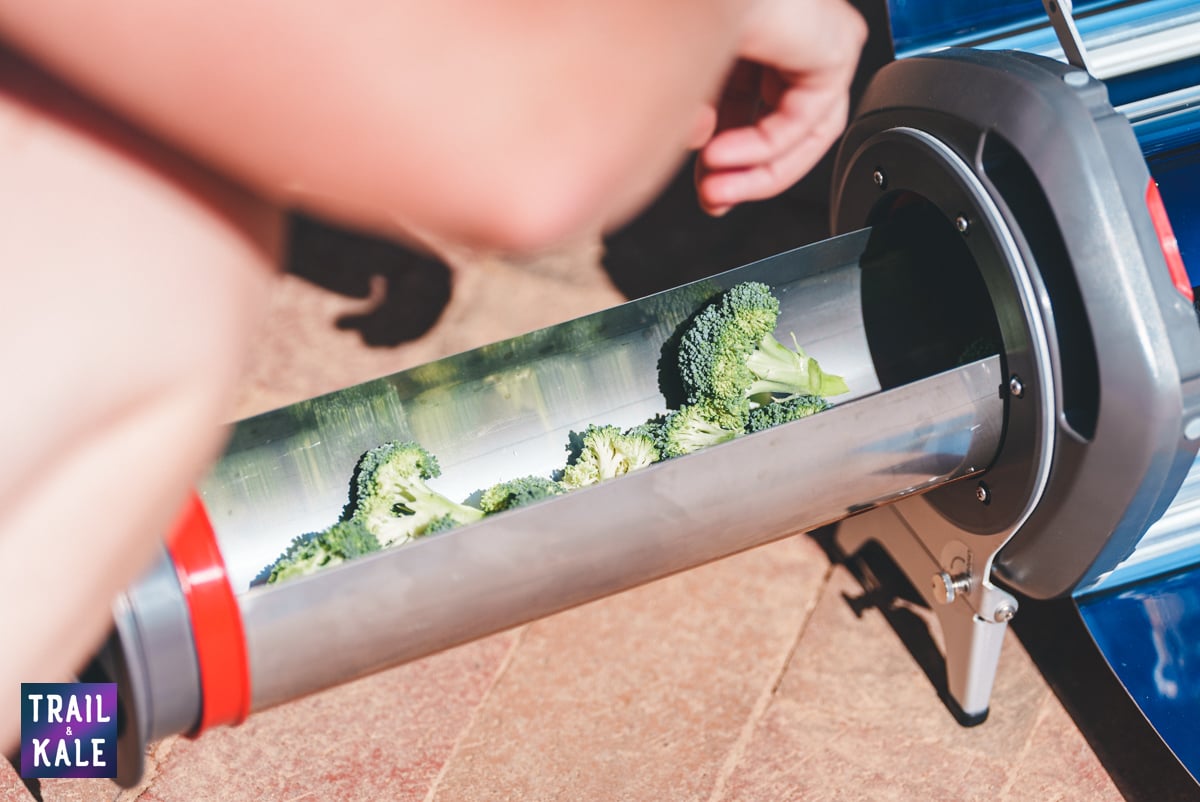 This was a pleasing experience – just chopped up broccoli, a cup of water, and the GoSun oven.
The Fusion's solar cooking tray is deceivingly large in terms of its food capacity.
To give you an idea of how much broccoli fitted easily in the tube (with plenty of room for more), this is how it looked on the chopping board: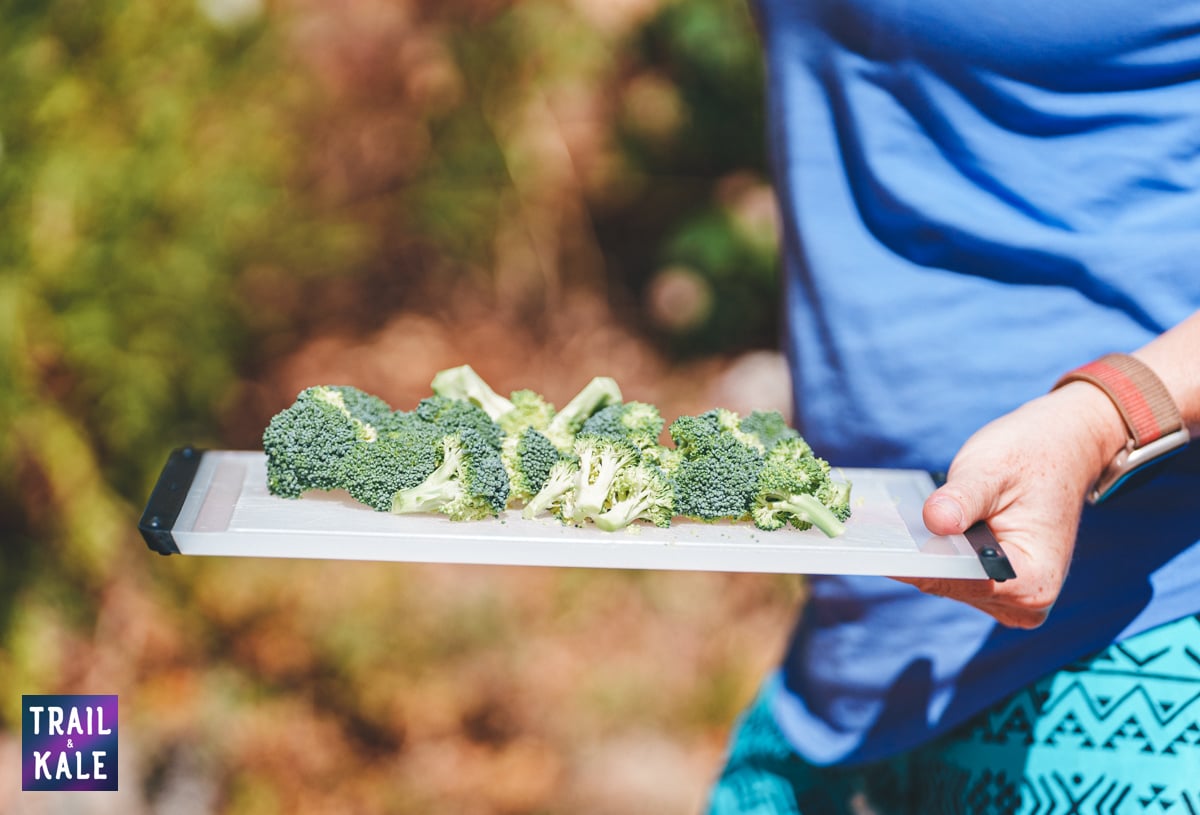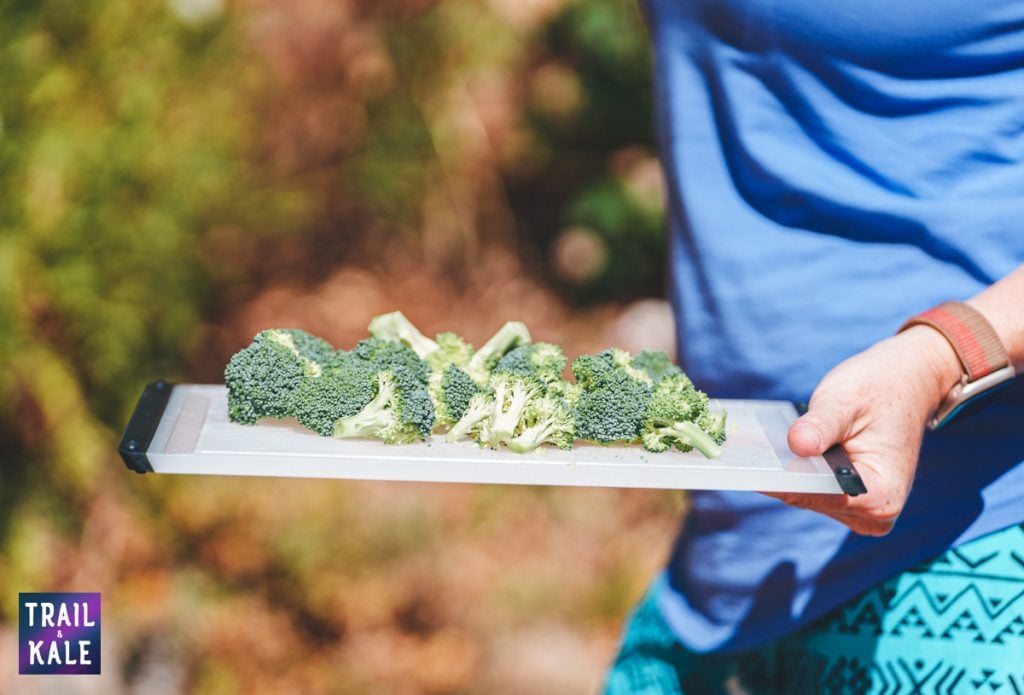 After 20 minutes, it was more than cooked. The cooking method is similar to a slow cooker – a mixture of steaming and heating in water.
The broccoli experiment has given me confidence that I could easily cook vegetables and plant-based meals in the Fusion solar oven.
It has plenty of potential for experimentation with more adventurous options, especially if you're into cooking and curious about what meals you can make using just the sun to cook them!
How do you know when your food is cooked?
Instead of opening the cooker and looking inside (which lets the heat out of the vacuum) to assess the appearance, smell, and level of steam wafting out of your sun oven, it is worth considering getting this thermometer, which is sold on their website.
Having the thermometer means you can monitor the temperature inside the oven to help assess when your food will be cooked through, without opening it or guessing from looking at the food if you do.
For checking on all foods, but especially if you use the solar oven to cook meat, you can place the special thermometer in the cooking tube and can monitor using an app, which notifies you when your food has reached a certain temperature.
Using the GoSun Fusion with 12v electricity
As mentioned above, the GoSun Fusion is a particularly unique solar oven, because it can also be used with electricity.
Electricity takes longer to cook most foods, compared to full solar, but it's more consistent and you don't need to worry about shade or darkness delaying your cooking process.
The 12v adaptor it comes with will plug into any cigarette lighter style outlet in your car, RV (or campervan), boat, or portable power station such as the Ecoflow River.
Types of food you can cook in a solar oven
The key to getting good use and value out of this solar cooker is coming up with a set of meals or dishes you can easily make in the tubular cooking tray.
Because of the shape, it lends itself well to long foods like baguettes and hot dogs! But you can get really creative and cook a huge variety of meals in this solar oven.
Given the cooking method, this solar oven is best for cooking dishes that may have otherwise been cooked in a pot over a stove or slow cooker, with water or sauces.
So things like curries, rice dishes, pasta, quinoa, and noodles, with various combinations of vegetables and other protein sources, are well suited to solar-powered cooking.
If these are the types of meals you enjoy then you may just find a great deal of pleasure in adding one of these solar ovens to your backyard or camp kitchen setup.
For more inspiration from people who have a lot of experience with the Go Sun Fusion, visit the GoSun recipe blog.
Other GoSun cookers
The smaller GoSun Go is also worth considering if weight and size are a concern but you love the idea of solar cooking.
The GoSun Go is potentially something you could take backpacking.
It weighs 2lb, and is designed for portability. It's also described as being good for boiling water and can cook meals in as little as 20 minutes (although we haven't yet obtained one for review and testing ourselves).
I'm not sure it could replace a backpacking stove, though, unless you were very confident you could use it to boil water and would have enough solar power available to make your morning coffee and evening meal before sunset.
Cost and where to buy GoSun Fusion
The GoSun Fusion costs $499 and is available to buy directly from the company on their website, where you can also find the accessories including the thermometer and carrying case.
If the GoSun Go (cost $129) is also something you're interested in exploring, the product page includes more specs and details.
Also, as mentioned at the start of this GoSun solar oven review, it's definitely worth checking on the GoSun website to see if you may be able to take advantage of any seasonal discounts or sales they may have going on!
The GoSun Fusion solar oven is also available at the merchants below.
Last Amazon price update was: 22nd March 2023 1:01 pm
GoSun Solar Oven review summary
Go Sun Fusion Review
PROS
Simple to set up and use
100% clean and renewable method of cooking
Great for stewing, steaming and poaching
CONS
Requires patience (and takes longer than a stove to boil water)
You need to buy the thermometer to more efficiently monitor cooking progress
GoSun Fusion review image gallery