Hot summer days can really constrain your dog when it comes to how long and active they can be outdoors. This can be an issue because as outdoor-loving adventurous people, you probably want your dog to be able to come with you on more outdoor fun trips, such as a good hike, trail run or mountain bike ride, but are concerned that they may be at too much risk of overheating, especially when the sun is intense.
In fact, even when you're not going on an adventure, and just spending time outside at home, based on my experience, it can simply be just too hot for me (Kepler the Border Collie) to spend much time out there without overheating and needing to rest.
There are ways you can help your dog handle the heat better, and one of them is to have them wear a cooling vest. A while back I reviewed Ruffwear's dog cooling vest, and lately I've also been wearing Kurgo's cooling vest, which is covered in this Kurgo Cooling Vest review.
I've included plenty of photos of the vest itself, as well as my thoughts on how well it works, how comfortable it is, what the fit is like and whether I'd recommend it.
---
Kurgo Cooling Vest Review: Table of Contents
---
How to keep your dog cool on summer hikes and trail runs
If you're reading this post and other content on our website then the chances are that you are also a lover of hiking and running on trails and in wild places. The key ways that my parents ensure I am staying comfortable and relatively cool during trail runs and hikes in summer are:
Visiting trails during the mornings or late afternoons when the sun is less intense – although mornings are preferable as the ground hasn't become too hot yet
Taking me running on trails with good amounts of shade and water sources – this helps with my heat regulation as well as reducing the chance of the ground being too hot and burning my paws (ouch)
Bringing plenty of water and having lots of shady drinking breaks for me
Using water, if plentiful, to soak me in to help keep me cool – they try to take me on trails with water-sources and – ideally – cool streams or rivers for me to splash around in during our run
Doing whatever they can to keep my thick, black fur from soaking in too much heat – hence the need for a cooling vest.
It's important to note that having a cooling vest is not a single solution to a hot dog in summer, but it can be a great help, if used appropriately and in conjunction with other precautions to ensure that your dog isn't at risk of overheating.
While having an undercoat means I am well-insulated from cold, and in theory from heat, too, it means that once I start to warm up above a comfortable temperature, it can take a while to cool down without help, especially if I continue to stay in the sun and move around.
Therefore it's super-important to ensure I don't get too hot in the first place – hence the Kurgo cooling vest, which is designed just for dogs like me.
---
How dog cooling vests works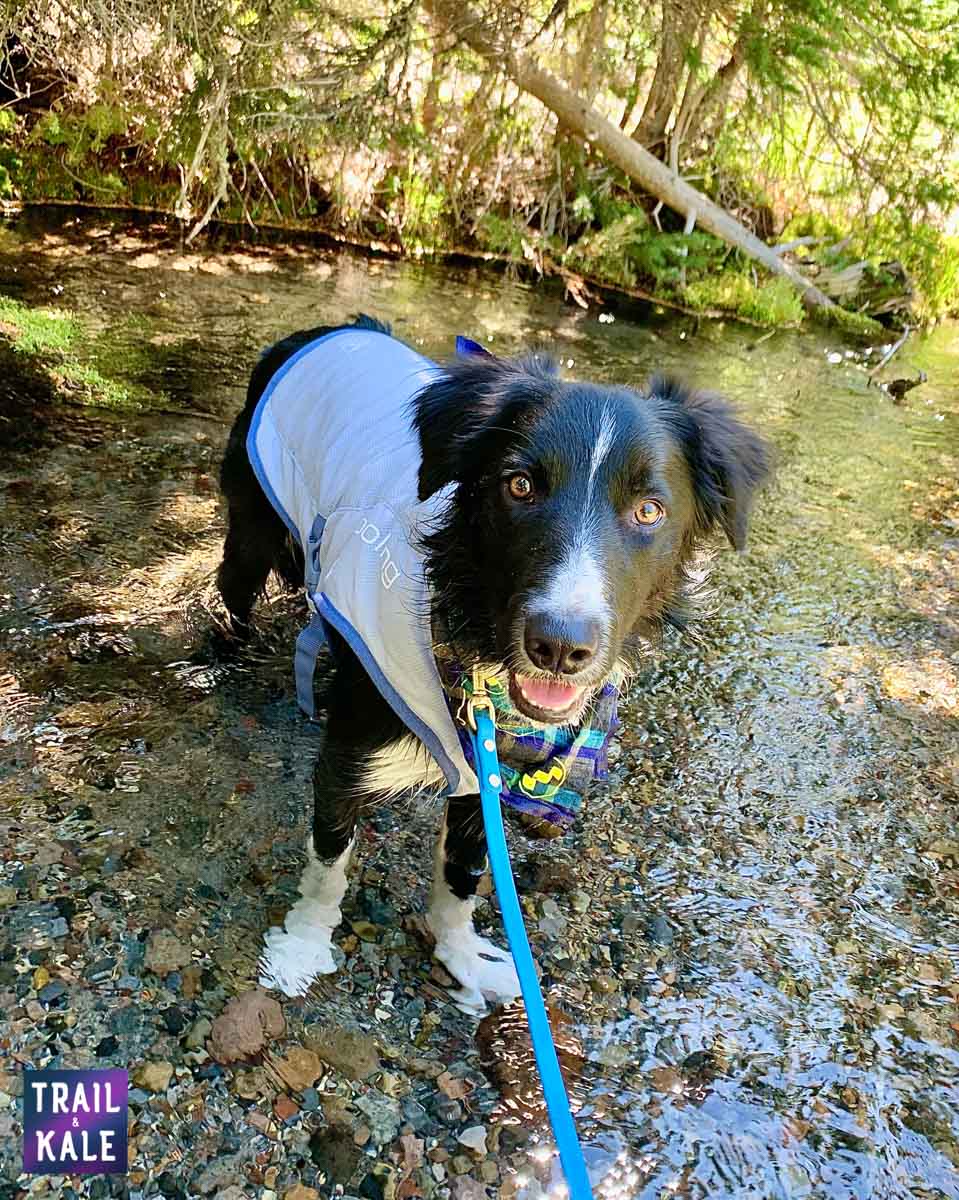 The Kurgo cooling vest and other similar dog cooling vests work through evaporative cooling.
That is, you soak it in water, then put on the dog. Evaporative cooling works by using the water to pull heat away from their body as it evaporates.
The official name of Kurgo's cooling vest is the dog core cooling vest because it is focused on keeping the core of the dog cool – and it has fabric that covers much of your belly, not just your back.
Because of my thick coat, I find that this cooling vest is more effective if it's already on me before I get hot.
If I am already hot then my fur is so thick that I need to be soaked or have plenty of time to naturally cool down – the jacket is only going to keep me so cool.
To use the cooling vest, my parents soak it thoroughly in water. It can soak up quite a lot of water until it starts dripping, so it's best to soak it somewhere you have plenty of water, such as in a bucket or sink at home, or a river or clean lake if you're out on the trails.
They don't really wring it out at all, although officially you're supposed to do so – I like being cool and wet so we ignored that guidance 🙂 Then it goes straight on me and gets to work.
Similar to the Ruffwear 'Swamp Cooler' cooling vest, we've generally found that it stays wet and has a good cooling effect for up to an hour, but that really depends how hot and dry it is out there – on a really hot day I would say it was great for about 45 minutes and then not that cool after that.
It will still be wet after an hour, but not particularly cool or wet enough to have too much of an effect after that time.
If I was to compare the two, I would say that the Kurgo vest may stay cooler and wetter for a little longer – but it is difficult to make a true comparison as every day is different in terms of weather and how hot I get.
If I'm out on trails and the vest starts to dry out, then my parents either re-soak it, or find somewhere wet like a river for me to jump into.
Ahhh, the bliss of putting your hot body into a cold mountain stream on a hot day!!
---
Other specific features of the Kurgo cooling vest
Appearance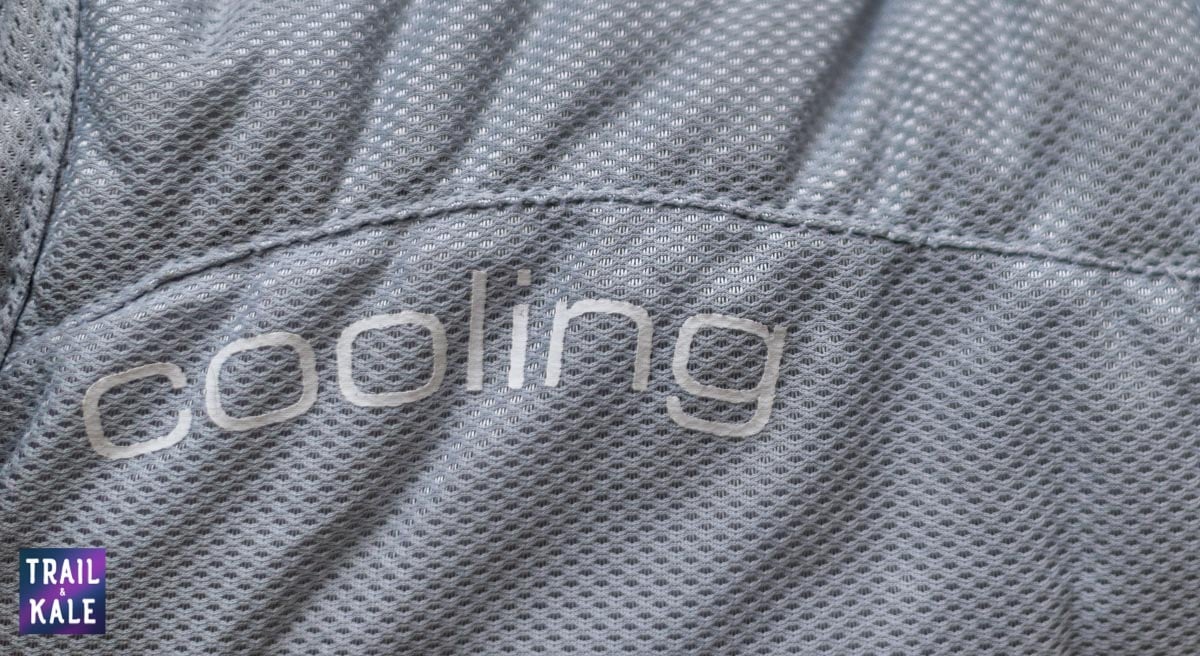 The vest is made from a lightweight mesh-like fabric. It is designed this way so it is able to retain water for as long as possible to serve its function.
The color is a light blue-gray, and being a light color helps the vest deflect rather than absorb heat like darker colors do.
Harness compatibility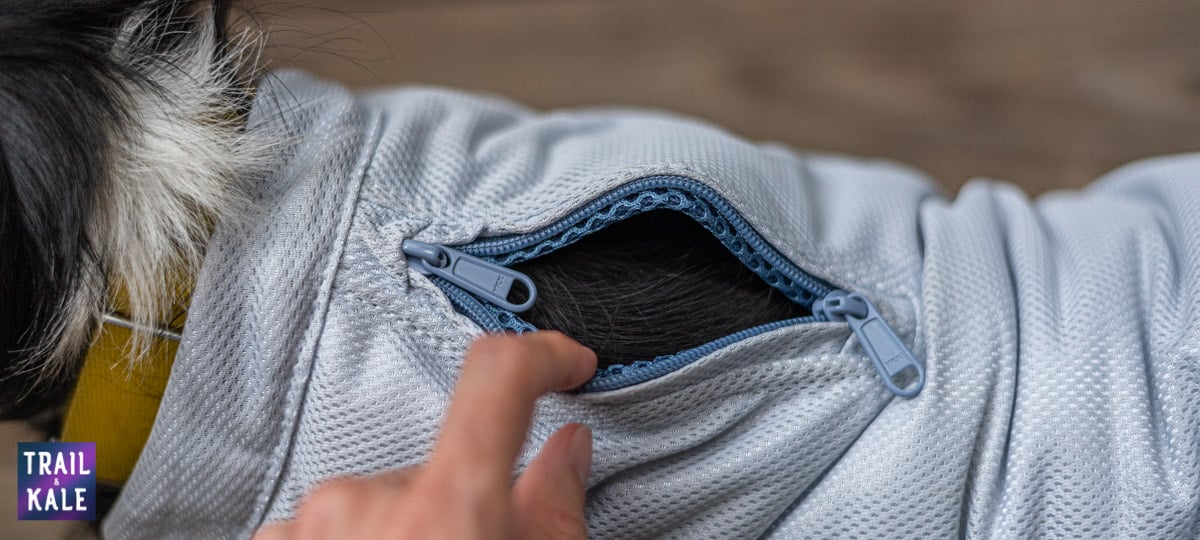 The cooling vest has a zip-up leash portal so you can wear it over a harness and attach your leash through the hole.
Putting the Kurgo cooling vest on
The Kurgo cooling vest is easy to put on, just unclip the two plastic pinch-clips that attach behind either elbow, slip it on over my head, and clip them back up. The straps can be loosened or tightened to get the best fit.
Once on, the cooling vest covers my back and chest, therefore offering cooling potential all around my core.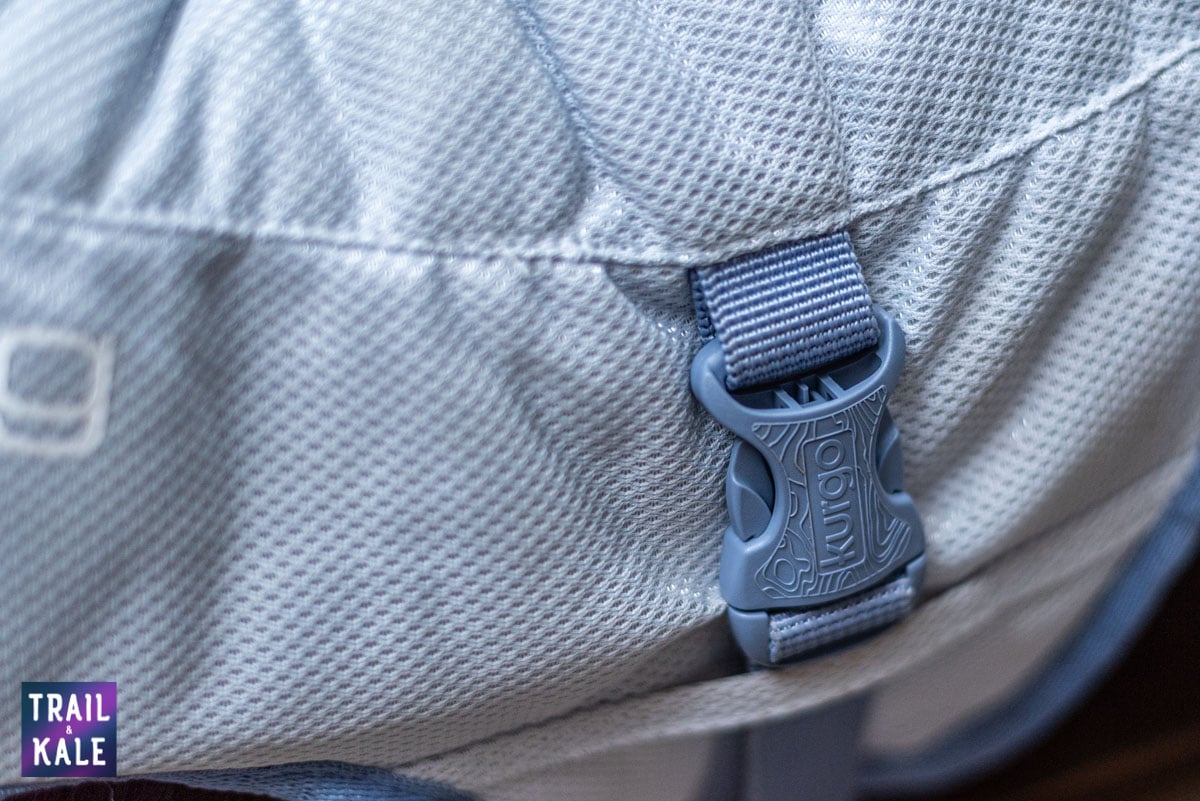 I like that it has two simple clips – the fact that they are plastic means the vest's weight is kept as light as possible, and I appreciate the absence of velcro, because I don't like the noise of it being ripped apart.
---
Kurgo cooling vest sizing and fit
I am wearing the Medium size Kurgo cooling vest. The best way to get the right size for you is to ensure your parents measure you and compare the dimensions against Kurgo's size chart.
The three dimensions to measure are around your neck, around your chest (girth) and the length of your back.
A word of warning, though – the chart is really just a guide! my neck is around 15-16 inches so that would put me in the Small size category.
However, when I tried the Small on, it was like a crop-top on me and didn't cover enough of my back! The Medium is a much better fit.
Depending on your body shape, and especially how long your back is, in proportion to the rest of you, the core cooler may cover most of your back, or half of your back (see image above).
Another reason the Medium is better for me is that I have a fairly long back and it comes to about 3/4 of the length of my back.
This is a pretty good fit as it provides enough coverage to cool most of my core down, without getting in the way of my back legs, especially if I'm running on trails and jumping over stuff.
Running in the Kurgo cooling vest
My parents carry a cooling vest for me on all of our trail runs unless it's cold out there. Even on a mild day, I can get hot when running because of the intensity of the exercise, and the added help to stay cool helps me maintain a healthy body temperature.
It's easy for them to put it in one of their running hydration vests because it's soft and pretty light, so they don't notice that they're carrying extra weight or bulk.
On a hot run I may start out wearing the vest and that means they don't have to carry it at all!
There is no restriction of movement when I have the Kurgo cooling vest on. I'm able to do all my usual trail-dog stuff like jumping over downed trees and up and down obstacles.
The only time I may get snagged is if I am running somewhere that has close brush or brambles on or next to the trail – these could get caught on the mesh fabric.
But, we try to avoid those types of trails because other nasties like ticks or snakes could be hanging around in them, so its not really an issue for us.
---
What are the differences between the Kurgo cooling vest and Ruffwear cooling vest?
The Kurgo and Ruffwear cooling vests are pretty similar but there are a few ways they differ. Here's my Ruffwear Cooling vest review, if you'd like to read that next.
Below are the similarities and differences I noticed from wearing them.
Similar cooling duration – Kurgo's website says up to around 30 minutes but I've found it helpful for up to around 45 minutes – and the same for the Ruffwear cooling vest. It depends where you are, the climate and how hot you are.
The Kurgo cooling vest material is a bit softer/more flexible.
The Ruffwear cooling vest has snazzy go-faster blue and yellow stripes whereas the Kurgo vest is one color.
Both attach using two plastic pinch-clips behind the elbows, and neither have adjustable neck-holes.
Both have a leash portal (that is, a hole between the shoulders) for attaching a leash to a harness if worn underneath the cooling vest.
Both cooling vests are a very similar price.
---
Where to buy the Kurgo Cooling Vest
I've seen the cooling vest on sale in our local pet shop, and you can also buy them on Amazon below:
Last Amazon price update was: 3rd December 2023 7:31 pm
---
Kurgo Cooling Vest Review Summary
Kurgo Cooling Vest
PROS
Comfortable even when worn for a long duration
Fits true to sizing guide and doesn't move around once on
Noticeable cooling effect and I feel more energized when it's on
Compatible with harnesses via the portal hole
Clips are lightweight and sturdy, making them easy to clip in.
CONS
Neck hole is not adjustable
Only comes in one color
---
Kurgo Cooling Vest Photo Gallery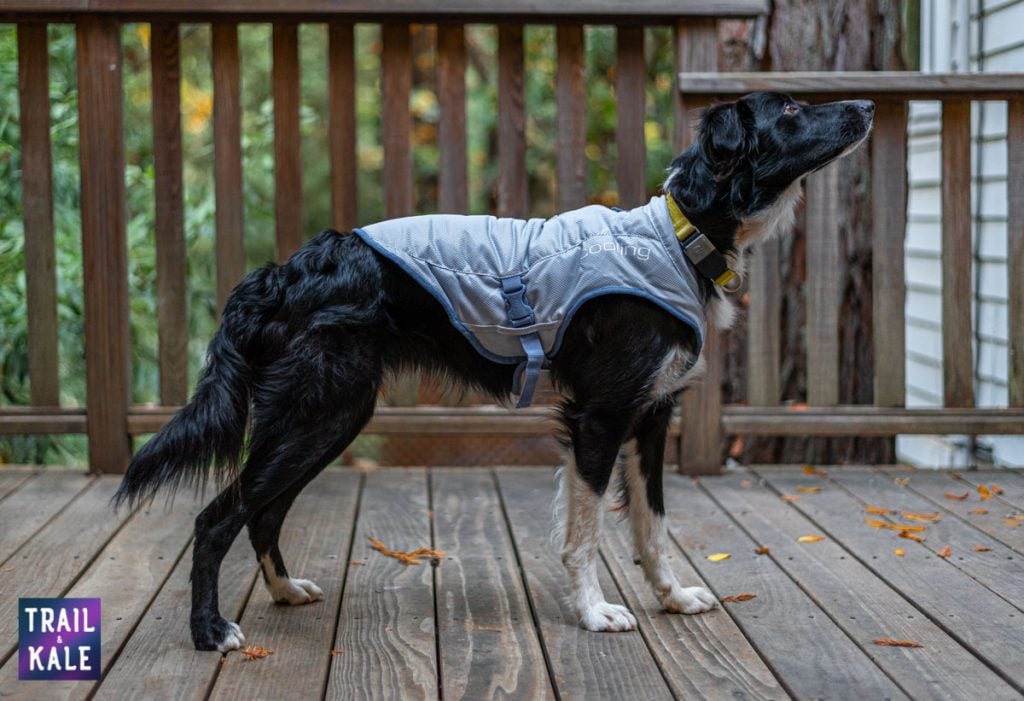 I hope you find my Kurgo cooling vest review helpful – if you still have a question for me though, please ask in the comments below.