This two week California road trip itinerary is for you if you're planning a visit to California and want to ensure you spend time experiencing the great outdoors and landscapes that the Golden State has to offer.
You can start this road trip itinerary from either San Francisco, Los Angeles or somewhere else along the way.
In this post, we highlight some popular California road trip ideas across northern and southern California and east into the mountains and desert.
Our Road trip destinations guide includes lesser-known unique, beautiful and adventurous spots to call in on as you make your way around California, from the coast to the mountains and the desert, that you won't find on your average tourist itinerary.
Read on for:
---
2 Week California Road Trip Itinerary
Here's a summary of our recommended two-week California road trip itinerary, with insider tips and ideas for where to go in California during your visit, plus a map showing you where these places are relative to each other.
We're assuming you'll start your journey in San Francisco and drive clockwise, but you can edit this road trip to start from anywhere on the loop, or do it in reverse, depending on your plans and timing preferences.
We've packed a lot into this two-week itinerary, so you may want to customize it to focus on the places that appeal the most to you, rather than rushing around, especially if you don't want too many driving days.
For example, you could focus on just driving the Pacific Coast Highway (aka Highway 1) if you want to modify this into a one-week or ten day itinerary and focus on experiencing a California coast road trip instead of visiting the desert or mountains.
Alternatively, you could make this into either a southern or northern California road trip, to cut down on driving and give yourself more time to spend on each of the destinations featured in this guide.
While most people choose to do their road trip in a car (whether that's your own car, or renting one), traveling around in a camper van is one of the best ways to see and experience what California has to offer.
To explore renting a campervan for your road trip, visit Outdoorsy or RVShare to explore their available options. Both offer unique, privately-owned campervans for rent!
Also check out our list of the best campervan rental companies to see their van rental options.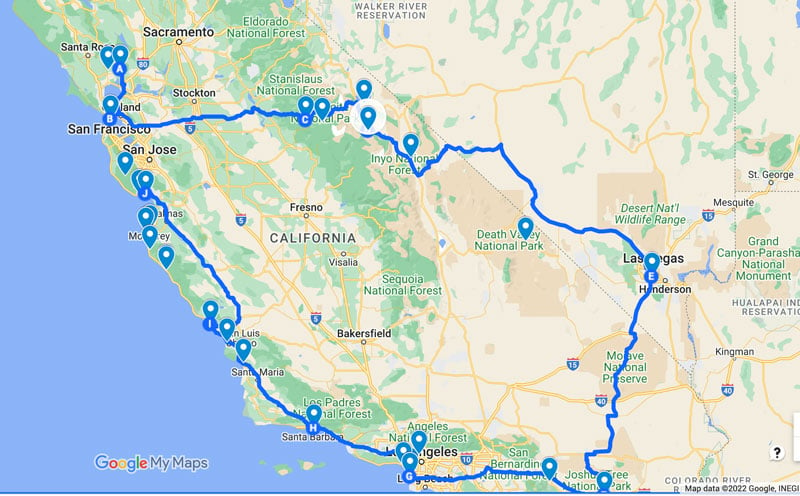 Day 1: San Francisco area
Day 2: Napa / Sonoma Wine Country
Day 3-4: Yosemite National Park
Day 5-6: Eastern Sierras and Death Valley
Day 7: Las Vegas
Day 8-9: Joshua Tree and Palm Springs
Day 10-11: Los Angeles Area
Day 12: Santa Barbara
Day 13-14: Big Sur Coast northbound to San Francisco
An easy way to customize your road trip itinerary is by using Google My Maps where you can create your own routes and points of interest.
Planning your road trip in your own custom map will also give you a better idea of the types of roads you'll be driving on, places to stop along the way, and drive time between stops.
---
California Road Trip Destination Guide
San Francisco
The largest city in Northern California, San Francisco hardly needs an introduction and is a perfect starting point for any northern California road trip.
Set in a beautiful bay leading to the Pacific Ocean, you could have an entire vacation in San Francisco itself and still get your dose of outdoor activities – there's so much to do here.
Our recommendations:
Napa and Sonoma Wine Country
Known for oaky Chardonnays, Pinots and 'Cab Sauv', of course you can have a lot of fun visiting the many wineries and tasting rooms in and around Napa and Sonoma (which are cities as well as counties).
If beer's more your thing, there's also plenty of breweries to check out in the Bay Area, including Sonoma county's Russian River Brewing Company.
Even if you're not into wine or beer, there's a great food scene in both Napa and Sonoma county, and plenty of places to park a campervan, especially if you're a Harvest Hosts member.
Yosemite National Park
If you want to truly experience California's mountains, then you need to head inland and make a bee-line for Yosemite.
Make sure you research and reserve in advance – as one of the most popular National Parks in the US to visit, you can't get into Yosemite during the peak season without reserving months in advance, but it's well worth it.
Our recommendations:
If you can, try and reserve a camping spot for a night or two right in Yosemite National Park itself.
If you don't plan to camp, seek out options near the entrance gates so you're nearby to get into the park early in the mornings.
Plan to spend at least a couple of days in the area, especially if you enjoy hiking, climbing, photography or trail running.
The Eastern Sierra Mountains and Desert
While it requires some additional effort and drive time that many don't choose to do, they're missing out!
The eastern side of California's Sierra Mountain range is an incredibly beautiful area to visit and road trip through, especially in a camper.
To get here, most people on a California road trip that have visited Yosemite will find it easiest to drive through Yosemite to emerge on the eastern side of the mountains (note that this road is closed through winter – check current conditions on the NPS website).
On this side of the Sierras, the tall mountains (including the contiguous US's highest peak, Mt Whitney) drop down into the high desert.
If you're planning to camp then you'll find plenty of campgrounds both privately-owned as well as well-maintained National Forest camping options to choose from.
Our recommendations:
Make sure you stop off and check out the unusual tufa formations at Mono Lake State Natural Reserve
Consider spending a couple of nights in the Mammoth Lakes area if you're visiting in summer and fancy some attractive alpine hikes while you're there.
Death Valley National Park
Whether you reach it from Yosemite and the Eastern Sierras, or from Los Angeles and other parts of Southern California, there's no place quite like Death Valley.
Touted as the Hottest Place On Earth, you definitely do not want to visit this place in a campervan in summer (trust us on that one), but in winter and parts of Spring and late Fall you can actually find good camping right in the National Park itself.
Las Vegas
Ok, Las Vegas is not in California – it's over the border in Nevada.
But if you haven't visited and find yourself in Death Valley or Joshua Tree National Park, then Las Vegas may be a place to head to for the unique experience it offers, or if you're flying in or out of the airport there.
Plus – many casinos offer RV and campervan drivers free spots to stay, so if you're doing a campervan road trip then you shouldn't be short of places to park up for a night or two.
Of course, if your going to road trip in a car then you'll be spoilt for choice when it comes to hotel options when you get here.
Our recommendations while you're in the area: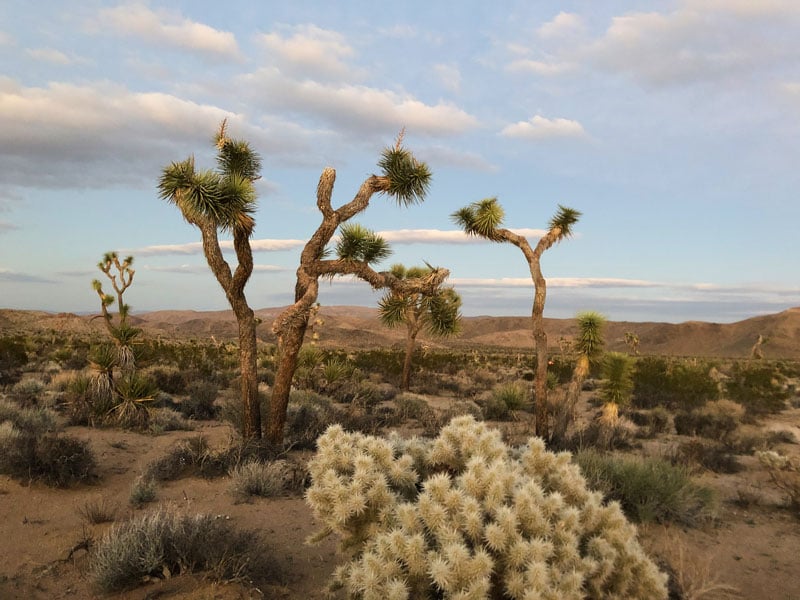 Palm Springs and Joshua Tree National Park
For that classic California desert resort vibe, get yourself over to Palm Springs. It also makes a great mid-point on the drive from Las Vegas to the coast.
While you're there, head up around 2.5 miles from the desert to 8,516ft above sea level to the mountains, in the rotating aerial gondola, the Palm Springs Aerial Tramway.
Near Palm Springs, Joshua Tree National Park is a fantastic place to visit on a campervan road trip, especially if you love vistas, hiking, rock climbing or generally being out in wide open spaces.
If you're visiting in a car, there are also plenty of places to stay in the nearby desert towns in the Coachella Valley.
Los Angeles area
It's difficult to plan a southern California Road Trip and not stop in Los Angeles, especially if you're flying in or out of the city.
You could spend a week here, if you wanted to really get into what the city has to offer (it's the US's second-largest city, after all).
If you want to spend some time in Los Angeles, our recommendations for outdoorsy activities are:
Santa Barbara
In our opinion, no California coast road trip would be complete without visiting Santa Barbara.
The heart of the California Riviera, Santa Barbara is what most people think of when they dream of California, with all the tall palm trees, long sandy beaches, great weather and plenty of great places to eat and drink.
Soft sandy beaches, backed by attractive mountains, a dreamy year-round climate that's not too hot or cold, Spanish-style architecture, and plenty of great eateries, breweries and wine tasting rooms to satisfy the fussiest of foodies.
Our recommendations:
Wine tasting in downtown Santa Barbara's Funk Zone
A coastal beach run or bike ride along the expansive soft sandy beach
A trail run in the mountains
Treat yourself to a fancy meal at one of SB's great restaurants, such as one of our favorites, Loquita.
It can be harder to find camping in Santa Barbara itself, so if you want to camp, consider staying at one of the State Park beach campgrounds that are located 10 to 20 minutes drive further north, such as Gaviota or El Capitan.
Cambria, Morro Bay and Pismo Beach
At the southern end of the Big Sur coast, you will find Cambria, Morro Bay and Pismo Beach.
For campervan camping, Morro Bay and Pismo Beach have a variety of campground options to choose from.
Highway 1 and the Big Sur coastline
Embark upon the most iconic section of California's famous Highway 1 and driving along the Big Sur coastline.
The road winds in and out along the coast, and passes many beautiful viewpoints and state parks, including one of our favorites, Julia Pfeiffer Burns State Park.
This park features a very attractive coastal waterfall (McWay Falls), so make sure you factor in enough time to take your time and enjoy short hikes and side trips along your way.
Monterey, Carmel and Pebble Beach
The scenic 17-mile drive near the coast and amongst beautiful Cypress trees is a must-do in this area, as is stopping off in Monterey to visit the aquarium or even head out for some whale-watching.
Santa Cruz and Big Basin Redwoods
Just a couple of hours south of San Francisco, head to Santa Cruz for some more laid-back surf vibes, eclectic shops and eateries.
Our recommendations:
Stop off for a visit to one of Northern California's great State Parks, Big Basin Redwoods State Park and spend the night at one of the many campgrounds in the area.
Rent a mountain bike and take it for some miles in one of the best places in the world for the sport – the Santa Cruz mountains. New to mountain biking? Read our beginner's guide to mountain biking.
Rent a board and take it for a surf, or have a surf lesson in surf city, Santa Cruz.
Visit Capitola beach and check out the brightly-colored (and very photogenic) beach-front properties
---
Tips for planning the best California road trip
California is a large state, with diverse landscapes and climates, from the coasts to the mountains, the desert to Redwood forests.
With this in mind, it makes sense to start with an idea of how much time you have to spend on your road trip, what you're most interested in seeing and/or doing while you're there, and use that to customize your own itinerary.
Our recommended California road trip itinerary assumes you have at least two weeks and you may want to modify it to suit your preference of what activities and landscapes you enjoy the most, and your tolerance for driving long distances.
If you can extend your trip, this will allow you to spend an extra day in a few of the places that appeal to you the most.
For many people this would mean an extra day or two in show-stopping places such as Yosemite National Park, especially if you love the outdoors and want to do some more climbing, hiking or trail running, for example.
Building in a couple of extra days into your vacation could also mean you get to spend an extra day in each of the big cities – Los Angeles, San Francisco or Las Vegas, or spend time mountain biking, hiking or surfing at one of the destinations featured in this road trip guide.
If you have less than two weeks, consider doing a one-way trip or sticking to either the coast or mountains, and plan to come back another time to see more of the state in future!
---
When is the best time of year to visit California?
California has – in general – a great year-round climate.
However, when you start to plan visits to the mountain and desert areas, then expect snow and closed roads in the mountains in winter (and the months on either side through to May, and in some cases, June), and scorching hot, non-camper-friendly temperatures in the deserts in summer.
For these reasons, if you're looking to visit as much of California as possible in one big road trip, then we would definitely suggest you aim for a late spring or mid-Fall visit.
If you're planning to visit mountain areas, including Yosemite, also check the local and National Parks' websites as these provide information on seasonal and other road closures which may affect your trip.
---
Tips for camping during your California road trip
If you're visiting from another country and plan to do some camping, also bear in mind that campgrounds in California – especially the most popular and those in the State and National Parks – can book up many months in advance.
This is especially true for holiday weekends, so you'll need to reserve in advance if you're planning on staying in any of these places during these peak times.
It's definitely worth the effort, though. There's nothing quite like waking up on the California coast to the sound and smell of the Pacific ocean or spending time in one of our majestic forests.
To search and reserve camping spots throughout California, including at National, State and local parks, head over to Recreation.gov, which is super user-friendly and even has photographs of individual camping spots so you can check the aspect, amenities and views as you search!