Muscle cramps during exercise are a common issue that can cause discomfort and pain, that are typically caused by dehydration, electrolyte imbalances, and overexertion during exercise.
They're common among athletes such as runners, who are prone to getting them during and after running.
Many people turn to traditional remedies, such as stretching or taking over-the-counter pain relievers, to alleviate these symptoms, however, drinking pickle juice for cramps is a less conventional remedy that has gained popularity in recent years, especially among the ultrarunning community.
In this post, I explore why drinking pickle juice for muscle cramps has become popular among runners and other athletes, and the potential benefits and risks of using pickle juice as a remedy.
What is pickle juice?
Pickle juice is the brine solution used to preserve cucumbers and other vegetables in vinegar.
It is thought to contain ingredients that can help alleviate muscle cramps, such as electrolytes and acetic acid.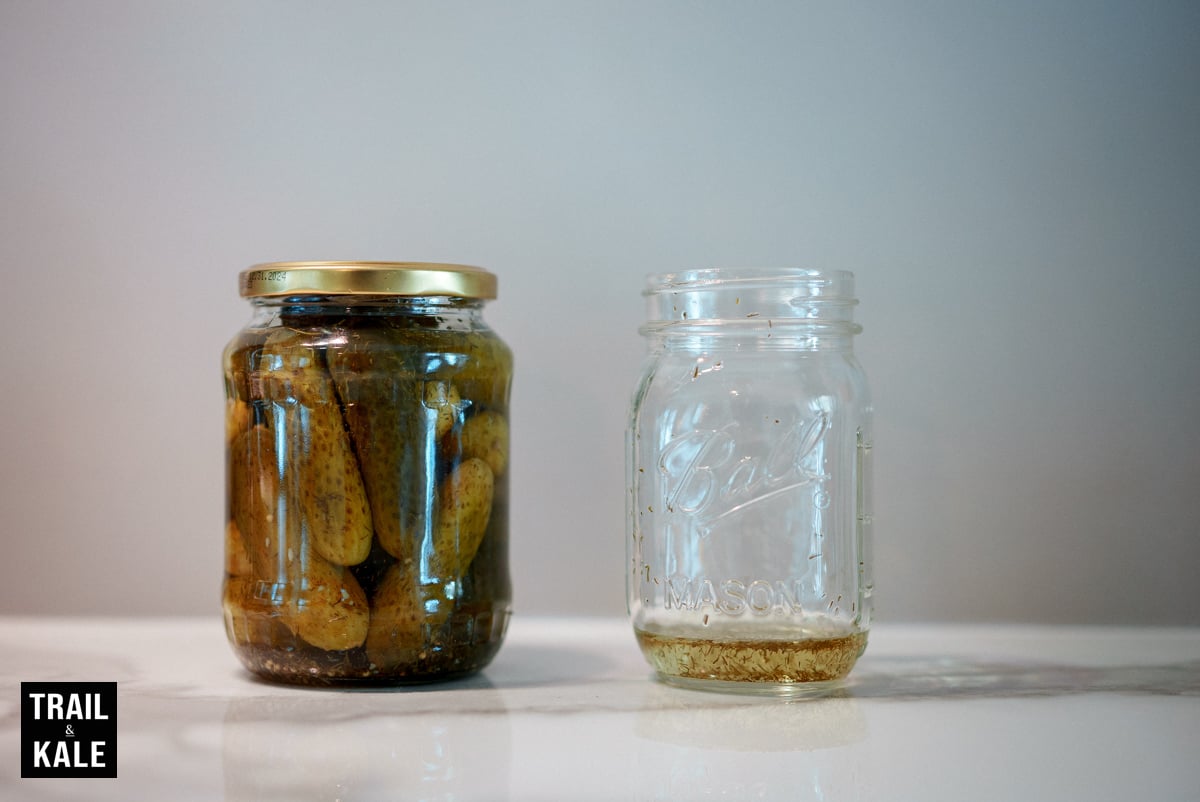 How pickle juice relieves cramps
Muscle cramps among runners and other athletes are often caused by dehydration, electrolyte imbalances, and overexertion during exercise.
They can be more prevalent among endurance runners, athletes who are very 'salty sweaters', and people that work out in particularly hot weather.
Many runners commonly experience cramps in the muscles that are working particularly hard as they run, which can include quads, hamstrings and, perhaps most frequently, calves.
To learn more about why these painful contractions occur, read our athlete's tight calves from running, which explains some other possible causes of calf tightness and soreness when you run.
The science behind pickle juice as a remedy for leg cramps
Pickle juice is believed to help relieve muscle cramps due to its high content of vinegar, salt, and other electrolytes.
It's thought that the acidity of the vinegar (acetic acid) in pickle juice triggers a reflex in the mouth and back of the throat that sends a signal to the nervous system, which then signals the muscles to stop contracting.
This is known as the "reflex inhibition of the cramp" mechanism.
Additionally, the high salt content in pickle juice may help replenish electrolyte levels and prevent dehydration, which is another factor that can contribute to cramps.
Does pickle juice really help cramps?
While research on the use and efficacy of pickle juice for cramps is still limited, some studies have shown promising results.
For example, a study published in Medicine & Sciences in Sports & Exercise found that pickle juice relieved cramp duration significantly faster than drinking water.
While more research is needed to fully understand the mechanisms behind how pickle juice works and its effectiveness for cramps, the existing evidence suggests that it may be a natural and effective remedy for this common issue.
Why pro runners and ultrarunners drink pickle juice
Quite simply, many runners sweat out a lot of salt.
So pro athletes such as runners and football players who are training and racing hard, as well as ultrarunners who run for long durations, find they need to replenish lost sodium and potassium that has left their body as a result of sweating.
By replacing the lost electrolytes, athletes can minimize their risk of exercise-associated muscle cramps.
It's worth noting that muscle cramps may also be caused by other issues such as over-training. If you're experiencing them because you recently ramped up your running mileage, for example, then it may be worth revisiting your training plan to check you're not doing too much too soon.
If you're training for a marathon or 50k race then our training plans are a great resource for guidance.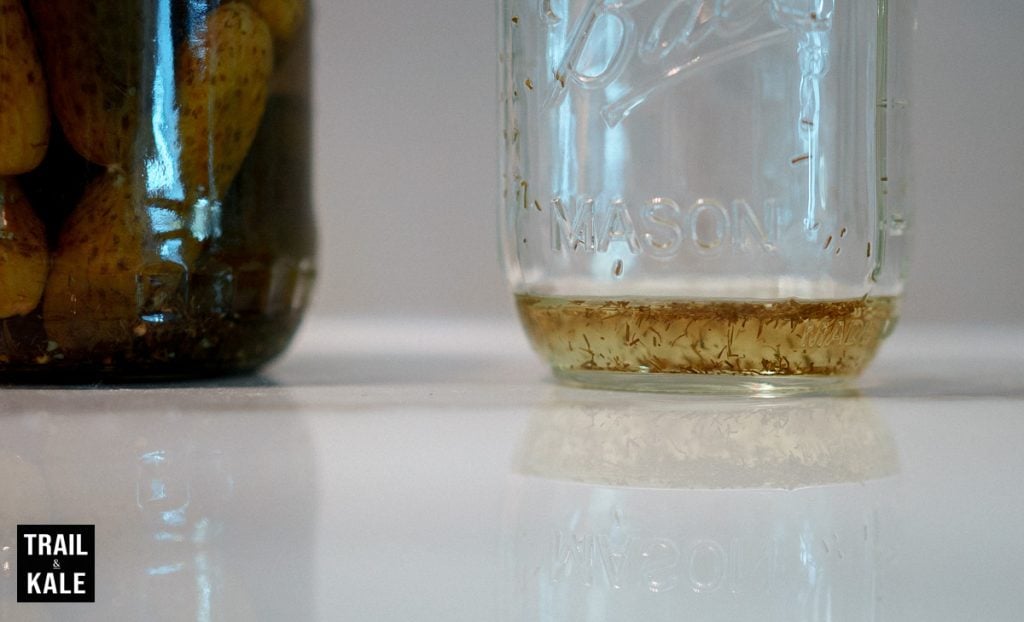 How to use pickle juice for cramps
The general recommendation is to consume about 2-3 ounces (approximately 60-90 milliliters) of pickle juice as soon as you notice cramps are coming on.
2-3oz is not a large volume, more like a 'shot' of pickle juice, which should be enough to shorten the duration and relieve the pain.
When consuming pickle juice, it is important to choose a brand that does not contain any harmful additives or preservatives, which is why we are fans of the original 'Pickle Juice' brand, which is made using organic ingredients.
I would also suggest that if you can, try to consume the pickle juice when it is cold, as it may be more palatable and refreshing. Many people prefer to drink it as quickly as possible because it's a pretty acquired taste!
If you were wondering what pickle juice tastes like, I'd describe it as a slightly sweet, very salty, vinegar-flavor. That said, the taste is not awful, and if you like salty flavors then you may actually enjoy drinking it.
Note that you should only consume pickle juice in moderation, as drinking too much can cause adverse effects such as nausea, stomach cramps, and diarrhea, which would be unpleasant, and possibly worse than those leg cramps!
Overall, pickle juice can be a safe and effective natural remedy for cramps when consumed in recommended dosages and with proper precautions.
Where to buy pickle juice
If you look for it, you can usually find pickle juice in your local supermarket.
Alternatively, you can buy these popular organic pickle juice drinks and shots online at Amazon.
Potential side effects and precautions
While pickle juice is generally considered safe, there are some potential risks associated with consuming it, particularly if it is consumed in large amounts or by individuals with certain health conditions.
Consider whether you need to speak to your healthcare provider before consuming pickle juice as a natural remedy for cramps, particularly if you have any underlying health conditions or concerns.
Alternative options for cramp relief
If you don't like the idea of ingesting a shot of pickle juice as a remedy for cramps then there are other things you can try.
One of my personal favorites is these salt tablets, followed by energy gels with added sodium, but there are a few different alternatives which I explain in more detail in my Running 101 page.