Overview
This race is billed as 'the UK's most popular ultra marathon', with c.2,500 runners and walkers registering for the 100k or 50k event, over either one day, non stop (100k or 50k) or two days with an overnight camp halfway. It appealed to me as it is run close to home, along the Ridgeway, the UK's oldest footpath, starting in Oxfordshire and travelling diagonally across the country to finish at 100k by Avebury Henge in Wiltshire, taking in some beautiful English countryside along the way.
I was signed up for the 100k, however, given a recent heel problem and having to have a day off in bed on the Thursday before the race, I was happy to turn up at the start line feeling ok… but certainly not as prepared as I would have liked! My last couple of races had been slow (Keswick 50k) or curtailed (I finished TMW as a half, rather than full marathon a few weeks ago), so I really wanted to run out at an easy, steady pace, and go the distance.
Race to the Stones course
Given how popular the race is, there's loads of information on their website http://www.racetothestones.com and online about the route and profile. In summary, much flatter than any race I've run since I started focusing on trail rather than road running, mainly chalky bridleway paths and tracks, some road sections and a nice wooded section between 20-30k. Although I don't doubt the race profile on the website, I found the hardest hills were a couple of short, steep ones hidden away between 10-20k, rather than the long hill that starts at about 34k, which I hardly noticed.
Organisation
The race was professionally organised, from start to finish. As advertised, there are well-supplied aid stations and toilet facilities every 8k-12k or so. Check in was quick and easy, although there weren't enough toilets at the start line – the queues were long and I ended up running the first 12k needing the loo as I had to start the race and hold it until the first aid station! As most people would need to use the toilet before the race start (and after a 2 hour journey to the start line) there ought to have been more portaloos there.
Getting to/from the race
The organisers put on buses from the start to finish, or finish to start or to/from the mid-point (each at an additional cost) and offer car parking at the start, middle and end of the race (also an additional cost). Entry was about £100 each, so when you factor in £10 for car parking and £25 each for a one-way bus journey from the finish to start, then it gets quite pricey, although I should mention that unlike many other big races, the professional photographs were free for RTTS, and there was a nice Facebook app which automatically posted all the photos as they were taken (not good where some of the photos made me look awful though!!).
We looked at other transport options, including staying with a friend who lives near the start line and getting public transport, but it was going to involve several buses and trains and many hours on the Friday night before the race – so we decided to stay at home and have a really early start: up at 4am to get to Avebury for a 5.30am bus to the start line in Lewknor in time to check in and start at 8am. When we arrived near the start, there was a long queue of traffic waiting to turn in to the race HQ. We opted to get off the bus and walk the last 1k, as it was quicker and a chance to stretch out our legs.
My race experience
It was strange starting a race with so many people. The race start had a vibe more similar to a road race – not of the scale of Bristol Half Marathon, but still, c.1000 people started the 100k non-stop with me, and it felt alien to be about to run a trail with that many people. Even in a mountain race like Transgrancanaria marathon, where there are c.600+ people starting, it doesn't feel like there are that many people, as you get spread out pretty quickly across the ascents and descents. As RTTS is much flatter, I was running with lots of people for most of the race. As time went on, I started to enjoy the companionship (and occasional chat) with the other runners I was with, and met a couple of lovely people along the way.
Alastair and I had planned to run the 100k together. I was really excited to run with him! He is a much faster runner than I am, so I wondered how we would fare, with me encouraging him to run more slowly than he would have otherwise, and him encouraging me to run faster. We had a great first 20k, at a nice steady and easy pace. Nutrition went to plan, but whether due to the humidity and heat (low 20s, very humid) or due to whatever I had been fighting earlier in the week, I found my energy levels dropping and I started flagging, walking up some low-gradient climbs and generally being tired. The legs and body were fine, mind was great, breathing was great – I was just tired, a really rubbish feeling.
Listening to my body and mind
At this point my heel started flaring up and I knew that if I went on to complete the 100k, I would be pleased with finishing it, of course, but it was not worth risking further damaging my heel, and would take me much longer than I know I am capable of. I completely undid my shoe to alleviate some of the pain, let Alastair run on ahead and told him I'd stop at the 50k finish line.
Now alone, I run-walked some road sections and minor climbs, tried to run the rest, and counted down the kms to 50k. At 36k I felt good as I knew 14k wasn't a big deal. Even better when I reached the 40k marker – only 10k left! I ignored the heel pain and the chafing that was going on in various places. No idea why I was getting chafe, in clothes I'd worn on several other long races. I can only imagine it was the heat and humidity – and perhaps I'm a little larger than last summer from all the gym work I've been doing 🙂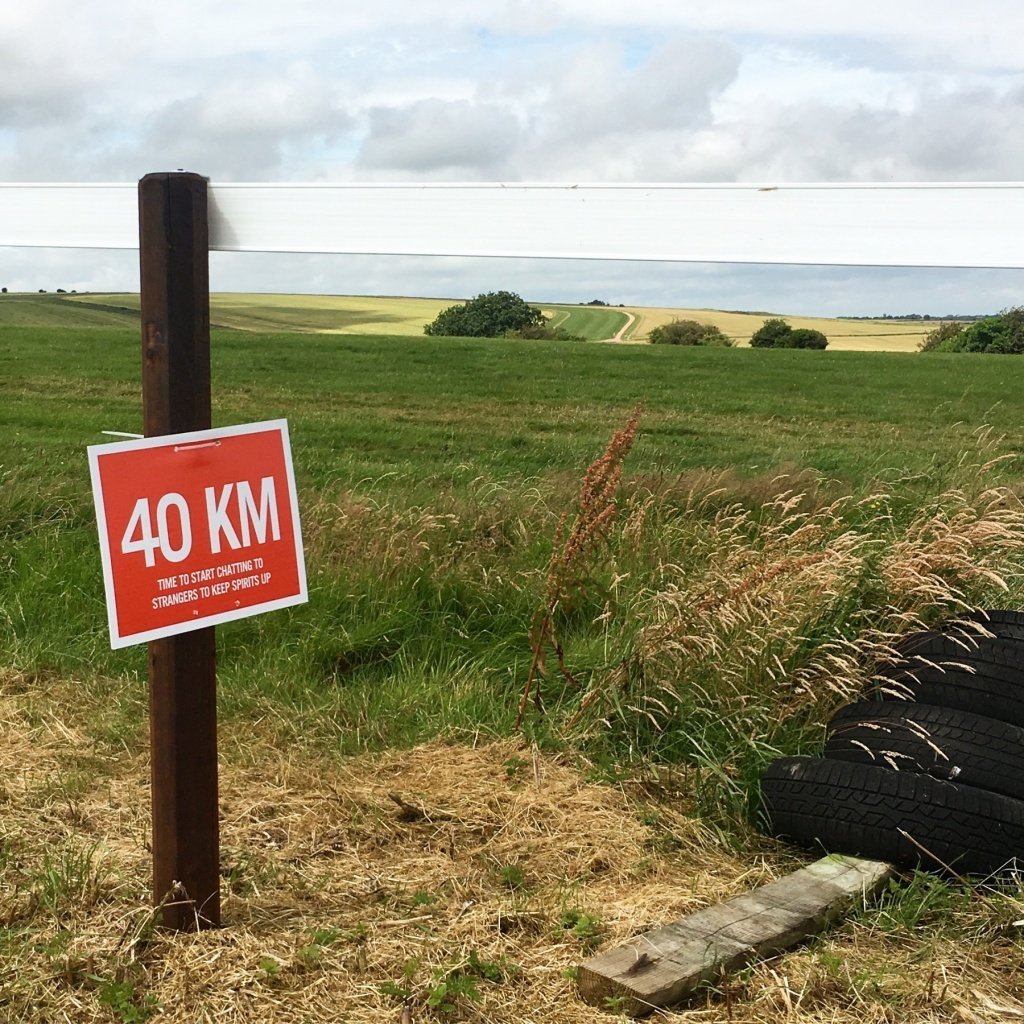 I ran up to the last aid station, at about 45k, topped up my water and celebrated (internally) – 5k left… or were there more? I've done enough trail races to know that a 50k race may be much longer (hello Keswick 54k-long 50k)! At 48k and no sign of the finish line, a text from Alastair confirmed it – it was 52k to the 50k finish line, so I had a bit further to go.
No big fanfare at the finish line, just a few friendly people manning an aid station under a gantry, and one who gave me a finishers medal. I had run up the last km, so was pleased I still managed to run over the line and was not defeated – living to fight (or run) another day!
It took about 6h45 to get to 50k and I crossed the finish line at around 7 hours, although I officially DNFd as I had registered to run 100k. Alastair and my Dad were there to greet me, which was a very welcome sight! Alastair had also opted to stop at 50k (saving his legs for the Buff Epic Trail sky race in the Pyrenees the following week) and luckily my lovely family had planned to come and see us at around the 50k mark, and kindly agreed to taxi me from there back to Avebury to get my car. If they hadn't then we could have arranged something with the organisers, who had an information desk where I reported I had pulled out of the full 100k (so they don't think you're still out there on Sunday evening and send out a search party!).
Kit
It was a hot day and I didn't need many clothes. Other than the clothes I wore (Lululemon vest & shorts, Balega socks, Nike bra plus UD pack, sunglasses, North Face cap and Suunto Ambit 3S), I packed a windproof jacket (Salomon S-Lab) and a spare pair of socks.
I went for the Salomon Sense Ultra 3 (for hard ground) on my feet. I love these shoes, super lightweight and well fitting. The only issue I had was due to already having an achilles heel problem, I had to run with the shoes undone, which, while still comfortable and stayed on, left me with big blisters on the outside of my big toes. They don't hurt though, so don't bother me a huge amount.
Other kit in the pack comprised:
Anti-chafe cream, decanted from a big tub into a small cosmetics tub (e.g. a lip balm tub)
Leukotape (non stretch medical tape, for holding bandages and taping up any 'hot-spots' pre-blister). Rolled from the heavy main roll onto an empty pen
Antiseptic wipe, gauze, Compeed patches, a safety pin (for popping…) and a mini multi-tool
Water and nutrition. In hindsight, for this race, I could have carried half the amount of food, given the amount of aid stations. However, habit means I take what I know I like and works for me, rather than gambling on the aid station selection.
Would I go back next year?
Having had a couple of weeks to reflect, I still have mixed feelings about the race. Perhaps if I'd had form then I would feel a bit more positive about what was a great event, however the finish was an anticlimax as it wasn't what I had started out to achieve, was not as fast as I could go, and I was now nursing an inflamed heel.
I have realised I really value the relative solitude which comes from being in the mountains and other more remote areas, while still being in an organised race, and the security that brings – so perhaps a race on bridlepaths was a little less exciting/challenging after being in Snowdonia and the Lake District for my last two events.
Having said this, running the first 50k was really enjoyable, going through some beautiful areas, and I would love to see the second half and finish the full thing. However, I would only come back if I knew I had form and had trained specifically for it. This is a runner's race – if you train, you could run the vast majority of the course (that I saw), unlike some of the mountain races where everyone is hiking/scrambling at times.