The Broken Arrow Skyrace takes place in Squaw Valley, a beautiful mountain resort located in Olympic Valley, California. This was our first time visiting the region during the Summer so we were super excited to explore the trails that this race promised to show us.
Content Menu
The Race Village
ADVERTISEMENT
You will find the race village located near the main ticket office at the base of the slopes. Having the village here provides easy access to the free car park, shops, bars and restaurants. This is particularly important for friends and family of runners taking part, who will be looking for things to do whilst you're running in the mountains. This area is also where the race finish line is, which makes it an entertaining place to hang out in itself.
Brands and race organizers turned up to host their own pop-up shops, including headline sponsors, Salomon. Some of the other brands included Darn Tough (I love their socks, so it was nice to see them here too), CamelBak, Garmin, La Sportiva and Clif Bar to name a few.
Another nice touch was a self-serve photo booth where you could get a nice FREE race day memento taken with a Broken Arrow Skyrace branded backdrop.
We picked up our race bibs from one of the stalls on Saturday afternoon and then cheered the 52k race participants as the crossed the finish line. It was so much fun watching the runners ring the Broken Arrow cowbell as they crossed that line, knowing how much of a mental and physical journey they would have had to endure to get there. The 52km race is a double loop of the Broken Arrow Skyrace 26k. Having now done the 26k race, I can see why all the runners were looking so exhausted yet thrilled when they rung that bell.
The race
Distance = 26km (16miles)
Elevation Gain = 1,515m (4970ft)
Elevation Low = 1900m (6233ft) / Elevation High = 2700m (8858ft)
---
Did you know we have a Strava running club?
---
Broken Arrow Skyrace – Race Start
The start line for this race is pretty low key, with around 400 runners taking on the race. I personally like this, as it makes for a more civilized beginning to a long run in the mountains. Coming from the UK and having run in quite a few big races in Europe, this is something that stood out to me. All the runners on the day were so supportive and fun to be around, which is something that seems to be consistent within the trail running community, wherever you are in the World.
Aid Stations
There were 3 well-stocked aid stations along the route, placed at 7, 10 and 13 miles. All aid stations were really well organized and the teams running them were very helpful at getting me what I needed. All while giving motivational words of support, which was really nice to hear as things got tougher throughout the race. This wonderful display of support extended all along the route to spectators and photographers.
Terrain
This is something that a lot of people reading this may want to know about. I for one knew this was going to be a technical race going into it but wasn't sure exactly how technical. As you can gather from the race profile, there's a lot of climbing involved in this race but it's all very manageable as long as you have trained for big climbs and are able to handle the altitude ok.
The areas that stood out to me as being more challenging were during some of the downhills, where the scree (small loose stones) and particularly steep gradients made them tricky to actually run down, for fear of falling over.
There was also the infamous Stairway to Heaven ladder which was a lot of fun. If you're worried about signing up to the race because of the photos you may have seen relating to this section, don't be. It's really not that bad when you get to it and there's a very friendly mountain guide at the base of the ladder who will tell you how best to climb it in a safe manner.
Right after the Stairway to Heaven, you get to hike up this very cool staircase carved into the snow. I had to take a photo of this unique moment!
The course has many rocky sections so it's important to wear shoes with good cushioning and ankle support. I was wearing my Inov-8 Trailroc 285 trail shoes which performed very well over the rocky terrain. Their solid rock plate protected my feet well, as predicted.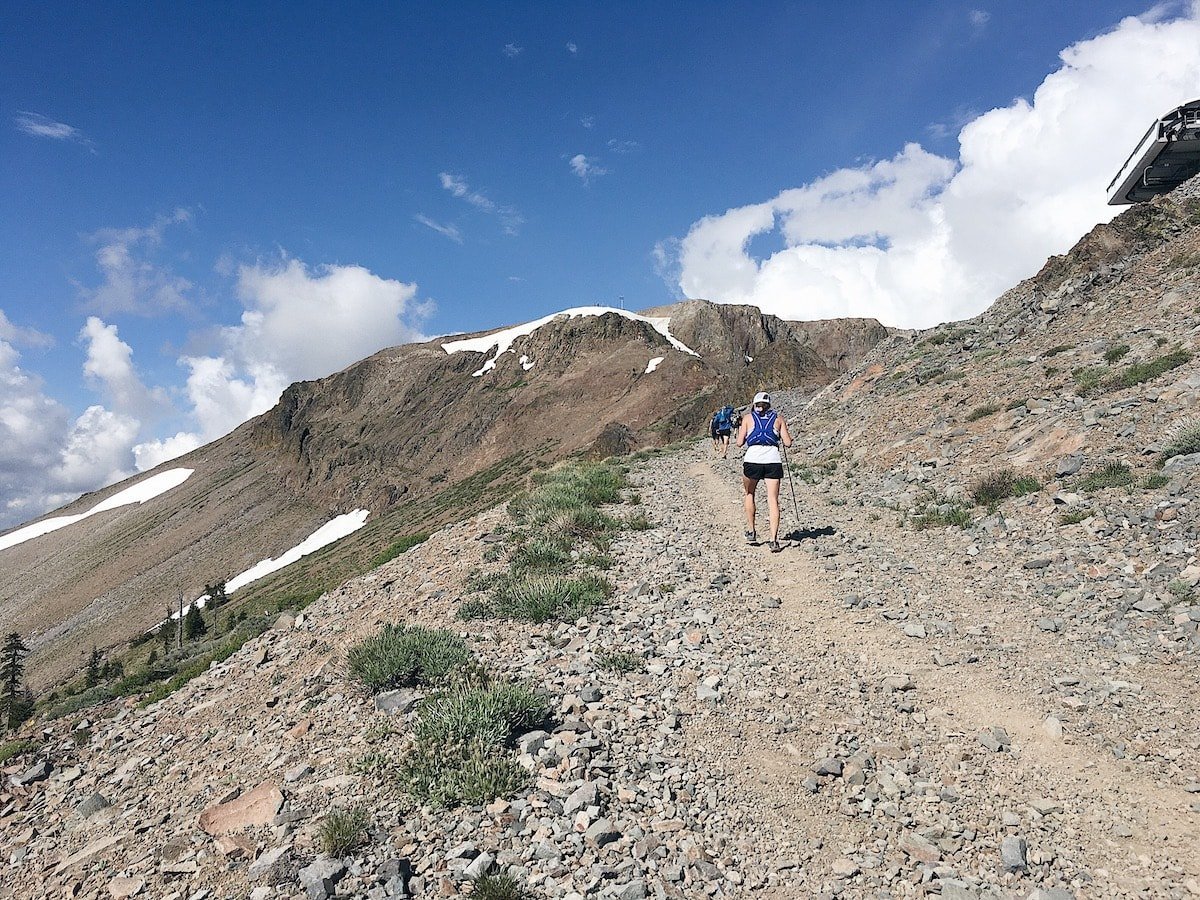 Other shoes that I would recommend for this race are:
Expect to see some snow cover at high elevation on the route, at one point it actually started snowing near 2700m, the highest point of the race. Mountain weather can be very unpredictable so it's important to make sure you are prepared for such scenarios. Read our guides below which will help you work out what extra gear you may need to stay prepared in the mountains.
The Ultimate Trail Running Gear Guide: What To Wear Trail Running
The Finish
If you still have some gas left in the tank by around 23km, then you'll really get to build up speed all the way back down to the finish line. The gradient is perfect for running fast and the more you descend, the more you'll feel like a superhero as the air becomes less thin and easier to breath.
Don't forget to ring the bell when you cross the finish line. I loved this fun and unique way to finish the race and it's now a moment that I will never forget!
Results for the race are LIVE so you can find out where you came as soon as you cross the finish line. Race photos were high quality, published online the day after the race (which is VERY quick in my experience) and priced reasonably.
Finishers Swag
Before the race (when we picked up our bibs), we were also given a branded canvas bag containing one steel drinking cup, a Salomon running tee, lip balm and discount vouchers for various restaurants and cafes in the Village. The cup and running tee are both items that we will definitely be using again. Broken Arrow Skyrace have done a fantastic job of providing useful and high-quality products for all runners.
When you finish the race, you will also receive a super cool wooden medal (made by Elevation Culture), and a really nice technical trucker hat that is branded with a Broken Arrow Skyrace logo and your specific race distance.
Advice for runners taking on the Broken Arrow Skyrace
1. Take trekking poles with you – There is a lot of climbing involved and also many technical downhills. Poles will help with the uphills and also allow you to steady yourself during the downhills that have loose stones. It's likely that you are going to experience heavy muscle fatigue at some point. Taking collapsable trekking poles in your race vest will be a huge safety net should you require them at any point. We recommend Black Diamond Distance Carbon Z Trekking Poles.
Trail Running With Poles: Benefits, Disadvantages And Advice
2. Prepare for high altitude running – If you haven't spent much time at altitude, like us, then you're going to feel the effects during this race. Expect to perform at around 80% capacity if you haven't been training at altitude. If you don't live somewhere this high then you can purchase an elevation training mask and run on a treadmill with it, or train outside, if you don't mind scaring the locals (you will look like Bane from Batman).
Elevation training masks are able to simulate breathing at high altitude by restricting airflow into your lungs, effectively training your body to get used to working with less oxygen.
3. Watch out for the bottlenecks – As you hit the first single track section of the race, less than a kilometre in, you will be forced into a single-file line. If you're a fast runner then I recommend getting as close to the front as possible. Maybe stay behind Max King though, as he will most likely be finishing the race in 1st place (as he did in 2017 and 2018). There may also be a small wait time as you reach the Stairway to Heaven ladder, for safety reasons.
Although I mention these bottlenecks, they really didn't bother me. I wasn't in the race to win it, I was there for personal achievement, to enjoy being surrounded by like-minded individuals and to enjoy running in one of the most beautiful places on Earth.
4. Salt tablets – Once again, SaltStick Caps helped save me from getting any muscle cramps during my race. Knowing that these salt capsules can bring me back from the brink of muscle cramping, gives me the confidence to push harder on the climbs. If you want to learn more about SaltStick Caps, have a read of my article here: SaltStick Caps: Stop Leg Cramps While Running
RELATED: How Can I Prevent Muscle Cramps While Running?
5. Trail Gaiters – You may also consider wearing your trail gaiters to stop small stones, grit and dirt getting into your shoes. I didn't have mine, so ended up putting up with the annoyance rather than stopping to empty my shoes.
Get to know the 2018 Men's and Women's Broken Arrow Skyrace 26k Winners
RELATED: Interview with Hillary Allen: Keeping life balanced
Helen had a fantastic race too! 🙂
The altitude and climbing made it tough going for someone who lives at sea level, but I didn't care as I was enjoying myself and the views far too much! Huge respect to everyone who ran the race, it was a proper tough Skyrace and I can only imagine how tough you have to be to do the double loop 52k race!

I Loved the vibe, experience, scenery and swag, a great Euro-style Skyrace

–Helen xx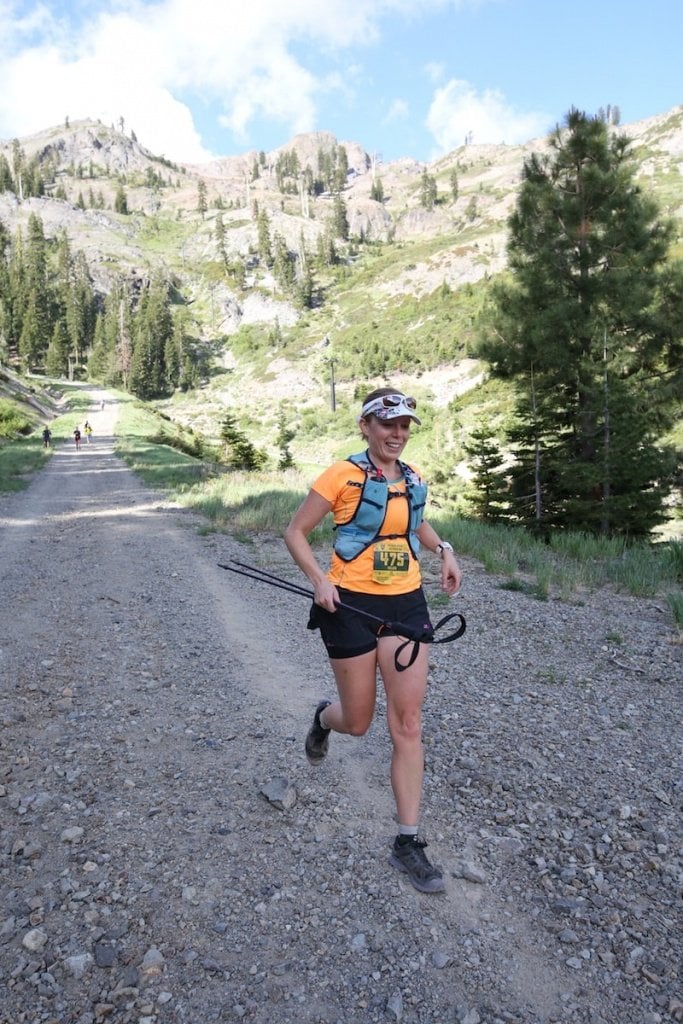 ---
Now go and sign up for the race!
---