THERE'S A NEW AGILITY PEAK FLEX IN TOWN: Merrell Agility Peak Flex 3 Review
The Merrell Agility Peak Flex 2 is a trail running shoe, designed to deliver flex, agility and protection on long runs and rugged terrain. I decided to go out on a big hill rep session to test them out properly.
RELATED: Best Trail Running Shoes
I wasn't sure what to expect from Merrell as I didn't have much prior experience with the brand in the trail running sector, until now. Let's just say I was very impressed with them. Read on to find out why.
First Impressions
This particular colour of Agility Peak Flex is a little bit monochrome but once you take a closer look at the detailing and design you grow to like the lack of colour. It wasn't long before I had painted them with mud anyway. At first glance, you would think this shoe aims to be a comfortable shoe before anything else, but in actual fact, it ended up being so much more.
As I was running in the Merrell Agility Peak Flex 2, I was frantically making mental notes of all the things that surprised me by their performance as and when they occurred to me and then trying desperately not to forget them before the next thought popped into my head. I didn't forget Merrell, I… didn't… forget! 🙂
Fit & Design
I haven't been having much luck with parking at trailheads recently, once again I had to drive a few km's away and park on a residential street.
This allowed for a short road test to see how the mid-sole cushioning reacted on hard surfaces. The Agility Peak Flex 2 performed well in this area, this is expected as it's a shoe designed to provide cushioning and protection. The ride was soft yet agile, good to know if you're ever going to be mixing up your terrain like this regularly. There's nothing worse than finding out during a run or race that you need to run large sections on the road when all your equipped with is a pair of minimal trail shoes.
Lacing system
This was probably the first "wow that's cool!" moment that I had with the shoes. I was impressed at how well the laces fastened across the whole length of the foot when pulled at the top. This was Merrell's Omni-Fit system doing its thang! The closest I've seen to this is Salomon's Quicklace system but the Omni-Fit may actually be better in terms of comfort. The stretchy cords that you see on the sides allow for that extra flex when moving for complete comfort. Very nice Merrell, very nice!
Toe box
The toe box on this shoe is classified as being of medium width. I think I have average sized feet so these fit really well for me with a tiny bit of extra wiggle room which came in handy once my feet had warmed during my first big climb.
There is a protective rubber/plastic section over the toe cap which will stop the front of the shoe from tearing and possibly even protect your toes if you stub them on any small rocks. However it isn't 'hard reinforced', so watch out for those bigger rocks. You may end up hobbling if you were to accidentally trip on one.
Arch Support
This is an interesting one, I'm not used to running in shoes with much arch support, so I really noticed it in the footbed. I did feel a bit of rubbing in this area after 1.5 hrs of intense running. This could be that it was the first time running in the shoes or maybe that the arch support is a little more than I needed. I will provide an update on this post to let you know how things go with that. It's not enough of a problem to stop me running in them, I just thought I would mention it. This footbed is also removable and can be swapped out for one with less support if needed.
Sizing
I wear a US 9 (UK 8.5), and the fit of the Merrell Agility Peak Flex 2 is 100% consistent with Salomon, Inov-8 and On-Running shoes.
Drop
There's a 6mm drop on these shoes which is becoming a popular number amongst running shoes. I'd say it's a great balance, in terms of up and downhill performance. An example of where I enjoyed this level of drop is with the On-Running Cloudflow.
Weight
At 286g the Agility Peak Flex 2 is lighter than you would expect for a shoe with so much cushioning and protection. I was able to come away from my intense hill session without feeling tired in the legs, the shoe weight has a lot to do with this.
There's great padding around the achilles and ankle areas and I liked the low profile of the heel cage too, meaning there was no rubbing at all.
Grip
The grip performed very well on dry terrain with rock and small loose stones. Also on areas of wet mud that I was speeding through on descents.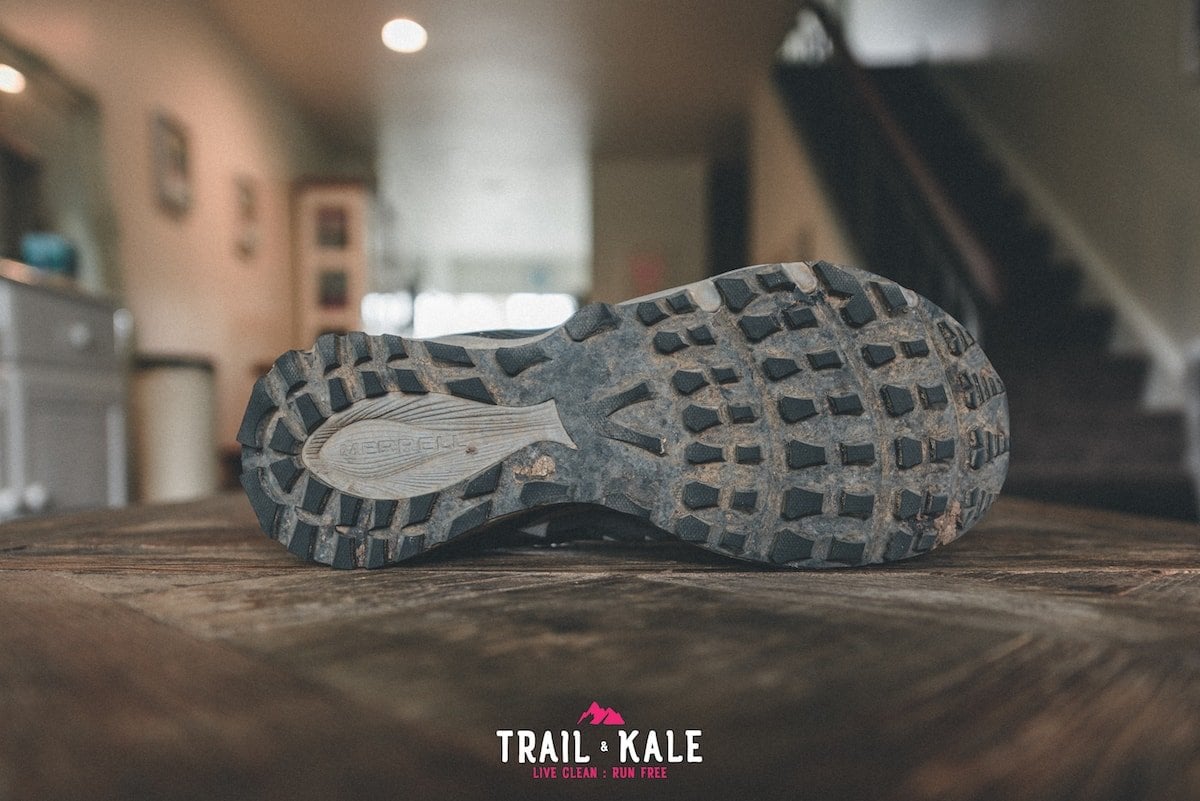 Running in the Merrell Agility Peak Flex 2
It was a beautiful day for a tough run, the rain had been falling throughout the previous night but only a few muddy/wet patches remained. Here is a little image to set the scene for you.
My feet hadn't felt this good running for a long time, this gave me real cause for excitement for the Spring/Summer running that lies ahead. The cushioning in the Merrell Agility Peak Flex 2 is not something I normally go for in a trail running shoe but I think I've been won over by this gem from Merrell. The shoes felt responsive when making split-second decisions on the descents while still offering support from any wrong step, whether it be treading on a sharp rock, rolling an ankle or slipping due to bad grip. I can honestly say this shoe provided everything I needed for a run like this, and I'm going to be using it a lot more in the coming months.
The run
Merrell Agility Peak Flex 2 (Summary)
Best Price for the Merrell Agility Peak Flex 2
Last Amazon price update was: 29th September 2023 7:31 am
In Summary
I had so much fun running in these shoes for the first time and I can't wait to put more miles in. I had to get all these points out of my head and on the blog before I forgot all my initial thoughts. If I experience anything different going forward then I will add edits to this post to give progress on real-world usage.
Oh, one other thing, the Agility Peak Flex 2 shoes are Vegan-friendly, meaning 0% animal products were used to make them. +1 to planet Earth!
Thank you
Thank you to our good friends over at Holabird Sports for sending the Merrell Agility Peak Flex 2 shoes for review. You have turned our attention towards Merrell and the great work they are evidently doing in their trail running division.
Holabird Sports are a family-owned retail business who have a huge range of trail running gear at VERY competitive prices, you should definitely check them out!
Below are a couple of links where you can learn more about the men's and women's versions of this shoe, ready for your next trail adventure!
If you have any questions about the shoes or anything relating to them then please leave a comment below and I will reply as soon as possible. Happy Trails!!