With so much choice out there, how do you work out which are the best dog toys to go for? And how do you avoid cheap dog toys and stick to the higher quality, safer, and more durable chew, plush, and fetch toys for your pet?
ADVERTISEMENT
This applies to everyone, whether your dog is a puppy or newly adopted into your family and you're working out what types of toys and games they may enjoy the most.
READ NEXT: After reading this, take a look at all the posts Kepler, our resident trail dog has written, including articles like the best dog gifts for dog moms and dads, how to trail run with your dog, the best dog beds, our dog coats buyer's guide, and much more! 🙂
This list of the best dog toys is also great if you're looking for one that's good for a certain trait, such as chewers, active dogs, herding breeds (like Kepler), and those that like to play fetch outdoors.
In this guide, I'm sharing our curated list of the best toys for dogs, from the very well-known, popular brands to more specialist pet supply companies offering more unique, cool, and fun toys such as canine enrichment and puzzle games to help them work their brain while they play.
Click the links below to head to a specific category of toy, or scroll down to check out the full list.
The best dog toys – table of contents
---
Outdoor dog toys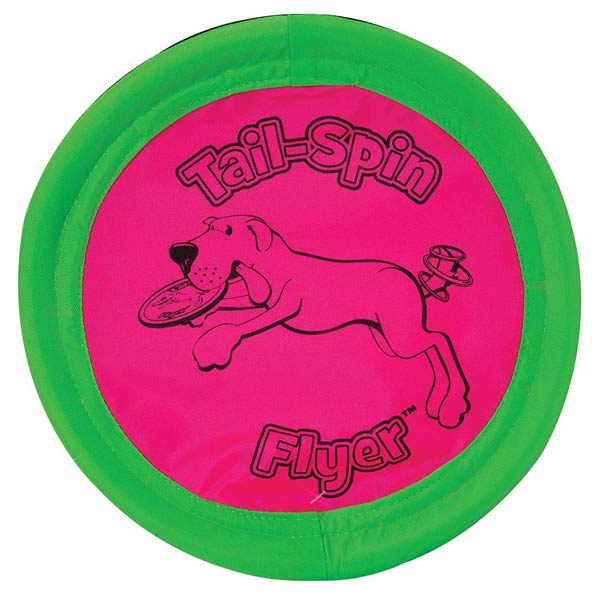 Booda Tailspin Flyer Frisbee
A soft frisbee like this is great for any dog that loves to run and fetch, and unlike a hard frisbee that needs to be caught on the edge, this one can be caught at any angle as it's soft and bends when caught.
There's no question that this is one of the best dog toys that we have ever bought Kepler, but then again he is totally obsessed with playing frisbee and will do any trick we ask him in order for us to throw it for him, haha.
Our resident herding dog has also shared a whole dedicated list of the best dog frisbees on this site, which you can check out here, with a firm favorite and great choice for any dog being this soft Booda Tailspin Flyer.
Last Amazon price update was: 4th December 2022 9:00 pm
---
A Dog Flirt Pole From Squishy Face Studio
A flirt pole is a great interactive dog toy for dogs that like to chase, jump and need plenty of exercise.
Channel your pet's energy and enthusiasm for the chase with a flirt pole like this one (which is available at Chewy).
To ensure you're playing safely and making the lure as enticing as possible, it's worth looking up guidance on how to effectively use a flirt pole to exercise and play with your dog.
Last Amazon price update was: 4th December 2022 9:00 pm
---
Ball toys for dogs
A Gnawsome squeaking, flashing, bouncy, spiky ball
What's better than a regular old ball? One that has flashing lights and soft spikes, of course!
Introducing the Gnawsome squeaking flashing ball. The texture makes it easy to catch and grab on to, and it's also designed to promote gum health!
This ball comes in several different sizes so you can find the one best suited to your dog's size.
Last Amazon price update was: 4th December 2022 9:00 pm
---
The Chuckit! soft, indoor dog fetch ball
We love these soft Chuckit! balls for indoors, which are also available in different shapes, including a football and roller shape – which won't bounce as high or far as other ball options, to keep things a little calmer for indoor fetch games.
Last Amazon price update was: 4th December 2022 9:00 pm
---
Canine enrichment toys and games
While a lot of dog toys could fall into the category of 'canine enrichment', some may only involve only one or two natural instincts, such as chasing or chewing.
For dogs to engage their other innate senses, such as smelling and scavenging, consider other toys that involve less physical activity and more calming enrichment.
These dog sniffing and puzzle toys also have the benefit of helping to calm down an energetic dog, while still tiring them out mentally rather than just physically.
Apparently, a long sniff session is very tiring (and satisfying) for dogs!
Another great reason to consider these types of calming puzzle toys is to help occupy a bored pet who is stuck at home or recovering from an injury or procedure.
West Paw Qwizl Bully Stick & Treat Holder Toy
A Qwizl is one of the best stuffable, durable dog toys we know of – and it's especially great for holding a medium-sized bully stick or other expensive dog treat for your dog to chew on.
It has holes in the side, letting the treat aroma out, but makes it harder for your dog to get at the treats, keeping them occupied for long periods and prolonging the life of those expensive dog chew treats.
The Qwizl is one of a whole range of different durable and plush dog toys offered by US-based company, West Paw. Plus – it's built for chewers, BPA-free, dishwasher-safe, and it even floats!
Last Amazon price update was: 4th December 2022 9:00 pm
---
Paw5 Snuffle Mat Dog Feeder
A snuffle ball or mat like this one from Paw5 is great for encouraging calming sniffing and problem solving, as your dog works to sniff out, reveal and eat the treats or kibble you've hidden in there.
It's also a great thing to try if your dog tends to eat their food too quickly, as it will take them a lot longer than normal to get through their kibble meal when they have to sniff out the pieces one-by-one.
Last Amazon price update was: 4th December 2022 9:00 pm
---
A classic stuffed KONG
It's a chew! It's a toy! It's a treat dispenser and bored dog-occupier! You can fill a KONG with pretty much any dog food or treat and let your dog enjoy themselves working to get the food out.
They come in different sizes so you can pick the one that best suits your dog's breed and size.
It's a must-have toy for chewers, and you can also get puppy and senior versions as well as an even more durable version for super-chewers, the KONG Extreme!
Use a soft filling such as cream cheese or peanut butter then freeze it for an extra challenge.
Last Amazon price update was: 4th December 2022 9:00 pm
---
Nina Ottosson Dog Smart Toys
The Outward Hound range of Nina Ottosson's 'Dog Smart' puzzle toys are great for smart dogs and dogs you want to train to use their brain more.
There are different levels of difficulty so you can start your dog on easier puzzles and work up as they improve their puzzle-solving abilities!
Last Amazon price update was: 4th December 2022 9:00 pm
---
The Ruffwear 'Gnawt-a-Rock': tough dog toys that dispense treats
The Ruffwear Gnawt-a-Rock is a durable dog toy that you can fill with kibble and treats and set your dog off on the mission to liberate and eat them.
They can spend a lot of time rolling this unevenly-shaped treat dispenser around the floor on a mission to release the food rewards – great for tiring out a bored or very busy dog.
Last Amazon price update was: 4th December 2022 9:00 pm
---
Plush squeaky toys
Frisco Plush Squeaking Fox
Chewy's range of Frisco plush squeaky dog toys are well-made, great value, and are available in a variety of animal designs.
The squeaky fox is one of our favorites – or more accurately – our resident adventure dog, Kepler, is a big fan and likes to carry his plush fox around the house 🙂
---
ZippyPaws Burrow Squeaky Hide-and-Seek Dog Toy
What's better than a regular squeaky plush dog toy? A set of them that you have to sniff and pull out of their burrow before you get your jaws on them, that's what.
This plush dog toy set from ZippyPaws encourages your dog to problem-solve before they get the joy of mouthing one of the three squeaky critters.
Last Amazon price update was: 4th December 2022 9:00 pm
---
West Paw Big Sky Trout Dog Toy
Montana-based dog brand West Paw not only makes great durable dog toys they can chew (like the Qwizl), they also make dog beds and plush dog toys in fun designs inspired by Montana's nature, like the Big Sky Trout!
This toy is made using excess material from West Paw's Big Sky dog blankets – it's fleecy soft and stuffed with plush material made from recycled plastic bottles.
Last Amazon price update was: 4th December 2022 9:00 pm
---
Quiet Dog Toys
While you're spoilt for choice when it comes to quality plush dog toys that squeak and rustle, what about when you want to give your dog a plush toy that doesn't squeak?
Cycle Dog Dura Plush Dog Toys
One of our favorite dog toy brands that offer plush, quiet dog toys is Cycle Dog.
Their 'duraplush' soft toys are surprisingly durable and come in a variety of fun designs, including the Fuzzball, pictured, as well as various animal and bone shapes.
Last Amazon price update was: 4th December 2022 9:00 pm