Perhaps you've arrived at this Gravity blanket review wondering, 'what the heck is a weighted blanket and what are the benefits of using one?'.
Or, perhaps, you've seen or heard of Gravity blankets and are researching the pros, cons and which type of Gravity weighted blanket would be best for you.
In this in-depth review, I explain the key features, pros and cons of Gravity's original and cooling weighted blankets, and talk through my experience of using both products on the sofa as well as my main duvet for sleeping with at night, and the impact that using these had on my ability to relax, as well as my sleep quality.
As regular Trail & Kale readers will expect, this review also includes plenty of up-close photos of the blankets, so you can get a better idea of the fabric and quality of the products that you simply don't get from seeing brands' product images on their websites.
At the end of this review, I've also answered a few FAQ and summarized the pros and cons from this review.
---
A quick background on the Gravity brand
Gravity's weighted blankets were launched with a hugely popular Kickstarter campaign in 2017.
Since launching, the company has expanded the range of weighted blankets they offer, and started offering other related weighted products such as sleep masks and other products designed to help you relax and improve sleep quality, including the travel-friendly Gravity Move Heated Mini Massager.
---
Gravity Blanket – Video Review
Watch my video review of these Gravity weighted blankets (together with Trail & Kale co-founder Alastair) to see us demonstrate their weight and hear about our experience of using them.
---
What is a weighted blanket and why do people use them?
A weighted blanket is just as it sounds! It's a heavy blanket, that weighs a lot more than a regular duvet or comforter.
Because of its weight, when it covers you the blanket provides a deep, sustained pressure, similar to an all-over body hug. This is sometimes referred to as deep touch pressure.
What is deep touch pressure?
Deep touch pressure is commonly used to help the person receiving it feel calmer and more relaxed. For this reason, products designed to do this are often marketed as products that can potentially support people who live with anxiety.
There have also been a number of studies done on the benefit of deep touch pressure in helping to counteract the physiological indicators of stress, and, of course, many people find that it helps babies, too – that's why swaddling newborns is so popular.
Deep touch pressure does this by signaling to your nervous system to slow down and relax by encouraging your body to increase serotonin and melatonin levels and decrease cortisol levels.
This concept has also been used on animals.
Our resident adventure dog Kepler, for example, has a compression shirt called a Thundershirt dog anxiety jacket, which applies similar concepts to help keep him calm during or after stressful events, such as fireworks and thunderstorms – and yes, it does help him cope with them!
What's special about Gravity weighted blankets
Gravity, one of the most popular weighted blanket brands, is the only weighted blanket scientifically proven to improve sleep quality by an independent study of 1,000 nights of sleep, which was undertaken by Sleepscore.
In Sleepscore's 2019 sleep study, 72% of participants reported deeper, more restful sleep and 76% reported falling asleep faster when using the Gravity Blanket.
This seems quite compelling and if you're struggling with getting a good night's restful sleep, then having a blanket that can help with that is much more appealing (at least to me) than turning to supplements or medicinal sleep aids.
The weighted blankets also come with an attachable duvet cover that's designed to enclose the weighted blanket itself, which can be removed and washed, and you can choose from different textures and fabric qualities depending on what style of Gravity blanket you choose (more on that later in this review).
I've reviewed a number of other products to help you relax and fall asleep more easily, which are designed to have a similar effect on your nervous system, such as the Sensate pebble and the Apollo Neuro wrist (or ankle) touch device, so was interested to see how using a Gravity weighted blanket would compare to (or indeed, compliment) use of those relaxation aid products.
---
The key features of Gravity weighted blankets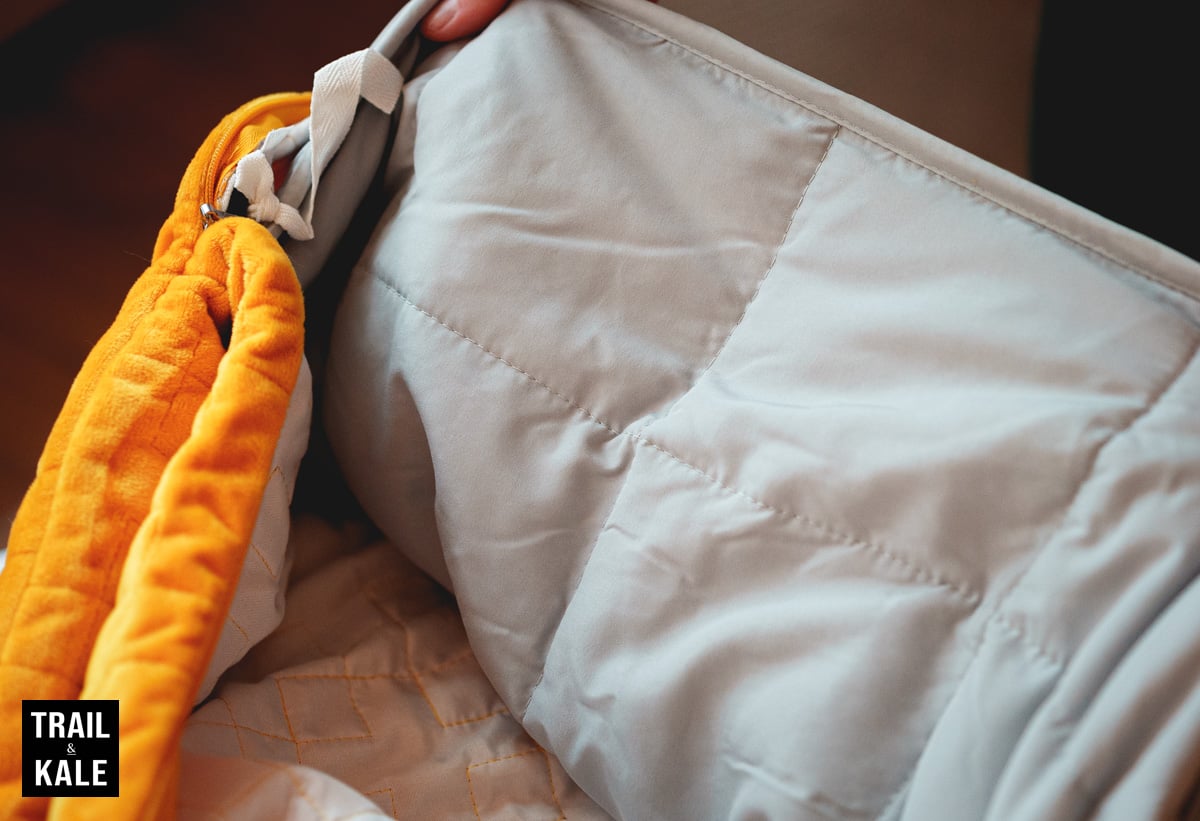 Gravity's blankets are made up of two parts:
The weighted inner blanket
A soft outer duvet cover
The weighted inner part is stitched in a grid-like pattern, with each part of the grid filled with very small glass beads, which are what provide the weight.
They don't make a glass-like noise – probably because of their small size and it also feels like there's extra padding ('batting') in the grids with the beads.
The way the inner section is stitched is important as this is what stops the weighted beads from getting unevenly distributed across the blanket, ensuring the weight is consistent across the entire area.
The outer cover is attached to the inner section using ties and elastic-button connectors, and closes using a hidden zipper.
Having a cover that attaches to the weighted part securely is also important to ensure the inner section doesn't move around inside the cover and end up bunched in one end!
The outer cover on the original blanket is a 'micro-plush', soft material, that's available in a range of different colors and is removable and machine washable. This is a 100% polyester material.
What weight should you choose?
The recommendation is that the blanket should weigh around 10% of your bodyweight.
Gravity blankets designed for one person are available in two weights, 15lb or 20lb.
So, if you weigh around 150lb, then the 15lb would be the best option for you, whereas someone who weighs closer to 200lb may be better off with the heavier 20lb blanket.
While the 15lb blanket suits me fine, it is a shame there isn't a lighter version for more petite individuals.
Both blankets are the same dimensions, which are 72 x 48 inches.
It's also worth noting that there's a King/Queen sized version that weighs 35lb, if you're looking for a weighted blanket two people can share. This size measures 90 x 90 inches.
Are the weighted blankets warm?
In a word, yes.
Firstly, the blankets drape over you and are of course weighed down, so there are hardly any air gaps between you and the material.
Secondly, glass, in addition to the plush cover materials, has insulating properties, which will trap heat close to your body.
This can really add to the comforting, snuggly feel of using one of these blankets.
However, if you live somewhere hot, or tend to sleep hot, then this could mean you are unable to enjoy using the blanket on warmer days and nights – sleeping under a hot, clingy blanket on a hot, sticky night doesn't sound very relaxing, after all!
To address the challenge of people wanting to use a weighted blanket and not get overly hot, there is a newer version, the Gravity cooling weighted blanket.
---
Gravity original vs. cooling weighted blanket
While the inner layer is the same on both blankets, the cooling weighted blanket has a different cover that's designed to help keep you cool.
We have both here at Trail & Kale HQ and I've been testing both for this review, to see how they compare, and which I prefer using.
See the photos throughout this review (and in the gallery at the end) for how different the duvet covers look when compared side-by-side.
In terms of materials, the cooling weighted blanket cover is made from 100% Lyocell from Eucalyptus.
This is a lightweight, thermoregulating eco-friendly fabric that's intended to maximize breathability and airflow, much more so than the micro-plush, fleecy material used for the original blanket cover.
It's a much smoother (and slightly shinier) material, which some may enjoy more than the original even if cooling isn't a priority, as you can slide it over you more easily, despite the weight.
Both currently cost the same when bought on Gravity's website or on Amazon.
---
My experience using these weighted blankets to help me sleep better
A good night's sleep had been eluding me for a number of weeks when Gravity reached out and asked if I wanted to try their weighted blankets and share my thoughts in a review. The timing couldn't have been better!
Compared to a lighter duvet or comforter, it's a very different feeling to have the weight press down on you, as it also restricts your ease of movement. Some people may initially take some time to get used to that sensation.
My tip for getting accustomed to the feeling of the blanket is to place it over you when you're actually ready to relax and feel like you want that help.
I found that the fact the weight discourages you from moving and being restless is helpful in encouraging your body to loosen up and release tension.
If you're struggling to fall asleep, this could mean you're spending a lot of time tossing and turning. The pressure from the blanket's weight should help with that.
To allow it to 'do its thing', I found I needed to let myself melt into the experience, to allow the physiological effects of the deep touch pressure actually start to work on me.
Being pregnant at the time of testing the blanket and writing this review, I am avoiding sleeping on my back, which is not ideal as I'd prefer to sleep that way but have to stick to side sleeping, which can cause my lower back to ache.
So, I like that the weight provides light support on my back when I lie on my side and deters me from rolling over.
Unlike the bulk of a pillow, it takes up a lot less space on the bed but still helps prevent my lower back from aching after long periods lying on my side – which used to be a cause of waking up, as well as tossing and turning.
All this means that using the blanket has undoubtedly helped me sleep longer through the night, with fewer interruptions.
This is proven out by the improvement in my sleep tracking data. I wear my Garmin Fenix 7 multisport watch to not only track my daily workouts and other fitness metrics, but also my sleep. Here is how good my sleep looked on an example night using one of these Gravity blankets:
As mentioned earlier in this review, I've been testing the Cooling weighted blanket as well as the Original version.
While I love the feel of the original plush cover and it looks great draped over a sofa or bed, for overall comfort when lying underneath the blanket, I reach for the cooling blanket every time.
I don't use it every night, though, simply because some nights I don't feel I need or want it on me. That may be different for you, and you may find you want to use it every night, as well as on the sofa when watching TV, and anywhere else you can!
So, while a weighted blanket may not be the golden ticket to effortless relaxation or a good night's sleep for everyone, in my experience it can certainly help.
And, while I love the look and feel of the Original version, and it's great for using on the sofa, if you're looking for one to sleep under, then I highly recommend opting for the Cooling blanket, unless you sleep very cold (or live somewhere cold).
---
Cost and where to buy
Both the Original and Cooling Weighted Blankets cost $250 for the single size in either the 15lb or 20lb weights, including the washable duvet cover.
For the widest choice of colors, materials and sizes, the best place to buy Gravity blankets is directly on the company's website:
You can also buy them on Amazon.
It's worth knowing that if you're on a budget or want just the weighted inner blanket, you can buy one for $80, which is referred to as the 'Basics by Gravity blanket' on their website (and then if you want, get a separate duvet cover from their range). There are also a few other options such as a travel version available.
There is a 30-day return policy so if you don't love it you can return it if it's in new condition and in its original packaging.
As mentioned at the start of this review, we've also tested and reviewed a variety of other products designed to help you relax more easily and sleep better. To learn more about other products to consider as well as, or instead of, a weighted blanket, read our best sleep products guide.
A quick word on cheaper alternatives
While Gravity is one of, if not THE original weighted blankets, you've probably seen cheaper alternatives being sold in places such as Amazon.
In my experience, cheaper alternatives have inferior construction, such as being less evenly weighted, having flimsy ties that mean the blanket weights shift around inside the cover, or simply the duvet cover material being less plush – so you're not going to get the same enjoyment or relaxing experience from using something that doesn't feel nice on your body!
I'd also be concerned, with a baby soon to join our family, about glass beads coming out of a poorly-made knock-off, so definitely suggest if quality and product longevity is a priority, that these branded Gravity blankets are worth the money.
---
FAQ about using weighted blankets
How to wash a Gravity weighted blanket
You can take the duvet cover off the weighted blanket and according to my blankets' care labels, machine wash the cover on a cold cycle, with an additional rinse, then tumble dry low and cool iron if necessary.
The inner weighted blanket can be hand washed / spot-cleaned only if necessary.
Is a weighted blanket worth it?
Based on my experience, yes, especially if you struggle to relax or fall or stay asleep through the night. Anything that naturally helps you get a good night's sleep is something I'm going to consider worth it.
How heavy should my Gravity blanket be?
Gravity suggests you should choose the blanket that's closest to 10% of your body weight.
Be mindful that these blankets are not suitable for children or babies. They may also not be suitable for people with certain health or mobility issues or conditions, so check with your doctor if you're not sure, before getting one.
---
Review Summary
PROS
Well-designed and great quality construction - these blankets should last a long time
The weight is evenly-distributed throughout the blanket
Easy to clean with removable duvet color
Attractive range of material and color options to choose from
CONS
At this price it's certainly an investment
Some may not like the added heat factor, especially with the Original version
Weighted blankets aren't for everyone - some may find the weight to be too smothering (especially in warmer weather)
---
Image Gallery