This is our list of the best lightweight hiking sandals for summer adventures – which are also vegan-friendly. A good pair of lightweight hiking sandals will last you years and are a versatile item of footwear worth investing in for summer months.
ADVERTISEMENT
All of the lightweight hiking sandals in this list are designed for hiking with and can also be worn for water sports such as SUP'ing (stand up paddle boarding) and kayaking, as well as traveling and hikes where your feet may get wet crossing rivers or simply cooling off in a river or lake.
To make it onto this best lightweight hiking sandals buyer's guide, these sandals all had to meet all our strict ranking criteria and have the features listed below:
Be 'lightweight' – while subjective, weight is really important to us when choosing a pair of sandals and we have determined lightweight to mean, in general, that they weigh between 1-2lb and are marketed as being lightweight sandals.
Be comfortable – to wear against your bare feet, a good pair of hiking sandals has to be comfortable, with a good, adjustable fit and no rubbing or hot spots. All of the lightweight hiking sandals on this list have highly-rated reviews left in the stores that sell them.
Dry off quickly – sandals designed to get wet need to also dry off quickly and not hold moisture, as walking in wet footwear for long periods of times is not good for your feet, makes them prone to hot spots and chafeing and also makes the sandals heavier.
Protect your feet – sandals will not generally protect your feet as well as a good pair of trail running shoes or hiking boots, however foot protection is a key consideration for all of these sandals – some of which offer more protective features than the others, for example toe protection.
Have good grip – all of these sandals are designed to be worn on trails and grip on uneven terrain. We have included descriptions of the sole materials used in the construction, as well as photos of the soles of each pair of hiking sandals so you can check out the size of the lugs and tread pattern on each sandal.
---
Materials used in the sandals on this 'best lightweight hiking sandals' list
The three main parts of a hiking sandal construction are the midsole, sole and lacing system.
Depending on the sandal, the material used for the lacing and the upper may be one and the same.
In general, these lightweight hiking sandals have rubber soles, foam midsoles and webbing/polyester uppers and lacing, although some use elastic bungee cords for lacing.
The majority of the lightweight hiking sandals featured in this list are explicitly vegan-friendly, on account of being made from polyester/nylon fabric and webbing, plastic, foam and rubber rather than suede or leather.
---
Rather than provide a long list of hiking sandals, we have identified a shortlist of the best lightweight hiking sandals currently available that are designed for summer, including travel, water sports, hiking and general adventures, so it's easier to identify the best pair of sandals for you and your personal preference.
This 'best lightweight hiking sandals' list is regularly updated so make sure you bookmark this post and check back before buying your next pair.
The links in the price comparisons below take you to the men's version of the hiking sandals by default, however, the majority of the retailers stock the women's versions too.
If you're researching hiking sandals and are new to hiking, then you may find reading our beginners guide to hiking, hiking outfit checklist and our list of the best hiking daypacks helpful to read next (links open in new tabs).
---
1. Teva Hurricane XLT2 Sandals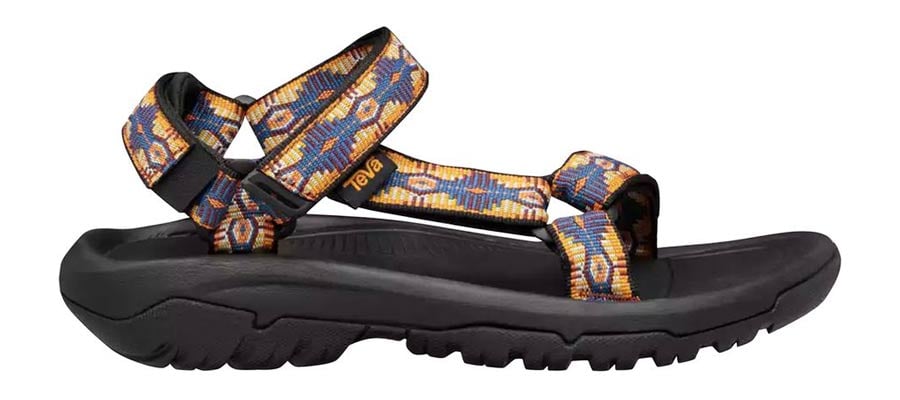 Weight: 1lb 4oz
Construction: Webbing (made from recycled plastic) straps, EVA foam midsole
Sole: Rubber
Lacing: Hook-and-Loop
Price: $75
Teva's Hurricane XLT2 sandals are specifically designed for light day hikes and for getting wet in. They also make great general adventure or travel sandals.
The XLT2s feature a new rubber outsole design with improved traction compared to previous versions.
The webbing used in the straps is made from recycled plastic and seals with hook-and-loop, and the heel-strap also features an added neoprene cushion to help keep them secure even when wet.
The Teva Hurricane XLT2s are available in a wide range of different colors for men and women, or just plain black if you prefer to keep your sandals simple.
Last Amazon price update was: 23rd March 2023 4:00 am
---
2. Chaco Z / Cloud 2 Sandals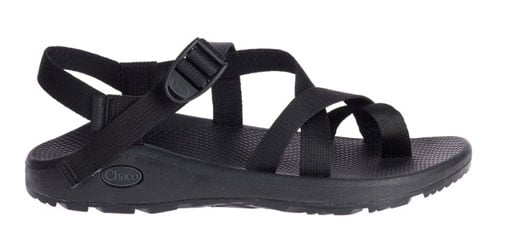 Weight: 1lb 5oz (men's)
Construction: Polyester webbing and PU midsole
Sole: Rubber
Lacing: Plastic buckle with webbing straps
Price: $100
These Chaco Z sandals are designed for land and water adventures.
They feature pull-through adjustable webbing straps designed so that you can customize the fit of the sandals to your foot
The webbing straps are secured using a molded plastic buckle which is designed to stay secure while hiking, and the Z Cloud 2 are designed with toe loops for additional control to hold your foot in place.
The polyurethane midsole is podiatrist-certified and designed for stability and support, and the rubber sole provides grip on all sorts of terrain.
All new Chaco sandals come with a lifetime warranty and can be sent to Chacos to be 'Rechaco'd' – where they repair or replace your straps or soles for a small cost – we love that this service means you could really be wearing the same pair of your beloved sandals for a lifetime.
Amazon.com
$99.94

5 new from $99.94

See Deal
Zappos.com
$99.95
See Deal
Rei.com
$100.00
See Deal
Last Amazon price update was: 23rd March 2023 4:00 am
---
3. KEEN Newport H2 Sandals
Weight: 1lb 12oz (men's)
Construction: Mesh and polyester webbing upper and lightweight EVA foam midsole
Sole: Non-marking rubber tread
Lacing: Elastic bungee
Price: $130
These rugged adventure sandals are some of KEEN's bestsellers, for good reason.
While not the most lightweight sandals on this list, the Newport H2 sandals provide excellent toe protection and come with a super grippy (non-marking) outsole, protecting your feet and providing traction when hiking or on slick surfaces.
As these water shoes are designed to get wet in, they're also great for watersports such as stand up paddleboarding (SUP).
They're made using KEEN's 'anti-odor' technology that helps prevent stink, and when they do get too dirty/smelly then you can wash them in a washing machine – all Keen sandals are machine-washable.
Last Amazon price update was: 23rd March 2023 4:00 am
---
4. Merrell Breakwater Strap Sandals
Weight: 7oz
Construction: Mesh and polyester webbing upper and EVA foam midsole
Sole: Vibram rubber, 5mm lugs
Lacing: Hook and loop
Cost: $95
Merrell's Breakwater Strap sandals are designed for wearing in and around water, but would equally be perfect for everyday wear, travel, and vacations.
As with many Merrell sandals, running shoes, and hiking boots, they feature Vibram soles, which are specifically designed to provide grip and traction in all weather and temperature conditions.
While not designed for hiking in all day, these lightweight sandals are great to put on after a long day of wearing hiking shoes or boots, to let your feet rest and breathe while still having plenty of grip for traction around camp, beaches and lake shores.
Last Amazon price update was: 23rd March 2023 4:00 am
---
5. Xero Shoes Cloud Barefoot Sandals
Weight: 4.6oz (men's) 3.8oz (women's)
Construction: Foam, plastic and nylon
Lacing: Cord and plastic
Cost: $50
The Xero Shoes Cloud Barefoot Sandals are the most lightweight hiking sandals on this list. These ultra-minimal and lightweight Tarahumara-style sandals are ready to run long trail distances in or, simply wear for everyday adventures.
They would be ideal sandals for carrying in a hiking pack and changing out of hiking boots to let your feet breathe after a day of hiking as you'd hardly know you were carrying them.
Due to their minimal design, the Xero Cloud Barefoot sandals may not be expected to be as durable or protective as the other lightweight hiking sandals on this list, however, Xero offer a 5,000-mile sole warranty.
If you wear out your Clouds in under 5,000 miles and they'll replace them for 60% off MSRP.
---
We hope you have enjoyed reading this list of the best lightweight hiking sandals and that you found some that tick all your boxes!
If you have a question regarding any of these lightweight hiking sandals, please drop it in the comments below.
---