You've probably heard of Vermont's Original Bag Balm, or seen it in a store and wondered what it's good for, but if you haven't used it then you may know fully appreciate all the different uses and history of the product.
ADVERTISEMENT
In this Bag Balm review, I cover everything from what Bag Balm is, what it's made from, some popular uses for it for both people and dogs, and the different types of products and packaging it's available in.
This review also includes close-up images of what Bag Balm looks like, and a comparison of the packaging it's available in, including the products featured in this review: the classic tin format, and their new stick version.
If you're curious about the product, continue reading for my review, or head over to their website to learn more.
---
What is Bag Balm?
Bag Balm is a product designed for moisturizing dry skin, first and foremost.
It was launched way back in 1899 in Vermont, where they know something about cold, drying weather and the effect it can have on your skin, especially on your hands and body.
The product was formulated especially for use on dry skin that can crack, split or chafe (ouch), and was initially used on livestock.
It's still made in the USA, and uses a small number of simple ingredients, so there's nothing really fancy going into making it, just their tried and tested formula.
---
What are the ingredients in Bag Balm?
The stated ingredients are listed on each product's page so I definitely suggest checking there before you buy, especially if you want to check for allergies, etc.
For the hand and body moisturizer shown in this review, the ingredients stated on their website are Petrolatum, lanolin, paraffin wax, water, and 8-Hydroxyquinoline Sulfate.
There are a few other products available, some with slightly different formulations.
In this review we also feature their newer stick version, which contains Aloe Vera and is designed to be easy-to-use with low mess when you're on the go.
Like other similar products (such as Vaseline), some of those ingredients are derived from oil.
The 8-Hydroxyquinoline Sulfate apparently has antiseptic properties, which differentiates it from products such as Vaseline, which is otherwise a similar product also made using petroleum jelly.
It's worth noting that there are no added fragrances colors, alcohol or parabens in the product and it hardly smells of anything.
It's also good to know that it's stated as safe to use on both humans (including your hands and face – both avoid your eye area) and animals, including pets and livestock.
---
Popular Bag Balm uses
Its versatility is undoubtedly one of the reasons why this product is so popular with such a diverse range of people with different moisturizing needs.
Some popular uses of Bag Balm on people include:
To soothe dry, cracked skin on your hands, feet and anywhere else (such as elbows or other dry spots)
On chapped lips
To care for tattoos
On chafing from running or hiking, or saddle sores from riding your bike
Gymnast or weight-lifting rips on your palms
This page on Bag Balm's website lists all the most popular uses and applications for their products.
One point to note, though – don't use it on your hair! It will be very hard to get out so putting it there would be a mistake, for sure.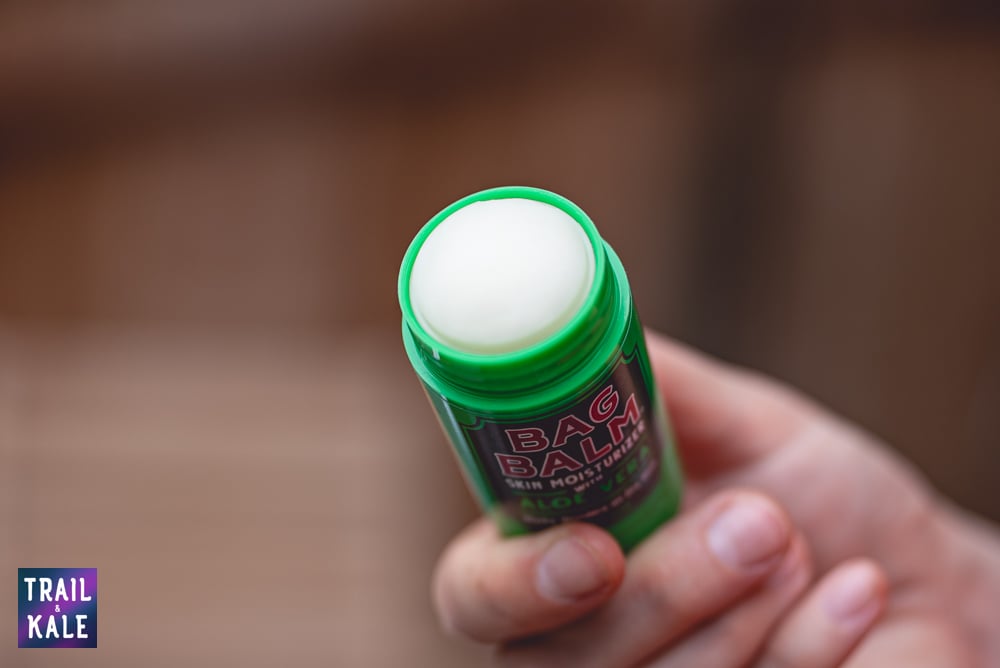 I've found the stick format the most useful product for general everyday uses and keeping it in a bag when I'm on the go.
This version of the product is definitely the best option for stuffing in a duffel or your hiking daypack when heading out on adventures.
I also keep one in my drop bag when attending trail running events – it's great for applying to sunburn or chafing, plus any running-related hotspots I may have.
Because it's in a stick that you can rub straight on, you don't need to get the product on your fingers to use it, which is good if you aren't able to wash or wipe your hands after application.
Using Bag Balm for dogs
Another very popular use for Bag Balm among our community is on sore dog paws!
It's popular because it's easy to use and stated as safe for them to lick (although, ideally, you wouldn't let them lick it, of course!).
If your adventure dog has torn a pad, or otherwise hurt their paw from rough ground or even hot pavement, Bag Balm is safe for dogs and used by many people to soothe sore paws.
It's a very useful product to have around the home for caring for your dog as well as yourself.
If you have an adventure-loving dog that likes to run fast and play hard, like Trail & Kale's canine editor, Kepler the Border Collie, then you'll definitely find this product useful.
On the subject of adventure dogs, we have a load of other adventure dog gear guides and reviews you may want to read next, which can be found here: Adventure Dogs.
If you do put Bag Balm on your dog's paws, I would suggest firstly, using the salve (rather than stick) format, and then putting a bandage or sock on their paw to wrap it and prevent them from trekking the salve all over your house and your furniture.
Covering the paw will also stop dust and debris from sticking to it.
It's also often used on other areas where dogs may get dry skin, such as their snout (although that's not something we've needed to do).
As far as other animals and pets go, Bag Balm has been used on horses and udders since it was invented, and it's also known to be used on cats.
---
Where to buy
A tin of the moisturizer costs around $10, as does the stick version, and you can buy bundles including larger sizes as well as smaller, travel sizes, squeezy tube versions and lip moisturizer tubes on their website.
For the full range of products and current deals I suggest shopping on their website, where you can buy them directly:
You may also be able to find it at these stores:
Chewy.com
$8.49
See Deal
Bagbalm.com
$10.99
See Deal
Amazon.com
$16.46

2 new from $15.99

See Deal
Last Amazon price update was: 30th March 2023 4:01 pm
---
Review summary
Bag Balm Review
PROS
Intensive moisturizer for dry skin
Safe for people and animals
Inexpensive
The Company is more than 100 years old and products are still made in the USA
CONS
Tinned ointment can be messy
Not everyone will love the lack of a particular smell
Ingredients include fossil fuel derivatives
---
Image gallery
---