Boulder, Colorado-based sports nutrition brand Skratch Labs offers a range of products for athletes, which are particularly popular among people who enjoy trail running, road cycling, mountain biking and other endurance sports.
These products include electrolyte drink mixes, energy bars, chews and recovery protein powders – you can see the full range on Skratch Labs' website.
In this Skratch Labs review, I explain their most popular and frequently reviewed products, including how and when to use them to best effect.
---
About Skratch Labs
If you're relatively new to sports drinks, hydration and nutrition, then it can be hard to know what products are going to be best for you – especially when there's an overwhelming number of sports hydration brands out there.
Skratch Labs is one of the most trusted sports nutrition brands out there among athletes looking for cleaner sports nutrition.
This is because one of their differentiators is they never use artificial sweeteners, isolates, colors, or preservatives that might cause GI distress. Also, unlike many sports nutrition drinks, they don't rely on using Stevia as a sweetener.
Skratch Labs is a USA-based food company (not a supplement company) and their products are regulated by the US's FDA guidelines.
Because of this, both in the company's marketing material as well as anecdotally among other endurance athletes, their products are less likely to upset your stomach than other hydration or electrolyte drink mixes you may have tried in the past.
Chances are, you heard of Skratch Labs because you did a race or trained with someone who mentioned it.
When a brand gets this popular by word of mouth among athletes, then you know it's probably a good thing, and for more evidence, there are hundreds more positive reviews from others on the product page for the Sports Hydration Drink Mix.
The reason the brand is called 'SkratchLabs' is that the basic concept of all their products is they start from scratch with the choice of natural ingredients used to supply a blend of sugars and electrolytes into their drink powder mixes.
It's also worth noting that their products are all non-GMO, Gluten-Free and Kosher, and they're made in the US and Canada.
The company also guarantees their products will help you perform better, and if they don't, they offer a refund. That makes trying them pretty much a no-brainer.
---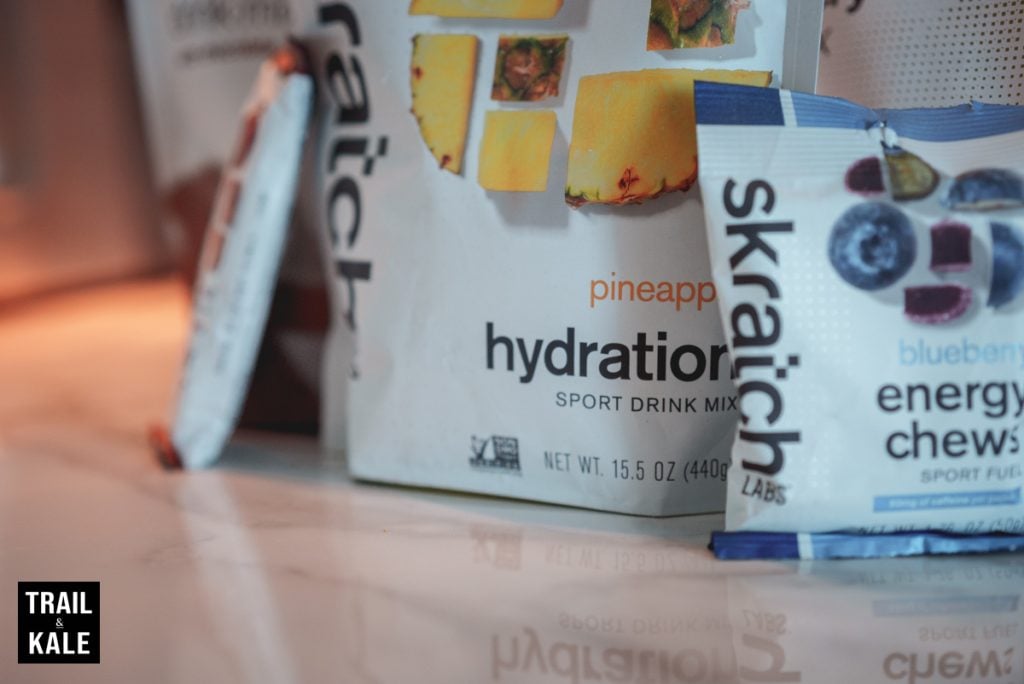 Types of Skratch Labs Products
Skratch Labs offers three main types of sports nutrition products:
They also offer other products including a cookbook, oral rehydration salts, and energy bars, which are designed for 'anytime' eating, as opposed to being specifically for, during or after doing sports or a workout.
Visit Skratch Lab's website to see the full range of products, or check out this handy sample pack that contains one of each of these products, plus an energy bar.
---
Skratch Labs Hydration Drink Mix ($22)
The Skratch Sport Hydration Drink Mixes are probably what they're most well-known for.
It's a simple product to use. You mix it with water that you can take on your bike or long run to re-supply you with a blend of sugars and salts to replenish what you're losing through energy burning and sweating as you ride or run.
Most people will want to consume one packet (or serving) with a 350-500ml bottle of water, per hour of training or racing.
These drink mixes are flavored with real fruit – no artificial sweeteners, and no Stevia!
Because of this, you're less likely to get 'flavor fatigue', which you may have had with other products where you simply can't face taking another swig of the drink and tasting the artificially sweetened taste.
They also offer a 'Clear Hydration Drink Mix', which has less flavoring and sugars, and is designed for those longer endurance efforts where you want plain water and less sweetness, but still need to replenish electrolytes.
These sports hydration drink mixes are available in a range of flavors including Strawberry Lemonade, Pineapple, Lemon and Lime, Orange and Fruit Punch. A personal favorite is Strawberry Lemonade, followed closely by Pineapple.
You can get caffeinated versions in Raspberry Limeade and Matcha Green Tea and Lemon, if having caffeine in your sports hydration drink is desirable to you.
Skratch's Hydration Drink Mixes cost $21.95 for a resealable bag containing 20 servings. You can also buy single-serving packs.
---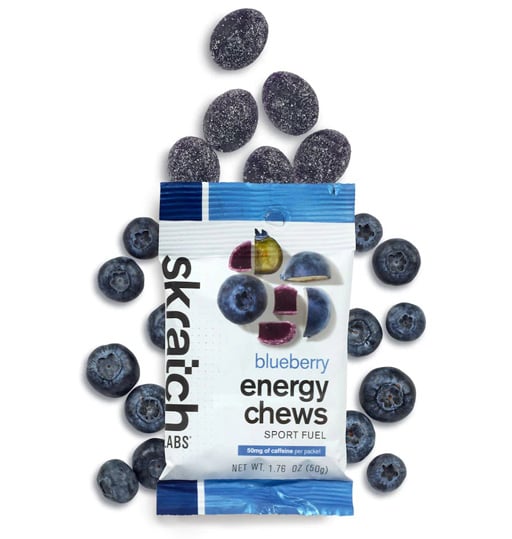 Skratch Labs Energy Chews ($24 for a 10-pack)
We like energy chews as they're easy to carry, easy to eat, and unlike gels, do not have much potential for creating a gooey mess if you don't open or sip from the packet quite right.
You may also prefer energy chews to a drink mix if you want to drink just water when you need a drink, and take your nutrition on a different cadence.
They're also useful if the more liquid texture of gels doesn't sit well in your stomach – a chew is easily digestible but not supposed to pass through your body as quickly as a gel may do.
Key things to know about Skratch Labs Sports Energy Chews are:
They use two types of carbs (glucose and fructose), which is intended to speed up the absorption of energy in your body.
They contain zero preservatives, coloring, or waxes.
They're gluten free, dairy free, and vegan.
These energy chews come in a variety of flavors, with some caffeinated options. My personal favorites are the Raspberry and Orange flavors as I prefer to get my daily caffeine treat from drinking coffee, not my sports nutrition products.
Most people will want to consume one pack per hour, for longer endurance efforts lasting two hours or more.
Skratch Energy chews cost $2.45 for a single pack, or $24 for a 10-pouch pack.
You can also order a variety pack from Skratch Labs, which is useful if you're not sure what flavors you'll like the best and want to try a few out.
---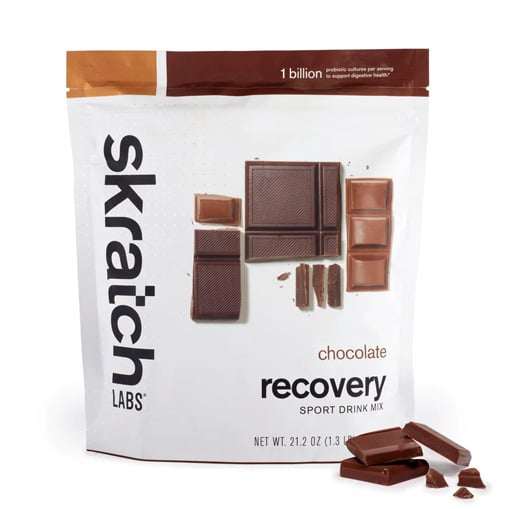 Skratch Labs Sport Recovery Drink Mix ($34)
We tend to use recovery shakes after intensive workouts and have reviewed many on Trail & Kale.
We also have a best plant-based protein powders buyer's guide you may be interested to read, as it summarizes the top protein powders we've encountered in this space.
Recovery drink mixes are a great option when you don't have a nice carb and protein-full meal waiting for you within an hour of finishing a tough workout.
Just mix with water (or your choice of milk), shake and consume.
Skratch Labs' Sports Recovery Drink Mix blends up into a thick hot-chocolate texture and flavor. The brand describes it as 'really sweet milk', like chocolate milk, and they're not wrong – it's a scientific blend of sugars and milk!
This protein recovery shake contains 8g of protein and uses a ratio of 4 to 1 carbohydrate to protein.
This means it's very focused on getting those carbs and a bit of protein back into your system, rather than building muscle after lifting heavy weights, for example.
For the latter need, you'd probably want a more protein-rich ratio of 15g or more. If that sounds like you – check out that plant-protein buyers guide I mentioned above for some other recommendations.
This point may also be important for you to be aware of if you want a protein shake to help with muscle recovery but are not looking to boost your carb intake.
It's available in chocolate (popular), coffee, and an unusual horchata flavor. We've used the chocolate flavor, and it's worth noting that (perhaps unsurprisingly), the coffee flavor contains caffeine!
For a vegan version, you can get the vegan chocolate recovery mix. The vegan Skratch recovery shake uses plant-based proteins including pea and rice protein, instead of milk.
Skratch Sport Recovery Drink Mixes cost $33.95 for a 12-serving bag. You can also buy 24-serving and single-serving bags, depending on your preference.
---
Where to buy Skratch Labs sports nutrition products
The best place to go for the full selection of products and flavors, as well as items such as variety packs, is Skratch Labs' website, where you can buy all their sports nutrition products direct.
Skratch offers free US shipping on orders over $59 and a guarantee that you'll love their products or they'll help you find something else – or refund you.
They offer discounts and bundles from time to time – check their website for the latest deals:
---
Skratch Labs Review Summary
Skratch Labs Review
PROS
Quality sports nutrition
Stevia-free taste
Reasonably priced
Great range of flavor options
CONS
Recovery mixes are carb-heavy - best for after intense endurance efforts