Mountain biking is a fun way to explore trails, parks, and mountain environments and cover a lot more mileage and technical terrain more quickly than hiking or trail running.
Plus, you'll get plenty of fresh air, some great exercise, and the opportunity to spend time in nature – so it's no wonder that the sport has gained in popularity since it was invented right in our backyard (yes, literally a couple of miles from Trail & Kale HQ), here in Northern California, in the 1970s.
Before we get started, I'd like to first thank REI for sponsoring this guide to mountain biking for beginners – we always appreciate your support!
REI is our favorite store for buying outdoor gear and supplies for our adventures. Check out all the great mountain biking gear available at REI, after reading this guide.
---
Types of mountain biking
Before you go bike shopping, it helps to think about the types of terrain you'll have access to (or want to travel to) to ride on.
This will help you work out what type of mountain bike will be the best option for you – that is, so you're matching the terrain and bike style with the type of riding that you'll gain the most enjoyment out of.
Assuming you want to get into mountain biking for fun, then there are three main types of biking:
Trail or cross-country riding
All-mountain biking (also known as Enduro riding, especially in a racing context)
Downhill riding
Trail riding
Riding trails, or cross-country, refers to riding more mellow terrain with less technical terrain and steep climbs and descents than other types of mountain biking.
This makes it a great style of mountain biking for beginners and people who want to travel longer distances and are less interested in the downhill and technical features of other styles of biking.
All mountain riding
All-mountain biking involves riding routes involving steeper mountain bike trails, with more technical features than cross-country and trail riding.
This is where you'll find more challenging features, winding singletrack and rough terrain to navigate.
Downhill riding
Downhill riding is usually found in mountain areas that operate as ski resorts in winter and bike parks in summer. The resorts adapt chairlifts to take your bike to the mountain top so you can ride downhill.
This is a more hardcore style of riding that will usually necessitate riding a full-suspension downhill bike to help absorb impact, and wearing armor and a larger helmet that covers your full face.
You don't have to pedal much because you're rarely riding uphill, but it's an intense workout as you're always moving at speed with that gravity-assist, and balancing to negotiate obstacles as you go, so you need good riding technique!
What about fat biking?
In recent years, fat biking has also become more popular.
Bikes with fat tires are usually upwards of 4 inches wide, and very fun to ride, especially as they can be used in winter to ride on snow, and handle better on sand than bikes with narrower tires.
---
Types of mountain bike
Mountain bikes differ from road bikes in a number of ways, and there are different types of mountain bike to choose from depending on your preference and the terrains you want to primarily ride on.
Here are the main features to consider.
Suspension: hardtail vs. full suspension
Firstly, the most common type of mountain bike, the hardtail, has suspension on the front fork to absorb bumps and provide a more comfortable ride than a fully rigid bike.
The amount of suspension 'travel' (i.e. the amount it will move to absorb impact) varies.
Bikes with less travel are better suited to more mellow cross-country trail riding, whereas bikes with more suspension travel are better for all-mountain riding and may offer more versatility in terms of where you can enjoy taking your bike.
Other mountain bikes designed for more big mountain and downhill riding also have suspension in the center of the bike. These are referred to as full suspension bikes.
They're less efficient to pedal uphill but provide a fun ride for downhills and riding over big bumps because the suspension really helps absorb impacts.
Bikes with full suspension are typically significantly more expensive than hardtail options.
Wheel size and tires: 27.5 or 29 inch
Most mountain bikes these days have either 27.5 inch or 29 inch wheels, and all will have knobby tires for traction.
You can ride a bike with either size wheels, anywhere you like. That said, 27.5 inch wheels tend to be better for narrow, twisting single track and park riding where you need to maximize turning and maneuverability. They're the top choice for riders looking for a more nimble ride.
On the other hand, 29 inch wheels will generally roll over obstacles more easily, offer excellent grip and allow you to cover greater distances with ease, so they're often seen on cross country bikes and all mountain bikes.
We both choose to ride 29-inch wheels on our mountain bikes, and affectionately call them our 29ers.
In all the photos for this article, you can see me riding my Specialized Stump Jumper Pro with 29 inch wheels (and medium frame), and Helen is riding her Juliana Maverick which is also a 29er.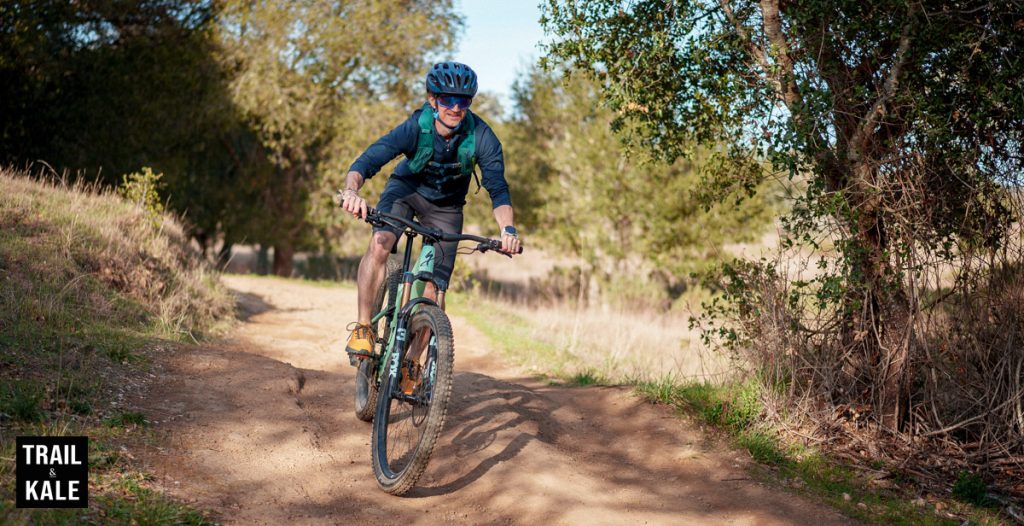 If you think you want a bit of both, then you can also look at bikes that have a 29 inch front wheel and a 27.5 inch rear wheel, which are intended to give you a blend of the 29 inch's travel and the 27.5 inch's agility.
Other ways mountain bikes differ from the typical road bike is the cycling position, which is more upright and comfortable for a lot of people than road riding as you're less concerned about aerodynamics and pure speed as you are about handling and the ability to move in and out of your saddle to maneuver and balance your bike while it travels over obstacles.
The handlebars also tend to be wider, again, to help with balance and movement as you ride. Handlebars can be cut down to size after buying your bike if you prefer a slightly narrower stance.
Carbon vs. aluminum bikes
Essentially, a carbon fiber bike is going to be lighter, more nimble, and more expensive than an aluminum framed bike. That's generally how it goes with all bike components: the lighter in weight they are, the more they cost!
As you get more and more into the sport, you'll probably start getting obsessed with making your rig as light as possible, like electronic wireless shifters for example.
If you're just getting into mountain biking, you can have plenty of fun riding an aluminum bike that cost you half of what a carbon frame equivalent would have.
That said, if you have the money to invest in a carbon bike and aren't concerned about the risk of damaging it as you evolve from beginner mountain biker to being more experienced, then you'll definitely appreciate the weight savings when you're negotiating your next steep climbs.
Electric mountain bikes
Another genre of mountain bike that is gaining popularity and making it possible for people with a wider range of physical abilities to access the biking trails is the electric mountain bike.
E-mountain bikes are the trail equivalent of the e-bikes you probably see everywhere on the roads and paths around home, except they're designed to be ridden off-road.
For all intents and purposes, they look just like a pedal mountain bike but have a hidden battery in a slightly thicker frame tube, with a battery indicator and controls to dial in additional pedal assist power when needed.
You can expect to pay a lot for an electric mountain bike, and they're heavier than your regular pedal bike (although not much heavier for the high end ones), but many people would argue it's worth it for the trails they're able to reach that wouldn't be possible without assistance from a battery-powered motor.
They're also great if you have no interest in mountain biking up hills, and prefer the thrill of the downhill because an electric bike will help you reach summits with far less effort.
How to choose your first mountain bike
Your local bike store is usually a good place to go to learn about the different types and brands of bikes available, as well as getting advice on which frame size will suit you.
Frame sizes vary between brands but are generally based on the rider's weight and height.
Your local bike shop or REI is a great place to head to for expert advice and help with selecting the right bike for you.
If you're on more of a budget then you should also look into the option of buying a used bike, but be careful to do your research first and ensure you're buying it from the person who owns the bike, because sadly bike theft is a big issue pretty much everywhere.
Women's-specific mountain bike frames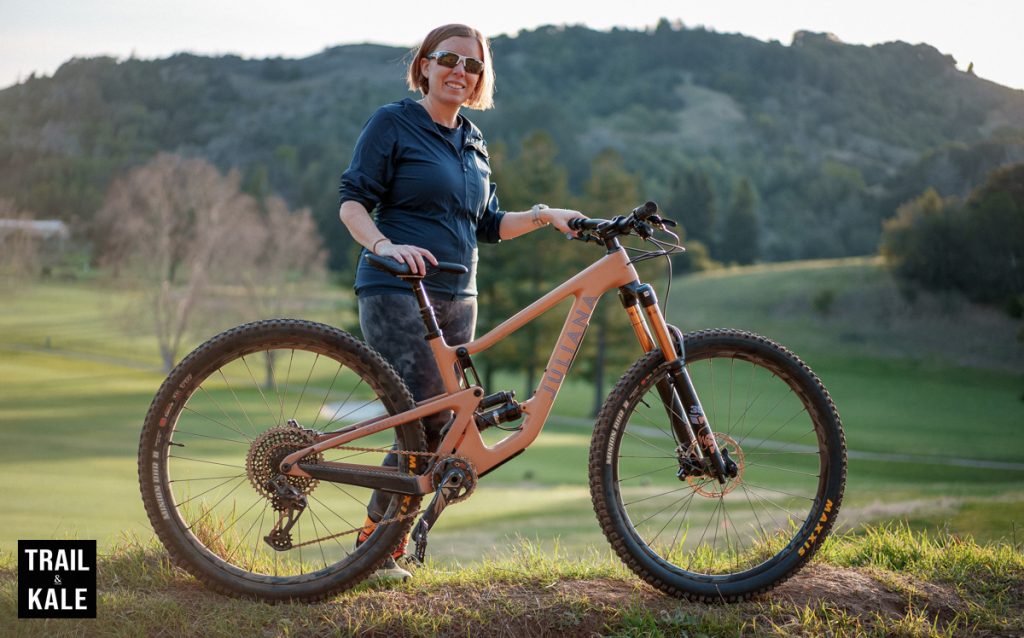 Most bike manufacturers sell bikes targeted to women. There are also some women's-specific bike brands such as Liv and Juliana which you can check out.
The differences from men's bikes can be subtle but may make a difference to you, especially if you're of shorter stature.
The main differences between men's and women's mountain bikes are that the frames on the women's bikes usually have a different geometry, to provide a slightly shorter reach to the handlebars from where you're seated.
The vertical 'stack' height of the bike may be shorter than the men's equivalent, and there may be other changes to other components such as the saddle design or the suspension tuning.
Whether or not you should choose a women's specific mountain bike really comes down to your personal preference – if you find a bike that fits you well and you love it, then don't hesitate just because it's a unisex model and not a women's specific bike!
Pedals
As a general rule, mountain bikes are sold without pedals. You can choose whether to get platform pedals or 'clipless pedals' – which are not clipless at all, because these are the pedals where you clip your feet in and have to clip-out to get your foot off.
I would strongly recommend anyone looking to start mountain biking chooses platform pedals where you can move your feet on and off freely without remembering to quickly clip out to put your foot out or down on the ground.
There's enough to think about without having your feet stuck to the pedals!
Although clipless pedals are popular for road bikes (and yes, some mountain bikers use them) because you get more power out of each pedal stroke, unless you're racing then at least when you first start mountain biking it's easiest to stick with the platforms.
---
Is mountain biking dangerous?
As you can imagine, riding a bike downhill over rock gardens and trail obstacles can pose a significant risk of falling off or otherwise hurting yourself.
Most cyclists/mountain bikers have had a fall at some point, myself included and I have the wonderful knee and elbow scars to prove it.
That said, you'll probably fall more as a beginner mountain biker, especially if you start to push out of your comfort zone by going on trails with steeper and more technical features.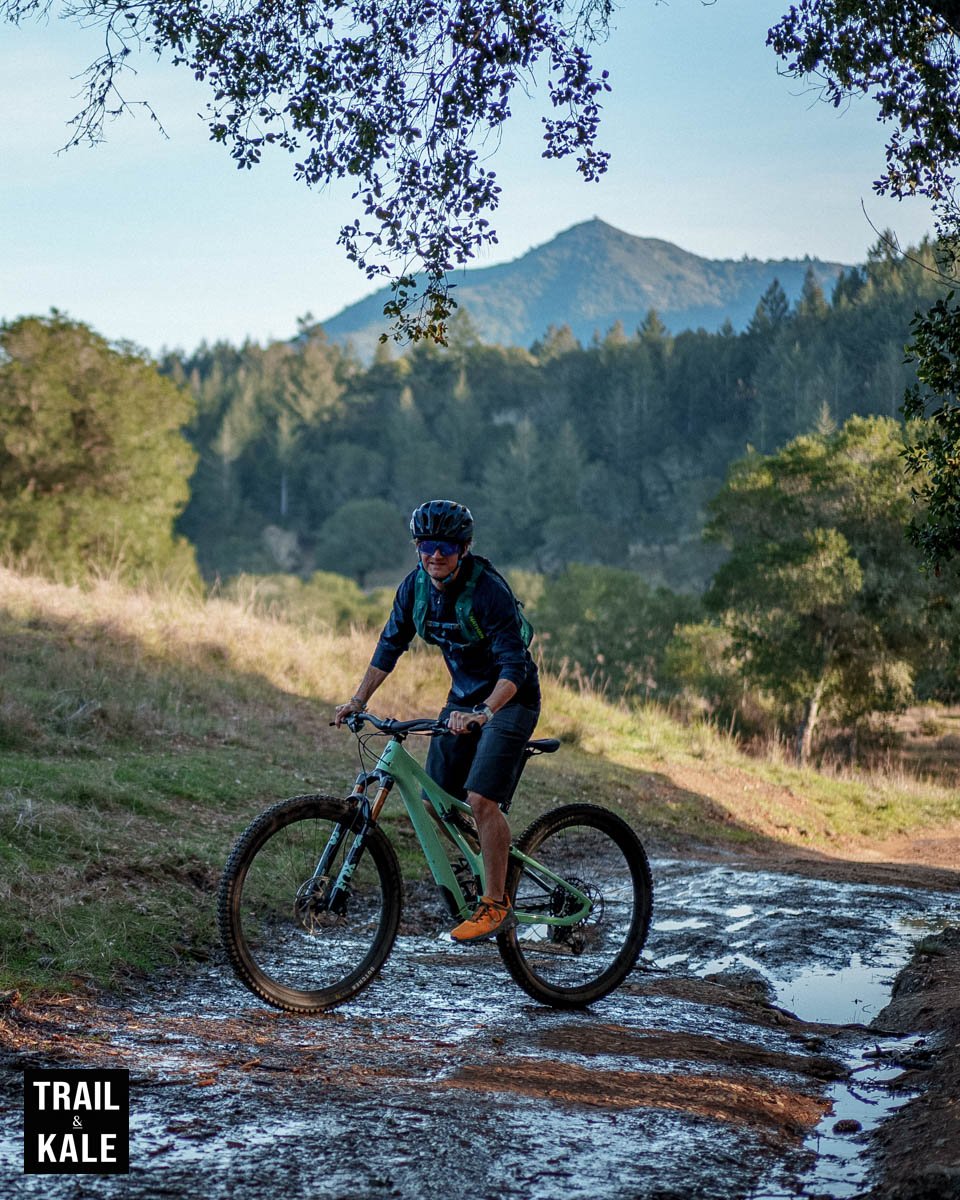 Once you gain more fitness and experience and trust yourself and your bike more, then you will feel more confident and should be less likely to fall off!
That's a big 'if', because you can choose the type of ride you want – which is on trails where you think you'll have more fun, and that can mean sticking to mellow, cross-country local trails and never venturing up a steep mountain, if that's not what you want to do.
---
Is mountain biking hard?
Compared to other trail-based activities like hiking, yes, mountain biking is relatively hard. That said, you'll probably get a better workout!
Pedaling uphill can be a really intense cardio workout, even on a short ride. But like anything, it gets easier the more you do it (and the fitter you get).
Riding downhill and on more trails with obstacles like roots, rocks and tight turns can be hard in a different way. This time it's more about balance, technique and ensuring you are anticipating how to react to them in time to act. This takes practice.
---
Tips for beginner mountain bikers
These tips will help you get out on your first rides and start to enjoy mountain biking!
Choosing a beginner-friendly trail
Beginner-friendly trails tend to be shorter routes, with fewer obstacles. This can include mellow singletrack trails, doubletrack or fire roads that aren't too rocky or root-ridden.
Trails in bike parks and areas popular with mountain bikers tend to be categorized by difficulty level, similar to ski runs. In these areas, you're looking for easier trails, stick to the greens and blues, and avoid the double black diamond routes!
There are loads of apps out there where you can research and download trail maps and routes to your phone or GPS watch, including Strava and Garmin Connect, two of which we use a lot for trail running route-finding as well.
If you have a Garmin GPS watch or bike computer then it makes sense to check out Garmin Connect before exploring other apps.
Trailforks is another app that many mountain-bikers swear by for finding new trails and routes, and reading other users' reviews. You can also use these apps to find local trails to ride on.
You can use it for free on your desktop, with limited regional access for free on your phone, or with full regions for a modest subscription.
REI's free app, MTB Project, contains approved crowdsourced routes and will work without cell service, so it's definitely worth checking out as well!
Get the right mountain bike gear
The number one item of gear you'll need is a helmet. Don't head out on a mountain bike ride without one!
Clothes to wear mountain biking
Aside from your helmet, it helps to have long shorts with stretch, a comfortable jersey and a waterproof or windproof jacket.
Socks that cover your ankle are also a good idea to help provide some protection against scraps on the pedals.
Like trail running and hiking, these clothes should all be made from technical, sweat-wicking materials that will help keep you comfortable and your temperature regulated as you ride.
REI stocks a complete range of men's, women's and kid's mountain biking clothes and gear, so it's a great one-stop-shop to gear up to hit the trails!
When you're just getting into mountain biking you don't necessarily need special mountain bike shoes if you have some good trainers with decent underfoot grip. An old pair of trail running shoes is a great choice, for example.
Mountain biking accessories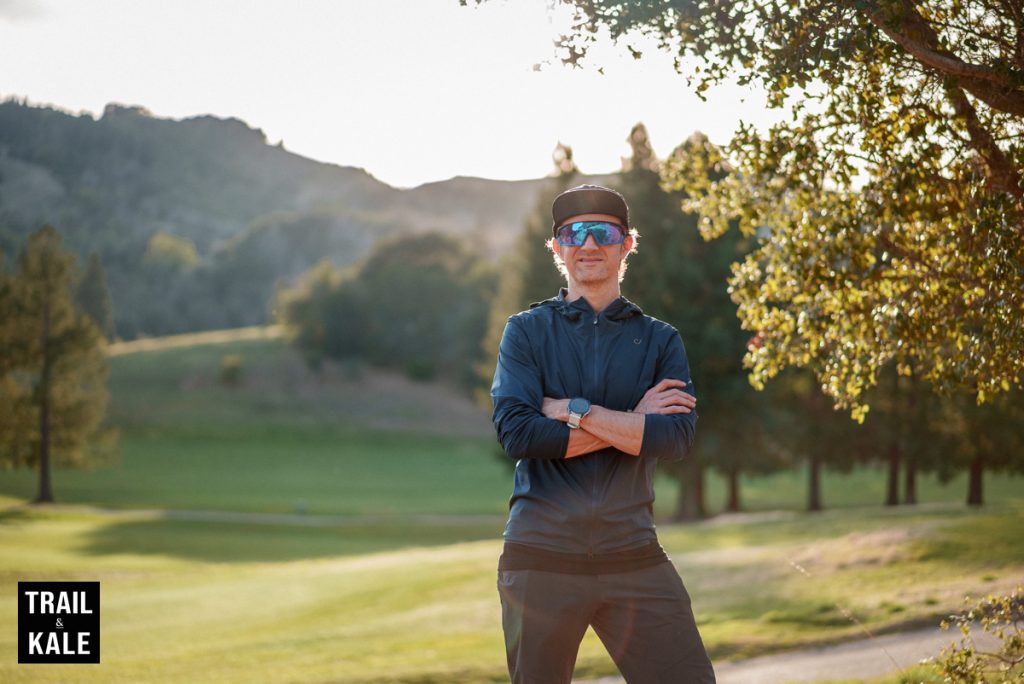 A good pair of UV-protective sunglasses and gloves with palm cushioning are definitely worth the investment.
You'll also need to carry with you a small amount of safety gear.
The easiest way to do this is by wearing a hydration pack that can carry a water bladder, repair kit (including a pump, multitool, patches and a spare tube), your phone and some snacks.
Visit our essential mountain biking gear checklist for a full list of what to bring with you when you head out for a ride, and read our guide to simple bike maintenance (and cleaning) for tips on caring for your bike at home.
Preparing for your first ride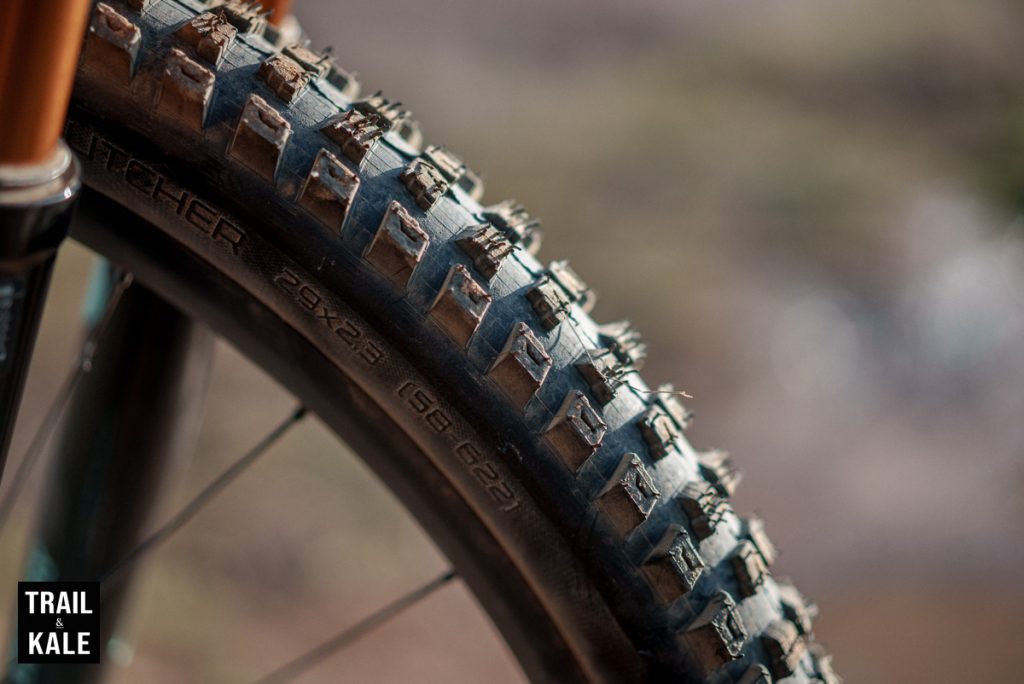 Before you hit the trails, check your tire pressure and if necessary, pump them up. The tires have their ideal pressure range embossed on the sidewalls, so match the pressure in your gauge with a number within this range.
It also pays to check you have enough lube on your chain, and if you're going out early, then pack your water and tools the night before so you don't forget any essentials.
If you're new to the area, consider riding with a friend or group, going somewhere you know you'll have cell service, and let someone know where you're going and when you expect to be back.