Regular bike cleaning and basic bicycle maintenance are crucial to ensure your bike performs well, remains safe to ride, and lasts a long time. Neglecting maintenance can lead to various issues, including decreased performance, safety risks, and costly repairs.
By performing regular basic checks and maintenance tasks, you can keep your bike in good condition and prevent potential issues from becoming major problems.
It also helps you understand how your bike works, which can come in handy when something goes wrong while you're out riding.
I'm Alastair, one of the founders of Trail & Kale, and in this post, I'm sharing some simple road and mountain bike maintenance tips every cyclist should know, which you can easily do yourself at home with a few basic tools.
These tips are perfect for beginners who want to learn how to take care of their bike but are not sure where to start, including:
The essential tools you need for basic bike maintenance
How to do an 'ABC' basic bike safety check
How to clean a bike (and why you should do it regularly)
How to lube your bike chain (and other components)
Common basic bike repairs and adjustments
When to get a bike tune-up
Before we get started, I'd like to thank REI for sponsoring this guide to basic bike cleaning and maintenance.
We recommend REI for all your outdoor gear supply needs and we love that every store has a bike maintenance and repair shop that can do bike tune-ups and upgrades for your road, gravel or mountain bike!
Plus, REI members get 20% off these services and free labor on flat tire repairs – WIN! 🙂
The essential tools you need for basic bike maintenance
Before we get started, here's a list of the essential tools and supplies to have handy so you can easily clean, lubricate and perform basic maintenance checks and adjustments to your bike.
You may have a lot of the more basic cleaning supplies around the house, so don't feel you have to go out and buy special bike cleaning 'stuff' if you don't need to!
Bike cleaning tools
Soap or bike-specific Cleaner – A mild soap or bike-specific cleaner (such as the Muc-Off cleaner pictured below), to safely clean your bike.
Avoid using harsh detergents or degreasers that can damage the bike's finish or components.
Bucket – You'll use this to mix the soap or cleaner and water for cleaning the bike.
Sponge or brush – A sponge or brush is needed when bike washing to apply the soap or cleaner to the bike and scrub away dirt and grime.
A soft sponge is good for the larger areas of the bike frame and old brushes such as toothbrushes can be useful for getting into hard-to-reach places.
This gear cleaning brush is also well worth the $6 cost for getting in between the gears and harder-to-reach dirt on your bike.
Water hose or spray bottle – Use a water hose or spray bottle to rinse off the bike after cleaning.
Towels – To dry your bike with. I find microfiber towels such as e-cloths to be the best option.
Degreaser (optional) – A degreaser is a strong cleaner that can be used to remove stubborn grime and buildup on the bike's chain or other components.
It's not necessary for basic cleaning and maintenance, but it can be useful for more thorough cleaning.
Bike maintenance stand (optional) – A work stand is a stand that holds the bike off the ground, making it easier to work on.
It's not necessary for basic cleaning and maintenance, but it will make the process much easier and can be useful for more advanced repairs and so if you have the budget for it.
This Park Tool stand that we use, for example, costs around $220 and is a very useful investment if you find yourself cleaning your bike frequently!
Bike lubricating
Lubricating a bike regularly can improve performance, reduce noise, and make riding more comfortable.
It will also help replace any lubricant that gets removed when you ride or wash your bike.
Bike lubes usually come in the form of oil or grease, and you apply them to the moving parts of a bicycle such as the chain, to reduce friction, prevent wear and tear, and prolong the life of the components.
Lubricant – Use a bike-specific lubricant that is appropriate for the conditions you'll be riding in.
There are two main types to be aware of, wet and dry lube.
Wet lube is designed for use in wet and muddy conditions as it has a thicker consistency and is more resistant to being washed away.
Dry lube, like the Muc-Off lube shown below, is designed for use in dry and dusty conditions as it is less viscous and attracts less dirt and grime.
Rag – Have a rag handy to apply the lubricant to the bike's components and wipe away excess.
Basic bicycle maintenance tools
Bike pump – You'll need one of these to check your bike's tire pressure and inflate them with air if they need topping up or if you've replaced the inner tube.
I highly recommend getting a floor pump rather than a smaller handheld one – they're a lot easier and more efficient to use!
Multitool – A portable toolkit that includes a variety of tools, such as hex keys and screwdrivers, for repairing and adjusting different parts of the bike.
A multitool like the Crank Brothers tool pictured above is a useful tool to take with you on your bike rides as well as having available for maintaining your bike at home.
Tire levers – These are small, plastic or metal tools used to remove the tire from the rim of the wheel, making it easier to repair or replace the inner tube.
Tire levers are another basic bike tool that are useful to take with you when you ride, together with a small pump and spare tube, in case you get a flat while riding!
For a list of other gear to take on your rides, head over to our mountain biking gear checklist.
Do an ABC pre-ride bike safety check (Air, Brakes & Chain)
An ABC bike check is a basic bike safety check to do before you ride, even if you have a relatively new bike. The ABC stands for:
Air
Brakes
Chain and Cranks
It's important to make sure all of these things are in good working order on your bike each time you hit the road or trail!
A: Check and adjust your bike's tire pressure
Properly inflated tires ensure maximum contact with the ground, providing better traction and stability, and reducing the risk of accidents.
Additionally, overinflated or underinflated tires can cause uneven wear and tear, reducing the lifespan of the tire and affecting the bike's performance.
How to check bike tire pressure
To check your bike's tire pressure, find the recommended PSI on tire sidewall, use the gauge on your bike pump to measure the tire's current pressure, and add or release air with the pump as needed.
Recommended PSI varies by tire type and rider weight, with road bike tires requiring higher PSI than mountain bike tires.
As a general rule, road bike tires should be inflated to 80-130 PSI, while mountain bike tires should be inflated to 25-50 PSI.
Remember to replace the valve cap and repeat the process for the other tire.
B: check your bike's brakes
There are several signs that your bike's brakes may need adjusting, including squeaking or rubbing sounds, difficulty stopping the bike, the wheel spins even when you're holding on to the brake levers, or you can pull a brake lever all the way to the handlebar.
How to inspect your bike's brake pads
To inspect your bike's brake pads, visually check them for uneven wear, cracks, debris and if they're excessively worn down with a thickness of less than 1mm.
Ensure the pads aren't glazed or hardened, and that they contact the wheel rim evenly when you squeeze the brake levers.
Another useful check is to spin each bike wheel and look down it to check it's not bent or damaged, which can cause issues including inconsistent contact with the pads.
Replace worn or damaged pads before riding, which can be done by your local bike shop mechanic.
C: Check Your Chain and Cranks
Inspect your bike's chain. Check for any signs of rust, damage or excessive wear, such as loose or missing links.
The chain, one of your bike's critical moving parts, should always be clean and well lubricated. If it's not, then I explain how to lube your chain later in this post.
Check the chain tension by shifting the bike into the smallest chainring at the front and the smallest cog at the back, and pulling the chain away from the centerline of the bike.
There should be a small amount of play, about half an inch to an inch.
While you're looking at the chain, also inspect the cranks (that the pedals are attached to) and chainrings (the round spiky bits that pull the chain round).
Check that the cranks are securely attached to the bottom bracket and are not loose or wobbling.
Spin them and check for any grinding or clicking noises, which could indicate a problem with the bearings or bottom bracket, and check the pedals are also spinning freely and not wobbling.
Inspect the teeth of the chainring for any signs of damage, wear or missing teeth. Make sure that the chainring bolts are tight.
How to clean a bike (and why you should do it regularly)
Here are step-by-step instructions on how to clean your bike:
Gather your cleaning supplies: a bucket, mild detergent, a soft-bristled brush, a sponge, and a hose or water source.
Rinse your bike: do this thoroughly with a hose or bucket of water to remove any loose dirt, grit and debris.
Apply soap: Mix mild detergent with water in a bucket, dip the sponge or soft-bristled brush into the solution, and gently scrub the bike from top to bottom.
Clean individual components: Pay extra attention to areas that are prone to accumulating dirt, such as the chain and cassette.
Wash off the soap: Rinse the bike thoroughly with water to remove all the soap residue.
Dry your bike: use a clean towel or leave it to air dry.
To avoid damaging your bike, avoid using high-pressure water, harsh detergents, or abrasive cleaning tools.
Additionally, never use a solvent-based cleaner on your bike's frame or parts, as this can cause damage to the paint and components.
How to lubricate a bike chain (and other moving parts)
After you've washed your bike and cleaned any dirt or gunk off your bike chain with a rag or old toothbrush, you need to reapply lubricant to the chain and other moving parts of your bike to ensure they operate smoothly.
Here's how to lube the chain:
Clean the chain: Use a chain cleaner or a rag to remove any dirt or debris from the chain. This will help the lubricant adhere better.
Choose the right lubricant: Select a lubricant that is appropriate for your riding conditions. Wet lubricants are good for wet or muddy conditions, while dry lubricants are better for dry and dusty conditions.
Apply the lubricant: Apply the lubricant to the chain while turning the pedals backward. Apply a drop of lubricant on each roller, and ensure that the entire chain is covered.
Wipe off the excess: Use a rag to wipe off any excess lubricant. Leaving too much lubricant on the chain can attract dirt and debris.
Let it dry: Let the lubricant dry for a few hours before riding your bike.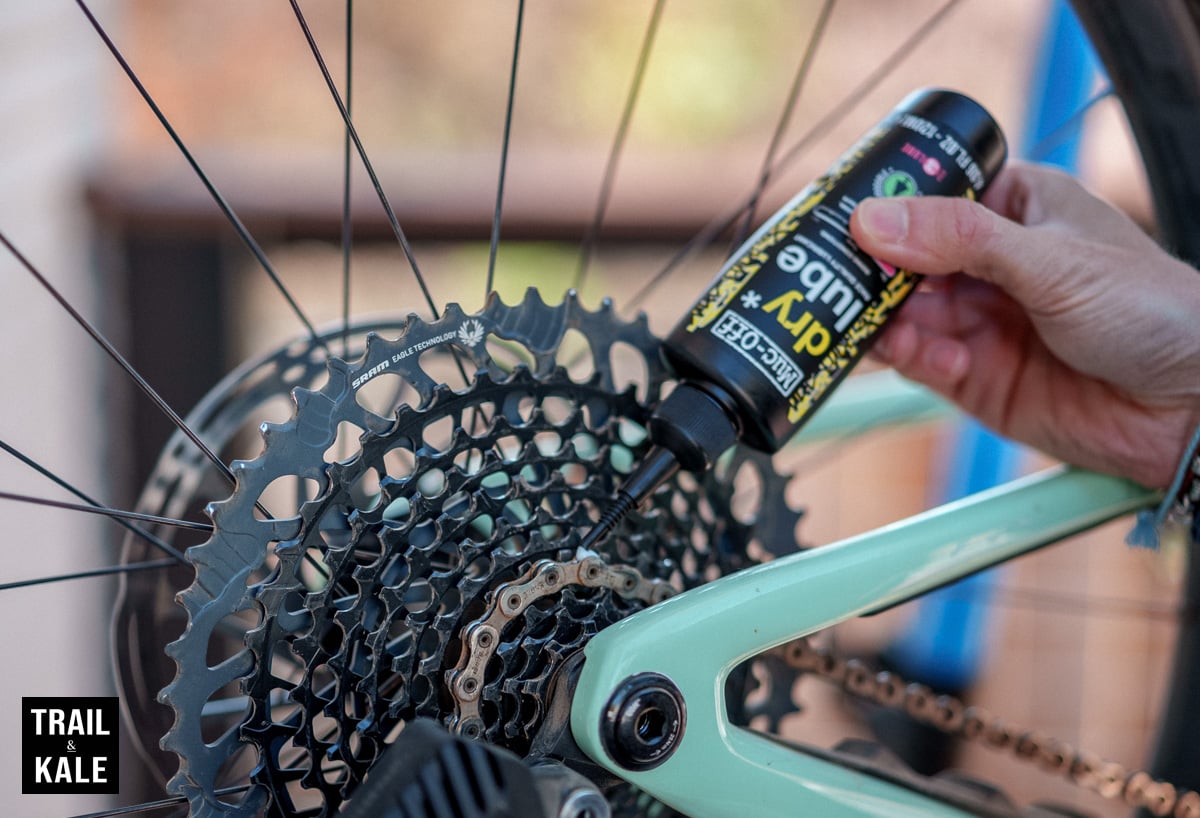 Other parts you should apply lubricant to, if needed, are:
Derailleur pivots: Apply a small amount of lubricant to the derailleur pivots to ensure smooth shifting. These are the small moving parts on a bike that allow it to shift the chain between gears, which are typically located where the derailleur attaches to the bike frame.
Brake and shift cables: Apply a small amount of lubricant to the brake and shift cables to prevent rust and improve their function.
Pedals: Apply a small amount of lubricant to the pedal threads to prevent them from seizing up.
Seat post: Apply a small amount of lubricant to the seat post to prevent it from sticking in the frame.
Suspension forks and shocks: Apply a small amount of lubricant to the suspension forks and shocks to keep them functioning smoothly.
Remember to wipe off any excess lubricant to prevent dirt and debris from sticking to the lubricated parts.
Common basic bike repairs and adjustments
Other basic repairs you can do yourself include fixing a flat tire, replacing an inner tube, adjusting your bike's chain and adjusting its gears.
While these shouldn't need doing as part of your regular basic cleaning and safety checks, these are all useful skills to learn so you can do them yourself if necessary.
This is especially true when it comes to fixing a flat tire, which is a skill that may come in useful sooner than you may expect!
A great way to learn these skills is by taking a bike maintenance class to see them demonstrated in-person and get hands-on experience in adjusting your own bike.
Otherwise, your local bike shop will have experienced mechanics who can make these minor repairs and adjustments for you.
Get a bike tune-up by a mechanic once or twice a year
To keep your bike functioning properly, it's important to get a thorough bike tune-up done by a bicycle mechanic.
A bike tune-up is a comprehensive maintenance service that aims to ensure that a bike is functioning properly and efficiently.
Generally, this involves a thorough inspection and adjustment of all major components of the bike, including:
Brakes: Inspection and adjustment of pads, cables, and calipers to ensure proper stopping power.
Gears: Inspection and adjustment of the derailleur, chain, and shifters to ensure smooth shifting.
Wheels: Truing of the front and rear wheels to ensure they spin straight and are properly tensioned.
Tires: Inspection and inflation of tires to ensure they are properly seated and inflated to the recommended pressure.
Bearings: Inspection and lubrication of all bearings, including those in the headset, bottom bracket, and hubs.
Frame and components: Inspection of the frame and all other components for any signs of wear or damage.
In addition to these services, a tune-up may also include cleaning and polishing of the bike, replacement of worn components (such as brake pads), and other specialized services depending on your needs and what is necessary to have your bike functioning at its best.
REI stores across the US have full-service bike shops with experienced technicians who can do your bike tune-up, as well as make repairs and upgrades for mountain, road, gravel, hybrid and e-bikes. Check services and prices at your nearest REI store.
If you'd like to learn these more advanced bike tuning skills and learn how to fix up your bike yourself, REI also offers bike maintenance classes – check the schedule at your nearest store to learn what courses are available near you.