If you're new to mountain biking or just haven't hit the trails in a while, then this mountain biking gear checklist includes everything you should take with you on your next ride, as well as some optional accessories to consider bringing with you.
ADVERTISEMENT
This mountain bike gear list assumes you already have a mountain bike, but if you're still researching what type of riding and bike will suit you best, our beginner's guide to mountain biking contains some useful information and tips to help you choose.
Before we get started, I'd like to first thank REI for sponsoring this guide to mountain biking for beginners – we always appreciate your support!
REI is our favorite store for buying outdoor gear and supplies for our adventures. Check out all the great mountain biking gear available at REI, after reading this guide.
---
What do you need for mountain biking?
Regardless of where you will be mountain biking, the two undisputed mountain biking essentials that you can't ride without are a mountain bike helmet and some pedals (depending on the bike you buy it may not come with pedals).
Mountain bike helmets
A comfortable, well-fitting mountain biking helmet is the number one mountain bike essential, and you should always buy one new to ensure it has not been worn and crashed on in the past (which can compromise the helmet's safety features).
For enhanced safety, look for a helmet that features MIPS technology, like the Smith Convoy MIPS, pictured. MIPS is a low-friction layer that slides a small amount in all directions in the event of an impact, reducing rotational motion to the brain and therefore risk of brain injury.
Because you need to try on helmets to ensure you have a snug and comfortable fit, I always suggest new riders visit their local bike shop or REI store to check out the different styles and brands of helmet, so you can try a few on and see which is best suited to you.
---
Mountain biking pedals
Many high-end mountain bikes are sold without pedals.
If you haven't already bought pedals to go with your mountain bike then you have a choice between either flat pedals (aka platform pedals) or clipless pedals, which need to be worn with clipless mountain bike shoes.
You can check out the different pedal options in your local bike shop or REI store.
Because the clipless pedals actually require your feet to be clipped in to the pedal (contrary to what the name would suggest), they can add an extra risk element if you're new to riding, as unclipping in a hurry when you need to free your feet is yet another thing to remember while you're getting used to trail riding and your new bike.
So, I would always suggest anyone new to mountain biking sticks with flat pedals to start out with.
You can ride your bike with these pedals and any sturdy rubber-soled shoes, whether they're specifically designed mountain biking shoes or just a good, sturdy pair of trail running shoes with good grip underfoot.
The grip helps your foot stay on the pedal, and can be useful if you need to walk your bike along the trail at any point.
If you're after some pedal inspiration then check out these beasts! These jazzy Specialized Supacaz Orbitron pedals are what I currently have on my mountain bike.
What do mountain bikers carry in their backpacks?
Aside from your helmet and pedals, you'll need to take at least a small amount of gear with you on the trails.
Exactly how much depends on where you'll be riding, who you'll be riding with (and what they're going to be carrying), and the possible weather conditions you may experience.
In addition to your everyday essentials such as your phone, keys, and wallet, our list of mountain bike gear includes what we consider to be 'mountain bike essentials' to always have with you, wherever you'll be riding.
We've also included some optional accessories you may want to consider taking with you.
---
Mountain Bike Essentials Checklist
In order of priority, here are the mountain bike essentials we suggest everyone takes with them, on every ride.
1. Hydration backpack or hip pack
Most mountain bikers carry their gear in either a hydration pack or hip pack.
A hydration backpack is essentially a small backpack with a water bladder or water bottle you can easily drink from while riding, which you can also use to stash accessories and spare clothing when you're not wearing it.
The Camelbak MULE, which is available in Men's, Women's, and Kid's sizes, is a versatile pack capable of carrying everything you need for everything up to full-day bike excursions. Plus, it's great for day hikes and other adventures, too.
You may already have a running hydration pack, in which case, it may be ideal for mountain biking, too, assuming you can fit all the gear you need into it, so don't feel you have to go out and buy a special mountain biking backpack right away.
Some small day hiking packs are also great for mountain biking, especially if they have a waist strap to minimize movement as you ride.
A hip pack is just that. It's a smaller pack you can wear around your waist.
If you pack more minimalist and don't want to drink from a water bladder and straw then this option may suit you better, assuming you don't need to take that much water or spare clothing.
2. Water
Even on a mild weather day, beginner mountain bikers can be caught out by what thirsty work those uphill climbs can be.
Similar to hiking, it's best to be prepared and carry more than enough water with you for your ride, plus any delays (such as a fall or needing to stop and fix up your bike) which may leave you out in the heat longer than originally planned.
Depending on personal preference, you can either carry water in a hydration reservoir or in a water bottle in a cage on your bike's frame.
These Camelbak Podium bottles are popular because they are insulated to keep your water cooler than a regular plastic bike bottle.
3. Bicycle repair kit
At a minimum, you should have with you the means to fix a punctured inner tube, and adjust your handlebars and bike saddle.
This essentially means your repair kit should include at least:
A multi tool (such as this CrankBrothers M17 multi tool)
Spare inner tube (or at least, a patch kit or duct tape)
Tire levers
A compact manual bike pump
4. Sunglasses
I take sunglasses and wear them on most of my rides, regardless of whether I consider it to be a 'sunny' day or not.
Sunglasses do more than block the sun. They can help keep dust, bugs and even rain or sleet out of your eyes, so they come with me every time I jump on my mountain bike, and I recommend you take a pair, too.
You can wear any sunglasses that have good UV protection and will fit under your helmet. My go-tos are my Oakley Flak 2.0 XL sunglasses which are designed to work with helmets and stay put during sweaty endeavors.
There are also some other options on our guide to the best running sunglasses (which are usually great for wearing cycling, too!).
5. A basic first aid kit
While it's true that many riders probably don't take a first aid kit with them, as a beginner who is perhaps more likely to fall off their bike, it is a good idea to take at least a few first aid essentials (which don't weigh all that much) with you – just in case.
Even the most basic of first aid supplies can make a big difference to how quickly and comfortably you can get off the trail and back home.
Plus, you may be able to help someone else out if you come across someone in need of some help.
Your basic biking first aid kit may include:
Gauze and medical tape for bandaging grazes
Disinfectant wipes
An elastic bandage and clip to secure it.
You can either put together a few essentials in a ziplock bag, or buy a small first aid kit, like the ultralight Adventure Medical kit pictured, which contains basic supplies in a watertight package.
---
Optional accessories to bring mountain biking
Just as with trail running and hiking, you'll need to use your judgment and common sense to determine what items are essentials or a very good idea for your planned mountain bike rides.
These optional accessories give you a menu of things to consider taking with you depending on your personal preference, attitude to risk vs. preparedness, where you plan on riding, and whether you plan to do short or long rides.
6. Mountain bike gloves
While you can ride without bike gloves, many people find a well-fitting pair of padded mountain biking gloves to be well worth the money in terms of the effect they have on their comfort levels and riding experience, especially on longer rides.
Unless it's really cold then I personally prefer my gloves to be fingerless, like these Luxe gloves from Velocio, which come in men's and women's fits, and still have all the padding but keep your fingers free of material.
7. Knee pads (and other protective gear)
Some people never wear protective gear such as knee or elbow pads when they ride. This is especially true for many cross-country riders and those who stick to the less technical trails on the mountains.
As a beginner, however, you may view knee pads and potentially other padding as a good idea. They're also highly recommended for anyone planning to ride downhill trails and more technical bike park terrain.
Pads and armor are an item that may be worth trying on in-store to ensure they are a comfortable fit when sitting and standing, and that they'll fit under your shorts!
8. Padded mountain bike shorts
While not protective in terms of 'in case you crash', some riders swear by padded mountain bike shorts for comfort reasons, and consider them essential.
Like road cycling bib shorts, padded shorts for mountain biking have a padded chamois liner, which is a clear benefit vs. wearing regular shorts, especially if you ride a hardtail rather than a full-suspension bike and need that boost in comfort after riding technical terrain for several hours!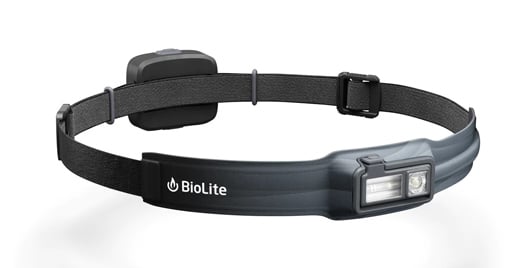 9. Headlamp or bike lights
If you're going on an all-day or late afternoon ride then stash a good headlamp in your backpack.
There's not much fun (at least, for most riders) in riding back home on rough terrain in the dark if you find yourself running behind schedule!
If you don't already own a suitable headlamp then I highly recommend you check out the BioLite Headlamp 425, which is an excellent, reliable and lightweight headlamp that's suitable for everything from camping to trail running and lighting the way on a mountain bike trail when the light starts to fade.
10. Snacks
It's also a great idea to stash some snacks in your pack or hip belt. That could mean trail mix, a granola or Clif bar, or energy gels more popular with road cycling and runners. Anything to top up your energy levels if you feel you need to.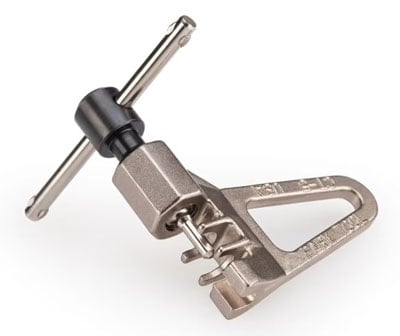 11. Lube, chain tool and spare links
You may find yourself with a noisy, or even broken chain mid-ride.
Bringing a small bottle of chain lube should help you sort the noise, but packing a chain tool like the Park Tool chain tool, pictured, can mean you're equipped to do a trailside fix rather than having to walk your bike a long way home (or to your car) if there is a breakage.
Don't forget to bring some spare chain links!
12. Sunscreen
If you're riding anywhere with a high UV index then pack a travel-size sunscreen in your hydration pack, and thank me later.
13. Insect repellent
Depending on where you're riding and how often you plan to stop, insect repellent could be essential to take with you!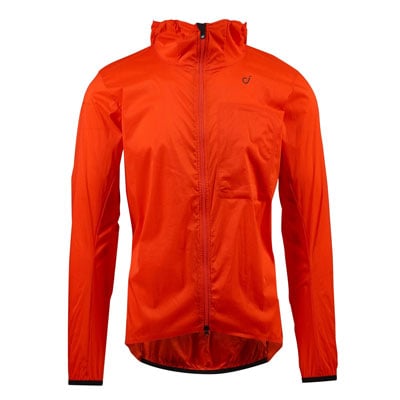 14. Extra layers of clothing
Depending on where you're riding, how changeable the weather is and the climate, you'll probably want to bring at least a windproof jacket you can stash in your hydration pack and put on if things start to get breezy and chilly.
When you're new to mountain biking, any comfortable, close-fitting jacket will provide you with protection, and the lighter weight it is, the better. If you already enjoy trail running or hiking then you probably have a suitable jacket in your closet already.
If you need a jacket, Velocio offers a range of premium men's and women's cycling apparel, including my go-to, the trail ultralight hooded jacket, which weighs next-to-nothing and packs down super small when you're not wearing it.
15. Space blanket
To upgrade your first aid kit, consider bringing a lightweight space blanket and beefing up your basic first aid kit if you're riding somewhere more remote, or with more extreme terrain than your easy local trail riding experience.
16. GPS Watch or Bike Computer
A GPS watch or bike computer can be a valuable addition to your mountain biking gear, especially if you're exploring new trails or planning a long ride.
With GPS technology, you can track your route, distance, speed, and elevation, helping you stay on track, take the right trails, and avoid getting lost.
You can also monitor things like your heart rate, calories burned, and other important metrics to help you train and improve your performance over time which I find to be a great motivator.
17. Local map
Depending on where you're riding, having a paper map could be a very good idea.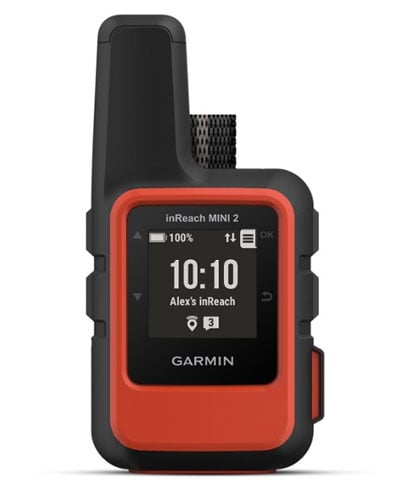 18. Satellite communicator
If you're riding somewhere with questionable cell service, and it's not a very busy trail, then a satellite communicator like the Garmin Inreach Mini 2 (pictured) really levels up your game in case you need to contact friends, family or emergency services.
Learn more about how they work in our satellite communicators buyer's guide.
19. Emergency whistle
Not quite as versatile as a satellite communicator, but for less than $10, a humble little emergency whistle could really make the difference if you find yourself stranded or halfway down an embankment and in need of help.
20. Lock
If you may need to leave your bike somewhere while taking a side hike or stopping for a drink, then a lock is a must-have to help keep your bike safe and where you left it.
21. Toilet paper
Yeah seriously… just in case. Bring a plastic ziplock bag and pack out your waste to leave no trace, because no other trail user wants to see or get up close to that on the side of the trail.