The On Cloudaway has been designed for active people who love to travel light – one of the reasons they are On's best travel shoes is simply how incredibly versatile they are. On has been expanding their range of lifestyle shoes a fair amount over the last few years and although the Cloud is a truly amazing lifestyle shoe (which I use daily myself), there's still a market for those who enjoy traveling a lot.
Catering to those who travel fast and light, and want a shoe that can do as many things as possible is a great idea, and I believe the On Cloudaway hits this segment head on.
In this On Cloudaway review, I'll share the features that I love (and one or two that in my opinion, could be improved), how well they perform as women's and men's travel shoes, how they compare with the other On running shoes, whether they're worth the money, and finally a rating out of 10 with my pros and cons.
Interested in getting up to 40% OFF On running shoes? Visit On's Classic range page to see their latest deals.
I hope this On Cloud Away review answers your pre-purchase questions but if you want to ask me a question, please leave it in the comments below.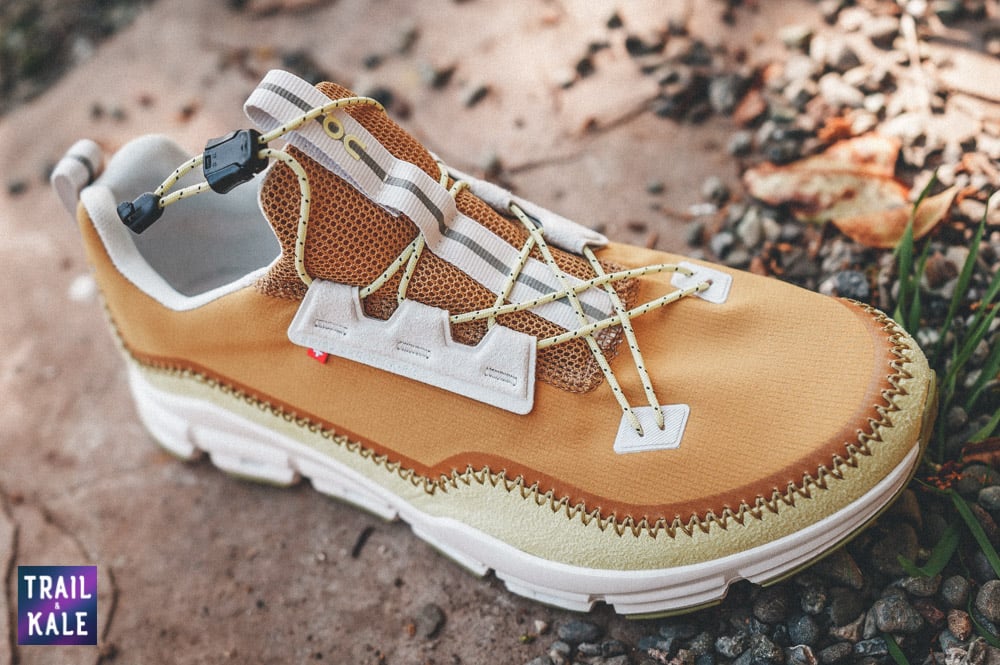 On Cloudaway Shoes Fit & Design: and features that make them On's best travel shoes
On Cloudaway travel shoes fit true to size in length but it's worth noting that they are a little more spacious than other On running shoes like the Cloud, Cloudboom, and the Cloudflyer, for example. And this extra wiggle room is by design, as it allows for your feet to expand, and shrink depending on whether you're flying on a plane, or somewhere a bit colder.
With that said, if you have medium to wide feet, then the Cloud Away should fit you well – if you have very narrow feet, then they may feel a bit large for you. In this case it may be worth you dropping down a half size to reduce their width before dismissing them entirely.
The arch on the insoles is in-line with other On Running shoes that I have tested (all of them), and that's of a neutral support type so again, if you have average arches these should feel really comfortable to you.
I really like the design of the Cloudaway travel shoes, especially the bronze sneaker design of the pair that I am lucky enough to be reviewing (bronze / white colorway). It's not just the look however that appeals, there's a lot of function going into these shoes too, directed towards those who love to travel and enjoy every (and any) activity under the sun.
The combination of a speed-lace system, and finger loops on the tongue and heel collar, allow you to very easily slip the Cloudaway on. This feature is surprisingly useful when going through airport security, or even spending time at the beach.
On Cloud Away lightweight mesh upper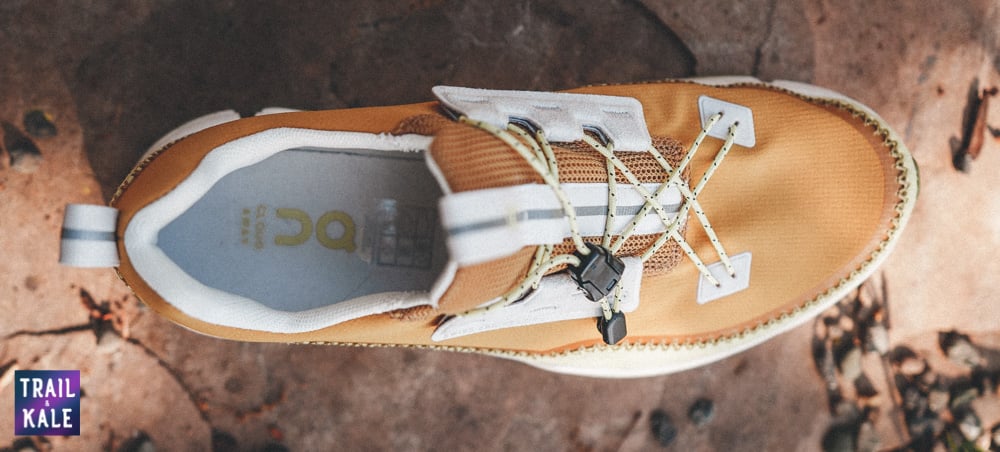 The On Cloudaway's upper mesh material is constructed from over 90% recycled material, which makes us very happy as advocates for sustainability. The upper is very soft to slip on, so you definitely don't have to worry about breaking them in for them to be comfortable, as they feel great out the box.
The upper does have some breathability, which is great for those hot days (and even wet days, when you want them to dry off quickly – I do however feel that breathability could be further improved in some areas of the shoes.
The On Cloudaway is very durable for the most part, and I'm probably being picky now but the material used for the lace-locking system on the sides appears to have come unstuck at the edges. I pulled at this to see if they would come off entirely but discovered they are sewn on firmly, so that's a relief.
It seems they are coming away at the edges because the material in this area is very ridged, whereas the upper material itself is very flexible (see image above). I suppose On must have glued down the edges to improve the overall look without increasing the overall weight of the travel shoes.
There are also areas of reflectivity throughout the upper, including a strip along the tongue, the rear, and also a reflective On logo at the rear, so you should be seen from the front and back when walking at night. See gallery below for images that include the reflectivity.
You'll also notice that the upper has no traditional tongue, instead the On Cloud Away uses a sock like fit, designed to help you quickly slip them on and off. Although this design is super comfortable for most situations and great for when you need to pack them down (squash them) into your travel bag, it doesn't offer too much support for things like trail running, or hiking on trails.
Cloudaway speed-lace system
This is the first time I've seen this speed-lacing system from On, and although I'm very familiar with a similar 'Quick-lace' system from using a lot of Salomon trail running shoes in the past – I wish On added somewhere to store the flappy bit of lace once you've done them up. Maybe in the next release? 😉
Overall the lacing system works pretty well but I wish On would do away with this crossed lacing pattern over the forefoot – in my opinion it's just fiddly, and doesn't do a very good job of securing your foot.
The first time you adjust your laces, it will take longer than usual because of the criss-cross lacing above the forefoot but once you've done it once, the speed-lace system will take care of speedy adjustments going forward.
On Cloudaway Travel Shoes CloudTec Outsole
The tread on the outsole used for the On Cloudaway shoes is totally unique, and if you're wondering what the tread pattern is all about – it's a topographical map of the Engadin Valley.
The Engadin Valley is a long high Alpine valley region in the eastern Swiss Alps in the canton of Graubünden in southeasternmost Switzerland with about 25,000 inhabitants!
Other than the cool tread pattern, which does offer good grip, even though I was skeptical at first due to the lack of traditional lugs, the CloudTec outsole is very similar to other recent On running shoes I have tested.
If you haven't tried to "Run On Clouds" before, I recommend you give it a try! The CloudTec sole is an innovation that always helps me to run faster, when using On running shoes, especially when putting on a new pair.
The CloudTec cushioning comes in part from the cloud pods that provide a cushioned/soft landing, as they compress under your weight and then provide a barefoot take off as your foot leaves the ground and the pods spring back.
Taking a closer look at the CloudTec outsole (see photo above) reveals that the gulley is much shallower than other On shoes.
It's unclear to me exactly why this is the case but I feel it could be so that there's more surface are when walking on sandy beaches. More surface area in contact with sand means there's less chance of you sinking into the sand. This makes walking on sand much easier.
On Cloudaway Drop and Support Type
The On Cloudaway has a heel-to-toe drop of 8mm – this is great for all-day comfort if you spend much of your day on foot – which you likely do if you're looking at buying a pair of these travel shoes.
The Cloudaway has a neutral support type which means there's not much additional arch support in the removable insole insert – this will suite most people who have average feet, however, and that's why On manufacture their shoes this way.
If you do feel you need extra arch support then I would recommend getting yourself a pair of good running insoles to help improve comfort and running form for those who need the extra support underfoot.
On Cloudaway Toe Box
The toe box is medium-wide width and feels very airy which is important if you lead an active everyday lifestyle. You'll likely to be wearing these shoes every day, at work, on a plane, at the beach, the gym and even impromptu runs.
A shoe that gets this much use needs to be durable and have some degree of stretch as your feet expand and contract in various conditions.
On Cloudaway Weight
The On Cloudaway weighs in at 9.88oz (280g) which is super lightweight BUT still heavier than the On Cloud which is 8.82oz (250g).
If you're traveling a lot then it's important to have lightweight shoes, whether you're wearing them all day, or carrying them in a bag, being an efficient traveler means versatility, and moving fast and light. The Cloudaway enables this lifestyle.
The On Cloudaway shoes come in men's and women's with special colorways for each. On regularly updates their colorways so I won't list them all here in case they change next week – instead, check them all out for yourself here.
The color scheme of the shoes in my review is called "Bronze white" and I think they look awesome – a real nod to the 'road less traveled' movement. For anyone who is after a pair of bronze sneakers, you can probably end your search now.
Moving in the On Cloudaway
The On Cloudaway is very comfortable for day long use, and although I wouldn't choose them for running with (there are better On Running shoes for running), you certainly could if they were the only shoes you had with you.
I also love how easy they are to slip on (and take off) – one of the many things I love so much about On's most popular lifestyle shoes, the On Cloud. I really like the aesthetic of these travel shoes, and it's clear how versatile they will be for adventures this Summer.
Where to buy the On Cloudaway
---
On Cloudaway Video Review
Watch my hands-on video review for more of my insights into the On Cloudaway travel shoes.
---
On Cloudaway Review Summary | On's best travel shoes for sure
The On Cloudaway is my 'go-to' travel shoe, for situations when I really don't know what sort of adventures I may find myself getting into. Its versatility means you don't have to worry about having the wrong shoes with you, unless of course you need a waterproof shoe (the Cloudaway does not have a waterproof version yet).
For daily lifestyle shoes where you're not expecting beach adventures or impromptu train rides/plane flights then I'd recommend the On Cloud (reviewed here) for its similar versatility, and even lighter weight. The Cloud also has slip-on functionality using elasticated laces, instead of this new speed lace system – and it works excellently on the Cloud.
The sock-like design means that you can have fun on the beach without getting too much sand in your shoes (via the spaces either side of a traditional tongue) – you can of course still get sand inside your shoes around your heel/ankle are, as that's unavoidable without wearing gaiters.
So in summary, if you like to travel light, need versatile shoes for all sorts of adventures, and you're looking for travel shoes that look different to the competition – the On Cloudaway is for you!
On Cloudaway Review
PROS
Very versatile travel shoes.
Speed-lace system is great for getting the shoes on and off quickly.
Lightweight and packable (they squash down easily which makes them good for travel).
Nice range of colors available.
Plenty of stretch and flex (good for feet that swell and contract through out the day during temperature and air pressure fluctuations).
Well priced.
CONS
Not a ton of support if you want to go on technical trail hikes.
They could be more breathable.
---
On Cloudaway Review Image Gallery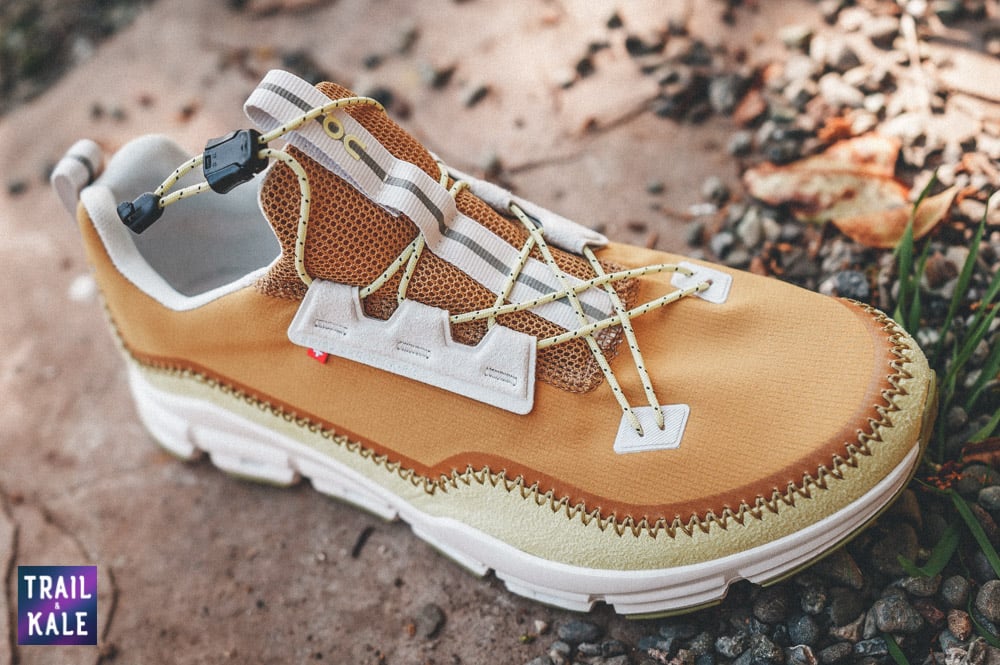 ---
Still not sure which On Running Shoes to buy?
I hope you enjoyed this On Shoes review, if you're still not sure which On Running shoes to buy, visit our Best On Running Shoes Buyer's Guide for an ordered list of the top ON Clouds for road and trail running. It has been designed to make your buying decisions easier.