Pssst, have you heard about Nike's React Infinity Run FlyKnit running shoes yet? Well, you have now but did you know Nike designed them specifically to help reduce the risk of running-related injuries for runners who train for half marathons. Thank you, Nike, for sending these shoes to me so that I could run in them and write this review. This Nike React Infinity Run review will explain how these shoes can help reduce running-related injuries (and if this statement is even true), how they perform while running (including comfort, support, durability, and performance), some key design features, sizing advice, whether they're worth buying, and finally a review summary with a rating out of 10 and with my pros and cons.
---
Nike React Infinity Run Review Contents
---
How can the Nike React Infinity Run running shoes help to reduce running-related injuries?
ADVERTISEMENT
This was the first question on my mind, so I was actively paying attention to this while running in the React Infinity Run, and also seeing how my legs and feet felt afterward. The result was interesting, I mean my legs and feet both feel good after running in them but is that actually the effect of the shoes? To be honest I don't think I'll know for sure until I train really hard for a road half marathon. I know from experience that training for half marathons can really take its toll on a high percentage of runners though, and this is for numerous reasons. So, why do half marathon runners pick up so many injuries?
Increasing mileage too quickly without a proper weekly base-mileage in place. While the Half Marathon is the logical step up for anyone who has run a 5k, or 10k race before, it's also popular (and to an extent very accessible) for those who haven't run all that much before, maybe the odd 5k training run, you know who you are you crazy coconuts! 🙂 It's common knowledge that when you increase your mileage too quickly and do too much too soon that you can very easily cause a running-related injury. I've been there, done that, and got an ITB injury plus shin splints to prove it. I have since learned how to prevent many running-related injuries by balancing how much I run, running more on trails, alternating running shoes, throwing some cross-training into the mix (like cycling, hiking, or swimming), and having a solid recovery routine in place. If you'd like to learn some of my top hacks to increase your running performance the smart way read this article.
It's a high-intensity and high-impact distance for many runners. The difference with shorter distance races (I'm classifying the half marathon as a shorter distance due to some of the ultramarathons that I have run, it's all relative of course), as opposed to ultramarathons, is that it's a distance that tempts so many people (myself included) to run extremely hard over the entire time it takes to finish. The problem with running at nearly full intensity for over 1.5hrs, on a road surface is that you're likely to be overstriding and putting a lot of pressure on your legs, which can cause a multitude of injuries including runners knee, ITB injury, shin splints, Achilles tendonitis, and plantar fasciitis, to name a few. Come to think of it, looking at that list, I suffered from all of those injuries when I started out my running journey.
Okay, but how are the React Infinity Run shoes supposed to help and did they test this?
The secrets to how the Nike React Infinity Run can reduce the risk of running-related injuries are the:
Extra cushioning in the React midsole. This gives you a softer landing, reducing stress on your knees, shins, and heels.
Widened forefoot midsole and outsole. This provides extra stability and reduces lateral roll which may cause a rolled ankle. This new shape is very noticeable from above. (the image below shows what I mean)
Rockered shape. This rockered shape, which you can see in the featured image of this Nike React Infinity Run review helps give runners a much smoother foot roll/transition and ride.
Lightweight, durable, and breathable 3-layer FlyKnit Loft upper mesh. A sturdy upper helps secure the foot, and a comfortable one means you can run longer without chaffing the tops of your feet.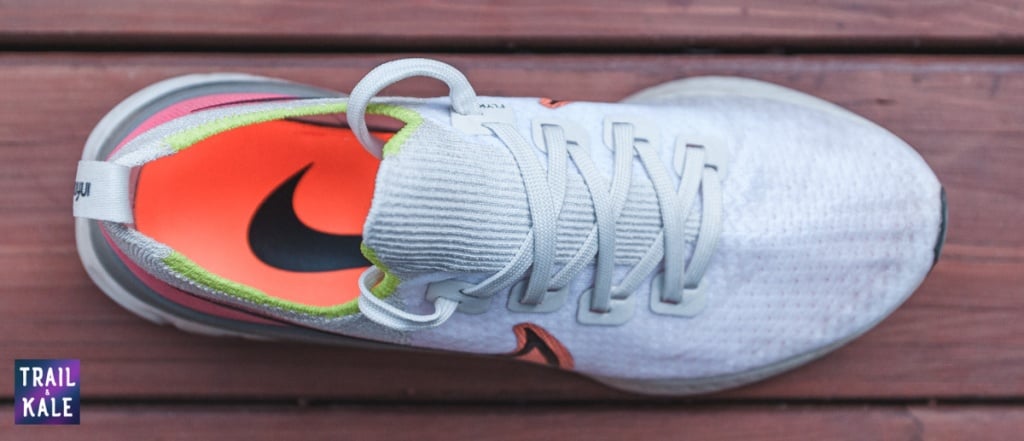 Yes, Nike did do a test. Nike put the React Infinity Run shoes in the hands (or on the feet) of 226 runners to see if the shoes could help reduce injury compared to the Nike Structure 22. The study they commissioned was through the British Columbia Sports Medicine Research Foundation where runners followed a 12-week variable training program ending in a half marathon. Based on the results, they believe they're on the right track: In testing*, the Nike React Infinity Run showed a 52 percent lower injury rate compared to the Nike Structure 22.
*The Nike React Infinity Run reduced running injuries by 52% compared to the Nike Air Zoom Structure 22 in a study of 226 men and women during a 12 week run training program (injury = missing 3 or more consecutive runs due to running related pain). Our study found that 30.3% of Nike Air Zoom Structure 22 runners experienced an injury but only 14.5% of Nike React Infinity Run runners experienced an injury.
---
How well do they perform while running?
The React Infinity Run is very comfortable underfoot, even while running fast due to the springy and cushioned React foam in the midsole. Nike has actually added 24 percent more React foam in these shoes compared with the Nike Epic React 2.
They're also very comfortable during foot transition from landing to take off. This is 100% the rocker design giving me this feeling, and I love it. A rocker is nothing new in running shoes but how Nike has tweaked it for this shoe may give it an improved feel.
The insoles do have noticeable arch support due to a narrow midsection in the lower part of the upper. This isn't uncomfortable for those (like myself) who usually run with a neutral support shoe. It is however noticeable so if you are completely anti having any arch support, then maybe these shoes aren't for you. Try them for yourself and see what you think. As I said, they haven't bothered me.
Overall the performance of them is very good and I would certainly choose to lace them up on race day.
---
React Infinity Run key design features
Upper construction
The FlyKnit Upper is made from Nike's latest Flyknit technology, Flyknit Loft. It has three layers of breathable mesh, which helps to keep its shape while remaining breathable. FlyKnit uppers have historically been less durable than a more standard construction but the 3 layers in this FlyKnit loft material make this one much more durable.
The first thing I noticed was how light the upper is but also how well it hugs my feet, even without the laces fastened. In fact, you could probably run in the React Infinity Run shoes without using the laces at all. The top of the lacing system starts much lower than most shoes because they simply aren't needed in order to keep the shoes comfortable secured to your feet. I love this about them, it's unique and super comfortable not having laces constrict this region of your feet, as they flex so much. You can see what I mean in the wide photo above.
The tongue and edge walls around the opening of the upper are very thin and you may think that it will chaff on your ankles and heel, but because the FlyKnit upper is so flexible and soft, it feels more like an extra sock holding the shoes onto your feet, It's great!
Midsole
The React foam in the midsole is springy, responsive and is lasting very well so far. With 24% more foam to this shoe than the Nike Epic React 2, there's enough cushioning to keep you running comfortably and protected for a long time.
Outsole
There's plenty of grip in this outsole, and although I haven't tried them in wet conditions yet, I predict they would hold up well due to the varied tread size and deep air pockets that should help reduce the risk of slipping. See below for a closer look at the pattern and structure.
Shoe Width
The Nike React Infinity Run is of medium width in the toe box but they do go slimmer towards the midfoot area.
React Infinity Run Weight and Drop
The React Infinity Run weighs 9.5oz (270g) for a men's US size 9, and they have a drop of 9mm from heel to toe.
---
Sizing advice
The React Infinity Run fits consistently with other Nike running shoes and also Brands such as On-Running, Adidas and Brooks.
---
Are they worth buying?
Yes, the Nike React Infinity Run FlyKnit is worth the $160/£140 price tag. If you're starting to train for a 10k, half marathon, or even a marathon and it's a step up race from what you're used to running then these shoes could potentially help you complete your training without picking up an injury along the way. Even if you're not training for a race, the Nike React Infinity Run is so comfortable that putting in the miles feels like a breeze. The upper is comfortable, durable, lightweight and breathable so they're also a great shoe for Spring/Summer runs when the temperature is going to be much higher.
Find the best price and your favorite running store below
Last Amazon price update was: 8th December 2022 4:00 am
---
Nike React Infinity Run Review summary
Nike React Infinity Run
PROS
Plenty of cushioning in the React midsole for comfortable, fast and long running
FlyKnit Upper is lightweight, breathable and hugs my feet nicely
I really like how the rocker design helps with a smooth foot transition from striking the ground to toe-off
widened forefoot midsole/outsole creates a stable ride and reduces lateral roll.
Lots of color options to choose from
CONS
A little expensive but worth it in my opinion
Some may not like the arch support. I normally run in a neutral support shoes but the arch doesn't bother me in these.
---
I hope you enjoyed reading this Nike React Infinity Run review. If you have a question for me, please drop it in the comments section below.