With so many portable percussion massage guns out there now, the Gravity Move stands out as a portable massage gun that's not only relatively light, compact and travel-friendly, but also that it has one of the most desirable features of all massage therapy devices on the market – it not only massages but also provides a therapeutic heat at the same time.
The Gravity Move is one of the newer sleep and relaxation-related accessories launched by the company behind the popular Gravity Weighted Blankets, which can help you achieve better relaxation and sleep quality, and which I've previously reviewed (read my Gravity Blanket review).
Heated massage guns are hugely popular among athletes and active people, including runners like ourselves, so I was interested to put this one to the test and see how well it performs.
In this Gravity Move review I cover the key features, pros and cons of this heated massage gun, including my experience using it and a video review demonstration where you can see it in use.
---
Key Features of the Gravity Move Heated Mini Massager
These are the key features of the Gravity Move that you need to know about.
Its compact size
The first thing you need to know about this massage gun is the fact it's so compact, very portable and also powerful.
This makes it a great companion for anyone who wants to have that massage whilst you're traveling – whether that means you're going away on vacation, or traveling for a running or other sports event such as a half or full marathon race, for example.
Lightweight
As well as being compact, the Gravity Move is lightweight – it only weighs 1.5lb (excluding the heads), which is hardly anything, very lightweight for a massage gun when you compare it to other more traditional handheld percussion massagers, which are larger and heavier – although potentially more powerful.
4 interchangeable massage heads
It comes with four heads that you can interchange depending on where on your body you're massaging, how intense you want that massage to be, and simply your personal preference, which are:
A classic round foam head – quite firm and good for larger muscle areas such as thighs and glutes
A softer, air-filled rubber head with texture – a good choice for more sensitive areas
A prong-shaped head – specifically designed for use either side of areas such as around your Achilles Tendon and spine, where you obviously don't want to be using a massage gun directly on any of those bone or tendon areas
A heated metal massage head – with this head you get the massage effect but also warmth from the heated head!
As you'll see in the video review later in this post, my Trail & Kale co-founder Alastair has also been using the Gravity Move mini massager.
His favorite head is… you guessed it, the heated massage head, and I'm inclined to agree with him, it is rather soothing on sore muscles.
4 intensity settings
The Gravity Move has four different power and intensity settings. It is very powerful. That power does mean that there is some noise to it, but then again there's noise to every massage gun as you would expect.
It's not particularly silent, but not loud either. What you would expect from a percussion massage gun. The sound level is demonstrated in our video review below.
Travel case and international plugs
Being designed for travel, it doesn't just come with a travel case, it also comes with a wall plug with interchangeable prongs for use in other countries.
This means that regardless of where you're traveling in the world, you can charge up your heated massage gun and use it anywhere. So that's another key feature and obviously, that's why it's called the Gravity Move.
Charging and battery life
It also has USB-C, which for us is a must nowadays everything is going USB-C.
It's much faster charging and the battery life on it is around 3 to 5 hours, which is brilliant for a very small device like this with lots of power.
---
Gravity Move Heated Massage Gun – Video Review
---
Pros: What We Love About the Gravity Move Mini Massage Gun
Soothing Heated Massage Head for Muscle Relief
I do love that soothing heated massage head.
You turn it on separately from the massage gun itself, and when the power goes on, there are different levels of heat, and it quickly heats up.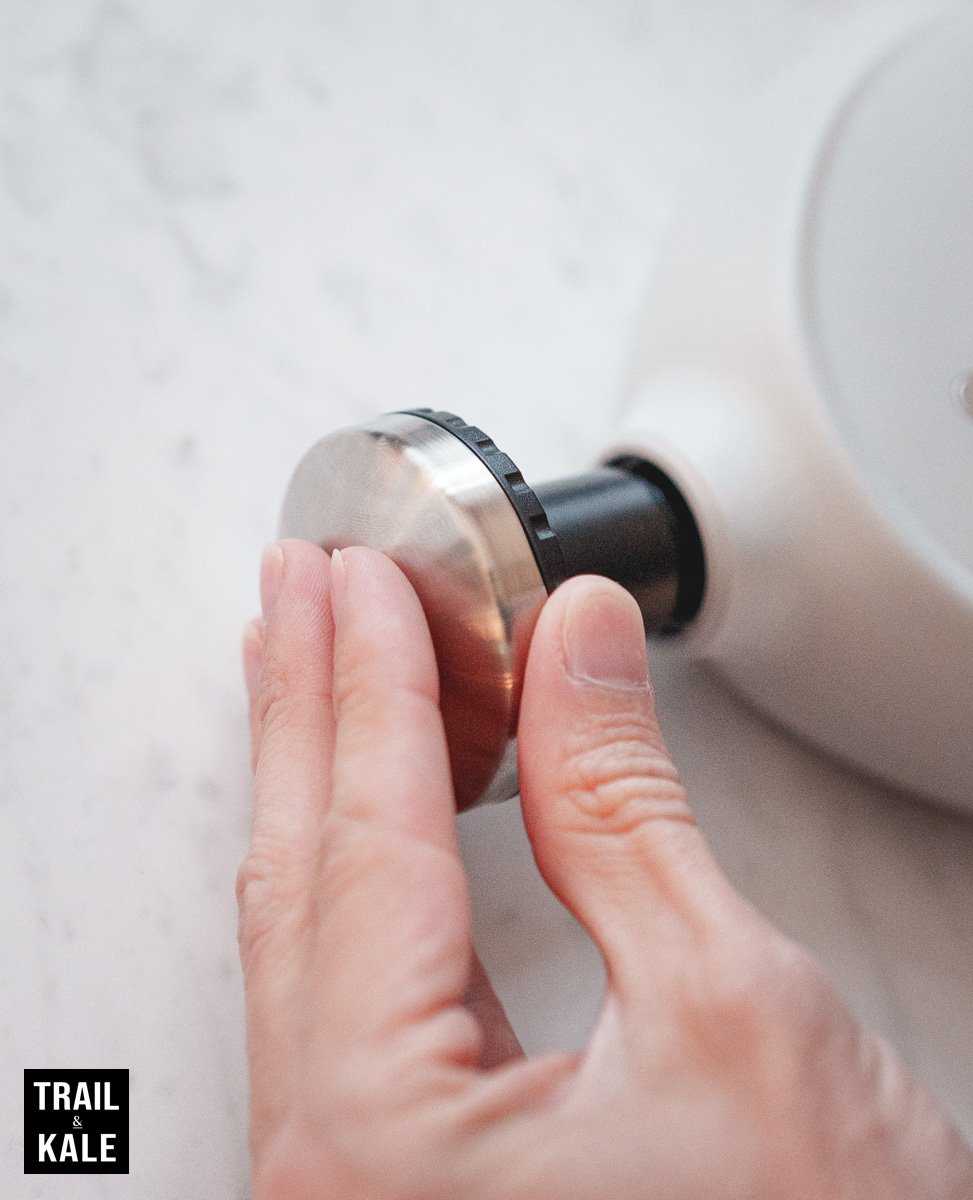 Having that on the device really does loosen up your muscles much faster. It's a very nice feeling that relaxes you much quicker, which is really what you want with a massage.
Ergonomic Design and User-Friendly Functionality
It's made with a very lightweight, ergonomic of design.
So I can just grab hold of it and target pretty much anywhere on my body, including my legs, neck, back and glutes.
The handle's large enough so you can use two hands if you want to as well.
Durable Construction and Premium Quality
It feels like a good-quality device, as well.
With so many massage guns on the market, it's hard to know, especially if you're trying to buy them online, whether what you're about to buy is actually a good quality item.
This really does feel like it's had a lot of thought gone into the construction so I definitely give it a big positive for that. It's a well-made tool that hopefully will last really long time and many miles are traveling and supporting you on your adventures.
Travel-Friendly Design and Accessories
As I mentioned above, it's been thoughtfully designed for travel with the other accessories as well.
This is great if you want to be able to take it places for races or travels and not be put off by having something bulky and heavy taking up space in your luggage.
That being said, the portable travel case only fits the massage gun and one head, so you'll need a separate bag to take the charging cable and any other heads you may want with you.
---
Cons: Minor Drawbacks of the Gravity Move Heated Mini Massager
Limited Appeal for Users Seeking Larger Devices or More Power
As this is a mini massager it may not be for you if you're more of a professional therapist or someone who wants a larger device or needs more power coming out of one of those and perhaps doesn't mind alternatives that are also, therefore, heavier.
However, I think for most people the battery life and power intensity will be enough – especially given it lasts 3 to 5 hours on a charge, and you're not going to be using it more than 3 hours in one go yourself anyway.
---
Conclusion: Is the Gravity Move Mini Massager Worth the Investment?
The Gravity Move mini heated massage gun costs $150, which is very competitively priced, if you consider these types of massage guns can cost up to nearly $500, with many in that $250+ range, $150 is a great deal – and you can take it anywhere.
As well as a nice treat for yourself, it would make a great gift for someone like if you know someone who's a runner or just general active person or someone who just is on their feet or day like receiving one of those to give yourself a nice massage at the end of the day.
The best place to buy one is directly from Gravity's website, where you can also check for current deals as they sometimes offer discounts and have sales. You can their website using the button below:
---
Review Summary
Gravity Move Heated Mini Massager Review
PROS
Effective and convenient heated massage head (plus 3 other head options)
Quality, ergonomic design and easy-to-use
Thoughtfully designed for travel
3-5 hours of battery life
Competitively priced
CONS
Not suitable for those who prefer a larger device or more power
---
Image Gallery