The Salomon Sense Ride 5 is the latest version of this popular do-it-all, all-terrain trail running shoe. Essentially, this shoe is designed and marketed for those who want an all-around trail running shoe, suitable for short to long distances and a variety of trail types.
This includes wet, muddy, sloppy trails, hard, rocky, buff trails, and even forest trails – the Sense Ride 5 should be able to handle it all. But how well does it actually perform in these conditions?
Well, that's what I'm going to cover in this review. There are some great aspects of this shoe that I really like, but also a few things that I don't particularly enjoy. By the end of this Salomon Sense Ride 5 review, you should know whether these trail running shoes are the right fit for you or not.
A quick note on sizing and fit. The Salomon Sense Ride 5 fits true to size and is a medium to wide-width running shoe.
If you're used to running in Salomon shoes, stick with your usual size, and you should be pretty happy with the fit.
I'll begin this Salomon Sense 5 Ride review by going over the key specifications you should definitely know about. Then, I'll discuss the positive aspects of the shoe, followed by some negative points.
After that, I'll suggest some alternative trail running shoes you might want to consider if the Sense Ride 5 doesn't seem like the best choice for you. Finally, I'll share my opinion on whether the shoes are worth the cost and my final rating out of 10 with my PROS and CONS.
The key specifications of the Salomon Sense Ride 5
Price: $140 at salomon.com
Usage: Mixed terrain, any distance
Weight: 11.1 oz (315g) for a size US(M)9 (my pair)
Drop: 8mm
Toe box width: medium/wide
Stability: Neutral
Cushioning: Moderate, Salomon speak for mid-range
---
The features of the Salomon Sense Ride 5 that I applaud
So, what are the standout features that I believe deserve praise?
1. The Contragrip and its fantastic traction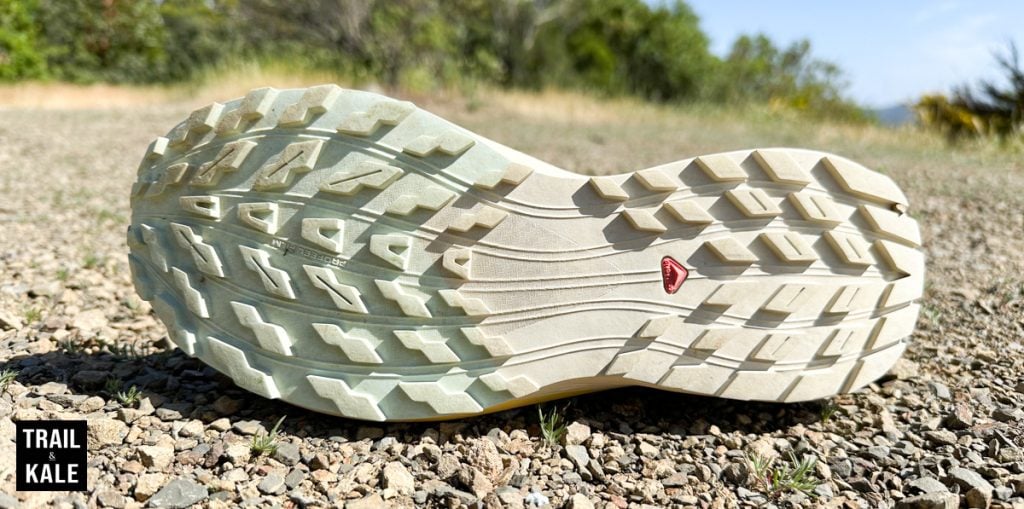 First and foremost, as with many Salomon trail running shoes, it's the Contagrip on the outsole, which you can hopefully see in the image above.
There's nothing exceptionally fancy about the tread pattern, as you can see, it has a wavy and wiggly design that digs into the trails effectively.
For me, it's the sticky Contagrip rubber that is truly exceptional, It helps you stick to the trail, whether you're going on super steep downhills or climbing up steep inclines.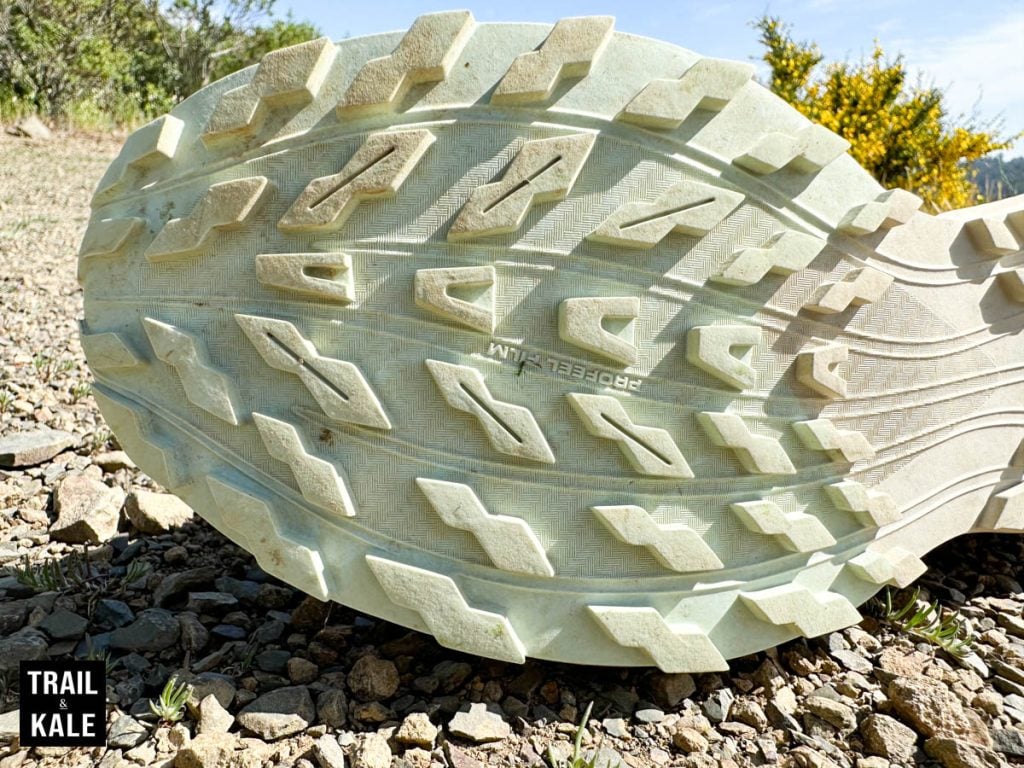 The lugs wrap around the front a little bit, so they dig into the trails nicely and provide excellent grip when running downhill as well.
Contagrip is one feature I absolutely love; Salomon should definitely keep this as it's one of the best aspects of their running shoes.
2. Quicklace system
The second feature that I like is the Quicklace system, which I believe all Salomon trail running shoes now have.
This system allows you to simply pull the string to tighten the laces and adjust them quickly.
Once tightened, you can stow the excess lace in the pocket on the tongue, so your laces don't come undone and there's no excess lace flapping around.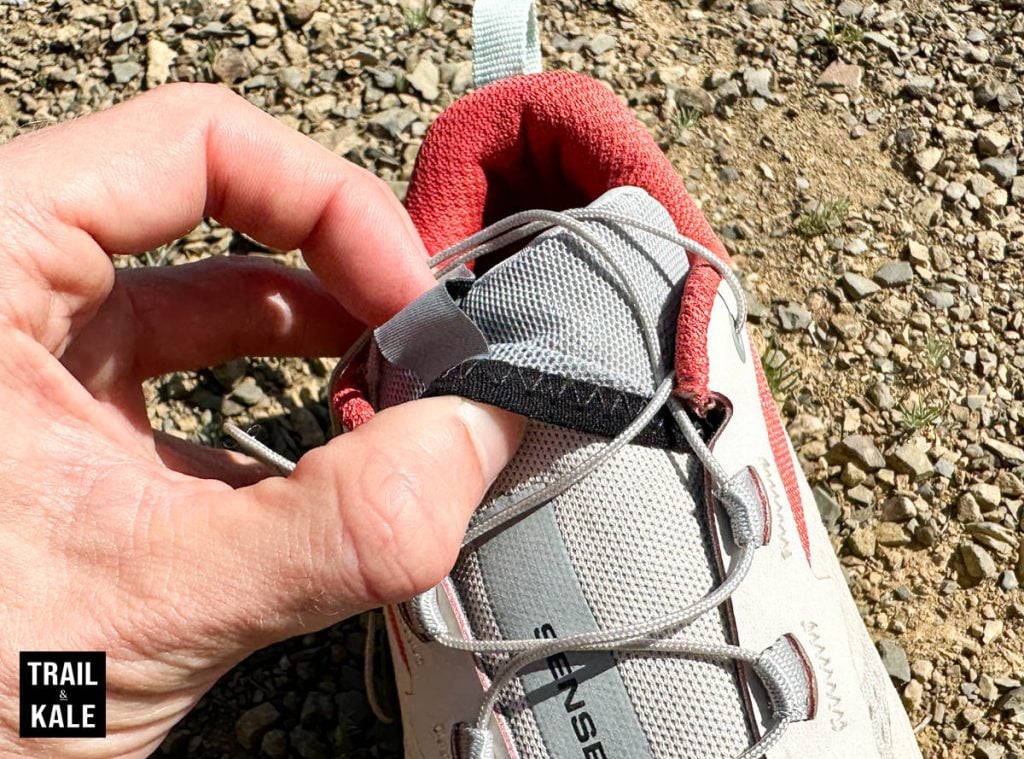 This is a really nice feature. The laces themselves are thin and wiry, which allows them to pull through the lacing system easily when you cinch them tight.
You might think these wiry laces would dig into the top of your foot, but that doesn't happen because the tongues are nicely padded and the lacing system creates a comfortable fit.
3. A nice responsive ride with great trail feel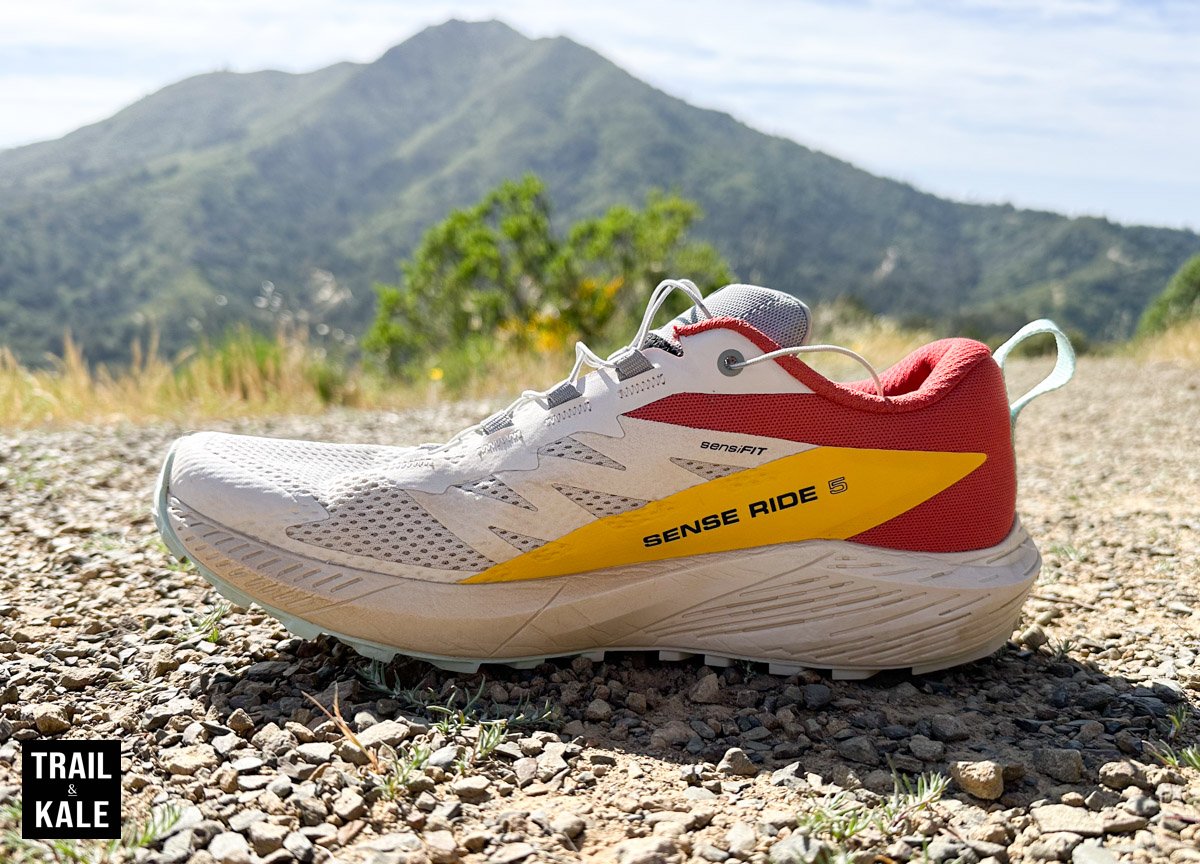 The Sense Ride, as you can imagine, has a very nice ride to it, It's highly responsive, and I really like the energy return provided by the midsole's Energy foam.
You might find that you're running faster than you're used to if you usually run in a more plush shoe because of this.
Watch my video below where I show how they perform on my 11km mountain trail loop which includes around 300m of ascent on it.
The shoe's responsiveness and ability to feel the trail under your feet are fantastic.
4. I like the look and design of them.
The fourth aspect that I really like about this trail running shoe is its design. While the colors on this particular model are quite retro, which I find appealing, I'm referring more to the silhouette.
It has a traditional yet aggressive look, while still appearing friendly – if that's possible haha.
The features that I don't like
Moving on to the drawbacks of the Salomon Sense Ride 5 trail running shoe then…
1. Fit of the upper above the toe box – SensiFit needs some improvement
My main issue is with the interior of the upper, just above the forefoot and over the toe box area – as seen in the image above and possibly better demonstrated in my video review below.
It's related to how the tongue is connected to the upper, where there's some overlapping material that slightly constricts your foot.
As a result, there isn't much space above your foot when the shoe flexes. When this flexing occurs, the additional material puts pressure on the top of your foot.
This might not be noticeable for those with extremely thin feet, but I believe most people will experience this issue, as I did with my average-sized feet. This constriction makes it difficult to lock my forefoot effectively into the shoe, and the problem is exacerbated by the design of the upper.
The lacing in this section can't be adjusted much tighter due to its location within the rigid part of the upper, which doesn't allow for inward flexing, or tightening.
This inability to tighten the lacing in that area leads to some slippage toward the front of the shoe, causing my big toe to hit the front of the toe box on extremely steep downhills.
I didn't experience this issue on flat surfaces or gradual downhills, but when running on very steep inclines that required quick turns or foot-locking to prevent falling, my feet hit the front of the shoe.
If you're not running on very steep terrain, this might not be a problem for you, and the fit and comfort of the shoe's interior might not be an issue either. However, it is a problem for me, and I don't encounter this issue with some other shoes, so I thought it was important to mention it.
2. Could be a bit lighter, and more flexible.
Apart from that, another possible improvement could involve shedding a bit of extra weight from the shoe.
Comparing Salomon Sense Ride 5 to Other Similar Trail Running Shoes
Salomon Sense Ride 5 vs. HOKA Mafate Speed 4
Regarding midsole cushioning, Salomon shoes generally lean towards the firmer side so If you prefer a more cushioned running shoe, you might want to consider HOKA running shoes as an alternative option.
The Mafate Speed 4 is another versatile running shoe, albeit more expensive at around $180.
Its outsole tread traction is incredibly good, on par with or even better than the Contagrip, and the cushioning and comfort in Hoka shoes, particularly the Mafate Speed 4, is exceptionally good.
However, if you prefer a more responsive ride and like to feel the trail beneath you, then the Salomon Sense Ride 5 would be a better choice for you.
Salomon Sense Ride 5 vs. HOKA Tecton X 2
Another option to consider is the HOKA Tecton X 2, a carbon plate trail running shoe with excellent cushioning.
It features the ProFly X midsole, which provides extra cushioning on top and a firmer layer on the bottom, giving you both responsiveness and cushioning.
The carbon plate in the midsole also offers propulsion, making this an ideal choice for racing on trails. Currently, the Tecton X 2 is my top pick for a trail racing shoe but this may have changed depending on when you're reading this review.
Check my Best Trail Running Shoes Buyer's Guide to learn about the latest and greatest trail running shoes on the market.
Salomon Sense Ride 5 vs. Salomon Ultra Glide 2
The Ultra Glide 2, which I recently reviewed, is quite similar to the Sense Ride 5.
However, I prefer the Ultra Glide 2 over the Sense Ride 5 due to its more comfortable fit even though it is a bit heavier. On the plus side (for me anyway), it has more cushioning underfoot, and it also features the same Contagrip on the outsole.
The Ultra Glide 2 may not be as breathable, but I'm willing to sacrifice that for a more comfortable ride.
I'm currently testing multiple Salomon trail running shoes, so I'm excited to bring you more Salomon trail running shoe reviews soon.
Conclusion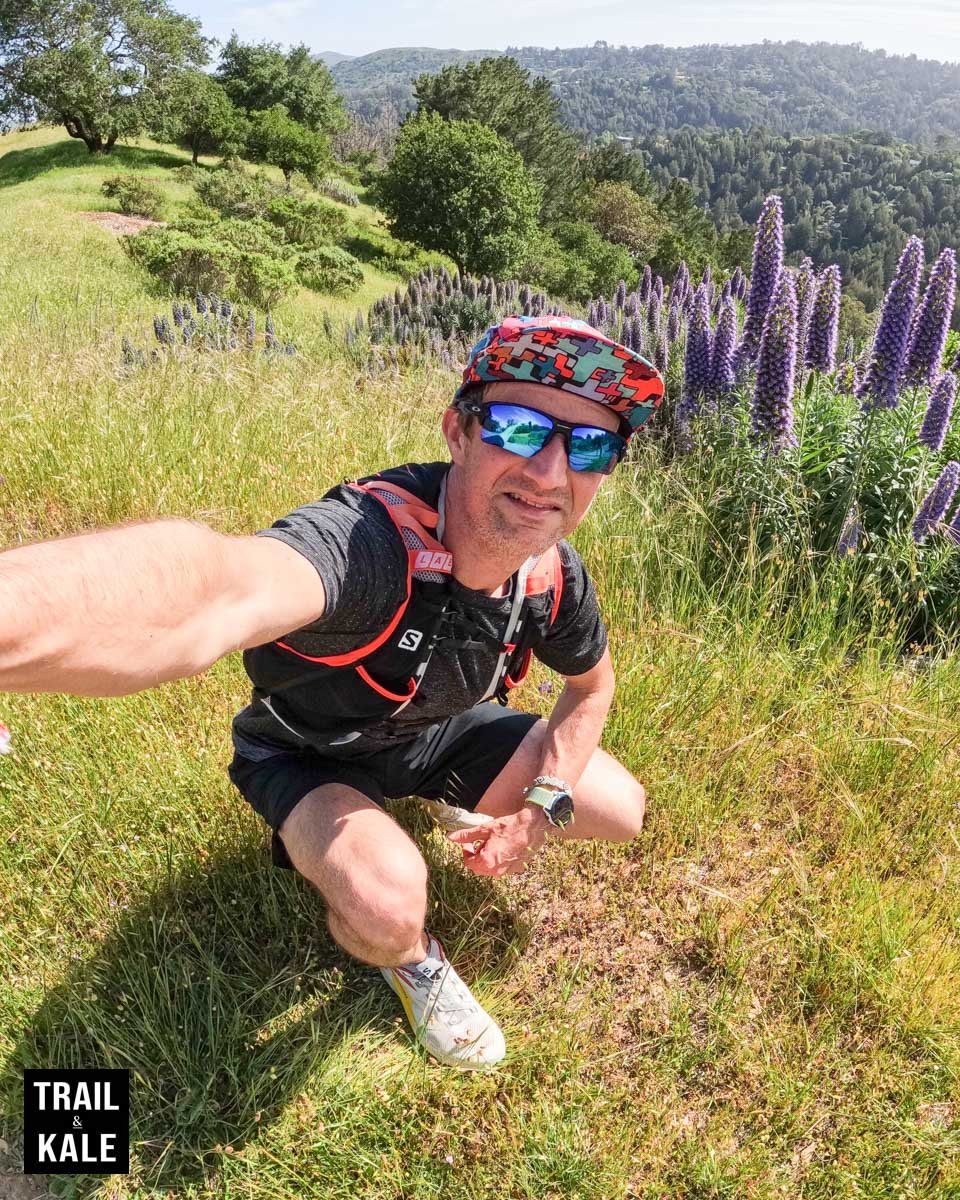 How much does the Salomon Sense Ride 5 cost and are they worth your money?
The Salomon Sense Ride 5 costs $140 from salomon.com, and I think they are worth the price.
If you're looking for a versatile shoe that can handle various terrains, I definitely recommend giving them a try.
You might not experience the fit issue I encountered, and for $140, you get a durable, breathable shoe with excellent traction from the Contagrip outsole.
The upper is not only durable but also very breathable, providing good temperature regulation during your runs, whether in hot or cold environments.
So, if you're looking to up your game and want a do-it-all shoe for all terrains, definitely consider the Salomon Sense Ride 5.
Where to buy the Sense Ride 5
The Salomon Sense Ride 5 all-terrain trail running shoes can be purchased for a very reasonable price at Salomon.com via the buttons below.
Salomon tends to have the most colorway options and inventory for running shoes in men's and women's versions, they also have fast shipping and a good returns policy should you need it. They are also available from the stores below:
---
Salomon Sense Ride 5 review summary
Salomon Sense Ride 5 review
PROS
Contagrip outsole provides excellent traction on various terrains.
Quicklace system for easy and secure fit.
Responsive ride due to the EnergyCell midsole.
Attractive design and silhouette.
Breathable and durable upper.
Very reasonably priced for such a good all-rounder
CONS
Internal material in the toe box area causes constriction and discomfort over long runs.
Limited flexibility in the forefoot area.
Potential for toe hitting the front of the shoe on steep downhills.
Shoe could be a bit lighter.
Thanks for reading this Salomon Sense Ride 5 trail running shoe review. I hope you found it insightful and enjoyed the running clips in my video below that feature me testing them out on my local trails here in California.
If you found this review helpful, please subscribe to our Newsletter for more running shoe reviews just like this one.
---
Salomon Sense Ride 5 review (Video with trail testing clips)
---
Salomon Sense Ride 5 image gallery