Women's Brooks Cascadia 13
When a running shoe reaches its 13th edition, it must be good. The Brooks Cascadia 13 women's are the first pair of Brooks trail running shoes I have run in, despite there having been 12 Cascadias before this model – although I've run through their excellent road running shoes, the Ghost 10s, and am now running roads in the Ghost 11s, too.
ADVERTISEMENT
RELATED: Best Women's Trail Running Shoes of 2019
Looking for our Brooks Cascadia 13 Men's review?
Brooks Cascadia 13 2019 Review: A Cushioned & Responsive Trail Shoe
Cushioning
The trails around where I live are varied – from dirt singletrack and gravel fire roads to root-strewn forest trails – but generally, dry. I therefore like to have a go-to pair of trail running shoes that can handle the range of trails I may experience in any given run – and that have enough cushioning to protect my feet for hours of hard, rocky terrain.
The Cascadia 13 shoe boasts a good amount of cushioning, so much so that I hardly notice hard rocks underfoot. I love putting these on knowing that I can be out for hours and my feet won't be sore from the thousands of steps they'll take on dry, rocky terrain.
Fit & Design
The Brooks Cascadia 13s fit true to size, consistent with other trail running shoe brands such as On, Inov-8 and Salomon. The cushioning means they offer a snug, but not too tight fit, and the laces do not need to be tied very tight for them to stay on comfortably.
Waterproof version
The standard Brooks Cascadia 13s are not waterproof – and for the type of running and terrain I am using them for, I do not need waterproof running shoes. However, Brooks make a GTX (Gore-Tex) version of the same shoes, which would be great if you do a lot of your Fall/Winter running in wet conditions – see zappos.com: Brooks Cascadia 13 GTX Women's
Warmth and breathability
Due to the amount of cushioning, the Brooks Cascadia 13 are at the warmer end of the scale when it comes to trail running shoes. This, I like, as I tend to get cold feet even when running in summer, yet they don't get noticeably hot in these shoes even when worn running in 30C/85F temperature. I've worn these for 3+ hours (including a 30k trail race) at a time and my feet felt comfortable throughout, with no excessive sweating or rubbing anywhere.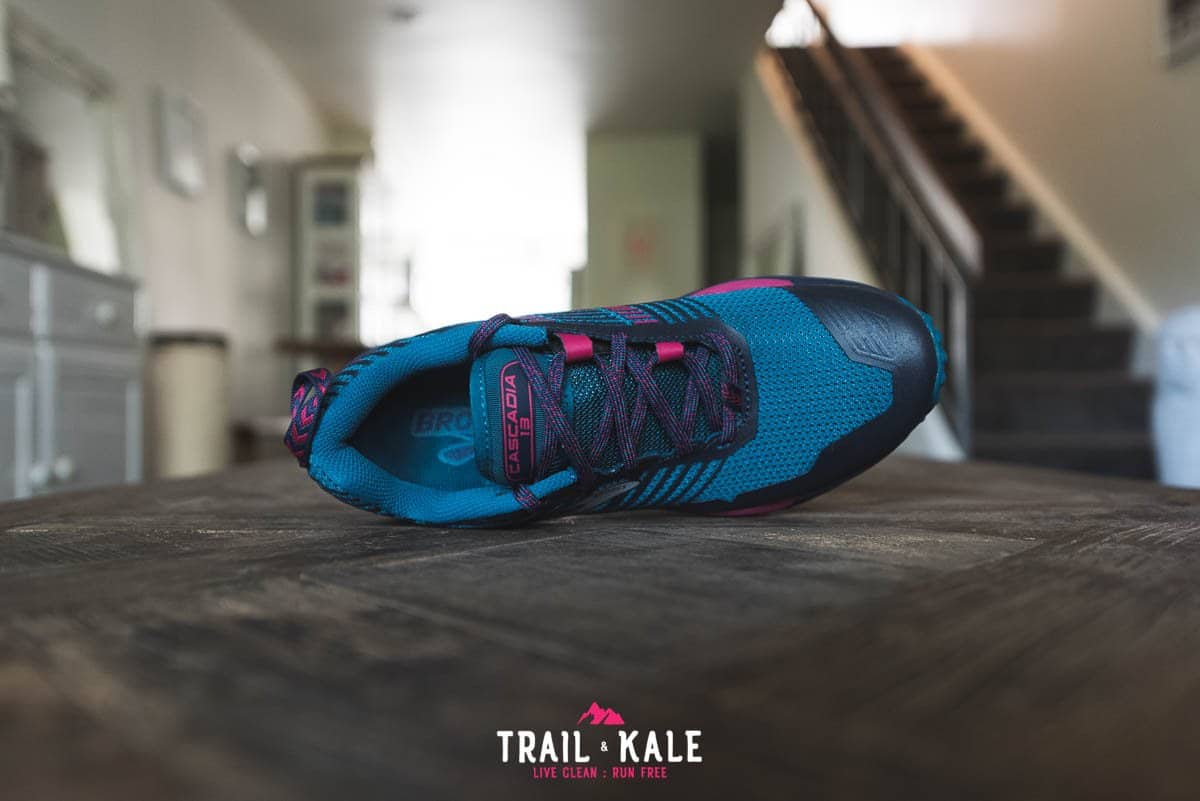 Rugged outsole
The Cascadia 13 shoes are designed to be tough. They're named after the Pacific Northwest's Cascadia mountains, after all! The outsole looks like it means business, with chunky grip underfoot, which wraps up over the toe box, to give grip on steep climbs. I haven't slipped (yet) in these, even when climbing steep, rocky terrain.
Heel-to-toe drop
With a 10mm drop, the Cascadia 13s are not particularly close to being zero-drop. However, I really like this. I'm famously bad at getting down steep gravel tracks without spending half the time on my ass as a result of my feet slipping out from under me. During the aforementioned 30k, I found that having a little more of a heel-to-toe drop meant that my weight was naturally leaning further forward than I would be when wearing, say, shoes with a 4mm drop.
For more technical details…
Alastair also reviewed the men's version of the Cascadia 13s. Visit his review to read more about some of the technical features of these trail shoes.
Available Colors
The Brooks Cascadia 13 comes in two different colors for both the men's and women's so be sure to check them out at zappos.com. Pictured to the left is one of the colors for the Cascadia 13 Men's version. Here are some links to the waterproof versions:
---
Brooks Cascadia 13 Womens
Pros
Excellent rock protection
Well cushioned
Fit true to size
Good downhill grip
Cons
Less flexible than other styles
Find the best price for Brooks Cascadia 13 Women's
Last Amazon price update was: 4th December 2022 9:00 pm
In Summary
Brooks Cascadia 13 women's are great trail companions for all types of terrain, and particularly where you need a pair of trail running shoes that will go the distance on rocky terrain for hours.
The Brooks Running Brand
Experts at balancing art, science and runner insight.
Backed by in-depth bio-mechanical research, the products Brooks make for you feature innovations that are always advancing the fit, feel, ride, style and performance of your running gear.
Check out our Brooks Running brand page where you can see all of our content relating to the brand.
If you fancy learning more about their products, be sure to browse their online store.
If you have any questions about the shoes or anything relating to them then please leave a comment below and I will reply as soon as possible. Happy Trails!