Autumn is nearly in full flow and the rain has already arrived in most of the Northern Hemisphere. And so here you are, reading this On Weather Jacket review because you're in need of a waterproof running jacket that's going to keep you dry while running through the wet and windy months of Autumn, Winter, and Spring.
ADVERTISEMENT
Looking for our Women's On Weather Jacket review?
Features of the On Weather Jacket
Waterproof
Let's start with this obvious but probably the most important feature. Many jackets that appear to be waterproof due to deceitful marketing, may actually only be water-resistant meaning they can resist water to some degree but eventually, it will soak through. The jacket is coated with a durable water repellent which should keep you dry, even in stormy conditions.
RELATED: Best Winter Running Jackets
The zip systems are also water-resistant so you can take your phone with you in the rain although I would always recommend a waterproof phone protector, just in case! One that we have been using and can recommend is the Lifeproof FRE.
Breathable
A common question I get is "How can something be waterproof and also breathable?". On have got around this little conundrum by cutting slits into the front and back of the jacket with the top portion of material overlapping the bottom on the outside. This allows air to flow through the jacket, stopping you from over-heating and you'll also be protected from any rainwater.
"How can something be waterproof and also breathable?"
The Men's and Women's On Weather Jacket is featured in our latest film "Running The Golden Gate Bridge in San Francisco":
Subscribe to our YouTube Channel
Lightweight & Packable
The jacket is very lightweight to run with and fits close to the body which is what you want for a running jacket. The more excess material you have, the more drag you'll experience while running. Nobody wants that!
The On Weather Jacket will also pack down into its own pocket so it can be easily stored in a race vest during a run or in your rucksack while travelling. After packing it down so tightly you may, however, notice that the material creases but due to the close fit, they aren't too noticeable when you put the jacket back on.
Adjustable Hood
Although you can't see it in this photo because it is hidden in a compartment, there's an adjustable toggle that you can pull and lock-off to fasten the hood. I hadn't noticed this at first but now use it to make sure the hood stays in place while running in the rain. It's another example of On's clever engineering that goes unseen until you know about it.
Available Colors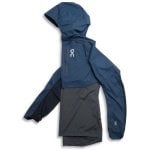 The On Weather Jacket is available in 3 different color options for men: Malibu & Navy, Navy & Shadow and Black & Shadow. All attractive in their own rights. The one I have is Malibu & Navy.
On Weather Jacket
Pros
Lightweight
Waterproof
Packs down into its own pocket - makes it perfect for mountain races
Breathable
Adjustable Hood
Fits well and looks great (3 color options too)
On Weather Jacket Review Summary
I'm really enjoying running in the Weather Jacket from On and can't wait to put it further through its paces during the deep winter months to come. It's waterproof and resists the wind well, except for the vented areas but that's a caveat that you have to live with if you want to remain dry while not risking overheating during an intense run.
I love that the Weather Jacket packs down into its own pocket or hood, as I prefer to do it because I can then store it in my race vest while out on a run should the weather quickly change for the better.
You can buy the On Weather Jacket for $239.99 – while it may not be the cheapest running jacket on the market, I think you'll agree it's probably the most stylish and it definitely has all the key features you need to protect yourself from all weather conditions while out running.