While I love innovative low-profile trail running shoes for softer trails, I don't have the excellent form and bio-mechanics of a runner who can get away with running on paved/tarmac surfaces with minimal shoes and not suffer the consequences via aches and injury. I'll keep working on my form, but for now I like to run on roads in what I would call 'normal' road running shoes. Nothing too plush and squishy, nothing too minimal and aggressive. Cue, the women's Brooks Ghost 10 running shoes.
ADVERTISEMENT
RELATED: The 10 Best Road Running Shoes
What's a 'normal' road running shoe to you?
A normal running shoe is (to me) a shoe that has a moderate level of cushioning, but you don't feel like you're bounding around with pillows on your feet. I really just want to be able to put the shoes on and head out the door in a comfortable, supportive shoe, that I don't notice I'm wearing and helps me run comfortably wherever I am running on pavement.
I also steer clear of any shoe that is described as anything other than a 'neutral' running shoe. I don't believe in choosing shoes with extra support, preferring to work on strength and flexibility in my legs and glutes to enable me to land and take-off more naturally… and haven't worn anything other than 'neutral' shoes since trying the recommended shoes for 'over-pronators' when I first started running, and realising it was trying to compensate for, rather than helping me overcome, my underlying leg strength/flexibility issues.
Women's Brooks Running Shoes – the Ghost 10
The Ghost 10s are sold as offering the 'smoothest ride possible', for runners who want a plush, adaptable fit.
Smooth ride
I definitely agree with the description, 'smooth ride'.
I hadn't worn Brooks running shoes (trail or road) before, but I knew as soon as I tried the Ghost 10s on that these were my new pavement companions. This rarely happens for me, as my feet are often too wide at the front / narrow at the back / shallow on top (or a combination) to get a perfect fit straight away. When I put these on, I don't really know they're there.
I also don't feel the impact of running on pavement, so the cushioning is definitely doing its job. I've run 10-20k regularly in these with no issue.
Equally, they feel responsive but not too soft. I would challenge the use of the word 'plush' – they are very comfortable, but plush conjures up in my mind something overly soft and wallowy. The Women's Ghost 10s are certainly not wallowy. They have that rare quality of being snug but not feeling tight, padded but not too soft, and lightweight yet cushioned to run on.
Getting the right fit
With some running shoes I find I need to spend a lot of time adjusting the laces or trying thinner/thicker socks, but the Ghost 10s fit just right. The laces are slightly elasticated, and soft, so they don't dig in over the top of my foot/front of my ankle.
Having slightly elasticated laces also means I don't have to tie them too tight, as with a little tension they aren't moving, but offer some flex with movement. Once they're done up, they stay done up, and the element of 'give' means you don't have to tie them to the same tightness each time as they'll stretch a little bit to allow if you tie them tighter than you would do normally, or wear a different thickness of sock.
I recently sprained my ankle during a trail run. When I came back to running, several weeks later, the front of my ankle was still slightly bruised and sore. I could run but having laces across the front of the ankle caused some discomfort. Because these shoes have such a nice, snug fit, I was able to run with the laces threaded one eyelet down, tied loosely, and the shoe did not move while in motion – and importantly didn't make me feel like having a loose shoe would cause another sprain! The combination of these laces and the nicely padded tongue and heel area worked a treat.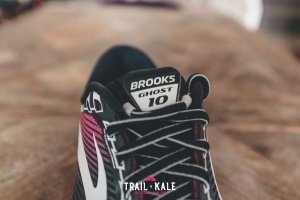 Running in the Ghost 10s is enjoyable, to the extent I haven't had a single occasion where my shoes have irritated me, rubbed, felt heavy or needed the laces adjusting. This is particularly helpful when pressed for time, such as for a lunchtime run while at work in the city, as I don't have to pause and play with the laces periodically.

Sizing
The Women's Brooks Ghost 10s fit true to size – I wear them in a UK 5.5 / US 8, which is consistent with the sizing for Salomon, Inov-8, Asics and On Running shoes I have worn recently.
Keeping feet warm, but not hot
It's important that a versatile running shoe allows your feet to breathe – reducing the likelihood of uncomfortable, sweaty feet (and the chance of blisters or hot-spots). The Brooks Ghost 10s have a mesh upper, that allows for breathability when your feet get warm.
I tend to get very cold feet, even when running in summer (and have Reynaulds Syndrome affecting my big toes, so they get very cold, numb and blue… when exposed to temperatures I would not consider to be 'cold'!). This is uncomfortable, so I prefer shoes that keep my feet warm enough to reduce the chance of this happening. The padding in the Ghost 10s means they stay warmer than some of my other, less-padded running shoes (such as the looser and more minimal On Running Shoes), and therefore makes them great cold-weather running companions.
[product_review]
In summary
I am really impressed with the Brooks Ghost 10s and don't have a bad word to say about them! I actually look forward to road runs in them, which is saying something (as I don't like to run on hard surfaces!).
If you're looking for some new road running shoes, these shoes ticked all my boxes and are definitely a pair to check out if you are looking to invest in some reliable and comfortable road running shoes.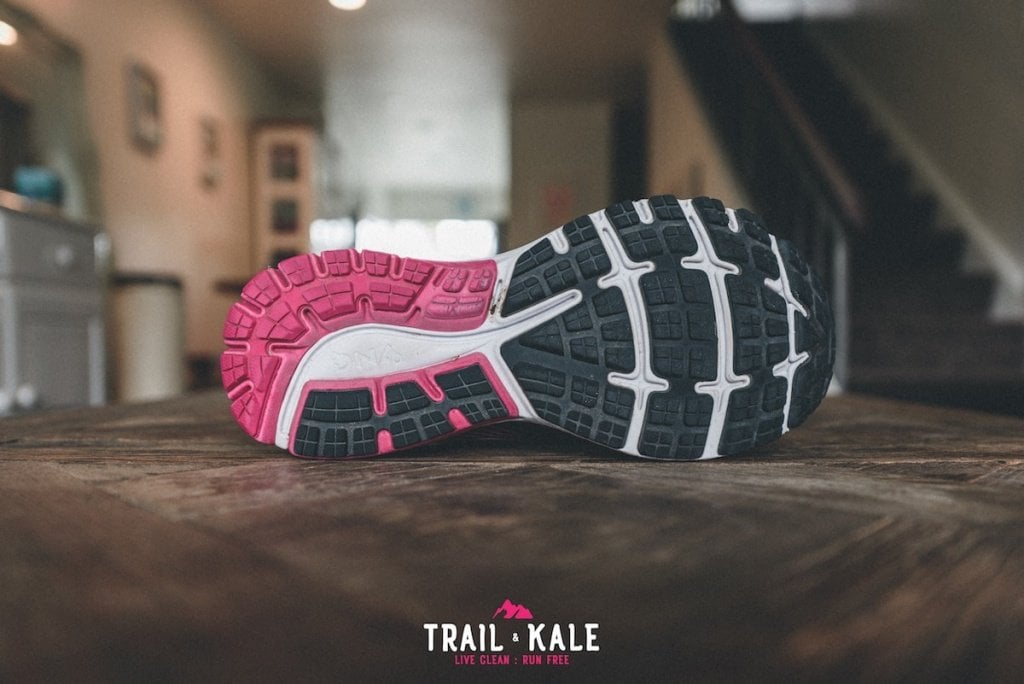 The Brooks Running Brand
Experts at balancing art, science and runner insight.
Backed by in-depth biomechanical research, the products Brooks make for you feature innovations that are always advancing the fit, feel, ride, style and performance of your running gear.
If you fancy learning more about their products, be sure to browse their online store.
If you have any questions about the shoes or anything relating to them then please leave a comment below and I will reply as soon as possible. Happy Trails!!