Around the time of New Year's is a great time to set new intentions for making positive changes in your life. Right up at the top of many people's lists are leading a more healthy lifestyle with the goal of improving their mental and physical health.
ADVERTISEMENT
Sound familiar?
If so, then you've come to the right place! In this post, I'm sharing our best healthy lifestyle tips to live better (and hopefully longer), improve your physical and mental health, and ultimately be happier.
Whether you're interested in eating a more healthy balanced diet, getting more exercise, getting better sleep, or taking steps to maintain a more positive mindset every day, these lifestyle habits or tips include easy-to-implement changes that you can make to your daily routine to achieve your goals.
Although turning any one of these 5 healthy lifestyle practices into a habit will help with your overall well-being, we recommend practicing them all in order to reap the full range of benefits.
---
1. Healthy eating (how to eat clean)
When most people think about what healthy living means to them, often the first thought is food – or more specifically healthy eating, and by association, weight loss.
Here are our top tips for a healthy diet, every day.
Eat real food
Ignore all the fad diets and trends. The number one way to control the quality of the food you eat is to eat real, whole food. This is truly 'how to eat clean'.
Make your meal choices based on food that has recently come out of the ground, off the land, or out of the water, and was ideally grown organically.
You should also go for foods that have been minimally processed, without the use of harmful pesticides and other chemicals.
These healthy foods include fruits and vegetables (especially leafy greens), whole grains, lean meats, and fatty fish that contain essential nutrients and can be used to create balanced meals with the right amount of calories to help nourish your body and maintain a healthy weight.
The health benefits of eating well are well-documented.
Eating well should give you more energy, help you look and feel better every day, and benefit your entire body, including your gut health, skin health, and potentially key functions such as boosting your immune system.
According to the World Health Organization, adults should eat at least five portions (400g) of fruits and vegetables per day. An easy way to do that by the way is by making a smoothie, more on that below.
By eating healthy, you will reduce your risk of malnutrition and diseases such as diabetes, heart disease, stroke, and cancer.
Eating real food means you should avoid processed foods that come with a load of salt, added sugar, saturated fats, and other ingredients.
These processed foods are unlikely to satisfy your body's essential nutrient needs and consuming them regularly can contribute to weight gain and serious health conditions such as heart disease and diabetes.
If weight loss is a goal for you this year, you may be interested to read our review of the Lumen metabolism tracker. This breathalyzer and smart app system is designed to help you develop a more efficient metabolism and supports healthy weight loss.
Have a daily 'green' smoothie [with our quick recipe]
A great way to kick-start a healthy eating pattern is to create a new routine, such as having a daily green smoothie – and no, it doesn't have to taste like grass (or actually look 'green' in color) for it to be good for you.
Coming up with a tasty, nutritious smoothie recipe can be a challenge if you're new to them, so just have fun and experiment (or start with our quick recipe below).
Here's a quick recipe for our ultra-tasty Trail & Kale 'every day' smoothie, which will give you a morning nutrient boost and takes only a couple of minutes to throw together.
This recipe makes 2x smoothies. Ingredients can be fresh or frozen:
1x banana
A large handful of baby spinach
A large handful of blueberries
Top up with around 450ml of water (and some ice, if you like your smoothies very cold and slushy)
Optional: Add a handful of frozen mango chunks to give it a smoother taste
Blend up in a blender or food processor. We use this excellent Breville blender to make our smoothies (it even has a self-clean function, great for those in a rush) but other options are available.
Peel and chop a carrot into sticks for a quick bite before drinking your smoothie.
For an extra nutrient boost, you can also supplement your smoothie with a scoop from one of these great green powder supplements, or pack in more protein after a workout by including one of these plant-based protein powders in the mix.
Drink safe, clean water, and plenty of it
Most of us know that drinking plenty of fresh water each day is essential for your overall health and well-being, but it can be hard to drink enough without keeping a topped-up bottle with you throughout the day.
It's recommended that you should try to drink around 1.5 liters a day to feel the most benefits of drinking water.
Keeping your body hydrated throughout the day can help you with things like energy levels, physical performance, and can help reduce headaches among other things.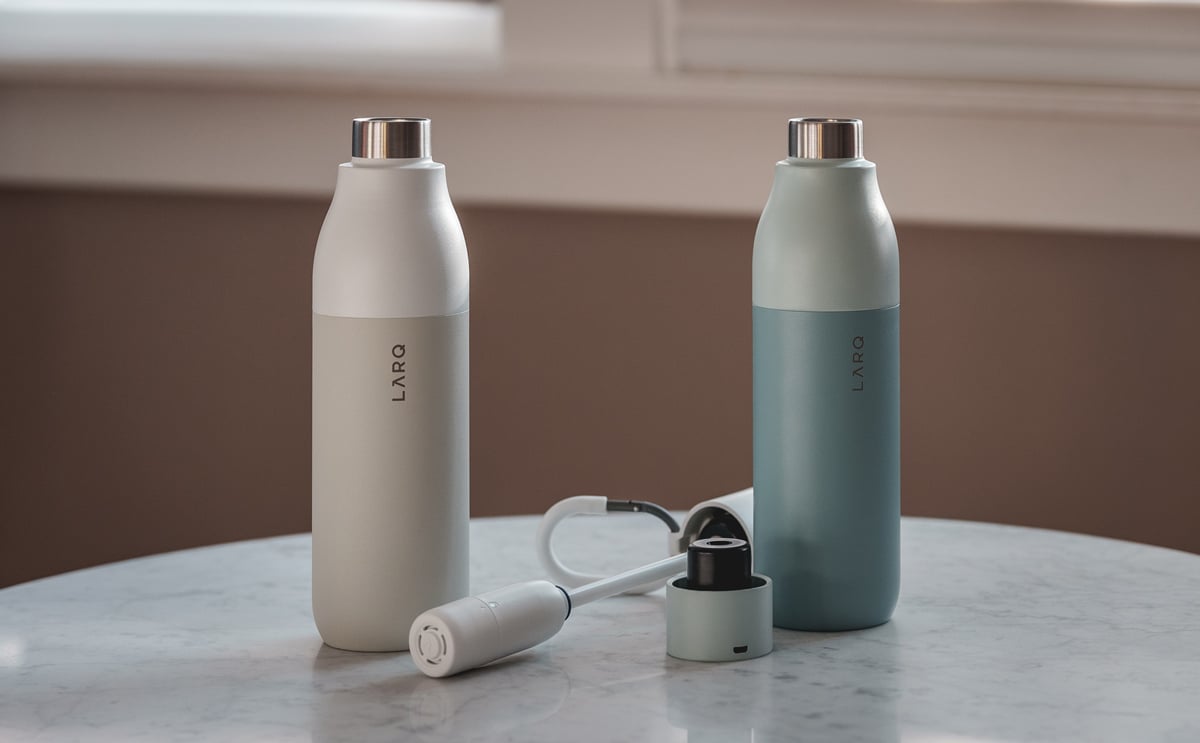 To ensure the tap water we drink at home is clean, we use our LARQ water pitcher and LARQ bottles which use a unique patented UV light technology to purify the water within them, removing contaminants.
LARQ is offering 15% off sitewide now, even on gift sets! No code is needed and the offer is valid until January 2nd, 2023.
This means you can take the bottle with you and fill it up anywhere, knowing it will sterilize the water, making it safer to drink.
If you haven't heard of the LARQ UV water bottle yet, read my LARQ bottle review. The company also sells a filtering water bottle, and a water pitcher for your home that both filters and purifies water before you drink it.
For more information on the difference between water bottle 'filters' and 'purifiers', and all the different types out there for hiking and backpacking read this next: The Best Backpacking Water Filters & Purifiers.
Vitamins and minerals
As well as getting enough real food and water into your body each day, you may find it beneficial to look at taking a daily vitamin supplement.
Doing a body health test (such as this one from Viome that our co-founder Helen tried out), can help identify areas of nutrient deficiencies that a vitamin supplement may help to address if you can't get it from your everyday diet.
Limit caffeine and alcohol
I don't think we need to say much about this one – anyone who knows me knows I love my morning espresso-based coffee and I could never give up caffeine because that morning Cortado or Machiatto is one of those small things in life that I enjoy looking forward to each day.
Plus, there have been studies that have found that having some coffee in your diet can actually have health benefits, outlined in this article by Healthline.
It's worth noting that there are different standards of coffee beans when it comes to bean cleanliness, and brands like Fabula Coffee are committed to delivering coffee that's better for you.
Their fairtrade coffee is better for you because it's third-party lab tested to ensure the hand-picked, defect-free, and shade-grown beans are free of mold mycotoxins and have low acidity to make your coffee easier on your stomach.
We love how smooth and clean the Medium roast beans taste in our morning Cortados, and all the better knowing that our daily coffee is as clean as it can be.
Pretty much every guidance you'll ever receive on how to have a healthier lifestyle is going to involve reducing the burden you place on your body when you drink too much alcohol or have more than a couple of coffees a day.
If weight loss is a priority for you this year, it's also worth remembering that most alcoholic drinks contain many 'empty' calories.
That is, you get the calories, but they provide no nourishment to your body and do not contribute to having a healthier life (in fact, drinking too much can negatively affect many physical and mental health goals, and contribute towards weight gain even if you're eating well otherwise).
Limiting your coffee intake can be hard, especially if it's a very ingrained morning routine for you to have several cups. I suggest seeking out healthier alternatives that you can replace that second cup of coffee with.
A replacement could be a long drink of water, or, perhaps a nutrient-rich smoothie, like the one I described above. That way, you're gaining health benefits while switching out an old habit for a new one.
---
2. Get enough sleep
Improving your sleep routine is a great long-term resolution / healthy habit to help improve your health, wellness, and overall lifestyle!
Sleep is also the time when much of our mind & body's recovery happens, whether it's from running, strength workouts, or a stressful day at work.
Sleep deprivation, especially over prolonged periods of time, is well-known to have an adverse impact on mental well-being and physical health.
Being rested and recovered every day will help you be more prepared to manage stress, make healthy eating choices and simply enjoy daily life, rather than finding it as much of a grind.
Our guide to simple healthy sleep habits features some suggestions for very easy changes that you can make to your days and nights to help you achieve good sleep, including getting to sleep faster, staying asleep longer, and waking up feeling more energized and ready for the day ahead.
---
3. Make room in your life for exercise
Set yourself a challenge of getting at least 30 minutes of exercise a day.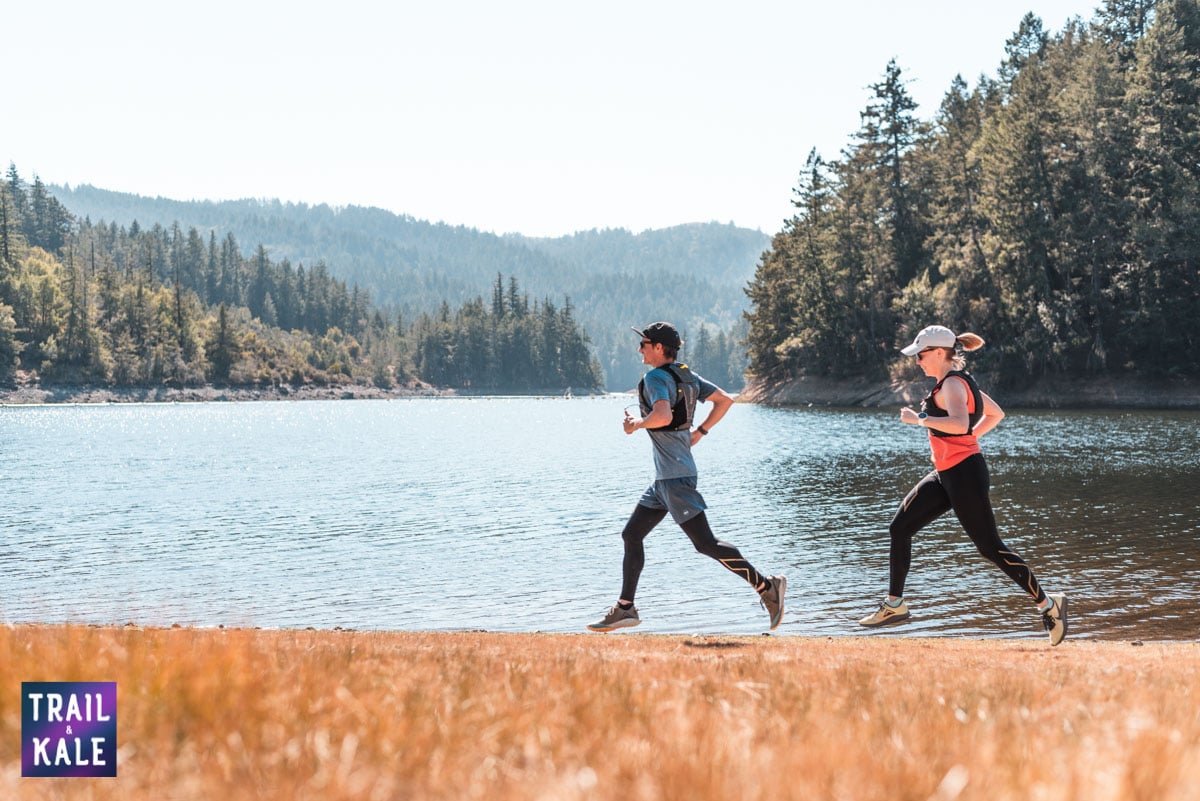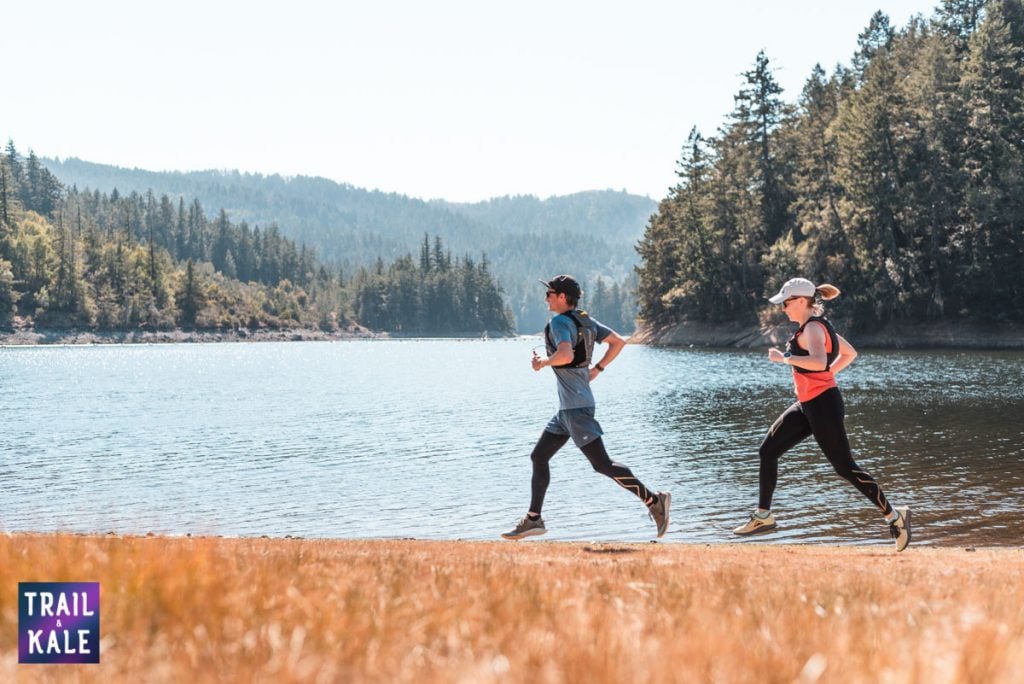 It doesn't have to be an intensive, sweaty workout in order to count towards this 30min+ goal, but try and make it at least a moderate-intensity physical activity to get your heart rate up a little.
Aim to build in walking (say 2x 15-minute brisk walks), a short run, indoor bike ride, or gym training session into each day.
If this sounds like too much of a challenge to start out with, start with a target of doing workouts three to four times a week, rather than every day, and build up from there once the habit is more established into your daily routine.
Stretch more to work on your flexibility
Hours spent sitting at a desk or driving can take their toll.
Working on your flexibility as a regular habit, either through yoga or simply just some really good stretches can really help maintain your fitness and reduce your risk of injuries as you get older.
Here's one of our favorite yoga routines that provides an excellent opportunity to stretch and BREATHE!
We also love to roll on one of our Chirp wheels daily to stretch out our backs (and sometimes get some satisfying clicks in the process).
Relieving muscle tension in your back is such a wonderful feeling, and back pain could be one of those constant stresses that you're feeling without you ever realizing it until you fix it.
If you haven't heard about Chirp wheels yet, check them out on Chirp's website.
Go on a hike (or trail run)
Spending time moving around in nature is not only great physical exercise but it can also benefit your mental wellbeing, making activities such as hiking a great thing to do for your overall health.
All that fresh air, flora, and fauna is good for your soul, and the peace you gain from hiking (or trail running) in open spaces can make you feel like a whole new person.
If you're new to hiking, read our 'Beginners Guide To Hiking' to learn more, including what to wear and take with you.
If trail running sounds more like your thing, visit our Trail Running for Beginners guide instead.
Bring new focus to your athletic training
Perhaps you already have a sport or physical activity you enjoy and you'd like to do it more often, differently, or more seriously this coming year?
For example, if you run or lift weights, perhaps you'd like to get stronger, faster, or more competitive, or if you enjoy yoga, a great goal could be to make time to do it more often or to improve upon your form.
If you're a runner or just getting into running and want to add a new challenge by competing against others, consider signing up for an organized event, like a trail running race, for example.
Or if you're already a runner but feel like you need to give yourself the ultimate running challenge, like your first ultramarathon then read my 50k training plan to set that goal in motion today!
You could also work on improving your running speed, strength, endurance, and performance, in which case, you'll love these running performance hacks (that you won't find anywhere else!).
---
4. Take control of monitoring your vitals
A great way to feel more in control of your health is to track your 'vitals'.
This can include tracking calories you eat and drink (especially if weight loss is a goal for you), tracking your workouts (run, cycle, swim, weights) to motivate you to exercise enough, and tracking vitals you may have previously only had tested during a visit to the doctor, such as your heart rate and blood pressure.
Get a fitness tracker and track your steps
Whether you go for an Apple Watch (that is capable of so much more than fitness tracking), a Garmin, a Coros, a Whoop, or a Fitbit; health-focused wearable gadgets are a great way to take control of your health tracking as part of your daily life.
With a fitness tracker you can track things like your daily steps, physical activity including workouts, calories burned, as well as (with Apple Watch and more advanced trackers), your breath rate, heart rate, heart rate variability, SPO2, VO2Max and more.
Check your blood pressure regularly
High blood pressure affects nearly half of Americans and is known as the 'silent killer'.
This is because most of the time there are no obvious symptoms and people don't necessarily know it's an issue for them, despite it being a significant contributing factor to heart attack, stroke, and other health threats.
You can start to regularly check your own blood pressure easily by getting yourself one of these blood pressure monitors that will take a measurement with the push of a button and will also sync the results to an app on your phone (which integrates into Apple Health, if you're using an iPhone).
I strongly recommend you take control of ensuring your vitals are healthy so that you can do something about it sooner than later should you need to.
Blood pressure is one of those vitals that I always pay close attention to with my wireless Omron blood pressure monitor – I love how it syncs into my Apple Health data.
Learn more about high blood pressure and how it can be treated at the American Heart Association's website.
Learn to breathe properly
Breathing properly is often associated with achieving a state of wellbeing.
It can help with everything from stress relief and calming yourself down during moments of fear or anxiety, to helping you prepare for an occasion such as giving a speech or before a big sports event.
Did you know, that although we all breathe, not many of us do it 'properly' and are missing out on countless benefits?
Yes, I was astonished too but once I read the audiobook 'Breathe', I felt enlightened and it has put me on a path to learn ancient breathing techniques like Tummo breathing.
'Breath', by James Nestor is an excellent book that will teach you more about the science of breathing and the power that doing it correctly can have for you, both physically and mentally.
I've already started using the techniques when running and cycling to improve performance.
Meditate
Related to breathing is meditation. In fact, you can't really meditate without breathing in a certain way.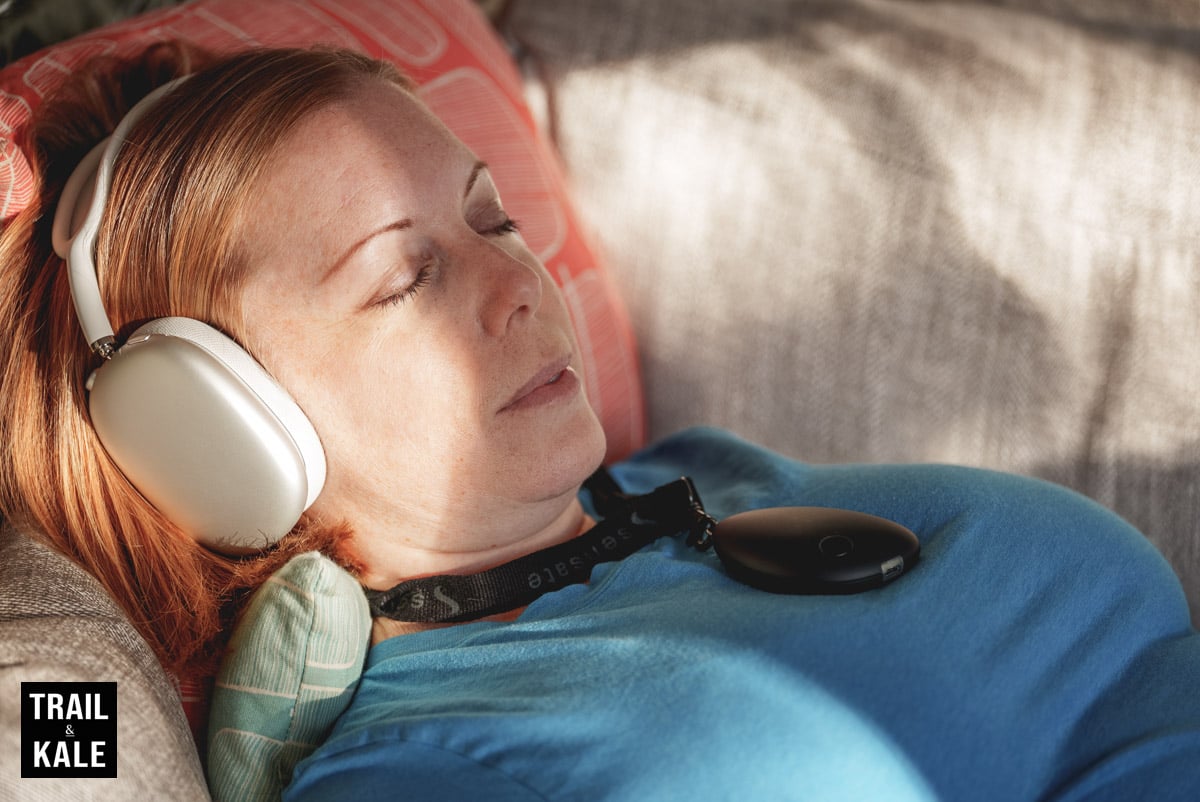 If lowering your everyday stress levels or being able to relax quicker are New Year's goals for you, definitely check out this cool meditation gadget, the Sensate Pebble, which has changed the game for me when it comes to a simple way to relax my mind and body before sleeping.
---
5. Make simple lifestyle changes
We already talked about how to eat, sleep and exercise better. But what about tips for other aspects of your life?
Learn something new
Learning is rewarding. It can help you improve your confidence and skills, be a great way to meet people with common interests or learning goals, and may even lead to a change in career or bigger-picture lifestyle choices.
Simple ways to learn something new is to read a book on a craft, skill, history, or something else that interests you.
If you don't enjoy reading physical books, then audiobooks are a great way to gain knowledge and you can listen to them while you're driving, working out or even cleaning the house!
I use Audible, where for a monthly subscription I can download one or two new books each month (you can try Audible out for yourself, for free, with a 30 day free trial).
I'm becoming a true self-proclaimed polymath at the current rate of books I'm able to get through with Audible – I love it! 🙂
Spend time being creative
A great way to help boost your mental health is to spend time getting creative.
Being creative doesn't need to mean something arty, like painting or drawing (although that would be a great thing to do!).
Making or doing things with your hands, such as woodwork, fixing up a car, home improvements, and gardening, can not only be practical but also creative, and results in you having made or improved something useful such as a piece of furniture or a veggie garden, for yourself or for someone you care about.
Detox your household cleaning products
Why would anyone want harsh chemicals in their home, that can cause eye, skin and lung irritation?
Clear out your cleaning closet and remove any cleaning products containing harmful chemicals such as ammonia and chlorine bleach. Replace them with non-toxic cleaning sprays that are not known to contribute to health issues.
Regardless of what cleaning products you use, be sure to ventilate the rooms in your house when they're being cleaned, and ideally every day to ensure you're bringing in fresh air to replace any stale household air and moisture that may have accumulated.
Use non-toxic skincare and personal care products
Similar to household cleaning, it follows that products designed to cleanse and care for your skin should also be non-toxic, and free of petrochemicals and synthetic fragrances.
A game-changer when it comes to men's skin health care, Caldera Lab has a range of organic, 100% botanical-based clean skin care products – read my Caldera Lab review to learn more.
Declutter and minimize your 'stuff'
For the ultimate low-cost lifestyle change, you can make for the better, get to clearing the clutter.
A clear house or desk means a clear mind!
Whether that's the desk drawer of mystery cables, your closet, garage, attic or kitchen cabinets, I promise you that you will feel better after that cleansing and cathartic process.
By removing unused, superfluous items from your life, recycling or donating them to charity where appropriate, and making more space to move, tidy and clean your home, your mind will feel just as clear as the floor or closet space will!
To learn more about the joy of minimizing, I highly recommend this book by Marie Kondo.
I hope you enjoyed these healthy lifestyle tips!
For more health, fitness and wellness inspiration (plus reviews of the latest, greatest and coolest outdoor gear!) head over to our homepage to see what's new.