Randolph sunglasses are handmade in America, featuring high build quality, 100% UVA and UVB protection, anti-reflective backside coating and a lifetime guarantee – which is probably why so many celebrities are such fans.
ADVERTISEMENT
Randolph's Cobalt Collection features blue-lens sunglasses designed to be worn in nature, which makes them ideal for hiking and adventures in many different environments. This full review goes into more detail about why I love the Randolph Concorde sunglasses and what makes the Cobalt blue lenses so great for the trails and nature.
About Randolph Sunglasses
Alastair summed up the key features of Randolph's sunglasses in his previous review of the Randolph Aviators. In summary, these are some of the highest quality sunglasses we've come across that are designed for active people, including those in the military.
Why is the Cobalt Collection Good for Hiking?
Randolph's new Cobalt Collection design is perfect for hikers and casual trail runners. Why?
The polarised blue lens design is intended to highlight nature's green and yellow wavelengths.
Wearing these blue lens sunglasses really brightens up these natural colors, especially when you're hiking in the mountains and forests – everything looks so much more vibrant than when seen with the naked eye! For a cool example of how a mountain vista may look through these lenses, have a look at the interactive picture on Randolph's website.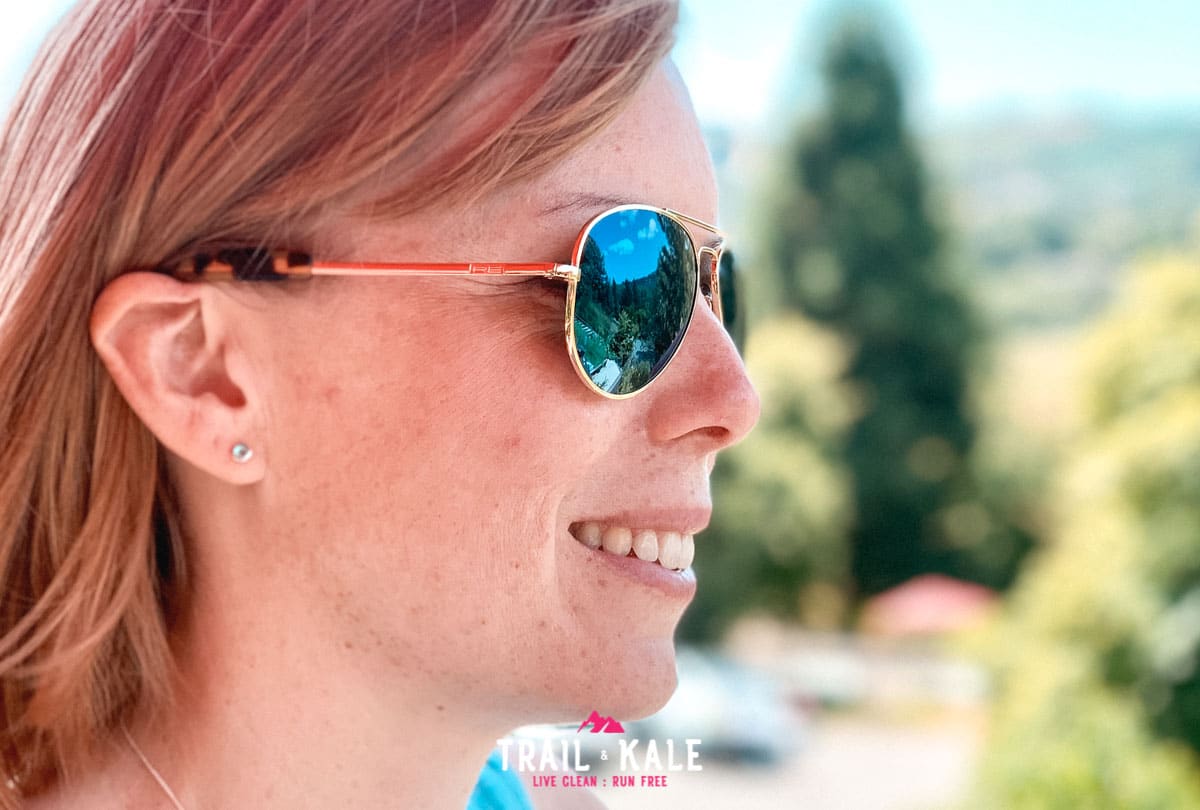 Polarised Lenses – Enhanced Contrast and Reduced Glare
The Randolph polarised lenses are made from camera-quality mineral glass – they state that these are the 'worlds best optics' – and I would agree that they are super-clear and delightful to look through.
The polarisation and blue lens color not only enhances natures green and yellow wavelengths, it also provides enhanced contrast and reduced glare when in bright conditions. This is really important for maintaining healthy eyes, especially if you have sensitive eyes – which I do, having had laser eye surgery many years ago.
Because of the reduced glare and enhanced contrast features, other sports that these blue lenses are ideal for are golf and water activities, plus of course they're great for driving.
Randolph lenses are also scratch-resistant for long-lasting clarity and durability. I'm pretty rough on my sunglasses but have learned that instead of going for cheap, easily replaceable sunglasses, it's much better to invest in a pair of good quality polarised sunglasses that are more durable, generally look better and I know are going to protect my eyes from the elements.

Cobalt Collection Design Features
The Cobalt Collection features two frame shapes and two different color designs. The frame shape options are the Aviator and Concorde.
The shape I am wearing is the Concorde – I love the larger size and rounded design, which comes in 57mm width for this collection and is a great fit even for my relatively small (female) head. Plus, Alastair has a pair of Randolph aviators, so I like that I am wearing a different style to him!
The frame and bayonet color options for the Cobalt Collection are matte chrome with grey bayonet arms, or 23 carat gold with Mazzucchelli tortoiseshell bayonet arms. I opted for the gold frame and tortoiseshell bayonets – I love that these still look like aviators, but they also have a touch of vintage style – especially with the 'hot-foil' stamped 1973 diamond logo on the arms. It makes me feel good to put these shiny gold shades on as they really feel like a special luxury item due to the style and build quality.
Personalized Engraving on Randolph Sunglasses
Another nice feature that can be applied to any Randolph sunglasses bought via their website is that you can have a custom message engraved into the frame. This would be a great way to customize a pair of these when given as a gift, or perhaps a little motivational / inspirational mantra if you buy them as a gift to yourself 🙂
Size Options
The Cobalt Collection Aviators come in a 55mm frame and the Concorde comes in a 57mm frame. Other Randolph sunglasses, such as Alastair's Aviators, and other colorways in the Concorde shape, also come in different sizes, which are all available to be selected as options on Randolph's website.
View the Cobalt Collection at randolphusa.com
Randolph Concorde Sunglasses + Cobalt Lenses
Pros
Secure fit while being active in your day to day, or hiking over trails
Comfortable
Designed for outdoor sports
Frames are made from durable materials.
The Best Quality (handcrafted in USA)
Lenses are UVA and UVB protected and have anti reflective backside coating
Scratch resistant lens
Cons
One frame size option for this style (but although still a good size for smaller heads)